Olympus M.ZUIKO Digital ED 40-150mm f/4-5.6 Review

Introduction
The Olympus M.ZUIKO Digital ED 40-150mm f/4-5.6 is a new Micro Four Thirds lens whose first copies were showcased at the Photokina trade show held last Fall. Not to be confused with the older Zuiko Digital 40-150mm lenses available for "regular" Four Thirds DSLRs, this is a compact and lightweight telezoom designed for use with Olympus' digital PEN range and Panasonic's Lumix G series compact system cameras. Comprising 13 lens elements in 10 groups - including one ED glass element -, and offering the same angle-of-view range as an 80-300mm lens on a 35mm full-frame camera, the Olympus M.ZUIKO Digital 40-150mm f4-5.6 ED is available now for around £250 / $300 in the UK and the US, respectively.
Ease of Use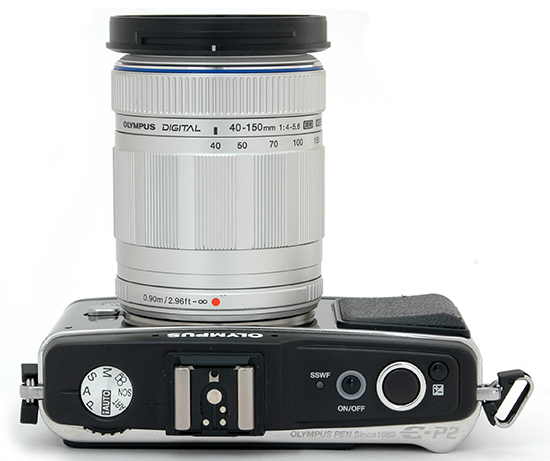 The lens attached to an Olympus E-P2 camera body
Weighing in at a mere 190 grams, the Olympus M.ZUIKO Digital 40-150mm f/4-5.6 ED is extremely lightweight for a telezoom lens. It's very small too, practically fitting in the palm of your hand.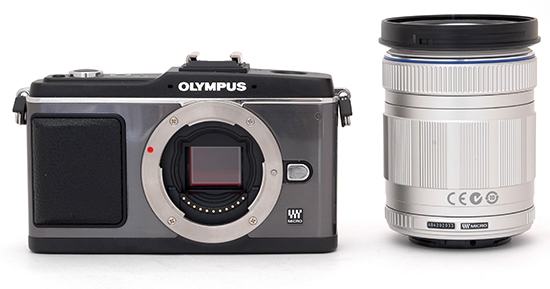 The lack of in-lens IS is no problem as long as you couple the lens to a stabilised body
The lens offers little in the way of features - there is no focus limiter, distance scale or in-lens image stabilisation on offer. Given the relatively slow maximum aperture at the long end, the lack of IS can be a bit of a problem, especially if you wanted to use it for hand-held photography on a non-stabilised body.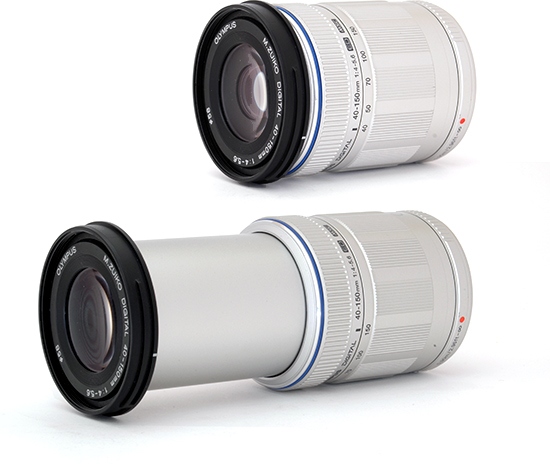 Zoomed out and zoomed in

Zooming is not internal - as you can see, the front extends considerably upon zooming to 150mm. The zoom ring is sufficiently wide and neither too stiff nor too loose. Zoom creep is not an issue. The focus ring is narrow and ribbed, and is used to give impulses to the micromotor that moves the lens elements - in other words, it is not mechanically coupled. The lens accepts filters via a standard 58mm thread around the - non-rotating - front lens element.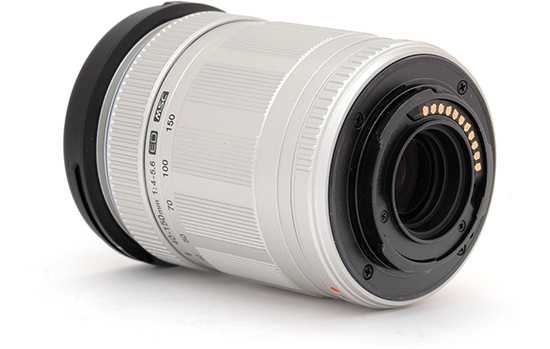 Rear of lens, isometric view
The Olympus M.ZUIKO Digital 40-150mm f/4-5.6 ED has a plastic mount that raises some questions as to its longevity, but contributes to the extremely light weight of the lens.
Focal Range
This lens has a 3.75x zoom ratio.
At the 40mm end of the range, the diagonal angle of view is 30 degrees.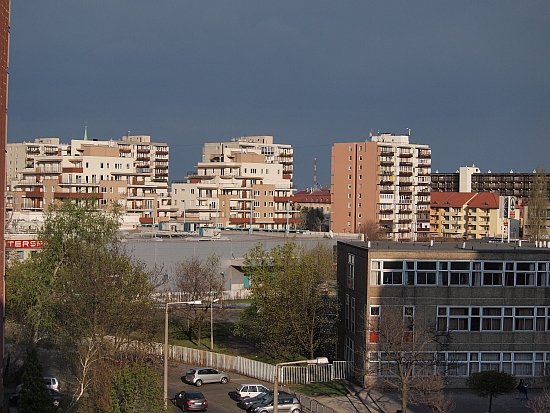 Field of view at 40mm
At the 150mm end, the angle of view narrows to 8.2°, equivalent to that of a 300mm lens mounted to a 35mm full-frame camera.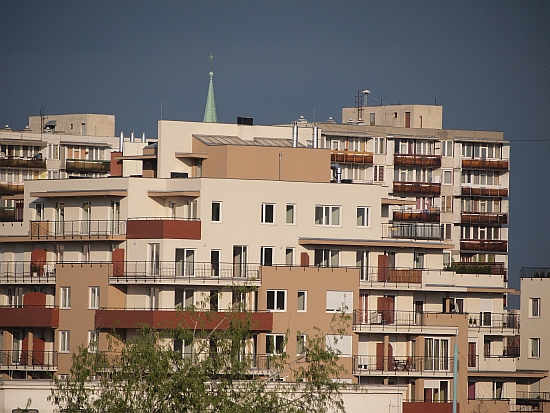 Field of view at 150mm
Focusing
With the lens attached to an Olympus E-P2 camera body, focusing is very quick and essentially silent, courtesy of the new Movie & Still Compatible (MSC) design. This applies to S-AF only, though. Once you switch to C-AF, the limitations of the contrast-detect auto focus system employed by Micro Four Thirds cameras become obvious. To wit, a contrast-detect AF system has no way of knowing if the subject is moving towards or away from the camera, and regularly has to make adjustments that cause it to go completely out of focus before becoming sharp again. I experienced this first-hand when trying to photograph a local kids' football match - the E-P2+40-150mm combo simply wasn't up to the task. This doesn't mean you can't use it for shooting sports, but you will have to employ the time-honoured methods of manually pre-focusing on a spot and anticipating the action more often than you would with an SLR camera and a modern auto-focus lens.
Speaking of manual focus, it works in a focus-by-wire fashion. This should not put you off using it as it feels pretty natural in use, and actually enables the camera to display a magnified view of the subject automatically, i.e. without your having to press a dedicated button or enter the menu. The focus ring is slim but is adequate for the job.
Chromatic Aberrations
Chromatic aberrations, typically seen as purple or blue fringes along contrasty edges, are a non-issue with this lens. We were hard pressed to find any evidence of CA in the images - these are the absolute worst examples we were able to dig up.
Light Fall-off
With the lens set to its maximum aperture, you can see some pretty heavy light fall-off in the corners at most focal lengths, especially at 150mm (see the macro sample below for an example). How noticeable this will be in your real-life photographs will depend on the subject too, of course.
Macro
This is not a macro lens but its close-up performance is pretty decent. The shot below demonstrates how close you can get to the subject - in this case, a Compact Flash memory card.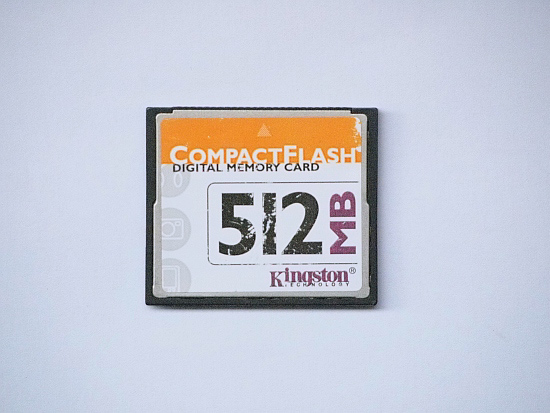 Close-up performance
Bokeh Examples
Bokeh is a word used for the out-of-focus areas of a photograph, and is usually described in qualitative terms, such as smooth / creamy / harsh etc. In the M.ZUIKO Digital 40-150mm f/4-5.6 ED, Olympus employed an iris diaphragm with 7 rounded blades, which has resulted in a pretty decent bokeh for a zoom lens, at least in our opinion. However, recognising that bokeh evaluation is subjective, we have provided a few examples for your perusal.
Sharpness
In order to show you how sharp this lens is, we are providing 100% crops on the following page.