Olympus OM-D E-M1 Mark II Review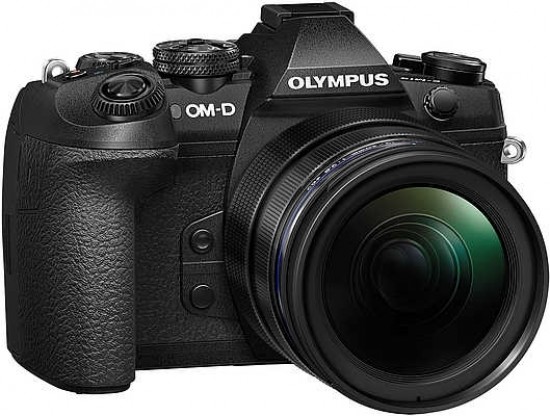 Introduction
The Olympus OM-D E-M1 Mark II is the new flagship professional model in Olympus's OM-D well-established series of compact system cameras. The E-M1 Mark II boasts a tough dust-, drip- and freeze-proof magnesium alloy body, a 20.4-megapixel Four Thirds image sensor with 121 phase-detection all cross-type auto-focus points, a 5-axis sensor-shift image stabiliser offering up to 6.5 stops of compensation, and the dual quad-core TruePic VIII processing unit which provides 18fps continuous shooting with focus tracking or 60fps without. Featuring a Micro Four Thirds lens mount, the camera also sports a high-resolution 2.36m-dot electronic viewfinder, vari-angle LCD touchscreen, hybrid AF system, focus peaking function, dual SD-card slots, Wi-Fi connectivity and in-camera HDR exposure blending. The Olympus OM-D E-M1 Mark II is currently available for £1849/$1999 body-only in the UK and US, respectively.
Ease of Use
The Olympus OM-D E-M1 Mark II is Olympus's new flagship Micro Four Thirds camera. Outwardly looking a lot like its 3-year-old predecessor, the Olympus OM-D E-M1, the new Mark II model boasts a large number of significant improvements to its image quality, handling and especially its performance. Just like the original E-M1, it also boasts a tough dust-, drip- and freeze-proof magnesium alloy body.
Like the Olympus PEN-F, the OM-D E-M1 II comes equipped with a 20-megapixel Four Thirds sensor, which offers some resolution advantage over the 16-megapixel imager of the E-M1 Mark I. Given that the size of the sensor is (obviously) unchanged, this increase in pixel count translates into a smaller pixel pitch. With no change in sensor architecture, this could lead to a reduction in dynamic range and signal-to-noise ratio. However, Olympus are telling us that this is a completely new sensor with cutting-edge technology that enables it to actually offer a wider dynamic range and even a slight improvement in noise performance, something that we take a look at on the Image Quality page.
The Olympus OM-D E-M1 Mark II's 5-axis in-body image stabiliser can now work synergistically with the in-lens stabilisation system incorporated into certain lenses - such as the new 12-100mm PRO zoom that we tested the camera with - to provide a claimed 6.5-stop advantage when shooting hand-held, surpassing any other camera that we've ever tested.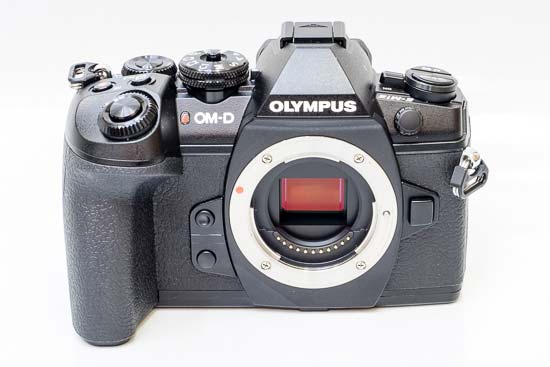 Front of the Olympus OM-D E-M1 Mark II
The Olympus OM-D E-M1 Mark II is slightly bigger and heavier than the original model, weighing in at 500g body only and measuring 134.1 x 90.9 x 68.9mm. The most easily noticeable difference is the much more prominent hand-grip, which makes it even easier to get a firm hold on the camera with three fingers whilst operating the shutter button with your right forefinger. The grip and indeed most of the front of the camera is covered in a leatherette-like textured material. Once again there are two buttons next to the lens mount. By default these controls are assigned to one-touch white balance and depth-of-field preview but, like almost everything else on the OM-D E-M1 Mark II, they can be reprogrammed to perform different tasks if you so desire.
On the top of the camera, to the left of the viewfinder housing (when viewed from above and behind) there is a cluster of controls comprised of two raised buttons and a power switch. Each of the two buttons provides access to two sets of settings. Press the first one and you can adjust the camera's drive modes and HDR settings with the rear and front control dials, respectively. Hit the second and you can cycle through the various focus and metering modes offered by the camera. The placement of the on/off switch might well raise a few eyebrows as it means you need to use your left hand to turn on the camera, which is hardly an ideal solution. Actually, this is a design nod to the Olympus OM-1 film camera that had its power switch in virtually the same location – which is all nice and well, but we'd still prefer it to be in a position where you can easily reach it with your right thumb or forefinger.
Moving over to the other side of the viewfinder hump, we find a traditional mode dial with a not-so-traditional locking pin in the middle. On most other cameras that have a lockable dial, you need to hold down the centred button while turning the dial – on the Olympus OM-D E-M1 Mark II, the mode dial locks with one press of the locking pin and unlocks with a second press, which is a clever idea. The dial itself offers the usual P, A, S and M modes, plus a dedicated Movie mode and separate positions for Art Filters, Intelligent Auto and 3 separate Custom modes for quick access of custom settings banks, or Mysets in Olympus parlance.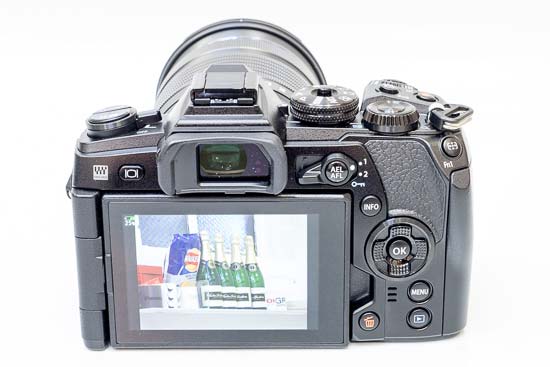 Rear of the Olympus OM-D E-M1 Mark II
The Olympus OM-D E-M1 Mark II inherits the still innovative 2x2 Dual Control system. This is comprised of two top-mounted control wheels and a function lever that's pretty easy to reach with your right thumb.  The function lever has two settings. In the first position, moving the control dial on the front of the camera adjusts the aperture while the dial on the back adjusts the shutter speed. On the second setting, the dials change the ISO value and white balance respectively. You can also configure the switch's operation too – for example, you can turn it into a handy AF/MF toggle if that makes more sense to you. The remaining controls on the camera's top plate include the already mentioned shutter release, plus a dedicated Movie Record button and the customisable Function 2 button.
The rear plate features more or less the same controls as on the original E-M1. The camera's back is dominated by a large, vari-angle rear touchscreen which can now be tilted to the side and rotated to the front for easier selfies, a big improvement on the older model's more restricted range of movement. This LCD panel has the same resolution, 1,037,000 dots, as its predecessor, and capacitive touchscreen technology. The Info, Menu, Playback and Delete buttons have all been carried over from the original model, although they have been slightly rearranged, the Fn1 button is still on the upper right part of the rear plate, and there is still an AEL/AFL button encircled by the afore-mentioned function lever and a Display button located to the left of the viewfinder.
The Olympus OM-D E-M1 Mark II also has the same viewfinder, offering a 2.4-million-dot resolution, 1.48x magnification and a 21mm eyepoint. It also has a refresh rate of 120fps and a latency of just 6 milliseconds, which should enable you to engage in true decisive-moment photography and to follow your subject relatively easily in continuous shooting mode. As befits a camera of this class, the finder has an eye proximity sensor that allows the camera to switch from the LCD screen to the EVF automatically when you lift it up to your eye. The E-M1 Mark II's electronic viewfinder also "gains up" in low light, making it arguably more usable than an optical finder.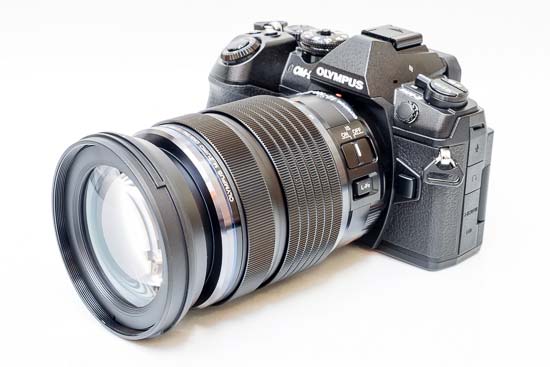 Side of the Olympus OM-D E-M1 Mark II
The Olympus OM-D E-M1 Mark II makes do without a pop-up flash but comes bundled with a tiny FL-LM3 flash unit (first introduced with the OM-D E-M5 Mark II camera), which clips into the external flash hotshoe. Naturally you can also use more powerful system flashes with the E-M1 Mark II – such as the powerful new FL-900R, the FL-36R, the FL-600R or the FL-50R – but these are of course sold separately.
Focusing is one area where the Olympus OM-D E-M1 Mark II offers a clear improvement over the original E-M1. The on-sensor phase-detection system has been completely overhauled and now includes 121 cross-type AF points covering almost the entire frame, rather than the E-M1's 37 phase-detection points, which enables better continuous AF performance especially with low-contrast subjects in low-contrast light, as well as fast focusing with "regular" Four Thirds lenses, mounted via an adapter. Low-light auto focus continues to be excellent – the system managed to focus down to -2EV (as long as there was something to focus on) even without the use of the focus assist lamp. This is seriously low light, about the same as a landscape lit only by moonlight and nothing else.
Additionally, the focusing system has received a speed boost – the Olympus OM-D E-M1 II can shoot 18 full-resolution frames per second with continuous autofocus, when using the electronic shutter, a massive improvement on the E-M1's 6.5fps rate. The Olympus OM-D E-M1 II's mechanical shutter is rated for 200,000 actuations and is capable of shooting up to 15 frames per second. Additionally, the camera has a Silent mode, in which it uses an electronic shutter capable of high-speed continuous shooting at up to 60fps with the focus fixed (18fps with C-AF). A key contributor to this performance boost is the company's TruePix VIII image processing unit, which features two quad-core chips.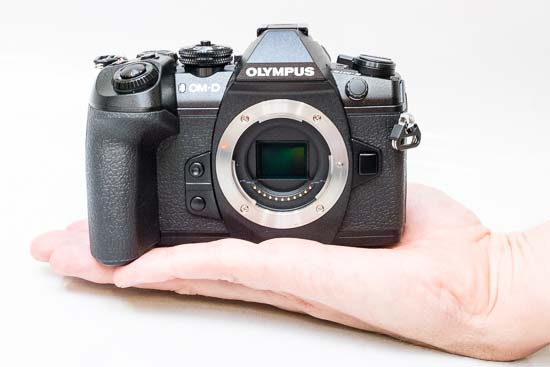 The Olympus OM-D E-M1 Mark II In-hand
Manual focus enthusiasts will be delighted to learn that the Olympus E-M1 has a focus peaking feature, which enables precise focusing even without magnifying into the live view feed. The OM-D E-M1 II offers a new Pro Capture mode that starts recording full-resolution shots when you half-press the shutter release. Plus, in addition to shooting at the sensor's native resolution, there are two High Res Shot Modes in which the camera combines 8 exposures to produce one "supersized" JPEG image with a resolution of either 25 or 50 megapixels. As before, taking advantage of this mode requires the camera to be mounted on a tripod.
The implementation of Wi-fi the OM-D E-M1 Mark II is actually quite good. You first need to download a free app for your smartphone (Android and iOS versions are both available), but after that, everything is pretty straightforward. You simply touch the Wi-Fi icon on your camera's display to set up a connection. The Olympus OM-D E-M1 Mark II will provide you with an SSID and password, but you do not need to type in either of them – just launch the app on your phone and scan the QR code displayed by your camera with your phone. This is nearly as fast as using NFC (Near-Field Communication), a feature that the OM-D E-M1 doesn't offer. Once the connection is established, you can download images from the camera to your smartphone, or use the latter to remotely control the E-M1 Mark II. The level of control provided is quite good – you can choose from a variety of shooting modes, set aperture, sensitivity, shutter speed and white balance, choose a drive mode, and focus on practically any part of the frame, all remotely.
The OM-D E-M1 Mark II movie mode is much improved. It can now record cine-standard 4K videos at 24fps with a bit rate of up to 237Mbps in the DCI 4K mode (4096 x 2160 pixels) or UHD 4K footage at 30fps and a 102Mbps bit-rate. Full HD 1080p and HD 720p recording is also supported. It can use its excellent 5-axis sensor-shift image stabiliser which translates into surprisingly smooth hand-held footage, even when using a medium telephoto lens. Manual exposure can be enabled for videos, although you do have to rotate the mode dial to the Movie position to take advantage of this. (You can start filming in practically any other shooting mode too, but in that case, videos will always be recorded with auto exposure.)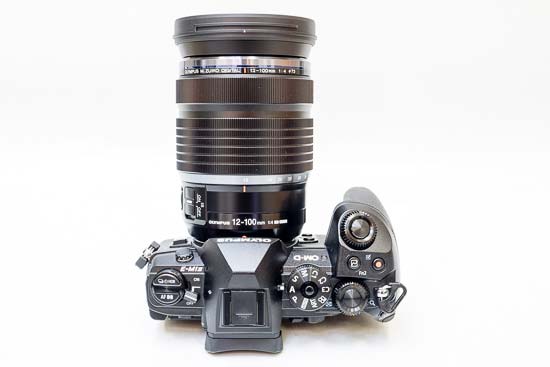 Top of the Olympus OM-D E-M1 Mark II
The Olympus OM-D E-M1 Mark II has a time-lapse photography mode, which allows you to capture up to 999 frames at user-specified intervals. You can also tell the camera when to start the sequence, which comes in handy if you want to set up the camera well in advance. The E-M1 Mark II will save each shot in the format of your choice – ORF or JPEG – and can optionally create a time-lapse video in-camera, which you can play back on the rear screen, or upload to a website like Vimeo or YouTube. While shooting raw and creating a video afterwards on your PC gives you more control over grading, sharpening etc., the in-camera option is nice to have when shooting JPEG or raw+JPEG, as it is obviously much faster.
The Olympus OM-D E-M1 Mark II has a complex, multi-level menu system that might not seem intuitive at first sight, so reading the manual is a good idea before starting to explore it. The good news is that these menus are mainly there to allow you to set up the camera exactly the way you want it to be set up – once you're done with that, you'll seldom need to delve into the menus again, courtesy of the large number of external controls (12 in total) as well as the excellent Super Control Panel, which is basically an interactive status display inherited from older Olympus cameras.
The Olympus OM-D E-M1 Mark II is powered by a more powerful 1720mAh BLH-1 lithium-ion battery, which promises a lifespan of around 440 shots according to CIPA testing standards, plus faster charging. The camera saves images and movies on SD, SDHC and SDXC memory cards (up to UHS-II speed class), and there are now two memory card slots, so it's possible to make instant back-ups in the field by saving your shots on two cards simultaneously. Unfortunately only slot is UHS-II compatible. Wired connection ports include a USB 3 Type C connector, an HDMI port and standard 3.5mm stereo microphone and headphone jacks. Moving on to the bottom of the camera, the tripod socket has been brought in line with the lens's optical axis – which is great news if you are into serious panoramic photography but not if you've been counting on being able to use your old HLD-7 portrait grip with this new camera.