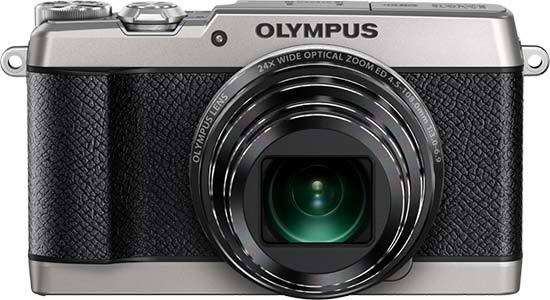 Introduction
The Olympus SH-2 is a raw-capable compact camera with a 16-megapixel imager and 24x optical zoom. Other highlights include a highly effective 5-axis image stabiliser, a brand new Nightscape Mode, 11.5fps continuous shooting, 120/240fps high-speed Movie, Photo & Movie Capture, Time Lapse Movie modes and built-in Wi-Fi. The Olympus SH-2 is currently available for £249/$399 in the UK and the US, respectively.
Ease of Use
Just like its predecessor, the Olympus SH-2 is a compact travelzoom that takes its design cues from the manufacturer's PEN line of compact system cameras. Encased in a retro styled, exquisite-looking aluminium alloy body, the Olympus SH-2 is arguably one of the most attractive travelzoom cameras we have ever come across.
Powered off, with its 24x zoom lens retracted for storage, the Olympus SH-2 easily fits into most pockets, making it easy to carry around even on long journeys and tedious hikes. Switch on the camera, and the lens extends in less than two seconds; a very good performance given the massive focal range on offer. The lens goes from 4.5mm to 108mm, which is equivalent to 25-600mm in 35mm terms. It's worth noting that in most interchangeable-lens systems, you would need a minimum of three (usually more) lenses to cover this range. Low-light focusing is aided by an AF assist light located top left of the lens surround (if viewed head on).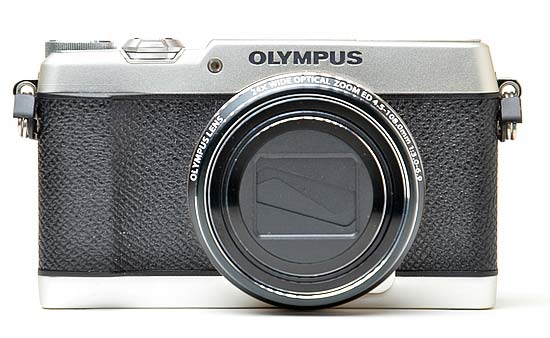 Front of the Olympus SH-2
The camera has a small but well sculpted, textured hand-grip, which provides a surprisingly secure hold and a good resting place for your fingers. The shutter release is in a natural location for your index finger, with the tactile zoom lever surrounding it. Right next to the shutter release is a small and recessed on/off button and a tiny LED that enables the photographer to quickly check if the camera is powered on.
On the other side of the shutter release / zoom lever combination you find the camera's mode dial, with positions for "intelligent" Auto, Programmed Auto, Manual, ART, Scene, Nightscape, Panorama, Photo Story and Advanced Movie modes. On the other side of the SH-2's top deck is the shooter's built-in flash. Completely recessed by default, the flash can be popped up manually using a tiny spring-loaded switch on the rear plate of the camera. There's no hot-shoe, so the only way to sync up an external flashgun with the camera is to use an optical slave (of the variety that isn't fooled by the pre-flashes emitted by the built-in unit). Unlike some other superzooms such as the Panasonic Lumix TZ70, the Olympus SH-2 has no eye-level electronic viewfinder, either.
This means that the pictures can only be composed on the 3" TFT monitor that occupies most of the camera's rear plate. Offering a resolution of 460,000 dots – which is adequate but certainly not outstanding –, this touch-sensitive display is fairly easy to see indoors and out, although its visibility is compromised in really strong daylight, particularly when covered with fingerprints – as is often the case with touchscreens.
Rear of the Olympus SH-2
To the right of the screen is a group of controls including a Playback button, a four-way navigation pad with a centred OK button, Menu and Info buttons. The camera also has a comfortable, textured thumb rest and a conveniently located, dedicated movie shutter release. A handful of functions, including flash mode, exposure compensation and self-timer/drive modes are mapped unto the four-way pad, but that's all as far as hardware controls are concerned. This means there are no direct-access buttons for white balance or ISO speed – these, alongside other shooting parameters like photo and video resolution, aspect ratio and picture mode can be adjusted via the camera's Function Menu, accessed by pressing the OK button. As with most Olympus compacts, the Playback button can be configured to act as a secondary power button when all you want to do is review the pics and videos stored on the memory card or the camera's internal memory.
Touchscreen controls include Touch AF, Touch Shutter and various playback functions. In intelligent Auto mode you can also touch the screen to change the live guide setting levels (the live guide is a simplified set of controls tailored to the needs of beginners).
Typically for a compact camera with a small, 1/2.3-type sensor, the lens appears not to have an iris diaphragm, which is the most probable reason why there is no Aperture or Shutter priority mode on offer. In the Manual shooting mode, you do get to change the f-stop but there are only two available settings at any given focal length, suggesting that the camera makes do with a built-in neutral density filter instead of a proper diaphragm. The Manual mode is still useful though, as you get to adjust the ISO and shutter speed as well as things like white balance, image resolution, focusing and metering modes, and an array of other shooting variables.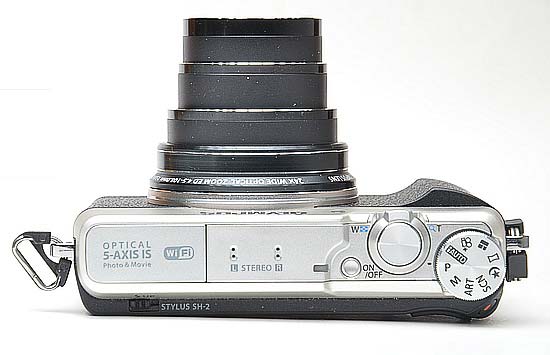 Top of the Olympus SH-2
If you rotate the mode dial to the ART position, you can choose from a range of popular 'art filters' including Pop Art, Soft Focus, Pale&Light Colour, Dramatic Tone, Grainy Film, Pin Hole and Diorama. As far as scene modes are concerned, the usual suspects (Portrait, Landscape, Sport, Self Portrait, Indoor, Sunset, Cuisine, Document, Beach & Snow) are all present and correct, and the SH-2 throws in a few more for good measure. Interval Shooting allows the camera to take up to 99 successive frames automatically at user-specified intervals ranging from 10 seconds to an hour, while e-Porrait is a 'beauty' mode that smooths out wrinkles and hides skin imperfections in people shots. Super Macro and Backlight HDR are also found among the scene modes, although they should really be available as shooting options in P and M modes.
The brand new Nightscape Mode, on the other hand, has its very own position on the mode dial. This shooting mode has five options, including Night Portrait, Night Scene, Fireworks, Hand-held Starlight and Live Composite; the latter of which has trickled down from the manufacturer's OM-D line of compact system cameras. Live Composite is especially useful for capturing star trails without overexposing the other elements in the frame. The Panorama mode has two options – Auto and Manual. In Auto mode, you simply pan the camera and it automatically processes the images for you. In Manual Panorama mode, three frames are taken and combined by the camera. The user composes the shots using a guide frame and manually releases the shutter. Photo Story is an in-camera collage creator that offers multiple layouts. When shooting, the images are incorporated into the chosen layout frame set to create the desired collage.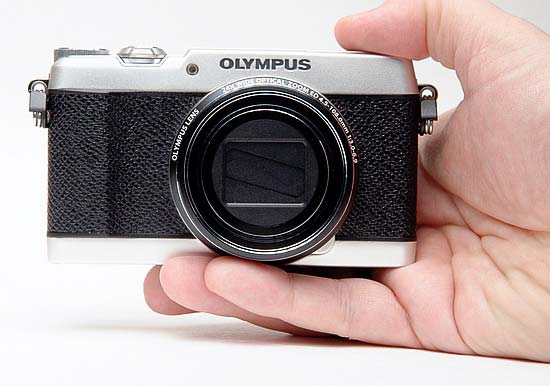 The Olympus SH-2 In-hand
The Advanced Movie mode is one of the most compelling features of the Olympus SH-2. For starters, the camera can shoot 1080p Full HD movies at up to 60fps, complete with stereo sound and optical zoom – as well as 5-axis mechanical image stabilisation, which comes in especially handy when shooting hand-held in the telephoto range. If this wasn't enough, the SH-2 also allows you to record silent high-speed movies for slow-motion playback. Shooting at 120fps, you can record a video at a respectable 720p HD resolution, which is then played back at 30fps, i.e. four times slower. There is a 240fps option as well, although at this setting, resolution drops to 432×324 pixels. The Olympus SH-2 can also create a time-lapse movie for you in-camera, allowing you to compress up to five hours into a video clip of up to 20 seconds. There is a separate Photo In Movie mode, in which you can take up to a dozen stills while filming a movie. The Photo in Movie function is also enabled when shooting in P mode or M mode.
Just like its predecessor, the SH-1, the Olympus SH-2 features Wi-Fi connectivity. This means that the SH-2 can create its own wireless network and be controlled remotely via your smartphone or tablet. To take advantage of this, you need to have an Android or iOS device and download the free Olympus Image Share app from GooglePlay/iTunes. After that, everything is pretty straightforward. You simply touch the Wi-Fi icon on your camera's display to set up a connection. The Olympus SH-2 will provide you with an SSID and password, but you do not need to type in either of them – just launch the app on your phone and scan the QR code displayed by your camera with your phone. This is nearly as fast as using NFC (Near-Field Communication), a feature that the SH-2 doesn't offer. Once the connection is established, you can download images from the camera to your smartphone, or use the latter to remotely control the SH-2. The level of control provided is quite good – you can use the optical zoom, set white balance and ISO speed, change the auto focus area, select the desired drive mode, and of course fire the shutter.
In use, the camera proved to be quite responsive, with quick start-up, focus acquisition and shot-to-shot times. There are some small thoughtful touches, such as a two-axis electronic level gauge, that also improve the user experience. Focus hunting was  sometimes experienced in low-light situations, especially at the telephoto end, but it wasn't excessive. Other than this, and the afore-mentioned lack of an eye-level electronic viewfinder – which is more of the rule rather than the exception with cameras of this size – we found little to complain about. The Olympus SH-2 performs as you would expect from a modern carry-everywhere travelzoom camera.