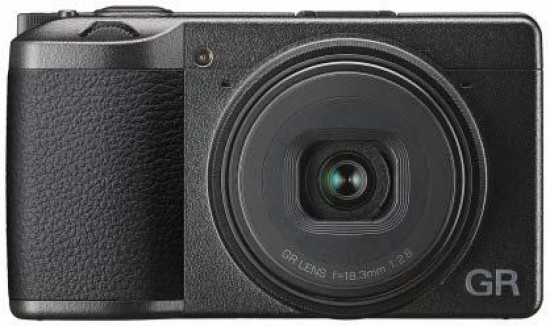 Conclusion
Whereas the previous GR II camera was a very modest upgrade of the original GR, principally only adding wi-fi and NFC connectivity to its predecessor, the new GR III model is a much more significant reworking of the GR blueprint. It features a new sensor, lens, processor, external design, touchscreen, image stabilisation system, focusing system and Bluetooth connectivity, whilst maintaining the pocketable size and speedy response that fans have come to love.
The new GR III once again features a large APS-C image sensor that delivers great results. The new 24 megapixel sensor exhibits no noise from the base sensitivity of ISO 100 all the way up to 3200, with the higher settings of 6400, 12,800 and even 25,600 all perfectly usable for smaller prints, although we wouldn't recommend using the two fastest settings. The redesigned 28mm lens and the lack of an optical low-pass filter both improve image quality further, with the option of the widely supported Adobe DNG RAW format if you want to take control, complete with in-camera RAW processing, being the cherry on the still image cake. Video performance, although improved to 1080/60p quality, continues to lag well behind most modern cameras, with the GR III's emphasis being again on the still image side of things - we'd really expect 4K recording with a decent set of video features on a 2019 camera.
There are a couple of notable bugbears about the GR III, though, that rather take the shine off it as a whole. Firstly, the battery life is pretty terrible - around 150 shots per charge, far short of the official CIPA rating of 200 shots. Sure, you can carry extra batteries or an external powerbank, but that rather defeats the purpose of buying such a small camera. Secondly, the new hybrid AF system promises snappier, more accurate performance on paper, but often fails to deliver in practice, especially in low-light conditions, causing missed shots on more than occasion. Thirdly, this latest version loses the handy pop-up flash that was featured on all its predecessors, the main casualty of making the camera smaller.
This latest iteration of the GR series also sees a significant increase in price, up from £599.99 / $799 on the GR II to £799 / $899 for the GR III, making it less financially attractive as a second camera and which may take it out of reach of some potential buyers. When you consider that you can buy an excellent mirrorless camera like the Fujifilm X-T30 for the same price, the GR III again seems over-priced, although the GR camera has an obvious size advantage over a comparable interchangeable lens camera. Similarly sized rivals with fixed lenses are few and far between - the most obvious one is the Fujifilm XF10, which shares most of the same core features as the GR III but comes at a much lower price point of £449 / $499.
In summary, while the new Ricoh GR III represents a significant upgrade of the 4-year-old GR II model, it still feels a little under-powered in today's camera market, and also crucially more than a little over-priced. We're sure that die-hard GR-series fans will continue to love the winning combination of excellent still image quality in a small, pocketable package, but the poor battery life, so-so auto-focusing and especially that big price increase are likely to put off would-be new owners.
Ratings (out of 5)
Design
4.5
Features
4
Ease-of-use
4
Image quality
4.5
Value for money
3