​Panasonic Lumix LX100 II​ Review

Introduction
Ease of Use
Four years after the launch of the original LX100 camera comes the Mark II version. This is the first time that Panasonic have ever given a camera the Mark II designation, rather than a completely new model name (LX200, for instance), which indicates that the LX100 II is an evolution of the original model, rather than a major upgrade - and after using it for a few weeks, that's certainly what I found.
Which isn't to say that you should dismiss the LX100 Mark II and quickly look elsewhere, for two reasons. Firstly, the original LX100 was rather ahead of its time in offering a large image sensor paired with a standard zoom lens in a compact form factor, and secondly, it still has little competition today if that's the main feature set that you're looking for.
As the cameras are so similar, it's probably a good idea to read our in-depth review of the Panasonic LX100 first, and then return here to read all about the changes that Panasonic have made to the Mark II version, as that's what we're going to mainly focus on in this review.

Front of the Panasonic Lumix LX100 II
Main rivals of the Panasonic LX100 II that instantly spring to mind are the Sony RX100 series of cameras, especially the RX100 V, the APS-C Canon PowerShot G1 X Mark III and the one-inch sensor Canon PowerShot G9 X Mark II, and the Fujfiilm XF10 and Ricoh GR III, which both have APS-C sensors but offer a fixed focal length lens rather than a zoom. And that's it.
So, what have Panasonic decided to improve in the 4 years since the LX100 was launched? Well, its mainly two things - the image sensor, and the touchscreen LCD. The sensor is now a new 21.77 megapixel multi-aspect Micro Four Thirds variant, rather than the 16.84 megapixel one offered by the LX100. As on the original model, the LX100 II crops the image to allow for multi-aspect shooting, which results in a highest resolution of 17 megapixels in the 4:3 mode. This compares to the 12 megapixels offered by the LX100 in the same mode, so you effectively get 5 extra megapixels on this latest model.

Front of the Panasonic Lumix LX100 II
In addition to that extra resolution, the Panasonic LX100 II uses exactly the same sensor and processor as the GX9, so in both theory and practice, it offers a very similar level of image quality to that mirrorless camera.
The second major innovation on the LX100II is the mostly welcome addition of a touchscreen LCD. The most immediately noticeable function is the ability to focus on your main subject simply by touching it on the LCD. If the subject then moves, the LX100 II cleverly follows it around the screen using the the AF tracking function. If the subject exits the frame entirely, simply recompose and tap it again to start focusing.
There's also a clever feature called Touchpad AF allows you to move the focus point area with your finger on the LCD while you're looking through the EVF. It is a little too easy to accidentally press the screen with either your finger or nose and set the focus point to the wrong area for the current subject, but a simple tap in the middle of the LCD will center the AF point. The size of the AF point itself can also be changed via an interactive onscreen slider.

Rear of the Panasonic Lumix LX100 II
If you prefer to manually focus rather than use the lightning fast AF system, you can magnify any part of the subject by 1x, 5x or 10x by simply dragging the yellow box around the screen. The final touchscreen ability from an image composition point of view is the ability to release the shutter, with a small icon on the right hand side of the screen enabling this functionality, and then a single on-screen tap all that's required to take the picture.
All of the menu options can be changed via the touchscreen interface, including the Main menu system, and there five extra "soft" function buttons available on the LCD screen in addition to the physical Fn buttons. You can also control image playback by touching the screen, with the ability to tap a thumbnail to see the full-size version, scroll through your images by dragging them from side to side, and magnifying them up to 16x.
The LCD screen also benefits from a bump in resolution from 921K dots on the original to 1240K on the Mark II. We'd have preferred to have seen Panasonic implement a tilting screen on the LX100 II - instead it remains resolutely fixed in place, making it less suitable for vlogging than some of its competitors.

Top of the Panasonic Lumix LX100 II
Physical differences between the LX100 and LX100 II are small. The latter now has five function buttons, rather than three, and an ever so slightly bigger grip. It's fair to say that if you enjoyed using the first version, you'll be instantly at home with the second.
The LX100 II offers the same 4K Photo modes as found on Panasonic's latest mirrorless cameras, including Post Focus, Focus Stacking, Sequence Composition, Light Composition, Auto Marking and Bulk Saving. The first two in particular may be good enough reason to upgrade to the Mark II for some specialized photographers. For black and white shooter, two new Photo Styles have been added, the L.Monochrome and L.Monochrome D modes, bringing the total number of photo modes to nine.
The original LX100 was well ahead of it time by supporting 4K video recording at 30/25/24p, with a 1.2x crop resulting in a 28mm wide-angle field of view. On the LX100 II the crop factor has increased slightly to 1.32x, producing a slightly narrower 32mm focal length at the wide end of the zoom when shooting video. Unfortunately Panasonic haven't added a Microphone Input port to the LX100 II, one of the things that we wished they had included on the first model.

The Panasonic Lumix LX100 II In-hand
The new Bluetooth 4.2 option establishes a low-energy, permanent connection between the camera and a smart device for easier transfer of images. The LX100 II also again offers the same 2.4GHz (IEEE 802.11b/g/n) wi-fi as its predecessor. Establishing a wi-fi connection lets you use your smartphone to change the key camera settings and even fire the shutter button remotely, while the auto transfer function automatically backs up your photos onto a tablet. You can also use GPS data from your smartphone to record the shooting location onto your images.
Both the LX100 and the LX100 II have USB ports, but whereas the one on the original model as used to connect it to a PC, the port of the Mark II camera can be used to charge the battery by connecting it to a computer or portable charger, so you don't need to carry the supplied battery charger if you wish.
And that's about it for the improvements offered by the Panasonic Lumix LX100 II in comparison with the popular LX100. You'd be hard-pressed to tell the difference between them side-by-side, with the touchscreen functionality being the main handling difference. Now let's move on and take a look at the image quality offered by the new image sensor...
Image Quality
All of the sample images in this review were taken using the 17 megapixel Fine JPEG setting, which gives an average image size of around 6Mb.
The Panasonic Lumix LX100 II produced images of excellent quality during the review period. It produces noise-free images at ISO 100 to 3200, with limited noise starting to appear at ISO 6400. ISO 12800 exhibits quite visible noise and loss of fine detail, and the fastest setting of ISO 25600 is even noisier, but still usable for small prints and web use.
The Panasonic Lumix LX100 II dealt extremely well with chromatic aberrations, with limited purple fringing effects appearing only in high contrast situations. The night photograph was excellent, with the maximum shutter speed of 60 seconds allowing you to capture plenty of light.
The built-in anti-shake system works very well when hand-holding the camera in low-light conditions or when using the telephoto end of the zoom range. Macro performance is also very good, allowing you to focus as close as 3cm away from the subject (although it's difficult to get the lighting correct at such a close distance). The images were a little soft straight out of the camera at the default sharpening setting and ideally require further sharpening in an application like Adobe Photoshop, or you can change the in-camera setting if you don't like the default results.
The large number of Creative Controls and Photo Styles allow you to quickly and easily customise the look of the camera's JPEG images, while the clever Panorama mode allows you to take panoramic images very easily by 'sweeping' with the camera, with the ability to apply one of the many different creative filters.
Noise
There are 9 ISO settings available on the Panasonic Lumix LX100 II . Here are some 100% crops which show the noise levels for each ISO setting for both JPEG and RAW file formats:
| | |
| --- | --- |
| JPEG | RAW |
| ISO 100 (100% Crop) | ISO 100 (100% Crop) |
| | |
| | |
| ISO 200 (100% Crop) | ISO 200 (100% Crop) |
| | |
| | |
| ISO 400 (100% Crop) | ISO 400 (100% Crop) |
| | |
| | |
| ISO 800 (100% Crop) | ISO 800 (100% Crop) |
| | |
| | |
| ISO 1600 (100% Crop) | ISO 1600 (100% Crop) |
| | |
| | |
| ISO 3200 (100% Crop) | ISO 3200 (100% Crop) |
| | |
| | |
| ISO 6400 (100% Crop) | ISO 6400 (100% Crop) |
| | |
| | |
| ISO 12800 (100% Crop) | ISO 12800 (100% Crop) |
| | |
| | |
| ISO 25600 (100% Crop) | ISO 25600 (100% Crop) |
| | |
Focal Range
The Panasonic Lumix LX100 II 's 3.1x zoom lens offers a fairly versatile focal range, as illustrated by these examples.
24mm

75mm

Sharpening
Here are two 100% crops which have been Saved as Web - Quality 50 in Photoshop. The right-hand image has had some sharpening applied in Photoshop. The out-of-the camera images are a little soft at the default sharpening setting. You can change the in-camera sharpening level if you don't like the default look.
| | |
| --- | --- |
| Original (100% Crop) | Sharpened (100% Crop) |
| | |
| | |
| | |
File Quality
The Panasonic Lumix LX100 II has 2 different JPEG image quality settings available, with Fine being the highest quality option. Here are some 100% crops which show the quality of the various options, with the file size shown in brackets.
| | |
| --- | --- |
| Fine (7.71Mb) (100% Crop) | Standard (3.52Mb) (100% Crop) |
| | |
| | |
| RAW (19.4Mb) (100% Crop) | |
| | |
Chromatic Aberrations
The Panasonic Lumix LX100 II handled chromatic aberrations excellently during the review. There's very slight purple fringing between areas of high contrast, but it's only noticeable on really close inspection, as shown in the examples below.
| | |
| --- | --- |
| Chromatic Aberrations 1 (100% Crop) | Chromatic Aberrations 2 (100% Crop) |
| | |
Macro
The Panasonic Lumix LX100 II offers a macro setting that allows you to focus on a subject that is 3cm away from the camera when the lens is set to 24mm wide-angle. The first image shows how close you can get to the subject.
Macro

Night
The Panasonic Lumix LX100 II 's maximum shutter speed is 60 seconds, which is great news if you're seriously interested in night photography. The shot below was taken using a shutter speed of 30 seconds at ISO 200.
Night

Aspect Ratios
The Panasonic Lumix LX100 II offers four different aspect ratios.
Photo Styles
The Panasonic Lumix LX100 II has 8 preset Photo Styles, with Standard as the default setting. The contrast, sharpness, saturation and noise reduction can be individually set for each picture style, and there is also a Custom style so that you can create your own look.
Standard

Vivid

Natural

Monochrome

L.Monochrome

L.Monochrome D

Scenery

Portrait

Filters
The Panasonic Lumix LX100 II has an extensive range of creative Filters with 22 different options on offer.
| | |
| --- | --- |
| Expressive | Retro |
| | |
| | |
| Old Days | High Key |
| | |
| | |
| Low Key | Sepia |
| | |
| | |
| Monochrome | Dynamic Monochrome |
| | |
| | |
| Rough Monochrome | Silky Monochrome |
| | |
| | |
| Impressive Art | High Dynamic |
| | |
| | |
| Cross Process | Toy Effect |
| | |
| | |
| Toy Pop | Bleach Bypass |
| | |
| | |
| Miniature Effect | Soft Focus |
| | |
| | |
| Fantasy | Star Filter |
| | |
| | |
| One Point Color | Sunshine |
| | |
Sample Images
This is a selection of sample images from the ​Panasonic Lumix LX100 II​ camera, which were all taken using the 17 megapixel Fine JPEG setting. The thumbnails below link to the full-sized versions, which have not been altered in any way.
Sample RAW Images
The Panasonic Lumix LX100 II enables users to capture RAW and JPEG format files. We've provided some Panasonic RAW (RW2) samples for you to download (thumbnail images shown below are not 100% representative).
Sample Movies & Video
Product Images
































Conclusion
The seventh generation of the LX-series is very much evolutionary, rather than revolutionary, hence the addition of the Mark II moniker, rather than a completely new model name. If you're already a Panasonic Lumix LX100 user, then you'll find little here to tempt you to upgrade. For new would-be owners, though, the Panasonic Lumix LX100 II remains an excellent pocket camera for enthusiasts that has few real rivals.
A relatively large Four Thirds sensor, excellent 4K video, a fantastic Leica-branded lens, touchscreen LCD and a viewfinder are just some of the mouth-watering features on offer in the new LX100 II. The fact that most of them were also present in the 4-year-old LX100 camera leaves a lightly bitter taste in the mouth, but shouldn't be reason enough to put you off what is an undeniably excellent pocket camera.
That said, a combination of the launch price of LX100 II being pitched higher than the original model, and that latter model now being around the £600/$600 mark, we'd probably recommended tracking down an LX100 in the first instance, unless you really want the higher resolution or touchscreen functioanlity offered by the 2018 variant. In either case, you'll be getting a fantastic camera that's capable of capturing both stunning stills and video.
Ratings (out of 5)
Design
5
Features
4.5
Ease-of-use
4.5
Image quality
5
Value for money
4
Main Rivals
Listed below are some of the rivals of the ​Panasonic Lumix LX100 II​.
Review Roundup
Reviews of the ​Panasonic Lumix LX100 II​ from around the web.
Specifications
News
The Panasonic Lumix LX100 II i a new premium compact camera with a 17 megapixel multi-aspect Four Thirds sensor, 24-75mm f/1.7-f/2.8 high-speed lens and a touch-sensitive screen.
The LX100 II will be available from 1st October priced at £849/€949. The LX100 II is an addition to the LX range and will not replace the current LX100.
Panasonic UK Press Release
The new LUMIX LX100 II camera: your perfect companion
· Large high-sensitivity 17 megapixel multi-aspect-sensor (when 4:3)
· Leica DC Vario-Summilux Lens with f/1.7 fast aperture for gorgeous bokeh
· New touch-sensitive screen for more flexibility and creativity
22nd August 2018 - Panasonic is proud to announce the Lumix LX100 II. Now in its seventh generation, the acclaimed LX series is the ideal companion for street photographers, being small and light while still featuring many high-end technical specifications.
Along with a new 17 megapixel multi-aspect Four Thirds sensor, the LX100 II houses a Leica DC VARIO-SUMMILUX f/1.7-f/2.8 high-speed lens offering a 35mm equivalent of 24-75mm for superb versatility.
An LVF (Live View Finder) joins a new 3.0-inch touch-sensitive screen, giving you the flexibility to compose your images however you want to. Other fantastic features include 4K Video and 4K Photo, the introduction of new Monochrome Photo Styles, Bluetooth and Wi-Fi connectivity, plus USB charging for power boosts on the move.
LX100 II will be available from 1st October and RRP £849/€949. The LX100 II is an addition to the LX range and will not replace the current LX100.
#LX100 #LX100II #lumix #panasonic
Lumix LX100 II Key Features
Micro Four Thirds Large High Sensitivity MOS Sensor and Venus Engine
The Lumix LX100 II integrates a total 21.77-megapixel sensor achieving effective 17.0 megapixel in 4:3 aspect. A boost in resolution when compared to the original LX100 camera, the extra pixels ensure high resolution no matter which one you choose to shoot in - pick from 4:3, 3:2, 1:1 and 16:9.
Approximately 1.6x larger than a one-inch type sensor, the new sensor boasts excellent signal to noise ratio, resulting in a dramatic reduction in noise when shooting at the maximum ISO setting of 25,600.
Meanwhile, the latest Venus Engine renders vibrant, true-to-life high quality images with excellent resolution, high contrast and impressive colour reproduction.
*2 Multi-aspect count
24-75mm f/1.7-2.8 (equivalent) lens: LEICA DC VARIO-SUMMILUX Lens and 3cm Macro Shot
Providing a 3.1x optical zoom, the 24-75mm equivalent lens is close to the classic 24-70mm focal length.
Giving you the flexibility to shoot a diverse range of subjects, from landscapes to portraits, the lens also benefits from a wide f/1.7-f/2.8 aperture for beautiful bokeh and fantastic low-light shooting.
Equipped with Power O.I.S. (Optical Image Stabiliser), and comprising 11 elements in 8 groups, including 2 ED lenses and 5 aspherical lenses with 8 aspherical surfaces, you can be sure that your shots will be sharp and superbly defined.
Macro shots can be captured beautifully thanks to a minimum focusing distance of 3cm (wide) and 30cm (tele).
Intuitive controls, easy composition and high-speed response
Along with a high-resolution (2764k-dot) Live View Finder, offering a 100% field of view and excellent magnification (0.7x, 35mm equivalent), significant improvements have been made to the rear LCD screen.
For example, resolution has been boosted to 1240k-dots, while touch-functionality has been added for improved ease-of-use. No matter your composition preference, the LX100 II has you covered.
Direct, intuitive control is promised thanks to dedicated rings and dials including an aperture ring, control ring, shutter speed dial or exposure compensation dial.
LUMIX LX100 II achieves high speed AF of approximately 0.10 sec* and high speed burst shooting at 11 fps (AFS) / 5.5 fps (AFC) to capture fast moving subjects just in-focus. The LUMIX LX100 II integrates Starlight AF which allows users to shoot a star in the sky at night with auto focus. This can be achieved by accurate calculation of contrast value in a smaller AF zone.
* Based on the CIPA standard. At wide-end, when using Live View Finder at 60 fps.
Ultra high-definition 4K video and 4K Photo for unmissable moments
Panasonic's advanced 4K Photo function takes advantage of 4K video recording to allow you to shoot at up to 30fps*1 and extract the perfect moment as 8-megapixel stills directly in the camera. New additions include an Auto Marking function, which enables quicker jumping to the most appropriate frame; and Sequence Composition, the merging of various frames to create a special effect.
Post Focus and Focus Stacking functions have also been added, plus Light Composition mode can be used to create dramatic firework or night scenery shots with ease.
*1 About 4K motion picture recording / 4K Photo recording
- Use a card with SD Speed Class with "UHS-I UHS Speed Class 3 (U3)" when recording motion pictures with [MP4] in [4K] or [4K PHOTO] (SD speed class is the speed standard regarding continuous writing.)
- Recording stops when the continuous recording time exceeds 15 minutes with [MP4] in [4K].
- When using an SDHC memory card: You can continue recording without interruption even if the file size exceeds 4 GB, but the motion picture file will be divided and recorded/played back separately.
- When using an SDXC memory card: You can record a motion picture in a single file.
- When the ambient temperature is high or continuous recording is performed, the camera may stop the recording to protect itself. Wait until the camera cools down.
*2 For [4K] video output, use an HDMI cable that has the HDMI logo on it, and that is described as"4K compatible".
Creative possibilities increased, new L.Monochrome D mode and grain effect added
L.Monochrome D has been added to the monochrome Picture Styles options, which creates dynamic black and white images with emphasized highlights and shadows, all while preserving details. Choose from different grain strengths to add a filmic quality to your monochrome images.
Other features include:
- Bluetooth 4.2* and Wi-Fi 2.4GHz (IEEE802.11b/g/n/)*
The Lumix LX100 II integrates both Bluetooth and Wi-Fi connectivity for quick and easy image sharing. Bluetooth Low Energy compatibility means a constant connection can be maintained with minimum power consumption.
- AC/USB Power Charging
Charge the LX100 II's battery either via AC or USB, making it ideal for a quick power boost while travelling.
* •The Wi-Fi CERTIFIED™ Logo is a certification mark of Wi-Fi Alliance®.
•The Bluetooth® word mark and logos are registered trademarks owned by the Bluetooth SIG, Inc. and any use of such marks by Panasonic Corporation is under license. Other trademarks and trade names are those of their respective owners.
About Panasonic
Panasonic Corporation is a worldwide leader in the development of diverse electronics technologies and solutions for customers in the consumer electronics, housing, automotive, and B2B businesses. Celebrating its 100th anniversary in 2018, the company has expanded globally and now operates 591 subsidiaries and 88 associated companies worldwide, recording consolidated net sales of Euro 61.4 billion for the year ended March 31, 2018. Committed to pursuing new value through innovation across divisional lines, the company uses its technologies to create a better life and a better world for its customers. To learn more about Panasonic: http://www.panasonic.com/global.
Image Gallery
Click on a thumbnail to see the full version.
First Impressions
Photography Blog attended the London, UK launch of the new Panasonic Lumix LX100 II to find out just what this new premium compact camera is capable of...
Introduction
Panasonic has announced the LX100 Mark II – following on from the LX100, which was debuted all the way back in 2014. Now in its seventh generation, this latest premium LX compact camera is aimed at travel and street photographers looking for something small and light.
It uses a Four Thirds sensor – the same size as the sensors you'll find in Panasonic's compact system cameras. As with the previous generation, the sensor is accompanied by a Leica DC VARIO –SUMMILUX f/1.7-f/2.8 3x optical zoom lens.
New features include a touch-sensitive screen, more 4K Photo features, USB power charging and new creative options.
When the Lumix LX100 launches in October, the price will be £849. Anybody who pre-orders the camera can take claim a free battery pack for charging on the go.
Ease of Use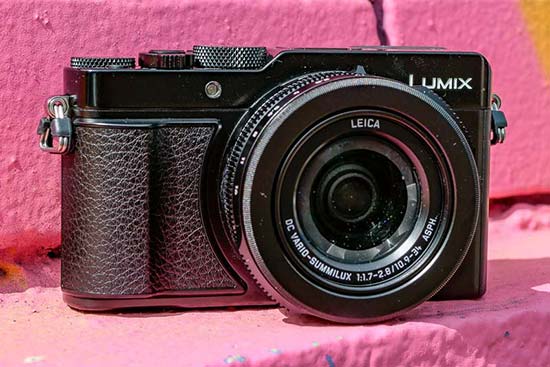 In terms of size and design, the LX100 Mark II is very similar to its predecessor. It's small and light, but it's not quite compact enough to fit into a trouser pocket – you should have better luck with a jacket pocket or small bag.
That said, for travelling photographers keen to keep their kit bag to a minimum, it's a great compromise between size and high-quality thanks to the large sensor. A new chunkier grip makes the LX100 Mark II feel comfortable in the hand, with a protruding thumb grip on the back helping that even further.
These days, a 3x optical zoom lens may not sound like its all that flexible, but consider that at 24-75mm equivalent, it's very similar to the classic 24-70mm focal length used with DSLR cameras.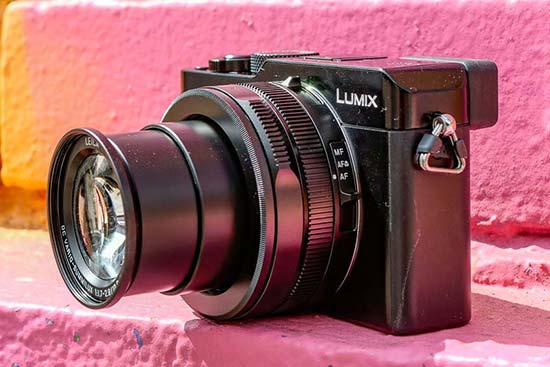 Designed to appeal to enthusiasts who want camera controls at their fingertips, the LX100 Mark II uses a classic control layout. On the camera's top plate there's a shutter speed dial and an exposure compensation dial, while aperture is controlled via a ring around the lens. A switch around the base of the lens can also be used to quickly switch between the multi aspect-ratios the camera sensor offers (16:9, 4:3, 3:2, 1:1).
Another lens ring sits behind the aperture ring. This can be customised to change various different settings depending on your preference from the main menu. An Fn1 button on the top plate can also be customised, while there are a further four custom buttons on the back of the camera.
The back of the camera sees a pretty standard button layout, with a four-way navigational control which doubles up as a scrolling dial. New for the LX100 Mark II is the addition of a touch-sensitive screen, which you can use to move the focus point around the screen, make changes to various menu items and flip through your images in playback.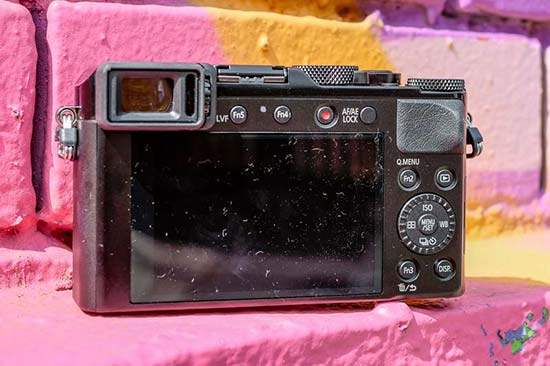 As this camera is aimed at street photographers, it would have made sense for the screen to be tilting – but perhaps it would have made the overall camera too bulky – it's a bit of a shame though for ultimate discreetness.
The electronic viewfinder has an eye-sensor which automatically switches it on (and the screen off) for a seamless transition between using either option to compose your images. The viewfinder displays a bright and clear view of the scene and comes in extremely handy when shooting in bright light.
Another new feature for the LX100 Mark II is the ability to charge the camera via USB. This makes a lot of sense for a camera which is aimed at travelling photographers – being able to quickly charge using a battery pack while on the go is extremely useful.
Image Quality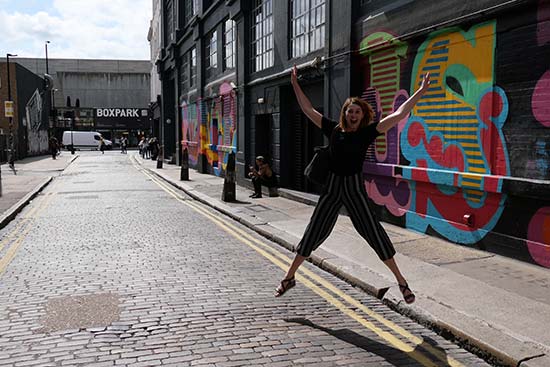 So far we've only had chance to shoot with a pre-production model of the Panasonic LX100 II. All sample images should be viewed with that in mind – final image quality may be slightly different.
That said, early indications are very positive. Colours are nicely rendered and saturated, while the overall impression of detail is excellent. I'll be keen to put the LX100 II through some low-light testing as so far I've only been able to use it in brightly lit conditions
Early Verdict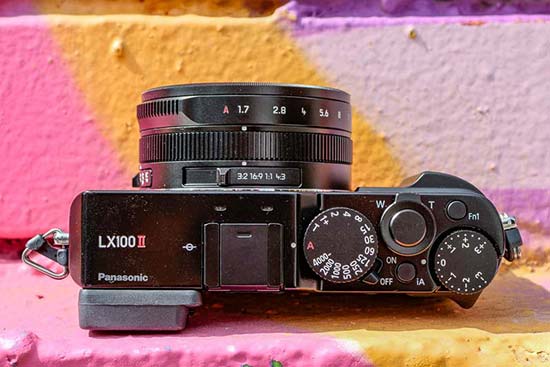 The LX100 was an extremely well-liked camera, being a fantastic option for travelling photographers. These days, there's arguably even more options for this kind of photographer, so whether the LX100 Mark II can stand out in this crowded market remains to be seen.
It still represents a great compromise between high image quality thanks to the large sensor and portability, something which very few – if any – other cameras offer to quite this extent.
Panasonic has taken four years to update this model, and while there are some notable improvements, it's probably more of a refinement or incremental upgrade than complete overhaul. The only major disappointment is the decision not to include a tilting screen – but it's understandable wanting to keep the size of the camera to a minimum.
Making it more of an incremental upgrade is not necessarily a bad thing – after all, if the concept and execution were popular, altering the formula wouldn't make much sense. It'll be interesting to see exactly how well the final sample of the LX100 Mark II fares – watch this space.
Hands On
Want to see exactly what the new Panasonic Lumix LX100 II premium compact camera looks like in the flesh?

Check out our extensive hands-on gallery of photos of the Panasonic Lumix LX100 II premium compact camera.
A gallery of hands-on photos of the Panasonic Lumix LX100 II premium compact camera.
Image Gallery
Click on a thumbnail to see the full version.
Preview Images
Ahead of our full review, here are sample images and a movie taken with a pre-production version of the new Panasonic Lumix LX100 II premium compact camera.
A gallery of sample images taken with the Panasonic Lumix LX100 II premium compact camera.
Panasonic Lumix LX100 II Sample Images
Sample Movie & Video
Your Comments