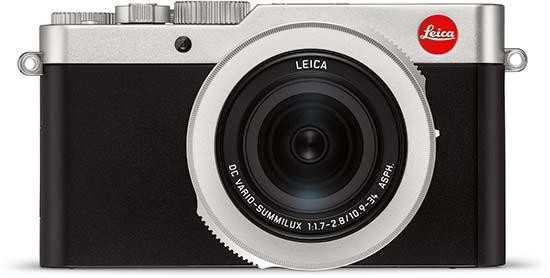 Introduction
The Leica D-Lux 7 is a premium compact camera with a 17 megapixel, multi-aspect Micro Four Thirds sensor.

The D-Lux 7 also features UHD 4K video recording at 30/24fps, 24-75mm f/1.7-2.8 3.1x Leica lens, 2.76m-dot electronic viewfinder, 3.0" 1.24m-dot touchscreen LCD monitor, 11fps burst shooting, built-in Bluetooth and Wi-Fi connectivity, 4K photo modes, hot shoe-mounted external flash, and in-camera battery charging.

The Leica D-Lux 7 is available now in black/silver for £999 / €1099 / $1195.
Ease of Use
Leica's new D-Lux 7 is a fixed lens, compact travel zoom camera that manages the trick of being both premium – the clue is in that 'D-Lux' (read: deluxe) nomenclature – yet, by its manufacturer's pricing standards, relatively affordable with it.
That said, for a pocket-sized point and shooter it's certainly not inexpensive. For the current £995 UK asking price, you could alternatively buy yourself a solid performing interchangeable lens mirror-less camera from one of the other leading brands – but, admittedly, it still wouldn't have the perceived cachet that comes with owning a Leica.
You could also buy the very similar Panasonic LX100 II this is based on, of course, which retailed for around £849 on launch late summer 2018, and save yourself £146 in the process.
Arriving after recent 'stealth' models aimed at street photographers and photojournalists that hide Leica's normally covetable branding, the D-Lux 7 breaks rank and displays that red Leica logo proudly top right of the lens. However, it's likewise as a camera for snapshots and street photography that, for our money, this particular model also excels.
As we'd expect of Leica, the largely metal build D-Lux 7 feels solid when held in the palm, or slipped into a jacket pocket, where it also rests comfortably and conveniently. Key features to acknowledge here are a relatively modest 17-megapixel resolution from a 21.77 megapixel Four Thirds CMOS sensor that's married to a lens with an equivalent reach of a wideangle 24-75mm in 35mm film terms.
Maximum lens aperture is an impressively fast/bright f/1.7, with the ability to adjust this manually via a lens ring that offers incremental settings up to f/16. Or, of course, you can just leave the selection up to the camera and shoot on automatic, which has its own dedicated button too.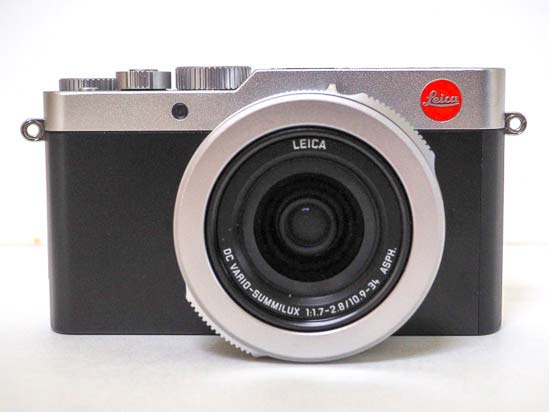 Front of the Leica D-Lux 7
Being a bang-up-to-date release, and with Leica's long standing partnership with Panasonic still intact, it's unsurprising that this compact arrives with the option of 4K video and 4K resolution photos; both pretty much standard issue across that electronic manufacturer's range now.
Here there's the ability to capture video clips in 4K at up to a respectable 30fps. The default setting on the camera is otherwise Full HD video clips, giving users a modicum of choice depending on the desired use for said footage, and how much removable memory (via optional SD card once again) is available to store all that data, of course.
Though the 3-inch backplate LCD is fixed rather than being of the tilt and swivel variety – which would of course have added slightly more bulk to what's overall a relatively svelte and well engineered piece of kit – at least the screen offers touch sensitive control (albeit, as we find with Panasonic, we actually prefer the physical controls).
Despite such concessions to modernity, the rangefinder-like top plate dials for controlling shutter speed and exposure compensation nevertheless provide the D-Lux 7 with a 'classic' look and feel, the camera going further by including the now expected Wi-Fi, Bluetooth and USB connectivity – the latter port (which sits under a side flap also protecting a HDMI slot) being used for charging the camera too.
It's also one of Leica's first to be compatible with its recently introduced 'Fotos' app, which allows for remote control of the camera via a smartphone, as well as providing a virtual image gallery-in-your-hand for photographers.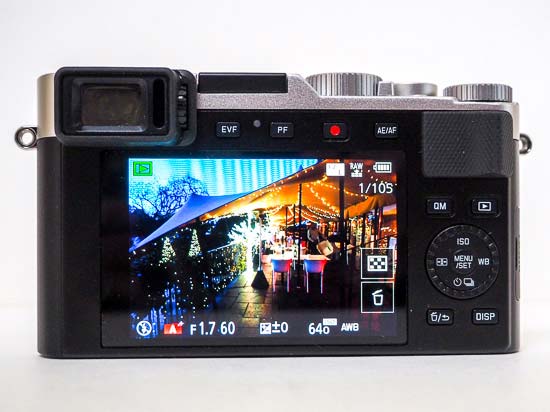 Rear of the Leica D-Lux 7
Appealing just as much to photo enthusiasts is the fact that, top left of the aforementioned LCD screen, we also get an eye level electronic viewfinder (EVF), positioned in such a helpful way that, if you hold the camera up to your right eye, your nose handily clears the left hand side of the camera, rather than squashing up against the LCD below and smearing it.
While 2.8 million dot resolution imbues the tiny EVF with an almost life-like clarity in daylight, in lower light levels visibility suffers due to its pokey-ness, and ultimately the 0.2-inch EVF proves no match for the greater visibility provided by the larger 3-inch screen situated beneath it.
In terms of actually shooting in low light, a maximum user-selectable light sensitivity setting (in Program mode) of ISO 25600 isn't as high as some, though it's arguably higher than most will need or actually use. While lower light conditions did result in occasional blurred results for us due to camera shake, it's still possible to hold the camera relatively steady thanks to its weight and the thin neck strap provided out of the box.
As there is no flash built into this model – though there is a vacant hotshoe provided – there is no choice initially but to bump up the ISO settings and for the photographer to simply make the best of it.
Unlike the Panasonic LX100 II, which features a nigh identical control wheel-heavy top plate layout, this Leica branded alternative boasts a flattened faceplate with nary a hint of the handgrip or roughened faux leatherette surface provided by its near doppelganger.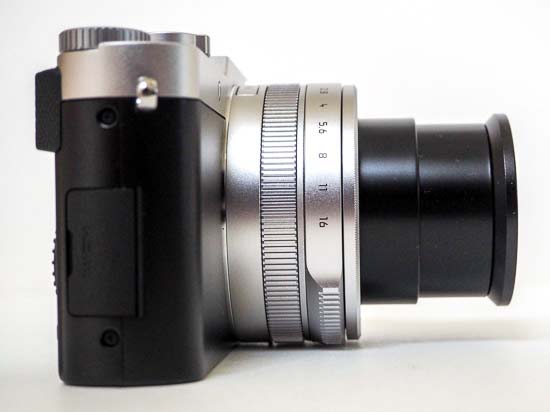 Side of the Leica D-Lux 7
Like that Panasonic model, however, the D-Lux 7 boasts the ability to shoot in a variety of image aspect ratios – marked on a slider control that sits snugly atop the lens and closest to the camera body. Here we get a choice of 3:2, 16:9, 1:1 for Instagram fans, or more regular (for a digital camera) 4:3. Again, this is exactly the same as the LX100 II.
The closest ring to the front of the lens allows for control over aperture. Here there are notched settings for auto, f/1.7, f/2.8, f/4, f/5.6, f/8, f/11 and f/16. A twist of the middle ring, meanwhile, provides a means of manually zooming in or out – though as the zoom is motorised and moves forward or back in stages, it's tricky to be that precise with our framing.
Though we miss the hint of a handgrip at front of the Leica D-Lux 7 that the alternative in Panasonic's LX100 II provided us with, Leica's interpretation pulls off the neat trick of looking both classic and modern at the same time.
The mixture of silver and black detailing gives the Leica a premium look in just the same way as the construction provides it with a premium feel, while the aforementioned lens rings and top plate controls provide a degree of hands on controllability and adjustment that most compacts don't.
Indeed, the operability provided via the top plate is where the camera most impresses. While looking slightly busy, operation is straightforward enough. Pin pricks housing stereo microphones sit forward of a vacant hotshoe in the absence of any integral flash, and to the right of these, we find – if viewing the camera from the back – a cluster of controls, including an ergonomically raised shutter release button, encircled by a lever for operating the zoom; the latter being safely hidden within the lens barrel when the camera is not in use.
The shutter release is flanked by two rangefinder-like ridged bottle top style dials for adjusting shutter speed and exposure compensation (the latter to +/- 3EV), each with just the right amount of give and resistance in operation, enabling you as a photographer to intuitively tweak settings while keeping an eye on the screen or viewfinder.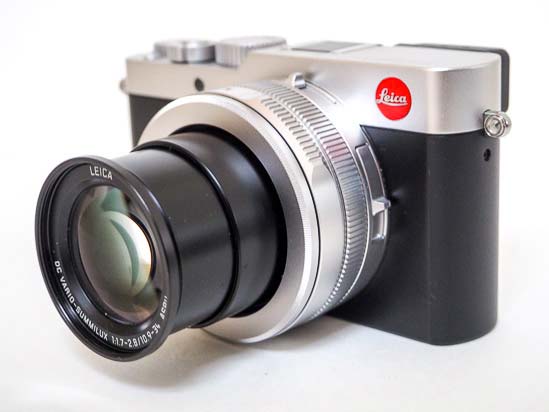 Front of the Leica D-Lux 7
Flick the on/off switch nestled against the shutter speed dial and this camera whirrs into life within two seconds, the rear LCD blinking into action as the lens extends from within its barrel to protrude an inch and a half from the body.
Half press the shutter release and this Leica is also reasonably quick to determine focus; green focus points flicker across the screen as it seeks out possible subjects in your frame within milliseconds; a bleep of affirmation given when it alights upon one.
Press that shutter release button down fully and a combination of JPEG and Raw file are committed to memory within a swift two seconds – if the camera is operating in regular single shot mode. Well, so much for the AF response times, but what about accuracy? Does the D-Lux 7 get it right every time? Not always no, but more often than not, yes.
The other two tiny pin-head buttons on the top plate govern the camera's drive mode – providing a swift means of switching between fully automatic point and shoot mode and user-adjustable Program mode, for example, while we also get a button for switching to 4K Photo Mode, another carry-over feature from the Panasonic version of this camera. Selecting 4K Photo Mode does limit manual access to the top tier ISO settings however – with the maximum selectable being ISO6400 in this mode.
While the right hand flank of the Leica D-Lux 7 – if we're viewing it from the back – features the flap covering the HDMI and USB ports as mentioned earlier, the opposite side is feature-free, save for a lug for attaching the provided neck strap strap, a practical feature which is obviously mirrored on the right hand side of the camera too.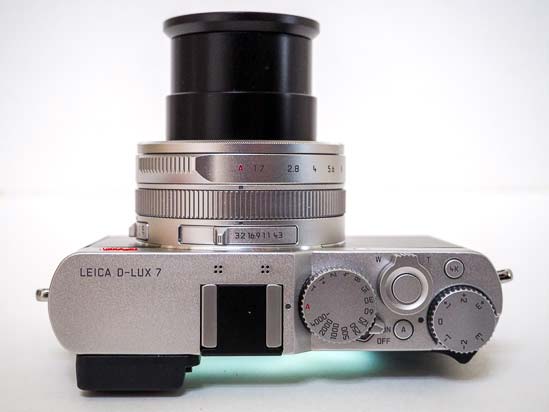 Top of the Leica D-Lux 7
The base of the Leica meanwhile features a covered compartment for housing the provided lithium ion battery – which can be charged in camera – and of course, a removable SD card of varying capacity. Just a little off-centre is a screw thread for attaching this compact to a tripod if wished.
The rear plate of the D-Lux 7 is largely taken up by its aforementioned LCD screen that is also a touch screen. In practice, though, we found it less fiddly to actually use the physical controls provided alongside, which mirror those found on most pocket sized digital compacts.
Here we get a familiar scroll wheel with a 'menu set' button conveniently situated in the centre, allowing for a press of the thumb. Ranged around the wheel are convenient dedicated settings for selecting ISO, white balance, self-timer or burst/drive mode, along with AF mode.
Above this we're provided with two buttons – a familiar (from the Panasonic perspective) 'Quick/Quality Menu' button plus an equally recognisable playback button. This control formation is mirrored below the scroll wheel by buttons for the deletion of images/videos and a familiar 'display' button, for, as it indicates, turning the displayed on-screen info on or off.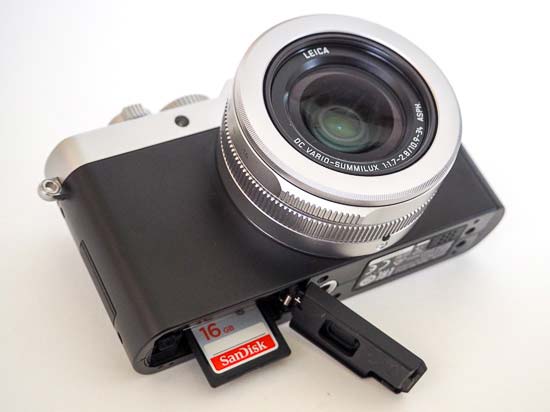 Memory Card Slot
Above the screen itself we get a further quartet of buttons. These cover activating (or deactivating) the camera's EVF, switching on or off the Panasonic implemented Post Focus function, while we find dedicated video capture 'record' button here too, where it's less noticeable, but at least it doesn't have to fight for attention on the camera's already busy top plate. Finally, the last button is for accessing auto focus and auto exposure.
Generally speaking, the Leica D-Lux 7's controls and on-screen menus are both comprehensive yet clearly laid out, covering the familiar photo and video capture options, along with equally familiar set up menus.
We also get the ability to apply the likes of Vivid or Expressive digital filters to shots to provide added punch and dynamism, if so desired, while the usual Photo Style settings now include no fewer than three different monochrome / black and white modes – again these are options carried over from the Panasonic LX100 II.
So while industry partners Panasonic and Leica appear to have produced two cameras from very much the same pod – albeit in the case of Leica, one with a slightly more luxurious look and finish, how does the D-Lux 7 measure up when it comes to performance and image quality? Read on to find out…