Ricoh GR Review
June 17, 2013
|
Mark Goldstein
|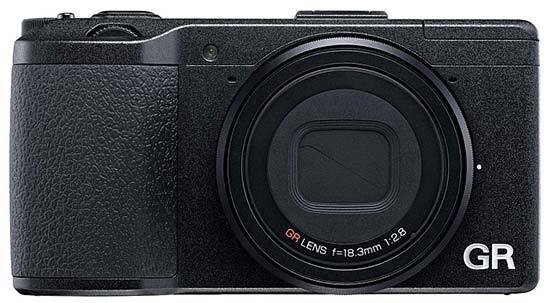 Conclusion
A camera with a fixed 28mm lens and no built-in viewfinder is never going to be everyone's cup of tea, but if you're in the market for a responsive, full-featured, understated and pocketable camera that delivers outstanding still images, then look no further than the new Ricoh GR.

In a departure from all previous GR models, the Ricoh GR (V) features a larger APS-C image sensor that delivers great results. There's almost no noise from the base sensitivity of ISO 100 all the way up to 3200, with the higher settings of 6400, 12,800 and even to a lesser extent 25,600 all perfectly usable for smaller prints - very impressive for any 1.5x sensor, never mind one housed in a humble compact camera. The tack-sharp 28mm lens and the on-trend absence of an optical low-pass filter both improve the image quality further, with the option of the ubiquitous Adobe DNG RAW format if you want to take control, complete with in-camera RAW processing.

The Ricoh GR also excels in the speed department, with snappy autofocusing, fast power-on, shutter-lag and shot-to-shot times, and even 4fps burst mode for both unlimited JPEGs and a small number of RAW files. The proven Snap AF mode makes the GR perfect for street-shooters, with the 35mm crop mode and the 21mm conversion lens very handy for those who desire a closer or wider view than the 28mm lens provides. And once again, the Ricoh GR excels in the customisability department, with three function buttons, three My shooting modes and other customisable controls making this a camera that you truly can setup to suit your way of working, although it does take a while to work out what the best combinations are.

Even the price of the Ricoh GR is appealing. At £599.99 / $799, it's substantially cheaper than its direct competitor, the Nikon Coolpix A, and also cheaper than an APS-C DSLR or compact system camera with a good quality 28mm lens fitted. If you're certain that a 28mm fixed lens will suit your style of shooting, then the Ricoh GR represents something of a bargain and comes Highly Recommended. 
Ratings (out of 5)
Design
4.5
Features
4.5
Ease-of-use
4.5
Image quality
5
Value for money
4.5