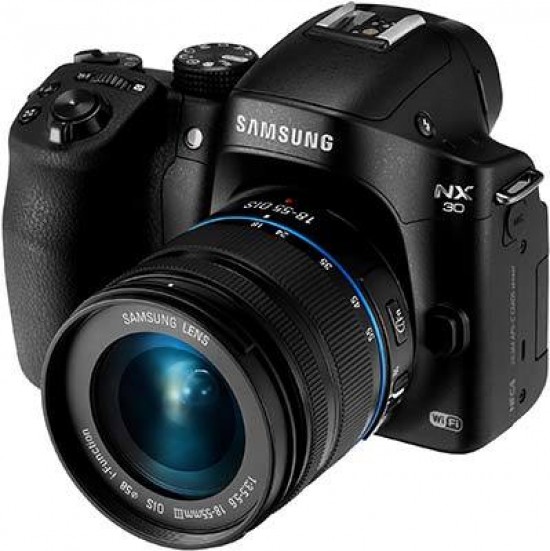 Conclusion
Samsung have continued to heavily invest in developing their compact system camera range, with the new flagship NX30 offering the best technologies, image quality and handling of any NX-series camera to date. We'd expect a more premium finish at this price-point, though, with the light weight, cheap dials, and the plastic flip-up viewfinder all contributing to a certain lack of quality. Still, the Samsung NX30 offers something genuinely different to its main competitors, and is well worthy of consideration.
The NX30's traditional DSLR-like design remains intact, with a well-thought-out and very customisable user interface, further improved i-Function button, class-leading swivelling LCD screen, and an innovative high-resolution, flip-up viewfinder. The NX30 benefits from the same image quality advantages that a large APS-C DSLR sensor camera usually offers, namely better performance at higher ISOs than the smaller Micro Four Thirds format. Happily Samsung have also addressed some of the performance concerns that we noted when reviewing the NX20, with a much larger buffer for continuous shooting and generally all-round quicker performance.
Whereas the cost of the NX20 was relatively high in relation to the market at the time of its launch 18 months ago, the NX30 instead feels more fairly priced given that several other flagship compact system cameras now cost well over £1000 / $1300. Despite our reservations about the level of build quality, the new Samsung NX30 offers more than enough innovation, performance and image quality to ean our Highly Recommended award.
Ratings (out of 5)
Design
4
Features
4.5
Ease-of-use
4.5
Image quality
5
Value for money
4