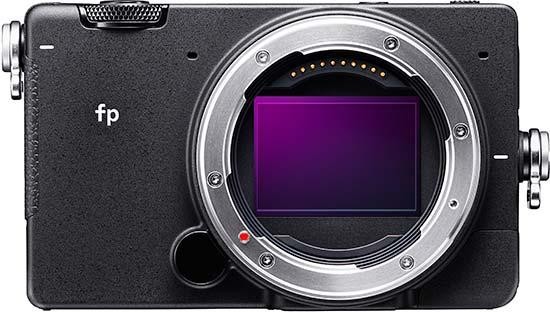 Introduction
The Sigma fp is the world's smallest, lightest mirrorless camera with a 35mm full-frame image sensor.

At its heart is a back-illuminated Bayer sensor with 24.6 effective megapixels, housed in a rugged, fully weather-proof, die-cast aluminum alloy body that weighs just 370g.

It incorporates a large-size heat sink to helps prevent the camera from overheating at higher temperatures or during sustained use.

Instead of a traditional mechanical shutter, the Sigma fp has an electronic shutter for quiet shooting without shutter shock.

The Sigma fp offers 12-bit CinemaDNG external recording at 4K UHD/24fps quality, plus 10- or 8-bit 4K UHD at 24/25/30fps in the MOV format.

The Sigma fp can shoot continuously at 18fps, has a top shutter speed of 1/8000th second, a 3.15-inch 3:2 LCD touchscreen with a resolution of 2,100K dots, a contrast-based auto-focus system with 49 points and Face/Eye Detection AF function, and 14-bit RAW format support.

It offers a number of different color modes, a tone curve adjustment function, and an Auto HDR function.

As an L-Mount camera, the Sigma fp can be used with the various L-Mount lenses offered by Leica, Panasonic, and Sigma themselves.

The Sigma fp is available now priced at £1999 / $1899 body only.

It is also available in a kit with the new Sigma 45mm F2.8 DG DN Contemporary lens priced at £2399 / $2299.
Ease of Use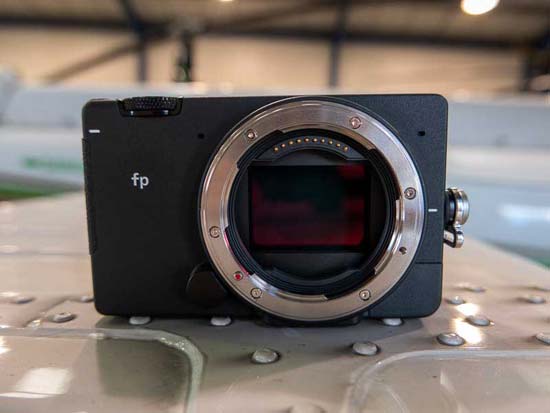 Front of the Sigma fp
The Sigma fp has quite an unusual design that's quite unlike any other mirrorless camera currently on the market.
In terms of its target audience, the Sigma fp is very much a cine camera first and foremost, although it does still cater for stills photographers too.
Measuring 112.6 x 69.9 x 45.3mm and weighing a mere 370 grams without the battery or memory card fitted (422g with), on paper it's the most compact full-frame mirrorless camera currently available.
Having said that, Sigma have removed a few key features in order to keep the size and weight down that many photographers will object to, principally a handgrip and a viewfinder - you won't find either on the new fp.
Instead, Sigma are actively encouraging you to fit your own accessories to the fp, thereby customising it for your own personal use.
This is a common approach in the world of video, less so for stills and hybrid photographers, reflecting the fact that the Sigma fp is primarily designed to be a video, rather than stills camera.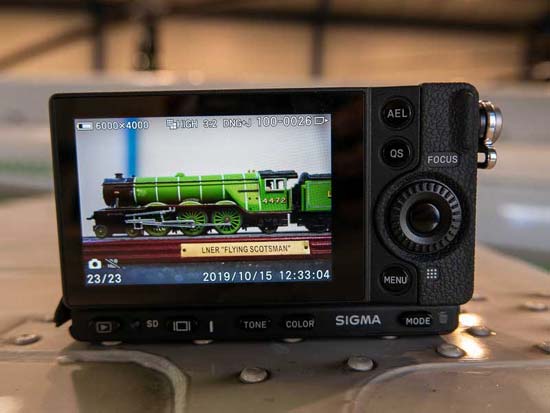 Rear of the Sigma fp
As well as releasing their own official dedicated accessories, including two differently sized hand-grips, a viewfinder (the LVF-11) and a base grip, Sigma released the design blueprints for the fp camera well ahead of its launch so that third-party manufacturers could more easily produce accessories for it.
So it's worth bearing in mind that most videographers will incorporate the Sigma fp into their own customised rig, and even stills photographers would benefit from adding one of the handgrips and the viewfinder.
All of which will make the Sigma fp bigger, heavier and more expensive that its base configuration and price might at first suggest. Not necessarily a bad thing, just an important point to bear in mind when considering this camera.
Sigma UK sent us the "bare" fp camera body with no accessories and the 50mm F1.4 DG Art L-mount lens for review, so all of our comments about its usability apply to what you get when just purchasing the body only.
As mentioned above, there's no hand-grip at all on the front of the Sigma fp, just a slightly textured surface. There is a pronounced thumb-rest on the rear, but you really need to add either the HG-11 or larger HG-21 grips to help steady the camera during shooting, especially if you don't also add the viewfinder and therefore have to hand-hold the camera at arm's length.
Utilising a die-cast aluminum alloy body body, the Sigma fp is an exceedingly well built camera that feels like it will withstand a lot of abuse.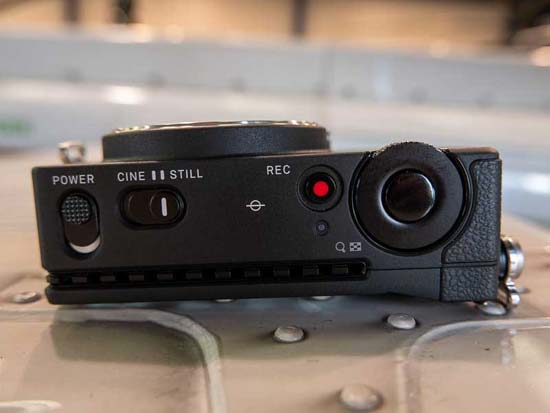 Top of the Sigma fp
A series of environmental seals around the camera's buttons and seams prevent the intrusion of dust and water, making the Sigma fp suitable for use in adverse weather conditions.
The Sigma fp is the first ever Sigma camera not to use a Foveon sensor, a technology that Sigma actually owns. Instead the fp utilises a traditional Bayer sensor, in this case a 24 megapixel back-illuminated variant.
The fp is also the first ever Sigma camera to use the new L-mount standard, which is supported by Sigma, Leica and Panasonic. Compatible lenses from all three manufacturers can be used with the fp, and Sigma have already committed to releasing 9 L-mount lenses.
In addition, Sigma's new MC-21 Mount Converter enables the use of Sigma SA mount, Canon EF mount and and Arri PL mount interchangeable lenses on the fp camera.
Therefore, even at launch, there's already a wide range of lenses that can be mounted on the Sigma fp.
Our review sample came with the Sigma 50mm F1.4 DG Art lens, a rather big and heavy prime that didn't feel particularly well-balanced on the fp without a hand-grip fitted.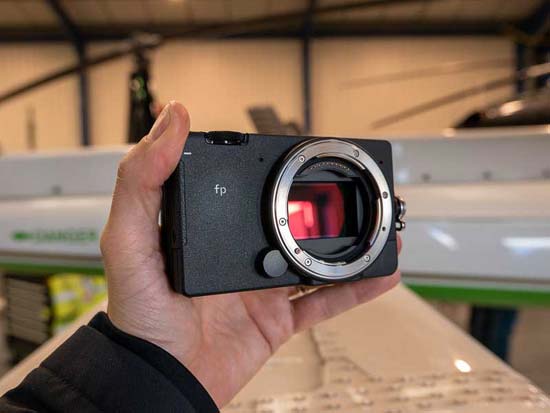 The Sigma fp In-hand
Cradling the lens in your left hand and operating the camera with your right proved to be the best way to operate this combination.
The 3.15 inch LCD screen on the rear displays 100% of the image and the 2,100K pixel resolution is very good.
It's a touchscreen LCD, so you can move the AF point by pressing the screen, and scroll through and magnify your images during playback. Annoyingly you can't interact with the menu system, though, or change any of the onscreen settings.
The screen is also fixed in place, making it harder to use when holding the camera at more awkward angles.
The Sigma fp offers support for both JPEG and 14-bit RAW recording formats. There are 3 different JPEG compression levels (Fine, Normal, Basic), three resolution settings (High, Medium, Low) and a choice of six crop modes (21:9, 16:9, 3:2, 4:3, 7:6 and 1:1).
The RAW files are saved in the commonly used Adobe DNG format, which can be processed in all modern convertors and editors.
The start-up time from turning the Sigma fp on to being ready to take a photo is OK at around 1.5 seconds.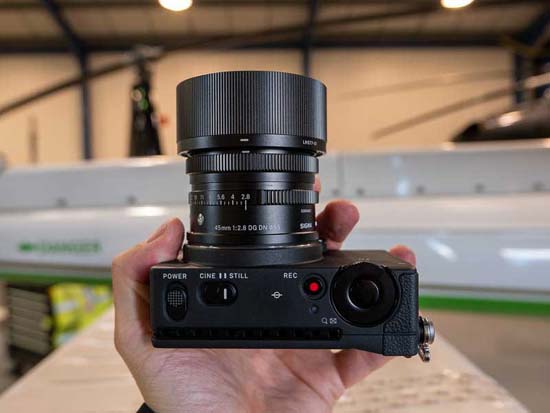 The Sigma fp with the Sigma 45mm Lens Attached
Thanks to its electronic shutter, the fp has an excellent burst mode of 18fps should you feel the need, although it can only actually record 12 shots in a single burst, which does rather limit its potential.
The Sigma fp offers a full range of advanced exposure controls via the Mode button on the rear of the camera, including aperture-priority, shutter-priority, manual and manual focusing, with three Custom modes so that you can save and recall your preferred settings.
There are no auto-everything or scene modes on this camera, which is a veritable breath of fresh air at a time when most manufacturers are stuffing their cameras full of clever technologies that take control away from the user.
The aperture or shutter speed are set by using the forefinger-operated control dial on top of the camera which encircles the shutter button, with the circular control wheel on the rear setting the aperture in the Manual shooting mode and exposure compensation in the other modes.
In practice we found this wheel to be a little annoying in use, as its action is a little "loose" and imprecise and prone to either not responding or being accidentally activated. We'd have much preferred a second dedicated control dial on the rear instead.
Thankfully, most of the other principal controls in the fp's pared-back design are well thought out and rewardingly tactile.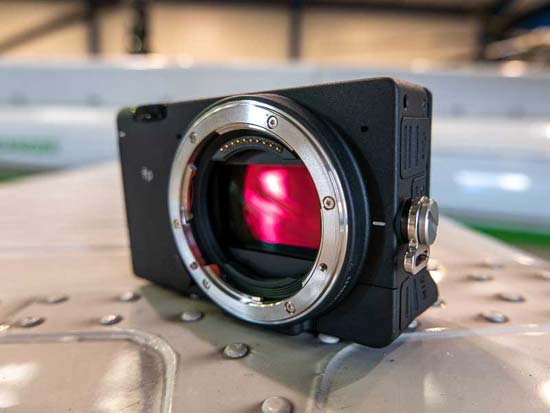 The Front of the Sigma fp
On top of the camera is a large Power switch, a self-explanatory Cine / Still switch, a one-touch movie record button, and a large shutter release dial encircled by an even larger control dial.
On the rear are an array of buttons located to the right of and directly below the LCD screen.
The fp has three metering modes, Evaluative Metering, Center Weighted Average Metering and Spot Metering. Exposure compensation can be set in 1/3 stop increments from +5.0 to -5.0 stops and a simple auto bracketing function is also available.
Auto-focusing is one of the weaker points of the fp, primarily because it uses a contrast-based AF system, rather than a hybrid one that also incorporates phase-detection.
In good light it proved to be quick and reliable, but in low-light the fp is more sluggish and at times frustrating as it hunts for enough contrast to focus correctly. On occasion we were forced to switch to manual focus and use the camera's focus peaking feature to lock onto the correct point in the frame.
There are also only 49 focusing points to choose from and three AF modes, Single AF, Continuous AF, and Manual Focus, activated by pressing up and down on the rear scroll wheel respectively.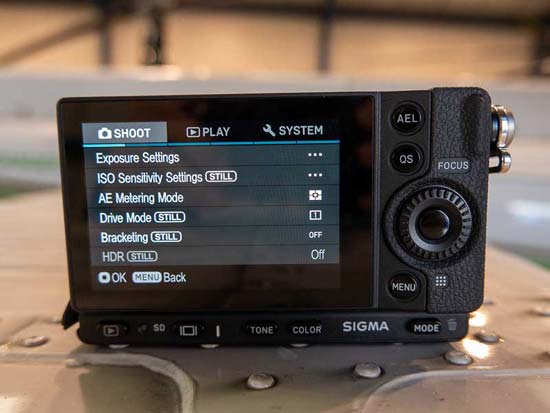 The Sigma fp's Main Menu System
Choosing an AF point in this way is a rather convoluted affair - we found it easier to either set the focus to the middle point, then focus by half-pressing the shutter button and recompose the frame for off-centre subjects, or just use the touchscreen and tap on the main subject.
The Face/Eye Detection AF mode successfully detects human faces and prioritizes focusing on them.
Manual Focus is also available, which obviously avoids the auto-focus issues. It's possible to magnify the LCD display by 8x to check the focusing by pressing the OK button, although this doesn't provide enough magnification or clarity to ensure precise focus.
Focus peaking is a better bet as it puts a coloured outline (white, black, red, or yellow) around the subject in the viewfinder for instant confirmation of the person or object currently in focus.
The Sigma fp is a very capable Cine camera, with a wealth of options and formats on offer. Most notably, it's capable of recording raw CinemaDNG video at 4K UHD/24fps in 12-bit format.
The 4K 12-bit RAW DNG video can only be captured externally to an attached SSD drive or external recorder, with internal recording limited to 4K 10/8-bit RAW due to the recording speeds of UHS-II cards.
There's also 4K UHD (3840×2160 pixels) video at 24, 25 or 30 fps in a 10- or 8-bit format.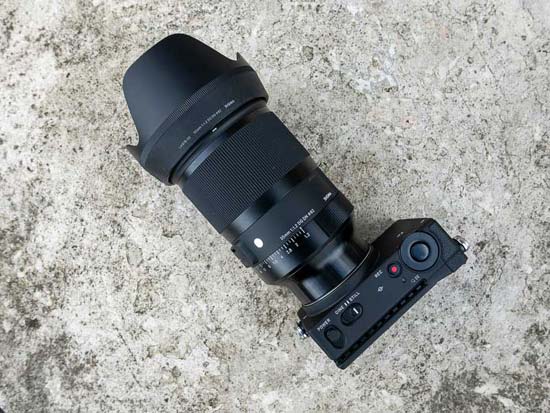 The Sigma fp with the Sigma 50mm Lens Attached
When shooting 1080p, the Sigma fp can record 12bit Cinema DNG RAW internally to an SD card as well as externally.
Sigma's new Director Viewfinder display option allows the camera's HUD to replicate the look of leading professional cinema cameras from the likes of Arri, Sony and Red plus other film cameras and anamorphic lenses, a nice feature that adds to the fp's credentials as a b-camera.
There are currently no Log or LUT options when recording video, a rather surprising omission on such a capable cine camera.
Instead you can use the camera's various Color options to give your footage a certain look and feel in-camera, with "Cinema" and "Teal and Orange" being the most obvious candidates, or use the curves-like Tone adjustment to grade it.
Note that you can't currently playback Cinema DNG footage in-camera, a feature that is due to be added in a future firmware update (as yet unspecified), as is the camera's support for cinemagraphs.
The Sigma fp doesn't have a built-in pop-flash unit or an external hotshoe. If you want to use flash with this camera, you'll need to fit the hot shoe unit (HU-11), which commendably is at least included in the box, but does add further bulk to the base camera.
One of the key drawbacks of the fp's reliance on an electronic shutter is that the maximum flash synchronization speed is limited to 1/30sec, making this camera a poor choice for studio work.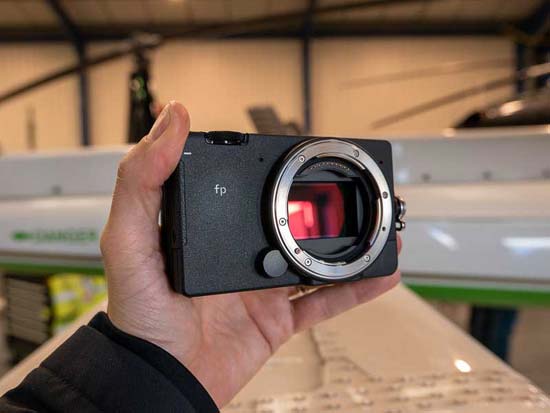 The Front of the Sigma fp
The battery life is also pretty poor, with the 7.6V 1200mAh NP51 unit providing a CIPA quoted life of 280 still shots - we managed 250 images before needing to recharge. Sigma have decided to only supply one battery in the box, so you'll need to budget for a few spares to get through a days shooting.
The Sigma fp only has an electronic in-body stabilisation system, which when enabled takes three frames, compares them, and creates a composite image into a still image or video.
There's no IBIS in this camera. Instead, if the attached lens is stabilised, you should turn off the electronic system and use the lens-based stabilisation instead.
The main menu system on the Sigma fp, accessed by pressing the Menu button below the navigation pad, is clear and simple to use. There are three tabs along the top, Shoot, Play and System, subdivided into 6, 2 and 5 screens of options respectively.
Due to the large LCD screen and restricting the number of on-screen choices to 5, the various options and icons are quite clear and legible, and each option uses a combination of text and helpful small icon.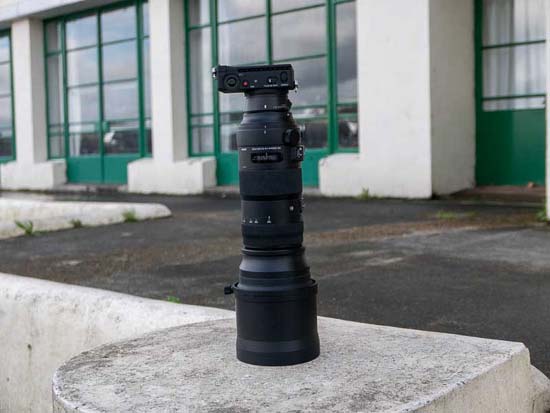 The Sigma fp Mounted on the Sigma 160-600mm Sports Lens!
The menu system actually changes depending on if you're shooting in the Cine or Still mode. Sigma have also cleverly appended either STILL or CINE to any options that specific to each shooting mode, something that other manufacturers would do well to copy!
There's also intuitive Quick Set menu that's accessed via the QS button on the rear of the camera. As its name suggests, this provides quicker access to eight key features - for example, ISO, Metering, Burst Mode, White Balance, Image Size, Image Resolution, Crop Mode and Fill Light in the Stills mode.
One of the drawbacks of the Sigma fp's compact size is the single memory card slot, rather than a dual system, especially as it's housed in the same compartment as the battery on the bottom of the camera, rather than having its own dedicated slot on the side. This makes it less suitable for tripod use.
On the left-hand side of the Sigma fp are three different covers - the top one for the USB 3 port, the middle one for the hotshoe accessory connector and HDMI port, and the bottom one for the shared microphone input and remote control socket. Note that the middle cover can be completely removed, so try not to lose it!
The fp has a pair of beefy shoulder strap lugs, each held in with a removable 1/4in screw - cleverly you can remove these to reveal standard-size tripod bushes for vertically mounting the camera or attaching other accessories.