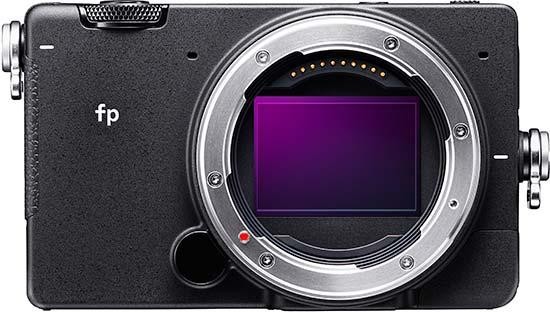 First Impressions
Photography Blog attended the UK launch of the new Sigma fp mirrorless camera at Brighton City Airport, UK.
Find out what we thought of Sigma's brand new camera by reading our detailed first impressions...
Pricing
The Sigma fp will go on sale on 25th October 2019 priced at £1999 / $1899 body only.
It will also be available in a kit with the new Sigma 45mm F2.8 DG DN Contemporary lens for £2399 / $2299.
Key Specifications
24.6 megapixel full-frame sensor
4K Cinema DNG 12bit
120fps mode
Supports L, EF, PL lens mounts
Smallest full-frame camera on the market
Weighs 370g
Electronic shutter only
Target Audience
In terms of target users, the Sigma fp places more of an emphasis on the video side of things and is predominantly aimed at cinematographers, although it does still cater for stills photographers too.
Size and Weight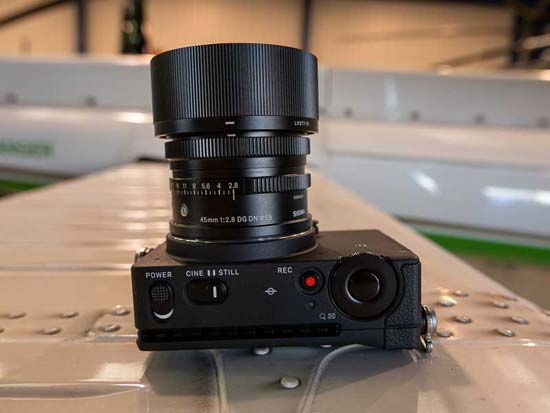 Weighing just 370g and measuring 112.6 x 69.9 x 45.3mm, the Sigma fp is a very small full-frame camera indeed.
In fact, it's the smallest and lightest camera with a full-frame 35mm sensor currently available on the market.
Controls
Despite its tiny dimensions, on the whole we found the Sigma fp quite pleasurable to use, with the principal controls being well thought out and rewardingly tactile.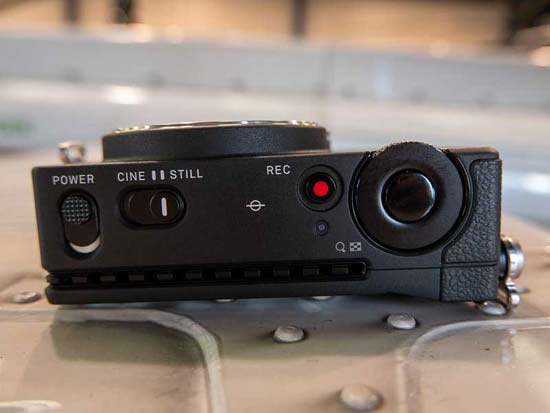 On top you'll find a large Power switch, the self-explanatory Cine / Still switch, a one-touch movie record button, and a large shutter release dial encircled by an even larger control dial.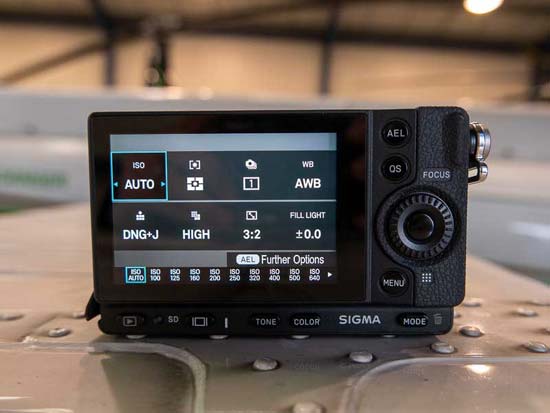 On the rear there are an an array of button to the right and below the LCD touchscreen.
Starting at the top-left, there's an auto-exposure lock button and a QS button which opens up a Quick Set menu showing the main options for the currently selected shooting mode.
The Focus button toggles between the various focus modes, and underneath that is a control wheel with an OK button at its centre.
The Menu button opens a fairly logical menu system that's easy to read due to the large text size.
Underneath the screen is a row of controls - the Playback button, an LED displaying SD card activity, the Display button, Tone button and Color button, and finally the shooting Mode button.
Sensor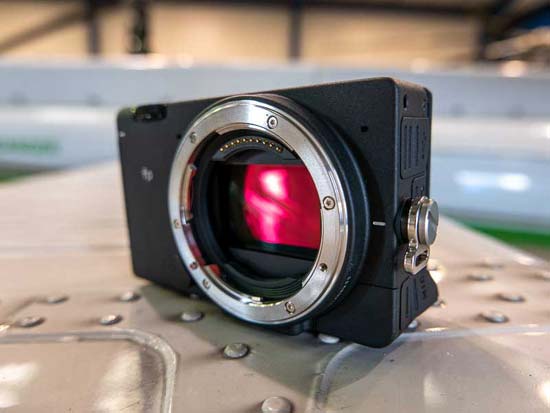 The Sigma fp has a 24 megapixel full-frame back-illuminated Bayer sensor with no low-pass filter, likely one made by Sony, although we haven't confirmed that yet.
Sigma aren't using a Foveon sensor inside the fp, despite owning Foveon and using it in their previous stills cameras.
Video Recording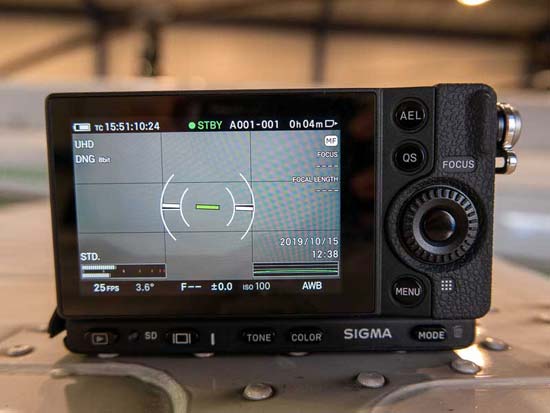 The Sigma fp is a very capable Cine camera, with a wealth of options and formats that out-perform the likes of the Sony A7S, Nikon Z6/7, and the Panasonic Lumix S1H.
Notably, it can record raw video at 4K UHD/24fps in 12-bit format!
There's also 4K UHD (3840×2160 pixels) video at 24, 25 or 30 fps in a 10- or 8-bit format.
The 4K 12-bit RAW DNG video is captured externally to an attached SSD drive or external recorder.
Internal recording is limited to 4K 8-bit RAW due to the recording speeds of UHS-II cards.
For 1080p, the Sigma fp can record 12bit Cinema DNG RAW internally to an SD card.
Note that you can't playback Cinema DNG footage in-camera, which is more than a little confusing at first.
Stabilisation
The Sigma fp has an electronic in-body stabilisation system. When enabled, this takes three frames, compares them, and creates a composite image into a still image or video.
If the attached lens is stabilised, you'll obviously also benefit from that system too, although it's unclear exactly how the two work in tandem.
Auto-focusing
The Sigma fp only has a contrast-based auto-focus system with 49 points and three modes, Single AF, Continuous AF, and Manual Focus, so it's certainly not the most sophisticated on the market by any stretch of the imagination.
In good light it proved to be quick and reliable, in low-light a little more sluggish.
There are also Face Priority and Eye Priority AF modes for human subjects.
Electronic Shutter
The Sigma fp only has an electronic shutter - there's no traditional mechanical shutter in this camera.
Consequently there's no shutter shock and the camera is virtually silent in use.
It can also shoot at 18fps in the fastest burst mode and offers a top shutter speed of 1/8000th second.
LCD Screen
The Sigma fp has a 3.15-inch, 3:2 LCD screen with a high resolution of 2,100,000 dots.
At first glance it seems as if the LCD screen can be pulled out and tilted, but it's actually a large magnesium heatsink that runs around the camera to help keep it cool - the screen is actually fixed in place.
The LCD panel is touch-sensitive. In use the camera was quick to respond to our various prods and pokes, and it can also be used to control the menu system as well as set the AF point and take the picture/start the video - take note Sony...
Lenses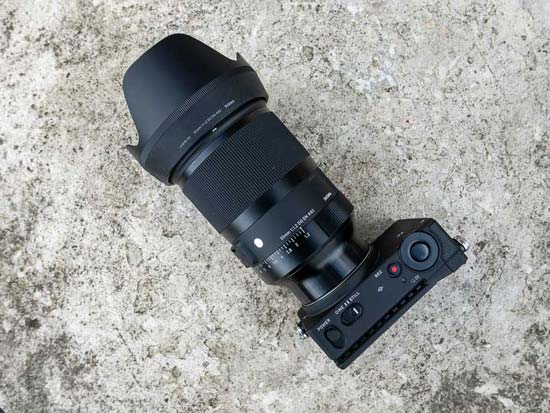 The Sigma fp is the first Sigma camera to use the L-Mount standard. We tried a number of Sigma L-mount lenses at the launch and they all worked flawlessly with the fp.
Even better, with Paansonic and Leica also supporting the L-mount standard, there's a wide range of native L-mount lenses for the new fp.
And if you've already got some Canon EF or Sigma SA lenses, you can fit the MC-21 mount adapter on the Sigma fp in order to use those lenses (we haven't tried this yet).
Battery
Battery life isn't great on the Sigma fp. It's officially rated at 280 still images, but once you start recording video the battery soon starts to drain more quickly than that figure suggests, so you'll need to budget for at least a few spares to get through a full days shooting.
Memory Cards
An unfortunate consequence of the Sigma fp's tiny size is the single memory card slot, rather than a dual system.
Even worse, it's housed in the same compartment as the battery on the bottom of the camera, which will inevitably prove awkward for avid tripod users.
Weather Proofing
The Sigma fp is fully weatherproof thanks to dust- and splash-proof sealing on a total of 42 points over the camera's body.
Image Quality
All three of these shots were taken from a fast-moving helicopter through the plexiglass windows.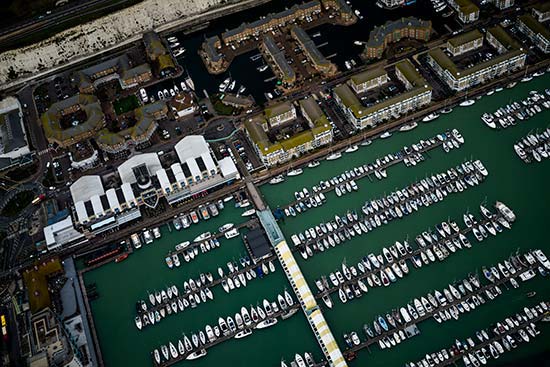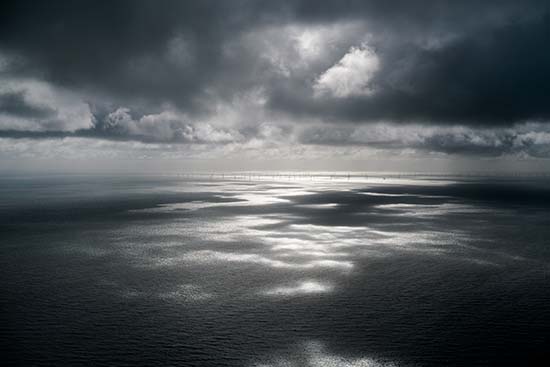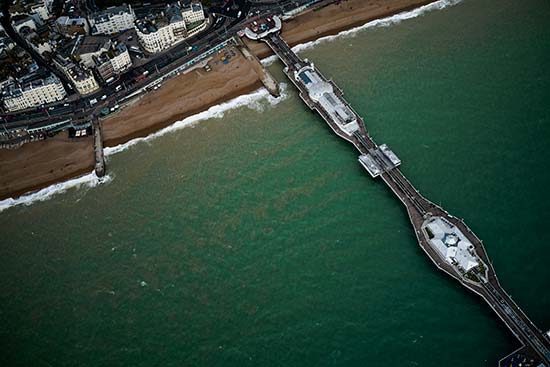 You can see more Sigma fp sample images and videos here.
Early Verdict
The Sigma fp is an intriguing new mirrorless camera that offers something genuinely different to the other options on the market.
After spending a couple of hours trying it out at the UK launch event, we feel that we've only just scratched the surface of what it's capable of.
Until we get one in for a full review, why don't you share your thoughts on the new Sigma fp by leaving a comment below?