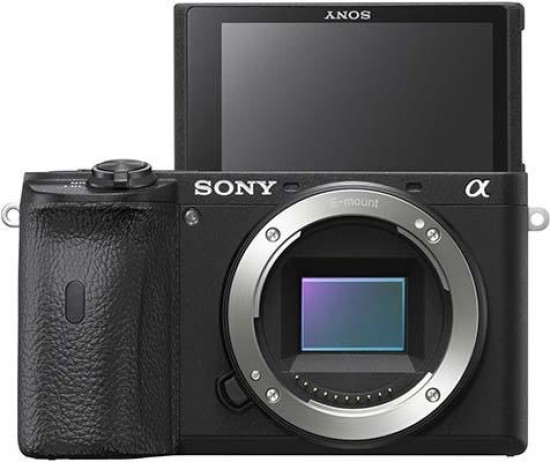 First Impressions
We've spent some time shooting with the brand new Sony A6600 and Sony A6100 mirrorless cameras. Here are our initial first impressions...
Despite all of the high-interest and extensive marketing surrounding the full-frame Alpha cameras, it probably comes as no surprise to learn that Sony actually sells far more APS-C models.
They're cheaper, smaller and "more accessible" to a wider range of consumers, yet if you compare the number of new launches of APS-C models over the past few years with full-frame launches, you'd be forgiven for thinking Sony thought of these "entry-level" type options as less important.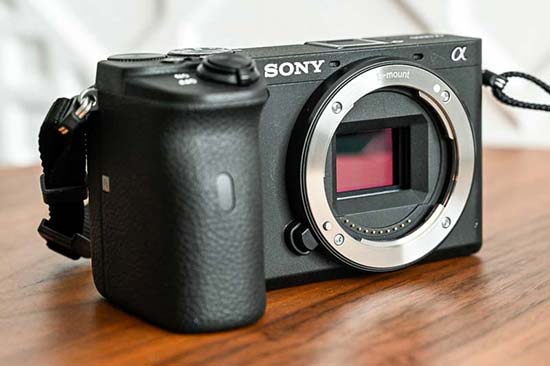 With its new duo of cameras, Sony is aiming to change that. The A6600 is the new top-of-the-line flagship model, boasting an array of features which should make it one of the best all-rounders on the market. After years of being one of the biggest sellers on the market, the A6000 also gets a refresh in the shape of the A6100 - a more modest offering aimed at those making their first steps into more serious photography.
As it stands, the A6600 and the A6100 are designed to sit on either side of the existing A6400 to offer something for every kind of user.
At launch, the body price of the A6600 was £1450, while the A6100 is much cheaper at £830. At the time of writing, the A6400 can be picked up for around £869, making the latter two models relatively close in price at this time.
We've been spending some time with the new cameras - as well as two new APS-C lenses also launched at the same time - at a Sony press event in Copenhagen, Denmark, and can bring you some initial thoughts.
Key Specifications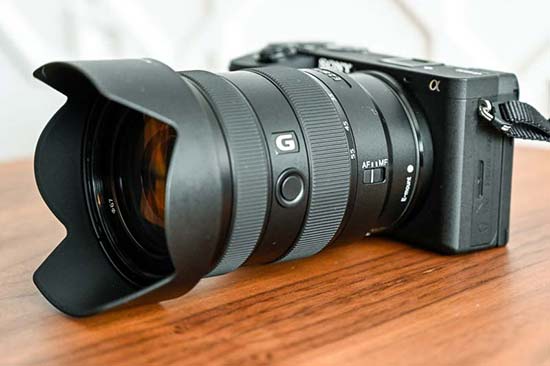 Both the A6600 and the A6100 feature an 24 megapixel APS-C sized sensor, while both also use the same Bionz X processor as found in the highest model in Sony's line-up, the Alpha A9. Both also use a 425-point phase and contrast detection autofocus system, and can shoot at 11fps, real-time AF, Eye AF and Animal Eye AF is also included on both models.
As the A6600 is more expensive and aimed at more advanced users, there are some key differences in specifications. The A6600 includes in-body image stabilisation, for example which should help you get much sharper shots. Although both of the cameras shoot 4K at 30fps, the A6600 has some more advanced video settings, such as Eye AF for movie, a headphone jack and S-log 2.3 compatibility.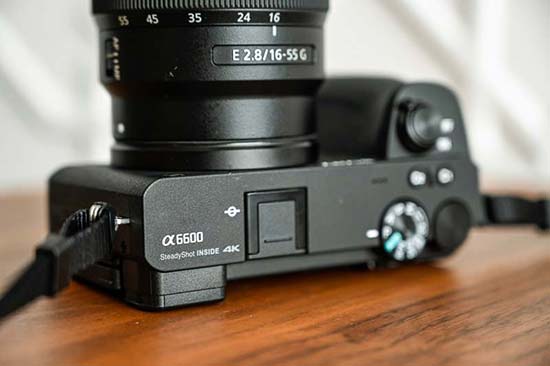 Another fairly big difference is with the battery, and therefore battery life. The A6600 uses a Z battery, which has a CIPA rating of 880 shots - the longest life of any Sony mirrorless camera and a very competitive offering in the wider market. Bearing in mind you can usually get much more out of the camera than CIPA's recommendation, this should make it ideal for travelling where you might not be able to charge the camera at frequent intervals. By contrast, the A6100 uses a W battery, which is physically smaller and therefore not as capable.
To compose images, you can use either a screen or inbuilt electronic viewfinder on either camera. The A6600, as expected, has a higher spec module, with 2359k-dots, compared to the 1440k-dots of the A6100. Alternatively, you can also use the 180-degree tilting touchscreen, which is found on either model.
One final key difference to note is with ISO capability. The A6600 has a top native speed of ISO 32000, which can be expanded to ISO 102,400. Meanwhile, the A6100 has the same top native speed, but it can only be expanded to 51,200 for stills.
Build and Handling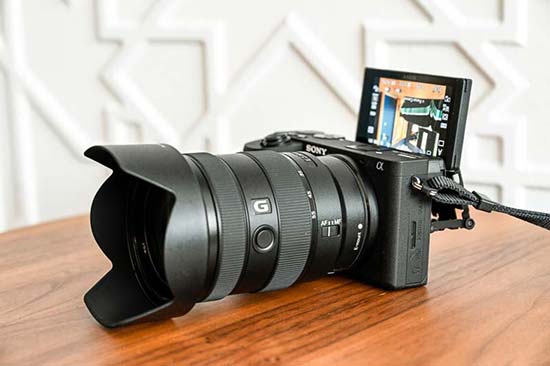 Sony hasn't hugely deviated from its design of the A6XXX series since the A6000 launched in 2014. It uses a fairly squared off and not very tall design, which leaves it feeling a little cramped at times. Sony says that it has addressed this problem with the A6600, by increasing the depth of the hand grip to give it a more secure hold. It's still very likely that your little finger will be dangling off the edge of the camera - unless perhaps you have particularly small hands.
On the top of the camera is the standard set-up we're used to seeing from Sony, including an on/off switch, a mode dial, a couple of function buttons and a scrolling dial which can be used to control various functions depending on the shooting mode you're in.
The very far left of the camera houses the inbuilt viewfinder. It seems very small to look at, as it doesn't have any kind of cup or padding, but looking through it reveals a nicely capable viewfinder which gives you a good view of the scene. Removing the eyecup makes it easier for the tilting screen to protrude from the top of the camera for selfies, so it's perhaps a worthwhile sacrifice.
Speaking of the touch-sensitive screen, you can touch control to change AF point, but you still can't use it to adjust settings in either the quick or main menu, which is a little frustrating. On a more positive note, you can use it while working with the viewfinder to very quickly change AF point - especially useful when you consider there's no joystick for making such a change.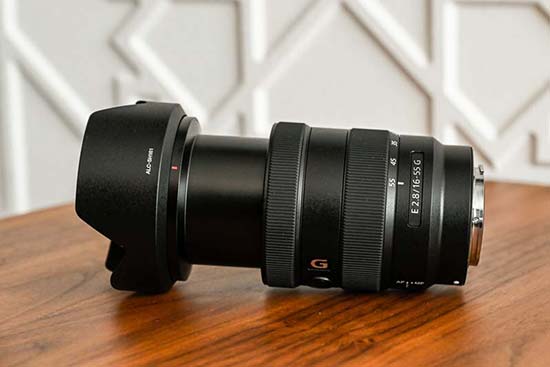 Other buttons on the back of the camera include a Fn button for bringing up a quick menu, and a four way navigational pad, with each directional key controlling a certain parameter - such as ISO, drive mode, exposure compensation and display settings.
The hand grip incorporates the space for the large Z battery, as well as the single memory card slot. It would perhaps have been nice to see a double slot for the A6600 considering its higher-end target audience, but it's difficult to know where it could have fit in the slimline body of the A6600.
Having had the opportunity to use both the a6600 and the a6100 for some time while in Copenhagen, it's plainly obvious that it's the a6600 which is the more pleasant to work with, especially for prolonged periods. The deeper grip definitely gives better purchase, while the wider array of customisable function buttons give you every opportunity to set up the camera to work in exactly the way you want it to.
That said, the a6100 isn't exactly a million miles away from an operational perspective. The shallower grip makes it feel a little less tactile and it's a little harder to jump straight into the exact specification you need, but for entry-level users who are stepping up from a smartphone, it's still a good overall experience.
It would be nice to have a dial at the front of either camera to adjust aperture or shutter speed. This feels like a very natural way of working, and presumably other manufacturers must agree as they pretty much all operate in this way. It doesn't feel as comfortable to use the rear scrolling dial to make this adjustment, especially if you're shooting through the viewfinder - but it's also true that this is likely to be something you'll notice a bit less if you're not used to shooting with other cameras, and is also something you do eventually get used to.
It remains a disappointment that the touchscreen isn't better implemented. It took Sony quite a long time to incorporate touchscreens at all, and while it's great to have the ability to set the focus point, it'd be nice to go a little further and allow control of other settings via this method.
First Thoughts
It's nice to see Sony paying some greater attention to its APS-C range of cameras again. Although not the most elegant in design (that honour surely belongs to Fujifilm), it's hard to deny the technological excellence found within these models that give users every chance of capturing fantastic images.
Having spent a small amount of time with both the a6100 and the a6600, we can already see that image quality looks very promising. Detail looks good, while colour rendition is warm, vibrant but remains realistic. Some good promises have been made to the quality of skin tone rendition, and again initial impressions seem very good on this front. We'll be keen to test the camera in some more extensive conditions - such as low light, and with moving subjects - but both look like good all rounders, with the more expensive a6600 being the obvious choice for those who are particularly committed to their hobby.
General operation also seems very good, with excellent autofocus, and fantastic extras such as face and eye detection, including animal eye AF. Again, this is something we'll be keen to put under more intense scrutiny when time and samples allow.
Launching a successor to the A6000 makes a lot of sense considering the original has sold over 500,000 units since 2014 - whether consumers will be tempted by the newer higher priced model remains to be seen, but it's good to see these kinds of users being catered for. Meanwhile, the more highly priced A6600 seems like a sensible flagship for this range, and we'll be keen to report back on some of its more advanced features in due course.