Introduction
Ease of Use

Front of the Sony A6100
Key Specifications
24.2 megapixel sensor
World's fastest autofocus - 0.02 secs
Real-time Eye AF with AI-based subject recognition
Real-time AF tracking with AI-based subject recognition
425 PDAF and 425 contrast detection AF points
84% AF area coverage
11fps continuous shooting with continuous AF/AE tracking, bursts up to 77 JPEGs, 8fps in silent mode
ISO 51200 (expanded)
4K video recording, 30fps, 8-bit
6K over sampling, 100Mbps bit rate
180-degree tilting monitor
Touchscreen operation
OLED viewfinder
In-body timelapses
Bluetooth connectivity
The Alpha A6000 has been one of the biggest selling Sony cameras in terms of volume, so the new A6100 model that replaces it certainly has a lot to live up to.
We say "replaces" - for the short-term at least, Sony are continuing to sell the A6000, with the new A6100 effectively positioned above it in the range, at least until stock of the A6000 runs out.
A lot has changed in the six years since the A6000 was first released, although as with their other APS-C mirrorless cameras, Sony have resisted the temptation to change the external design of the new A6100 in any radical way - indeed, you'd be hard-pressed to tell it apart from the A6000 when viewing them side-by-side.

Rear of the Sony A6100
It measures 120.0mm x 66.9mm x 59.4mm and weighs in at 396g with the battery and a memory card fitted, almost the same as the A6400, although it has an all-plastic rather than magnesium alloy body, and no weather-proofing.
The front of the camera is dominated by the relatively large, rubberised hand-grip, which enables users to hold the camera comfortably enough with three fingers, and also conceals the shared battery / UHS-I memory card compartment at its base.
Our A6100 review sample came with the Sony E PZ 16-50mm f/3.5-5.6 OSS power zoom lens, which is currently the smallest E-mount zoom lens and which is the starter optic that most people will probably purchase.
When not in use, this lens retracts back into its housing, much like a compact camera lens, contributing a lot to the low profile of the Sony A6100 and making the combination easily compact enough to fit in a large coat pocket.
The main downside of using a collapsible power zoom is that it causes start-up (and wake-up) times to be longer than usual. Those who aren't keen on the idea of shooting with a power zoom can of course buy the camera in a body-only configuration.

Tilting LCD Screen
On the forward-sloping edge at the top of the hand-grip is the shutter release button, encircled by the on/off switch. The shutter release button is thankfully much less clunky and noisy in operation than the one on the A6000.
The A6100 has a built-in, 1,440,000 dot OLED electronic viewfinder with 0.70x magnification, a 23mm eye-point, and 50/60fps frame rate setting.
On the back is a 3-inch widescreen LCD monitor, which retains the 922k resolution of the original A6000's screen.
This time around, though, Sony have implemented a 180-degree flippable design, rather than just 90 degrees of upward rotation and 45 degrees downward as on the A6000.
This make it more versatile for selfies and vlogging, although if you fit an accessory to the camera's flash hotshoe (like an external mic), you won't actually be able to use the screen in this position.
Sony have also implemented touch sensitivity to the screen, just like on the flagship A6600 camera. This makes functions like focus point selection much easier and more intuitive, especially given the lack of a rear AF joystick, and it even works while looking through the electronic viewfinder.
Unfortunately and somewhat bizarrely, though, you can't use the touchscreen to navigate the main menu or quick menu settings or even swipe through your images in playback mode, all rather stange limitations that are also shared by other Alpha cameras.

The Sony A6100 In-hand
It's the greatly enhanced AF system that really steals the limelight on the new A6100. Whereas the A6000's AF system featured 179 phase-detection AF points and 25 contrast-detection AF points, the A6100 gets a whopping 425 points of both varieties, phase and contrast, spread over almost the entirety of the sensor area (84% to be precise). This helps the camera achieve a quoted focusing time of just 0.02 seconds, exactly the same as the A6400 and A6600 models that were also introduced last year.
Eye AF is another part of the focusing system that has made its way down to the A6100 from the more expensive models in the range.
As on the A6400 and A600, Sony have implemented an algorithm that uses AI-based object recognition to detect and track the subject, improving the accuracy, speed, and performance of the continuous AF system.
You simply select the AF-C and Tracking AF modes, position the AF point over the subject that you want to track, half-press the shutter, and the camera will doggedly follow that subject wherever it moves in the frame. It doesn't have to be a person - the A6100 will track virtually any subject that you care to point it at.
This also effectively means that you no longer have to activate Eye AF by holding down a custom button (although you still can if you want to). Instead simply half-pressing the shutter button whilst in the Tracking AF mode activates Eye AF automatically if it detects a face/eye, and it seamlessly switches back to non-specific subject tracking if the eye or face can't be detected, then back again when it can.

Pop-up Flash
Conversely, you can use the system for easier composition of still subjects too. Simply focus on your subject, hold down the shutter button, and the camera will accurately lock onto your chosen subject while you recompose the frame, even if it's in one of the furthest corners.
It's not just continuous focusing that gets a boost though, as continuous shooting is also enhanced. On paper the A6100 seems to be no faster than the A6000, with both cameras capable of shooting at 11fps using the mechanical shutter with continuous AF/AE metering.
What has been improved is the Live View - the A6000 just showed you the last picture that was taken in every burst mode, whereas the new A6100 can maintain a live view up to 8fps, which is much better for tracking moving subjects. At 11fps, it reverts back to the same behaviour as the A6000. There's also a bigger buffer of 77 JPG frames or 33 RAW files available on the A6100.
The A6100 can record video at Ultra HD 3840 x 2160 resolution at 30fps, and slow motion, high frame rate Full HD 1920 x 1080 sequences at 120fps.
Note that when shooting in 4K at 24 and 25p, the camera utilises the full width of the image sensor to oversample from 6K's worth of data, but at 30p, a mild 1.2x crop is still applied.

Memory Card Slot
The movie-making potential is further enhanced by 100Mb/s high-bit-rate XAVC S data encoding, as well as clean video output over HDMI and the inclusion of a 3.5mm microphone jack.
Unlike the more expensive cameras in the range, the A6100 doesn't feature Sony's S-Log 2 and 3 gamma curves or and HLG (HDR) profile which enable it to record greater dynamic range.
There is a Multi Interface Shoe / flash hotshoe on top of the A6100 for connecting an external flashgun or a compatible accessory, and the camera also features a built-in pop-up flash.
To pop-up this flash you need to press a dedicated button at the top of the rear plate – in use we have found this recessed button to be a little fiddly, requiring a rather strong press to do its job. A clever hinged design allows the flash to be raised high above the lens to avoid red-eye issues.
The flash settings can be modified from within the main menu system, while the AE Lock button can be reprogrammed to provide easy access to flash exposure compensation. This is seldom needed though – as long as your subject is within range, the flash provides consistently good exposures.

Top of the Sony A6100
Our only gripes with this flash are the low guide number (GN 6 in metres at ISO 100/21°) and the fact that it cannot act as a commander for wirelessly slaved system flashes – even though the camera itself has the capability, you still need a compatible hotshoe-mounted external unit to use that feature.
The Sony A6100 uses the latest menu design from the Alpha A7 III camera, rather than the one found on the A6000. It has a more logical structure, although as is traditionally the way with Sony's menu, it's still pretty complicated. There's now a My Menu tab that as the name suggests allows you to construct your own custom menu for easier access to your favourite camera settings.
The A6100 has a single MR mode on the shooting mode dial. This does have the benefit of providing a lot of memory modes - 7 in total. There are also the usual auto, semi auto and manual modes, plus a Scene Selection position, Sweep Panorama mode, and a Movie mode that works in conjunction with the video record button located on the right edge of the thumb grip.
New to the A6100 is the Slow and Quick (S&Q) mode, which as the name suggests gives you easier access to the camera's slow- and quick- motion video options (frame rates from 1fps to 120fps), as selected in the Movie1 tab / S&Q Settings option in the main menu system.
The Sony A6100 is a very customisable camera. The rear Fn function button displays a quick-access menu of frequently used shooting settings, and you can choose which items appear on this menu. There are also two Custom buttons which can each be assigned a frequently used function for direct access. Even the AEL button can be customised, along with the left, right, down and centre rear panel navigation buttons, as well as the Fn button's role in playback mode.

Front of the Sony A6100
By default, the Fn button activates the Sony A6100's Send to Smartphone Wi-Fi function when in playback mode. This works in conjunction with Sony's PlayMemories Mobile app and lets you transfer a full resolution JPEG image in a nippy three seconds. Of course, you'll have to connect your smart device first, but NFC pairing makes this a painless process.
Even if you don't have an NFC-enabled smartphone or tablet, Sony lets you scan a QR code displayed on the A6100's monitor and this automatically enters the SSID password so you don't need to type it manually. The camera can also be remotely controlled by your smart device, although you'll need to first enter the A6100's Setup4 tab on the main menu to activate the Remote Ctrl feature.
Just like on the Alpha A6400, a low-power, low-bandwidth Bluetooth 4.1 data connection is now also available on the A6100. This lets you connect your camera to a smart device even when the A6100 is turned off for easier transfer of images. The Bluetooth connection can also be used to sync GPS location data from your smartphone.
The Sony A6100 will capture an image within two seconds of power-up and keep on shooting for a rated 420 shots per charge, although this drops to 380 shots when using the EVF.
The A6100 can also now be powered and charged via a USB connection, which is useful if you're without your charger but can access a computer, although it doesn't use the latest USB-C standard.
Finally there's the NP-FW50 battery compartment which, like the other A6000-series cameras, also incorporates the memory card slot. It's not a major bugbear, as opening the compartment to access the card won't cause the battery to drop out, and the tripod mount is far enough away to avoid a mounting plate blocking the door. It's just a pity the card slot's location nestles right next to the door's hinge, making it fiddly to insert and eject a memory card.
Image Quality
All of the sample images in this review were taken using the 24.2 megapixel Extra Fine JPEG setting, which gives an average image size of around 13Mb.
The Sony A6100 generates impressively clean results with minimal grain and detail loss. At ISO 6400 there's only a slight increase in noise and reduction in detail, making this sensitivity completely usable. Only at ISO 12800 does grain and detail smoothing become more severe, although it's by no means unsightly. ISO 25600 is really the ceiling for acceptable image quality, such is the high level of grain, loss of detail and reduced dynamic range. ISO 51200 is best avoided due to the intrusive grain and colour speckling.
If you dial things down to more sensible sensitivities, though, the A6100 records excellent dynamic range, especially when assisted by Sony's Dynamic Range Optimisation. Good colour vibrancy adds extra visual appeal while maintaining accurate colour reproduction, though this of course can be adjusted to your own preference in the camera settings.
It's worth noting that the Alpha A6100 doesn't incorporate sensor-shift stabilisation and instead relies on conventional lens-based optical stabilisation. But even if you don't have an optically-stabilised lens fitted, upping the camera's sensor sensitivity to compensate for camera shake isn't a big deal thanks to the A6100's respectable high ISO image quality.
Noise
There are 10 ISO settings available on the Sony A6100. Here are some 100% crops which show the noise levels for each ISO setting for both JPEG and Raw files.
| | | |
| --- | --- | --- |
| JPEG | RAW | |
| ISO 100 (100% Crop) | ISO 100 (100% Crop) | |
| | | |
| | | |
| ISO 200 (100% Crop) | ISO 200 (100% Crop) | |
| | | |
| ISO 400 (100% Crop) | ISO 400 (100% Crop) | |
| | | |
| ISO 800 (100% Crop) | ISO 800 (100% Crop) | |
| | | |
| ISO 1600 (100% Crop) | ISO 1600 (100% Crop) | |
| | | |
| ISO 3200 (100% Crop) | ISO 3200 (100% Crop) | |
| | | |
| | | |
| ISO 6400 (100% Crop) | ISO 6400 (100% Crop) | |
| | | |
| | | |
| ISO 12800 (100% Crop) | ISO 12800 (100% Crop) | |
| | | |
| | | |
| ISO 25600 (100% Crop) | ISO 25600 (100% Crop) | |
| | | |
| | | |
| ISO 51200 (100% Crop) | ISO 51200 (100% Crop) | |
| | | |
File Quality
The Sony A6100 has 3 different image quality settings available, with Extra Fine being the highest quality option. Here are some 100% crops which show the quality of the various options, with the file size shown in brackets.
| | |
| --- | --- |
| Extra Fine (13.3Mb) (100% Crop) | Fine (6.59Mb) (100% Crop) |
| | |
| | |
| Standard (4.34Mb) (100% Crop) | RAW (23.9Mb) (100% Crop) |
| | |
Flash
The flash settings on the Sony A6100 are Autoflash, Fill-flash, Slow sync and Rear flash sync, with Red-eye reduction available in the Main Menu. These shots of a white coloured wall were taken at a distance of 1.5m.
Flash Off - Wide Angle (24mm)

Flash On - Wide Angle (24mm)

Flash Off - Telephoto (75mm)

Flash On - Telephoto (75mm)

And here are some portrait shots. Neither the Auto setting or the Red-eye reduction mode caused any amount of red-eye.
Flash Off

Flash On

Red-eye Reduction

Night
The Sony A6100's maximum shutter speed is 30 seconds and there's also a Bulb mode for even longer exposures, which is excellent news if you're seriously interested in night photography. The shot below was taken using a shutter speed of 30 seconds at ISO 100.

Dynamic Range Optimizer
D-Range Optimiser (DRO) is Sony's solution to improve shadow detail in photos taken in contrasty light.
| | |
| --- | --- |
| Off | LV1 |
| | |
| | |
| LV2 | LV3 |
| | |
| | |
| LV4 | LV5 |
| | |
High Dynamic Range
High Dynamic Range Optimiser (HDR) is Sony's solution for capturing more contrast than a single exposure can handle by combining two exposures into one image.
| | |
| --- | --- |
| Off | 1.0EV |
| | |
| | |
| 2.0EV | 3.0EV |
| | |
| | |
| 4.0EV | 5.0EV |
| | |
| | |
| 6.0EV | |
| | |
Creative Styles
There are 7 Creative Style preset effects that you can use to change the look of your images. Note that they can be applied when shhoting both JPEG and Raw images.
| | |
| --- | --- |
| Standard | Vivid |
| | |
| | |
| Portrait | Landscape |
| | |
| | |
| Sunset | B/W |
| | |
| | |
| Sepia | |
| | |
Picture Effects
The Sony A6100 offers an extensive range of 13 creative Picture Effects. Note that these are not available when shooting Raw images.
| | |
| --- | --- |
| Off | Toy Camera |
| | |
| | |
| Pop Color | Posterization |
| | |
| | |
| Retro | Soft High-key |
| | |
| | |
| Partial Color (Red) | High Contrast Mono |
| | |
| | |
| Soft Focus | HDR Painting |
| | |
| | |
| Rich-tone Mono | Miniature |
| | |
| | |
| Watercolor | Illustration |
| | |
Sweep Panorama Mode
The Sony A6100 allows you to take panoramic images very easily, by 'sweeping' with the camera while keeping the shutter release depressed. The camera does all the processing and stitching and even successfully compensates for moving subjects.
Standard

Wide

Sample Images
This is a selection of sample images from the Sony A6100 camera, which were all taken using the 24.2 megapixel Extra Fine JPEG setting. The thumbnails below link to the full-sized versions, which have not been altered in any way.
Sample RAW Images
The Sony A6100 enables users to capture RAW and JPEG format files. We've provided some Sony RAW (ARW) samples for you to download (thumbnail images shown below are not 100% representative).
Sample Movie & Video
Product Images






















Conclusion
The new Sony A6100 is a much more significant upgrade from the incredibly popular A6000 than the A6400 and A6600 were from the A6300 and A6500 respectively, gaining a lot of cutting-edge functionality from the more expensive, sophisticated models.
Chief amongst these features is the autofocus system that the A6100 shares with the range-topping A6600. At this price-point, the A6100 is by far the class-leader in terms of auto-focus performance, making it much easier for photography newbies to take sharper, in-focus pictures of their family and pets.
Simply focus on the subject, hold down the shutter button and voila, the A6100 will lock on and track them wherever they go. That you can get such fantastic auto-focusing technology on what will eventually be Sony's mass-market mirrorless camera is a a great move that currently no other rival company can match.
As it features exactly the same 24.2 megapixel sensor as the A6400 and A6600 cameras, along with the latest Bionz X image processor, you'd be hard-pressed to tell any difference between the image quality from the A6100 and its more expensive siblings.
From a vlogging perspective, too, the A6100 is a great option at this price-point, with its flippable screen, 4K/30p quality, no limit on the actual recording length, built-in MIC port and that fantastic AF system (albeit without eye AF for video).
Sure, there's no IBIS available on the A6100, the flip-up screen is blocked if you fit an external mic in the hotshoe, there's no built-in headphone socket, and the USB port isn't the latest USB-C standard. Those things also apply to the more expensive A6400 camera, though, and are more forgivable on the cheaper A6100.
If you want extra features like S-Log video profile and weather-proofing, you'll need to step up to the A6400, but for most people looking for their first mirrorless camera, the Sony A6100 is our new default recommendation.
Ratings (out of 5)
Design
4.5
Features
5
Ease-of-use
4.5
Image quality
5
Value for money
5
Main Rivals
Listed below are some of the rivals of the Sony A6100.
Review Roundup
Reviews of the Sony A6100 from around the web.
Specifications
News
Sony has launched two new APS-C mirrorless cameras, the flagship A6600 and the A6100, plus two new APS-C lenses, the E 16-55mm F2.8 G standard zoom lens and the E 70-350mm F4.5-6.3 G OSS super-telephoto zoom lens.
The Alpha 6600 will ship in Europe in October 2019 priced at approximately €1600 / £1450 body only or as a kit with the SEL18135 lens for €2000 / £1800.

The Alpha 6100 will ship in Europe in October 2019 priced at approximately €900 / £830 body only, as a kit with the SEL1650 lens for €1000 / £900 or as a kit with the SEL1650 and SEL55210 priced at approximately €1250 / £1150.

Sony Europe Press Release
Sony today announced two new additions to its α(Alpha) APS-C series of mirrorless cameras with the launch of the Alpha 6600 (model ILCE-6600) and Alpha 6100 (model ILCE-6100). These new additions to the range integrate Sony's advanced technologies into compact and lightweight bodies including leading-edge autofocus performance, superb image quality and the very latest video technologies. The new Alpha 6600 has been designed to address the needs of the most demanding photographers and videographers with its versatility making it suitable for multiple types of shooting scenarios and users. The Alpha 6100 is targeted at users who are looking to make the step-up to shooting with interchangeable lens cameras and wish to shoot high-quality photos and videos in a variety of different situations.
The Sony APS-C range has been further strengthened by the launch of two new lenses, the E 16-55mm F2.8 G standard zoom lens and the E 70-350mm F4.5-6.3 G OSS super-telephoto zoom lens. With this announcement, Sony's versatile E-mount system now features a total of 54 lenses.
"Our 'One Mount' strategy to continually expand the E-mount system, cameras and lenses with complete inter-compatibility between full-frame and APS-C, means that we want to offer the widest range of exciting products that customers can select from when choosing the right tool for their needs," said Yann Salmon Legagneur, Director of Product Marketing, Digital Imaging, Sony Europe. "The APS-C market is extremely important to Sony and the Alpha 6600 and Alpha 6100 are both cameras that pack-in the very latest technology breakthroughs and whether you shoot stills, video or a combination of the two, we are confident that users will be very happy with the results."
At the heart of both the new Alpha 6600 and Alpha 6100 sit a 24.2MP[i] Exmor™ CMOS image sensor, the latest BIONZ X™ image processor and a front-end LSI implemented in Sony's full-frame cameras. This powerful trio combine to deliver all-round enhancements in image quality and performance across all areas of photo and video capture.
The Alpha 6600 and Alpha 6100 offer a lightning fast autofocus acquisition time of 0.02 seconds[ii]. With 425 focal-plane phase-detection AF points covering approximately 84% of the image area and 425 contrast-detection AF points, the high density and wide coverage of the AF system ensure reliable AF, even in the most challenging light conditions. Both new models benefit from Sony's 'Real-time Tracking' which utilises Sony's latest algorithm including AI[iii]-based object recognition to ensure that subjects can be captured with excellent accuracy, even via the touch panel on the rear screen. In addition, the new models offer 'Real-time Eye AF', the latest version of Sony's acclaimed Eye AF technology, which employs AI-based object recognition to detect and process eye data in real time, resulting in improved accuracy, speed and tracking performance of Eye AF for both humans and animals[iv], and allows the photographer to concentrate exclusively on composition[v].
An Eye for Detail
Based upon feedback from users of existing Sony APS-C camera users, further features have been added to the Alpha 6600 and Alpha 6100 to fine tune the user experience. These include:
-Improved colour reproduction; Algorithms inherited from full-frame models deliver natural colour reproduction, particularly in skin tones
-Hi-resolution internal 4K[vi] movie recording with full-pixel readout without pixel binning in Super 35mm format with easy smartphone transfers via the Imaging Edge™ Mobile application[vii]
-Interval shooting[viii] for stunning time-lapse videos
-180-degree tiltable, 3.0-type 921k-dot (approx.) LCD touch screen
-Integrated Microphone input for clear and crisp audio on video recordings
Alpha 6600
Across an ISO range of 100-32000 (expandable to ISO 50 – 102400[ix]),
The new Alpha 6600 offers superb low-noise performance and delivers extremely high-quality images, even in low-light conditions. By applying noise reduction and sharpness processing optimally in each area, Area-specific Noise Reduction and Detail Reproduction Technology greatly reduce noise while preserving high resolution contributing to fine reproduction of subject textures and shadow details.
The Alpha 6600 packs in many of the technology breakthroughs that are attracting praise on Sony's high-end full-frame cameras. These include:
-Sony's innovative 5-axis in-body image stabilisation system that results in a 5.0-step[x] shutter speed advantage
-Implementation of the industry-leading[xi] long battery life with Sony Z Battery for the first time on an APS-C camera, enabling extended power performance; approx. 720 still images using viewfinder, approx. 810 images using LCD monitor[xii]
-A tough magnesium alloy design that is dust and moisture resistant[xiii]
-Real-time Eye AF for movie shooting[xiv]. When activated, the eye of a subject is automatically tracked with high precision and reliability, allowing the shooter to focus on the content itself as opposed to what is in focus or not in focus. Touch Tracking functionality will also automatically initiate Eye AF when a human subject is selected
-Integrated headphone jack which allows the user to connect high-quality headphones for accurate monitoring of recorded sound
4K Recording vi
The Alpha 6600 boasts internal 4K movie recording in Super 35mm format with full pixel readout without pixel binning, to capture approximately 2.4x[xv] the amount of information required for 4K movies (Also available in Alpha 6100). This oversampling results in stunning footage, delivered in the XAVC S™ format with unparalleled resolution. The Alpha 6600 equips an HLG (Hybrid Log-Gamma)[xvi]picture profile that supports an instant HDR workflow. Recorded movies played back on an HDR (HLG)compatible TV will appear true-to-life, with no blocked shadows or blown highlights, without the need for colour grading. For users who want to colour grade their footage in post-production, S-Log3 and S-Log2 Gamma profiles are provided.
Pricing and Availability
The Alpha 6600 will ship in Europe in October 2019 priced at approximately €1600 body only or as a kit with the SEL18135 lens for €2000.
The Alpha 6100 will ship in Europe in October 2019 priced at approximately €900 body only, as a kit with the SEL1650 lens for €1000 or as a kit with the SEL1650 and SEL55210 priced at approximately €1250.
For full product details on the Alpha 6600, please visit: https://www.sony.co.uk/electro...
For full product details on the Alpha 6100, please visit: https://www.sony.co.uk/electro...
A product video on the new Alpha 6600 and Alpha 6100 canbe viewed at: https://www.youtube.com/playli...
A variety of exclusive stories, videos and exciting new content shot with the newest cameras and other Sony α products can be found at
https://www.sony.co.uk/alphauniverse. Sony's European photography hub is available in 22 languages and details product news, competitions and an up-to-date list of Sony events in each country.
[i]Approximate effective megapixels
[ii]Based on Sony research, CIPA-guideline-compliant internal measurement with an E 18-135mm F3.5-5.6 OSS lens mounted, Pre-AF off and viewfinder in use
[iii] AI (artificial intelligence) including machine learning technology is used
[iv]Real-time Eye AF for Animals supports still images only and cannot be used in combination with tracking. Does not work with some types of animal. Focusing may not perform well depending on scene and subject conditions
[v]Both right eye and left eye are selectable, either via the menu or by the touchscreen panel
[vi]3840×2160 pixels. A Class 10 or higher SDHC/SDXC memory card is required to record movies in the XAVC S format. UHS-I (U3) SDHC/SDXC card is required for 100Mbps
[vii] Imaging Edge Mobile Ver. 7.2 or later is required
[viii] Wi-Fi does not work during interval shooting
[ix]Only on still images
[x]Based on CIPA standard. Pitch/yaw shake only. With Sonnar T* FE 55mm F1.8 ZA lens mounted. Long-exposure Noise Reduction off
[xi]Among mirrorless interchangeable-lens digital cameras equipped with an APS-C image sensor. As of August 2019, based on Sony research
[xii]CIPA standard compliant
[xiii]Not guaranteed to be 100% dust and moisture proof
[xiv] This function does not track animal eyes
[xv]24p recording. Approx. 1.6x at 30p
[xvi] Connect this product to an HDR (HLG) compatible Sony TV via a USB cable when displaying HDR (HLG) movies
Image Gallery
Click on a thumbnail to see the full version.
First Impressions
We've spent some time shooting with the brand new Sony A6600 and Sony A6100 mirrorless cameras. Here are our initial first impressions...
Despite all of the high-interest and extensive marketing surrounding the full-frame Alpha cameras, it probably comes as no surprise to learn that Sony actually sells far more APS-C models.
They're cheaper, smaller and "more accessible" to a wider range of consumers, yet if you compare the number of new launches of APS-C models over the past few years with full-frame launches, you'd be forgiven for thinking Sony thought of these "entry-level" type options as less important.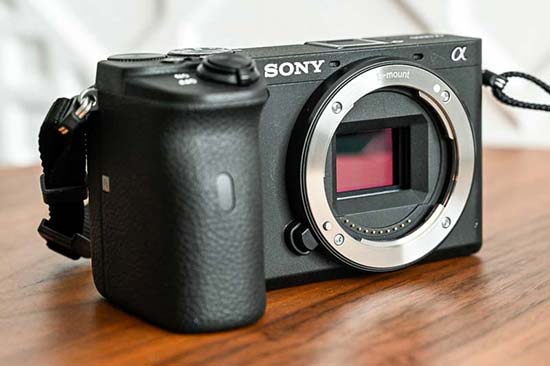 With its new duo of cameras, Sony is aiming to change that. The A6600 is the new top-of-the-line flagship model, boasting an array of features which should make it one of the best all-rounders on the market. After years of being one of the biggest sellers on the market, the A6000 also gets a refresh in the shape of the A6100 - a more modest offering aimed at those making their first steps into more serious photography.
As it stands, the A6600 and the A6100 are designed to sit on either side of the existing A6400 to offer something for every kind of user.
At launch, the body price of the A6600 was £1450, while the A6100 is much cheaper at £830. At the time of writing, the A6400 can be picked up for around £869, making the latter two models relatively close in price at this time.
We've been spending some time with the new cameras - as well as two new APS-C lenses also launched at the same time - at a Sony press event in Copenhagen, Denmark, and can bring you some initial thoughts.
Key Specifications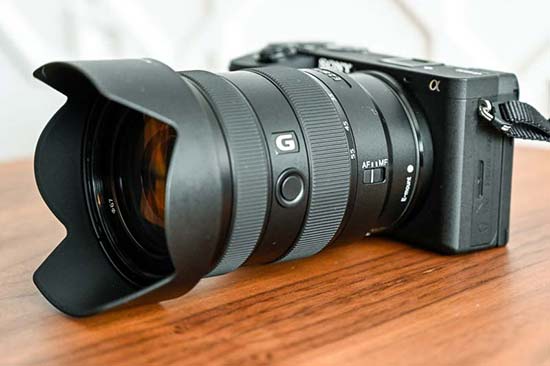 Both the A6600 and the A6100 feature an 24 megapixel APS-C sized sensor, while both also use the same Bionz X processor as found in the highest model in Sony's line-up, the Alpha A9. Both also use a 425-point phase and contrast detection autofocus system, and can shoot at 11fps, real-time AF, Eye AF and Animal Eye AF is also included on both models.
As the A6600 is more expensive and aimed at more advanced users, there are some key differences in specifications. The A6600 includes in-body image stabilisation, for example which should help you get much sharper shots. Although both of the cameras shoot 4K at 30fps, the A6600 has some more advanced video settings, such as Eye AF for movie, a headphone jack and S-log 2.3 compatibility.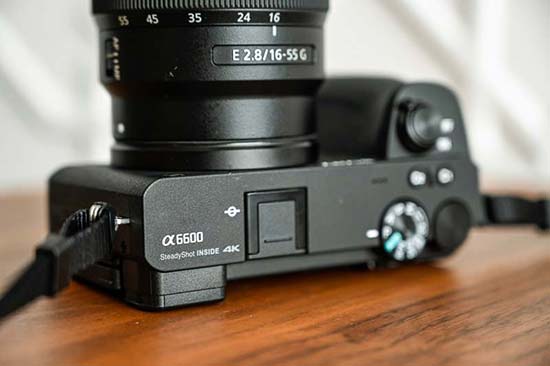 Another fairly big difference is with the battery, and therefore battery life. The A6600 uses a Z battery, which has a CIPA rating of 880 shots - the longest life of any Sony mirrorless camera and a very competitive offering in the wider market. Bearing in mind you can usually get much more out of the camera than CIPA's recommendation, this should make it ideal for travelling where you might not be able to charge the camera at frequent intervals. By contrast, the A6100 uses a W battery, which is physically smaller and therefore not as capable.
To compose images, you can use either a screen or inbuilt electronic viewfinder on either camera. The A6600, as expected, has a higher spec module, with 2359k-dots, compared to the 1440k-dots of the A6100. Alternatively, you can also use the 180-degree tilting touchscreen, which is found on either model.
One final key difference to note is with ISO capability. The A6600 has a top native speed of ISO 32000, which can be expanded to ISO 102,400. Meanwhile, the A6100 has the same top native speed, but it can only be expanded to 51,200 for stills.
Build and Handling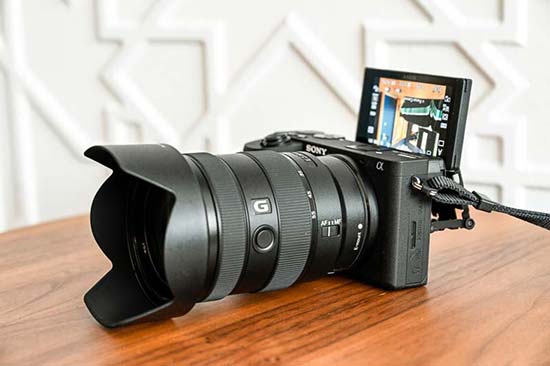 Sony hasn't hugely deviated from its design of the A6XXX series since the A6000 launched in 2014. It uses a fairly squared off and not very tall design, which leaves it feeling a little cramped at times. Sony says that it has addressed this problem with the A6600, by increasing the depth of the hand grip to give it a more secure hold. It's still very likely that your little finger will be dangling off the edge of the camera - unless perhaps you have particularly small hands.
On the top of the camera is the standard set-up we're used to seeing from Sony, including an on/off switch, a mode dial, a couple of function buttons and a scrolling dial which can be used to control various functions depending on the shooting mode you're in.
The very far left of the camera houses the inbuilt viewfinder. It seems very small to look at, as it doesn't have any kind of cup or padding, but looking through it reveals a nicely capable viewfinder which gives you a good view of the scene. Removing the eyecup makes it easier for the tilting screen to protrude from the top of the camera for selfies, so it's perhaps a worthwhile sacrifice.
Speaking of the touch-sensitive screen, you can touch control to change AF point, but you still can't use it to adjust settings in either the quick or main menu, which is a little frustrating. On a more positive note, you can use it while working with the viewfinder to very quickly change AF point - especially useful when you consider there's no joystick for making such a change.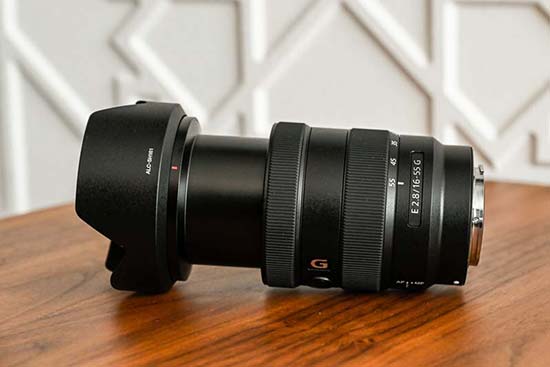 Other buttons on the back of the camera include a Fn button for bringing up a quick menu, and a four way navigational pad, with each directional key controlling a certain parameter - such as ISO, drive mode, exposure compensation and display settings.
The hand grip incorporates the space for the large Z battery, as well as the single memory card slot. It would perhaps have been nice to see a double slot for the A6600 considering its higher-end target audience, but it's difficult to know where it could have fit in the slimline body of the A6600.
Having had the opportunity to use both the a6600 and the a6100 for some time while in Copenhagen, it's plainly obvious that it's the a6600 which is the more pleasant to work with, especially for prolonged periods. The deeper grip definitely gives better purchase, while the wider array of customisable function buttons give you every opportunity to set up the camera to work in exactly the way you want it to.
That said, the a6100 isn't exactly a million miles away from an operational perspective. The shallower grip makes it feel a little less tactile and it's a little harder to jump straight into the exact specification you need, but for entry-level users who are stepping up from a smartphone, it's still a good overall experience.
It would be nice to have a dial at the front of either camera to adjust aperture or shutter speed. This feels like a very natural way of working, and presumably other manufacturers must agree as they pretty much all operate in this way. It doesn't feel as comfortable to use the rear scrolling dial to make this adjustment, especially if you're shooting through the viewfinder - but it's also true that this is likely to be something you'll notice a bit less if you're not used to shooting with other cameras, and is also something you do eventually get used to.
It remains a disappointment that the touchscreen isn't better implemented. It took Sony quite a long time to incorporate touchscreens at all, and while it's great to have the ability to set the focus point, it'd be nice to go a little further and allow control of other settings via this method.
First Thoughts
It's nice to see Sony paying some greater attention to its APS-C range of cameras again. Although not the most elegant in design (that honour surely belongs to Fujifilm), it's hard to deny the technological excellence found within these models that give users every chance of capturing fantastic images.
Having spent a small amount of time with both the a6100 and the a6600, we can already see that image quality looks very promising. Detail looks good, while colour rendition is warm, vibrant but remains realistic. Some good promises have been made to the quality of skin tone rendition, and again initial impressions seem very good on this front. We'll be keen to test the camera in some more extensive conditions - such as low light, and with moving subjects - but both look like good all rounders, with the more expensive a6600 being the obvious choice for those who are particularly committed to their hobby.
General operation also seems very good, with excellent autofocus, and fantastic extras such as face and eye detection, including animal eye AF. Again, this is something we'll be keen to put under more intense scrutiny when time and samples allow.
Launching a successor to the A6000 makes a lot of sense considering the original has sold over 500,000 units since 2014 - whether consumers will be tempted by the newer higher priced model remains to be seen, but it's good to see these kinds of users being catered for. Meanwhile, the more highly priced A6600 seems like a sensible flagship for this range, and we'll be keen to report back on some of its more advanced features in due course.
Hands On
Want to see exactly what the new Sony A6100 mirrorless camera looks like in the flesh?
Check out our hands-on gallery of photos of the Sony A6100 mirrorless camera.
A gallery of hands-on photos of the new Sony A6100 mirrorless camera.
Image Gallery
Click on a thumbnail to see the full version.
Preview Images
Ahead of our full review, here are some sample images and videos taken with the new Sony A6100 mirrorless camera. The Sony A6100 is a 24-megapixel APS-C compact system camera with 4K video recording.
A gallery of sample images taken with the Sony A6100 mirrorless camera.
Sony A6100 Sample Images
Sample RAW Images
The Sony A6100 enables users to capture RAW and JPEG format files. We've provided some Sony RAW (ARW) samples for you to download (thumbnail images shown below are not 100% representative).
Sample Movie & Video
Your Comments