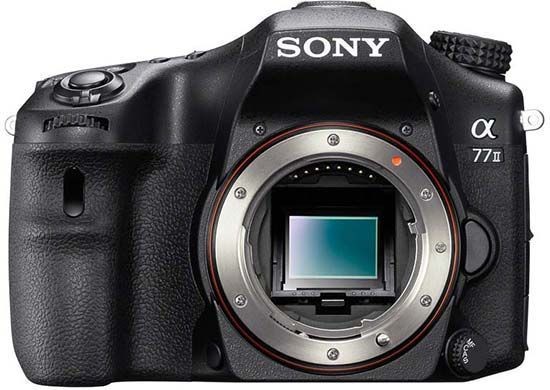 Specifications
Dimensions (W x H x D)
Approx. 142.6 mm × 104.2 mm × 80.9 mm
Weight
Body Only: Approx. 647 g / Approx. 1 lb 6.8 oz;With battery and Memory Stick PRO Duo included: Approx. 726g / Approx. 1 lb 9.6 oz
Lens Compatibility
Sony A-mount lenses, Operation with Minolta / Konica lenses confirmed
Sensor Type
APS-C type (23.5 x 15.6mm), Exmor™ CMOS sensor with primary color filters
Image Sensor Aspect Ratio
Smart zoom (Still Image)
M:Approx. 1.4x
S:Approx. 2
Digital zoom (Still Image)
L:Approx. 4x M:Approx. 5.7x S:Approx. 8
Recording Format (Still images)
JPEG (DCF Ver. 2.0, Exif Ver. 2.3, MPF Baseline compliant), RAW (Sony ARW 2.3 format)
Image Size (pixels), 3:2
L: 6000 x 4000 (24M)
M: 4240 x 2832 (12M)
S: 3008 x 2000 (6.0M)
Image Size (pixels), 16:9
L: 6000 x 3376 (20M)
M: 4240 x 2400 (10M)
S:3008 x 1688 (5.1M)
Image Size (pixels), Sweep Panorama
Standard: Horizontal 8,192 x 1,856 (15M), Vertical 3,872 x 2,160 (8.4M)
Wide: Horizontal 12,416 x 1,856 (23M), Vertical 5,536 x 2,160 (12M)
Image Quality Modes
RAW, RAW & JPEG, JPEG Extra fine, JPEG Fine, JPEG Standard
Creative Style
Standard, Vivid, Neutral, Clear, Deep, Light, Portrait, Landscape, Sunset, Night Scene, Autumn leaves, Black & White, Sepia, Style Box (1-6), (Contrast (-3 to +3 steps), Saturation (-3 to +3 steps), Sharpness (-3 to +3 steps))
Dynamic Range Functions
Off, Dynamic Range Optimizer (Auto/Level(1-5)), Auto High Dynamic Range(Auto Exposure Difference, Exposure difference Level (1-6EV, 1.0EV step))
Recording Format (Movie)
AVCHD format Ver. 2.0 compliant / MP4
Video Compression
AVCHD:MPEG-4 AVC/H.264, MP4:MPEG-4 AVC/H.264
Audio Recording Format
AVCHD:Dolby Digital (AC-3) 2ch, Dolby Digital Stereo Creator
MP4:MPEG-4 AAC-LC 2ch
Other Movie Functions
AF Drive Speed
AF Tracking Duration
Audio Level Display
Audio Rec Level
Auto Slow Shutter
HDMI Info. Display
PAL/NTSC Selector
Face Detection
On/ On (Regist. Faces) / Off
Compatible Recording Media
Memory Stick PRO Duo™
Memory Stick PRO-HG Duo™
Memory Stick XC-HG Duo
SD
SDHC
SDXC memory cards (UHS-I compliant)
Noise Reduction
Long exposure NR: On/Off , available of shutter speeds longer than 1 sec., High ISO NR: Normal/Low/Off selectable
White Balance Modes
Auto, Daylight, Shade, Cloudy, Incandescent, Fluorescent (Warm White / Cool White / Day White / Daylight), Flash, Color temperature (2500 to 9900K), Color Filter (G7 to M7, A7 to B7), Custom (1 / 2 / 3), Custom Set
Focus Sensitivity Range
EV -2 to 18 (at ISO 100 equivalent)
AF Mode
Single-shot AF (AF-S), Continuous AF (AF-C), Automatic AF (AF-A), Direct Manual Focus selectable
Focus Area
Wide, Zone, Center, Flexible Spot, Expanded Flexible Spot, Lock-On AF (Wide, Zone, Center, Flexible Spot, Expanded Flexible Spot)
Other Features
Eye-start AF, Eye AF, Predictive control, Focus lock, AF On,
AF Illuminator range
Approx. 1m - 5m / Approx. 3.3 to 16.4 feet
Metering Type
1200-zone evaluative metering
Metering Mode
Multi segment, Spot, Center weighted
Exposure Modes
AUTO (Intelligent Auto / Superior Auto), Scene Selection, Sweep Panorama, Continuous Advance Priority AE, Movie, Programmed AE, Aperture priority, Shutter-speed priority, Manual, Memory recall
Scene Selection
Portrait, Landscape, Macro, Sports Action, Sunset, Night Portrait, Night Scene, Hand-held Twilight
Exposure Compensation
+/-5.0 EV (1/3EV, 1/2EV steps selectable)
Auto (AE) Bracketing
Bracket: Cont./Bracket: Single, With 1/3EV, 1/2EV, 2/3EV, 1.0EV, 2.0EV, 3.0EV increments, 3 /5 frames
AE Lock
AE is also locked when focus is locked in multi-segment metering mode. ("AEL w/ shutter"(Auto/On/Off) is supported)
Available with AE lock button
ISO Sensitivity
Movie: ISO100 - 12800 equivalent (1/3 EV step),AUTO ( ISO 100-12800 equivalent, selectable the lower limit and the upper limit )
Still Image: ISO 100 - 25600 (1/3 EV step), (ISO numbers up from ISO50 can be set as expanded ISO range.),AUTO ( ISO 100-25600, selectable the lower limit and the upper limit )
Viewfinder Type
1.3cm (0.5" type) Electronic viewfinder
Magnification
Approx. 1.09x (35mm camera equivalent: Approx. 0.71x) with 50mm lens at infinity, -1m style name="sup" -1 /style
Diopter Adjustment
-4.0 to +3.0m style name="sup" -1 /style
Eye Point
Approx. 27mm from the eyepiece lens, 22mm from the eyepiece frame at -1m style name="sup" -1 /style (CIPA standard)
Screen Type
7.5 cm (3.0 type) TFT Drive
Brightness Control (LCD)
Auto, Manual (5 steps between -2 and +2), Sunny Weather
Shutter Type
Electronically-controlled, vertical-traverse, focal-plane type
Shutter Speed
Still images: 1/8000 to 30 sec/Bulb;Movies: 1/8000 to 1/4 (1/3 step), up to 1/60 in AUTO mode (up to 1/30 in Auto slow shutter mode)
Flash Compensation
+/- 3.0 EV (switchable between 1/3 and 1/2 EV steps)
Flash Modes
Flash off, Autoflash, Fill-flash, Slow sync, Red-eye reduction (on/off selectable), Rear sync.,Wireless, High Speed sync.
Wireless Control
Yes (With RMT-DSLR2 (sold separately))
Drive Modes
Single Shooting, Continuous shooting (Hi/Lo selectable), Self-timer (10/2 sec delay selectable), Self-timer (Cont.) (with 10 sec delay 3/5 exposures selectable), Bracket: Cont., Bracket: Single, White Balance bracket, DRO bracket
Continuous Shooting
Hi: Maximum 8 frames per second, Lo: Maximum 3 frames per second
Supplied Battery
One rechargeable battery pack NP-FM500H
Battery Life (CIPA, Still Images)
Approx. 410 shots (Viewfinder) / Approx. 480 shots (LCD monitor) (CIPA standard)
What's In The Box
Power cord
Rechargeable Battery NP-FM500H
Battery Charger BC-VM10A
Shoulder strap
Body cap
Accessory shoe cap
Eyepiece cup
Micro USB cable