Sony Cyber-shot DSC-HX90V Review
August 4, 2015
|
Jack Baker
|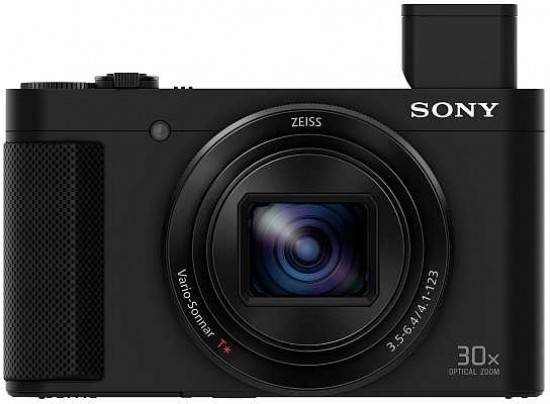 Conclusion
We liked last year's HX60V, but with slightly underwhelming image quality and no EVF or lens barrel control ring like the competition from Panasonic, it couldn't quite compete. Sony has clearly listened though and the Cyber-shot DSC-HX90V addresses most of our concerns.
The move to an 18.2MP Exmor R sensor has given the HX90V a much-needed image quality boost, and although the results are no better than the class-leading Panasonic TZ70, they're certainly on a par, whether shooting in daylight or indoors. Detail capture, noise levels, colour reproduction and exposure metering are all top notch.
Camera manufacturers seem to have currently hit a wall in optical zoom range for compact cameras, as 30x zoom has been the limit for a couple of years. Sony's move to a Zeiss T-star coated optic does make the most of the zoom range though, with good sharpness and minimal flare or fringing. Just be sure to hold very still when zoomed in to the max, as Sony's Optical SteadyShot image stabilisation isn't the most fool-proof system.
It's the Sony Cyber-shot DSC-HX90V extensive features that set it apart from most of its rivals. EVFs are still rare in this sector, so the fact that Sony has fitted the HX90V with the high quality unit used in its premium large-sensor compact cameras is a big plus. The tiltable screen, Wi-Fi, GPS and enthusiast-focussed shooting options make the HX90V an exceptionally versatile camera, as does its incredibly pocketable proportions.
There are only a few drawbacks: being so new, the price has yet to fall and the Sony Cyber-shot DSC-HX90V is currently around £40/$30 more expensive than the Panasonic TZ70, though if compactness and a titling screen are important to you, that could still be a price worth paying. But if that's too much of a stretch, then Sony's WX500 offers the same sensor/processor/lens combo and therefore identical performance and image quality for around £70/$100 less. You will however have to do without an EVF, GPS, the lens barrel control ring and a front finger grip.
It's a shame that the Sony Cyber-shot DSC-HX90V's sheer compactness does make some buttons small, and restricts the size of the rear thumb rest, but that's an inevitable consequence of the space-saving. We'd also like to see the camera feature a touchscreen like the Olympus SH-2 offers, and Ultra HD video recording would be another great selling point. The HX90V's lack of raw capture doesn't seem great on paper, but as explained in the image quality section, raw recording in this sector isn't necessarily all it's cracked up to be.
Assuming the HX90V's price falls below the £300/$400 mark in the coming months, then it'll make an excellent all-rounder and a tempting alternative to the Panasonic TZ70. Whether you're a novice or enthusiast photographer, the Sony Cyber-shot DSC-HX90V makes for a highly versatile and high-performing compact camera that includes almost every feature you could want.
Ratings (out of 5)
Design
4.5
Features
4.5
Ease-of-use
4
Image quality
4.5
Value for money
4