Sony FE 28-60mm F4-5.6 Review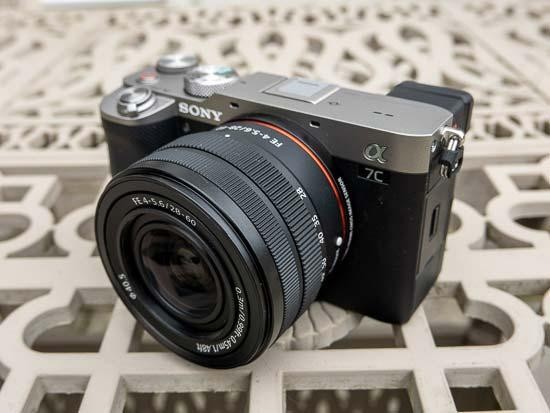 Conclusion
The Sony FE 28-60mm F4-5.6 is a remarkably small and incredibly lightweight full-frame standard zoom lens, featuring a clever retractable design that ingeniously only requires a twist of the zoom ring to enagage.
In terms of image quality, the Sony FE 28-60mm F4-5.6 is sharp in the centre even when shooting wide-open, with performance dropping off a little at the edges, requiring you to stop down to get optimum results.
Bokeh is surprisingly nice despite only having 7 aperture blades, while the 30cm minimum focusing distance makes the lens more versatile than you might expect, although it's not really designed for macro photography.
The auto-focusing system is snappy, quiet and reliably accurate, and it usefully boasts a dust and moisture resistant design.
On the negative side, in terms of focal lengths 28mm isn't especially wide and 60mm isn't especially long - we preferred the zoom range offered by Nikon's Z 24-50mm f/4-6.3 lens, but your mileage may well vary.
Also there's no built-in vibration reduction, instead relying on the in-body system offered by the Sony camera body, and the available maximum apertures throughout the zoom range are on the slow side.
The all-plastic construction isn't particularly confidence inspiring, although at least the lens mount is made of metal, and there are no available external controls other than the focus and zoom rings, unsurprisingly given how small the lens is.
A price-tag of £450 seems pretty high for a mere kit lens, however small and compact it is. It makes much more sense when bought in a kit with the new Sony A7C camera, which inevitably is where most people will buy it.
Overall, the Sony FE 28-60mm F4-5.6 is most notable for its size and weight, or rather the lack of either. It also focuses quickly and quietly and produces good image quality for this kind of lens.
Sure, there are a few notable compromises, as outlined above, but overall it does make a good starter lens for Sony A7C owners who don't already have a vested interest in the Alpha camera system.
Ratings (out of 5)
Design
4
Features
3.5
Ease-of-use
4
Image quality
4
Value for money
3.5