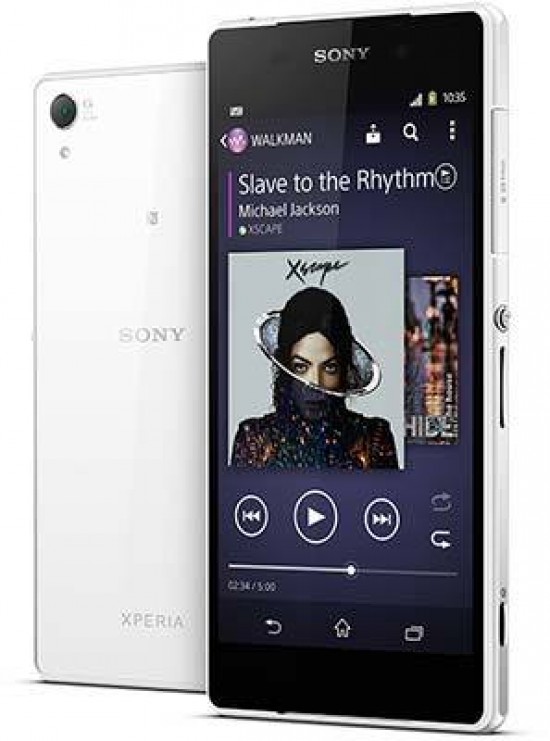 Introduction
The Sony Xperia Z2 is an update to the Z1, and features a 20.7 million pixel 1/2.3 inch Exmor RS CMOS sensor. It includes an 8x digital zoom, along with a front facing 2.2 million pixel camera. Like the Z1, it has a 27mm f/2.0 Sony G lens. HD video recording at 1080p is also available, but more excitingly, 4K video recording is included. There's a burst mode if you're shooting action sequences, as well as an HDR mode for both picture and film. Other features include Sweep Panorama, a built-in flash, touch to focus and capture and the ability to alter white balance and metering. Although there's a "manual" mode, the ability to change the aperture and shutter speed is not included. The Sony Xperia Z2 features a 5.2 inch TRILUMINOS touchscreen display, and accepts Micro SD cards if you want to boost the inbuilt memory capability. You can use the camera with the inbuilt camera app, as well as a wide range of different apps available for Android on the Google Play store, such as Instagram. Within the native app, there is the option to shoot panoramas and with different effects added. There's also an AR option for adding special effects and masks. The Sony Xperia Z2 costs around £599 / $799.
Ease of Use
With its large screen, theSony Xperia Z2 only just about fits in a trouser pocket. On the plus side it is fairly thin so the overall weight of the device doesn't feel too bad. The phone is waterproof and dustproof, making it both useful for dealing with rainy weather and also means you can use it underwater.
As with most smartphones there's not too much in the way of buttons to be found on the Z2. There's an on/off button, a rocker switch which can be used for the digital zoom, and a button which you can use to fire off the camera's shutter release. If you prefer, you can use a touchscreen version of the shutter release button from within the camera app.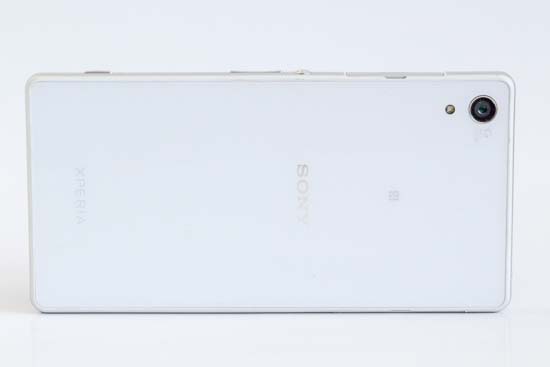 Front of the Sony Xperia Z2
The large size of the Sony Xperia Z2 means it's fairly unwieldy to use when photographing one handed, or when using it in landscape format. The lens is also perilously close to the edge of the device making it easy to accidentally obscure it with your finger. It's likely that you'd get used to holding and using the phone with time though.
On the plus side, the touchscreen is nice and responsive and once you've become accustomed to the different options available via the camera app, it's easy to tap and swipe your way through those that are available.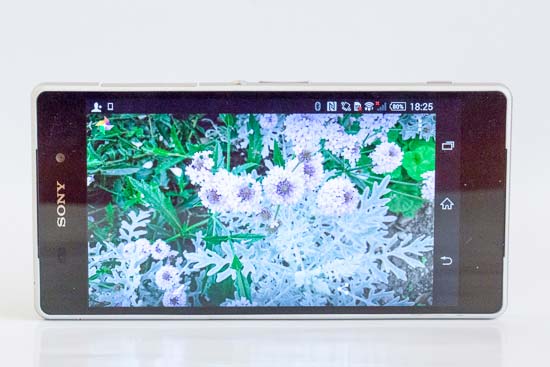 Rear of the Sony Xperia Z2 / Image Displayed
Getting to the camera app is easy from the home screen making it almost as quick to boot up as a compact camera. There a few different shooting modes available, but by default the camera shoots in Super Intelligent Auto. To change between the different shooting modes, tap the icon in the bottom right hand corner of the screen. There's a manual control mode, which is actually a bit of a misnomer as it's more akin to a Program Auto mode - you can change the white balance, sensitivity and metering, but not the aperture or shutter speed.
In order to make these changes, you'll need to tap an icon on the left hand side of the native camera app. There's one which allows you to change white balance and exposure compensation, while other settings are found in the more extensive menu reached by tapping the three dot icon. This makes it a little bit fiddly if you want to quickly change between different settings, such as changing from one ISO value to another - you can leave it on ISO Auto though.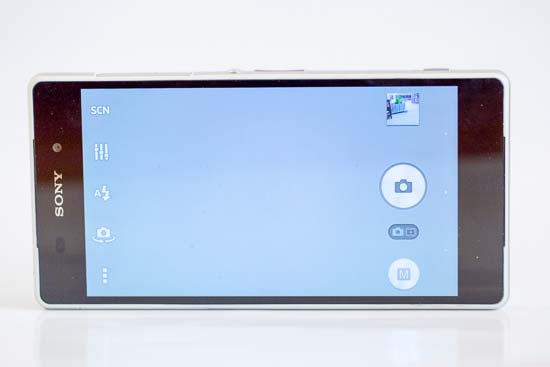 Front of the Sony Xperia Z2 / Camera App
Also while in Manual mode, you can change through different scene modes. For instance, there's landscape and night scene mode available. Another interesting mode is Background Defocus - this promises to deliver "DSLR like" images. This gives you the option to photograph and object and set the amount of background blur to give a shallow depth of field effect. Use the slider on the screen to control how much blur you want to add - too much can look a little unrealistic, and doesn't work as well when the outline of the object contains lots of fine detail - such as hair.
Timeshift burst is a pretty innovative feature which allows you to choose the best photo from a sequence taken in quick succession - which is useful if photographing action, such as a sports day.
Sony's Sweep Panorama mode, which is found in lots of compact cameras, is also available on the Xperia Z2. All you need to do, once in this shooting mode, is hold down the shutter release key and move the phone across a scene - it will automatically capture and stitch the required images. Also something which we've seen in compacts and the like is Sony's HDR function - this is useful when shooting difficult lighting conditions to even out the exposure for better balance.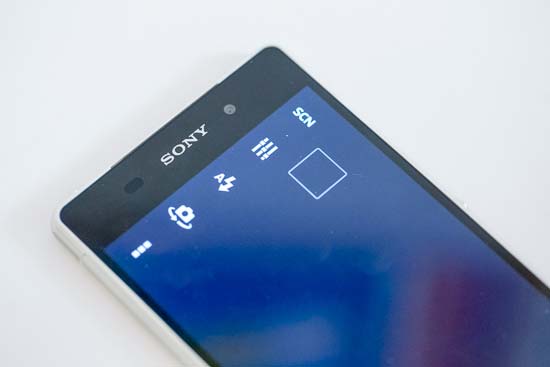 Front of the Sony Xperia Z2
As with the previous model, face recognition and smile shutter are included. Face recognition will give settings bias to any faces the camera detects in the scene, setting the exposure and white balance based on the face for instance. Meanwhile, smile shutter will trigger off the shutter release when it detects a smile - this works fairly well, but it's not foolproof - it's useful when composing group shots or selfies though.
Once you've pressed the shutter release (either physical or touchscreen), the Sony Xperia Z2's screen will blank out for a brief second and the image will be visible in a small preview window at the bottom of the screen. You can tap this to view all of the images you've taken - simply swipe through to move through those stored in the memory.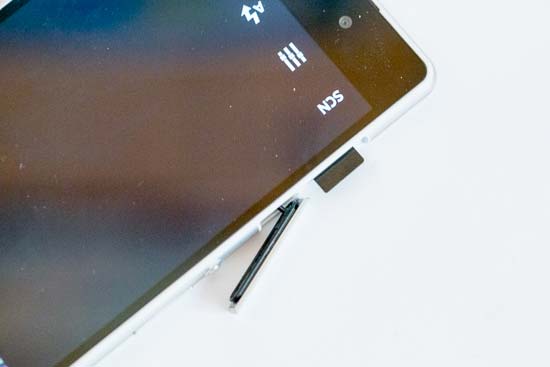 Memory Card Slot
In order to set the focus point, you simply tap the area on screen you wish to focus on. In good light, the AF is pretty snappy, but fairly often, the camera will struggle to focus - but it will still let you take a picture - you may therefore find that you're taking some out of focus shots - this is especially true for close-up shots. To get a better lock on focus, half press the physical camera key before holding it down fully to take the shot. While there's a macro mode in Superior Auto, you can't switch it on yourself - it will automatically activate when you get close to a subject.
Video recording is available in variety of frame rates, and you can also record in 4K format. In reality, you'll often find that the unit stops recording as it heats up too quickly, so it's unlikely you'll be able to create very long 4K clips - it's interesting to see the technology available on a consumer smartphone though.
If you want to add some different digital filter style effects, you'll find these in the mode menu - tap the bottom right hand corner of the screen and choose Creative effect. You can use these effects in both video and stills, and there's quite a few to choose from - such as partial colour, nostalgic, old film and some more wacky options such as kaleidoscope. Of course you can also download hundreds of different photography apps from the Google Play store - such as Instagram - which also give you lots of image editing possibilities.