Zhongyi Mitakon 42.5mm f/1.2 Review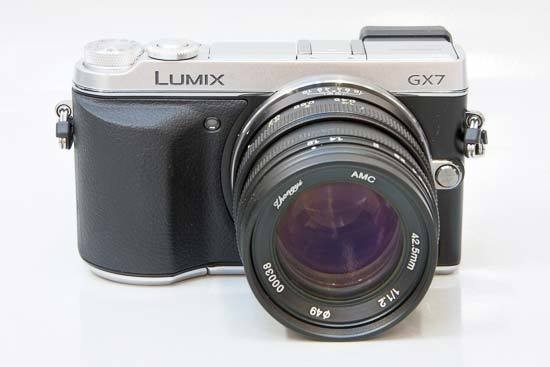 Conclusion
The Zhongyi Mitakon 42.5mm f/1.2 lens is a rather hit and miss product, getting some things right but others badly wrong. The manual focus only design is initially appealing in a back to basics way, and it's surprisingly easy to accurately focus using the peaking function on the Panasonic GX7 that we tested it with, but the construction is poor (and on our particular sample, worthy of return), the de-clicked aperture ring is too narrow, imprecise and the markings are too close together, and the tiny hyperfocal distance scale is virtually unusable.
In terms of image quality, the lens creates some nice bokeh effects when shooting wide open at f/1.2, creating an attractive dreamy look, but you really need to stop down to f/4 to get critically sharp results in the centre of the frame, with the edges slightly worse. This lack of sharpness may actually be a plus-point for portrait shooters who want a more romantic look - just make sure that the image quality fits your particular bill. Chromatic aberrations are commendably almost completely absent, but vignetting is pretty bad at f/1.2, not disappearing completely until f/4.
In terms of direct competition in the world of Micro Four Thirds, the Zhongyi Mitakon 42.5mm f/1.2 is up against the very expensive Panasonic Leica DG Nocticron 42.5mm F1.2 ASPH and the similarly priced Olympus M.ZUIKO Digital 45mm f/1.8. If the latter lens didn't exist, we'd probably recommend the Zhongyi Mitakon 42.5mm f/1.2 as a much more affordable alternative to Panasonic's premium offering, but given that the Olympus 45mm lens is such a great performer and has auto-focusing at the same price, we'd pass on the Zhongyi Mitakon 42.5mm f/1.2 (even a well-constructed one)...
Ratings (out of 5)
Design
2.5
Features
3
Ease-of-use
3.5
Image quality
3
Value for money
4