Speed and Resolution Top Priorities for New Canon EOS Duo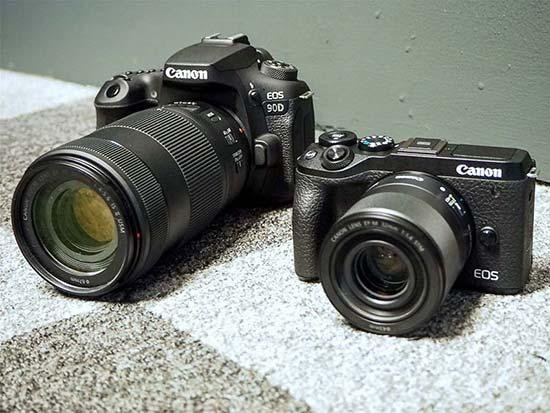 We've spent some time shooting with the Canon EOS M6 Mark II and the EOS 90D DSLR cameras. Here are our initial first impressions...
Canon is aiming to do the double and deliver high-resolution files and high speed captures with its latest two APS-C sensor incorporating interchangeable lens cameras – the mirrorless Canon M6 Mark II, and the Canon 90D DSLR.
"We want to inspire our customers to explore a world of opportunities and tell their stories," Canon UK's Marketing Manager Didi Goddard told us at the London unveiling, "We're still after every category that we have going." She went on to share a market overview suggesting that Canon is still leading the DSC market, for which its G7 X Mark II is currently its best seller, while for CSC in the UK it has a 'strong' number two position. That's according to data from industry watcher GFK.
She also revealed that Canon was still number one within the DSLR category for both APS-C models ("which is still a massive focus for Canon") and full frame offerings such as the EOS 5D IV, EOS R and RP.
Canon UK's Product Specialist David Parry added that: "People want the choice, so we're sticking behind our ranges and growing them to get the best out of the technology that is available at the moment."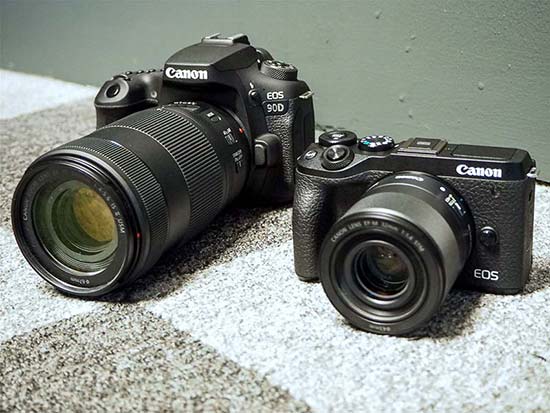 A case in point is its two new generation 32.5-megapixel sensor-incorporating models. These are a replacement for the current 80D in the new EOS 90D, plus the EOS M6 Mark II, which replaces the original M6. David told us that, compared with its forebear, the Mark II is a 'super charged' replacement, due the spec having been ramped up in comparison. The result, claimed David, is that internally the EOS 90D and EOS 6D Mark II's technology "is almost exactly the same – it's how you arrive at that final image that is different".
It's not a great surprise to learn that the EOS 90D is aimed at the same type of user as the 80D – namely one who is into sports and wildlife photography. The new camera is, said David, all about resolution, speed and handling.
By contrast, we were told, the M6 Mark II is more about capturing spontaneous moments, would be good for street photography, and is aimed at the technical enthusiast. "So you'd use this camera in a different way than you'd use the 90D."
Both are robust-feeling cameras when held in the palm, without being prohibitively heavy, even with lenses attached and batteries inserted. The weight of the 90D has even dropped by around 25g when compared to its predecessor and it now weighs a very manageable 701g without lens.
Canon EOS 90D
The EOS 90D's APS-C sensor is combined with a Digic 8 processor, Dual Pixel CMOS AF like the rest of Canon's current DSLR range, the ability to shoot 4K 'movies' with no crop this time around at 30fps or 25fps, plus the ability to shoot up to 120fps in Full HD mode. Your videographer customers will want to know that the camera also delivers 'clean' HDMI output, and is capable of shooting stills up to 10fps (or 11fps if AF is fixed), making it, David suggests, a good step up for anyone owning a 70D or 80D.
We also get 45 cross type AF points (the standard AF system as also found on the 80D), focus bracketing, electronic shutter mode, an ISO100-25600 core range expandable to ISO51200, Wi-Fi and Bluetooth connectivity, fully articulated vari-angle touch screen control, two multi controller joysticks on the rear of the camera (a first for the range), plus a considerably improved 1300 shot battery life (CIPA standard) even though it uses the same battery as the previous generation. There's also microphone and headphone input here for video shooters. The compatible battery grip for the EOS 90D is the same as that for the 80D (i.e the BG-E-14), David added.
Canon EOS M6 Mark II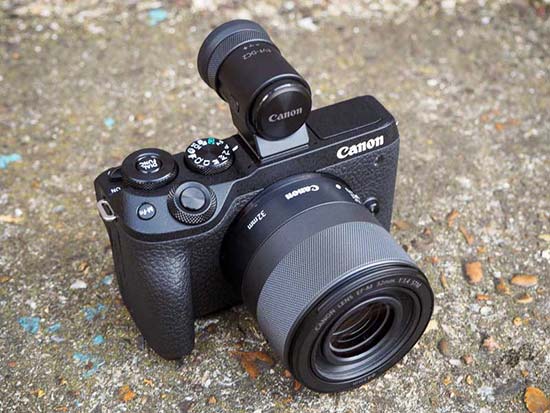 Moving on, key selling points of the physically smaller EOS M6 Mark II – on which Canon admitted design has not changed 'massively' compared with the earlier M6, except that the grip is slightly larger – include the fact that it boasts a 'market leading' 14fps capture speed with AF, plus 1/16000 sec electronic shutter.
Like the 90D it boasts the new 32.5 MP APS-C sensor, Dual Pixel CMOS AF, and Digic 8 processor, while ISO range is the same as its bigger DSLR 'brother' too. Exposure compensation can be dialed down to -5EV, there's a tilting touch screen once again, plus support for touch and drag AF functionality.
The camera weighs 408g without any lens, is compatible with its optional EVF-DC2 viewfinder and can be bought in a kit that includes both EVF and zoom lens. Further features include 4K video capture with no crop, or Full HD shooting at 50/60P. The camera is also Wi-Fi and Bluetooth equipped.
Full-frame RF Series Lenses and EOS R/RP Firmware Update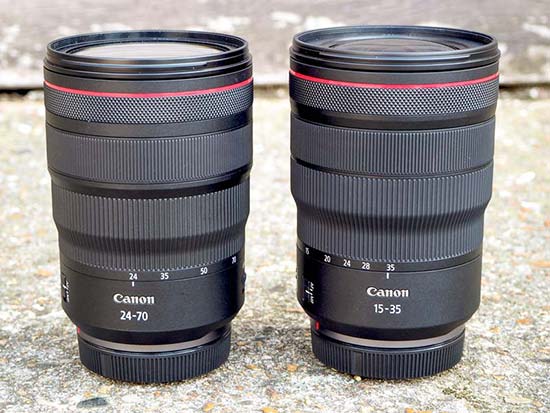 Two new Canon lenses for its mirrorless 'R' and 'RP' cameras originally teased back at The Photography Show in March are also being made available for sale on the same day at the same time in the RF 15-35mm f/2.8 L IS USM and RF 24-70mm f/2.8 L IS USM. These are described as super sharp, portable, durable and just as good at movies as stills, thanks to 'nano USM' technology that means they're quiet as well as fast, as well as combined image stabilization (Canon has sensor as well as lens based IS). We couldn't shoot with these pre-production lenses at the launch, but were at least allowed to hold them and size them up for feel and weight. Manual focus operation is claimed to be really smooth
Finally the brand has announced an EOS R/RP Eye AF firmware update. The improvement is that eye detection starts a lot earlier on the camera and is more accurate, it's claimed.
Your Comments