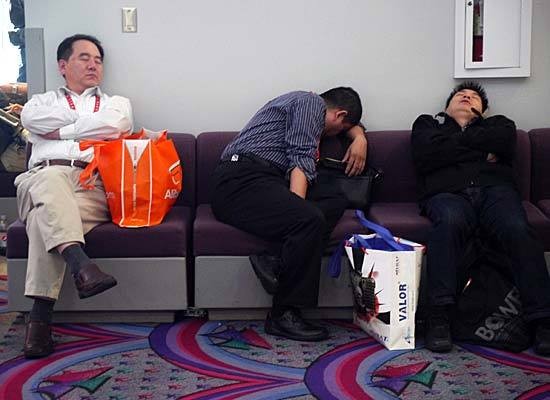 With 1.861 million net square feet of exhibit space and over 3,100 companies, CES 2012 is the largest in the show's 44 year history, and it certainly felt like that as we made our way around the crowded hallways.
The sheer scale of the show hasn't prevented us from bringing you 97 CES stories and literally hundreds of hands-on photos during the last couple of weeks. As CES 2012 has now officially ended, we've taken a quick pause for breath and looked back on the show to choose our Best of CES products.
Fujifilm X-Pro1
Despite a seemingly endless series of leaks before the show even began, the Fujifilm X-Pro1 is our pick of CES 2012. It's a serious mirrorless camera aimed at professionals, with an innovative new sensor, optical and electronic viewfinder, and perhaps most importantly of a range of fast prime lenses from day one. Confirmation that an X-Pro1 Leica M adapter will also be released is even sweeter music to many photographers ears. The X-Pro1 is sure to continue the recent success that Fujifilm has previously made with the X100 and X10 models, a remarkable turn-around for a company that didn't have a high-end camera just a couple of years ago.
Nikon D4
Running the X-Pro1 close is the exciting Nikon D4 DSLR, sure to be a hit with pro sports photographers at the London 2012 Olympics. The Nikon D4 has a 16.2-megapixel FX-format sensor, EXPEED3 image processing engine, 11 fps burst shooting, ISO 50-204,800 and Full HD (1080p) movies. It's certainly not cheap at £4,799.99 / €5,658, / $6800, but the D4 does provide a tantalising glimpse into technologies that consumer DSLRs may offer in the future.
Canon PowerShot G1 X
Canon was relatively quiet in terms of the number of new products introduced at CES, but the PowerShot G1 X has certainly turned the heads of people looking at a compact system camera. WIth a 18.7x14mm CMOS image sensor that's larger than Micro Four Thirds, the traditional Canon G1 X is seemingly designed to take the wind out of the mirrorless camera sails, with a high ISO of 12800, 4x 28-112mm zoom lens, optical viewfinder, vari-angle screen, built-in Speedlite, flash hot shoe, High Dynamic Range mode and Full HD movie recording capabilities.
Polaroid Android HD Camera
Polaroid isn't a name that's recently been making waves, bit their Android HD Camera has certainly turned heads amongst the more gadget-oriented members of the press. As its name rather obviously suggests, the Polaroid Android HD Camera is the world's first digital camera to have the Android mobile operating system built-into it, complete with a 3.2 inch touchscreen display and 3x optical lens. There's some confusion about whether it will also be able to make calls, but the Polaroid Android HD Camera is still certainly one of the more surprising camera products of CES 2012.
Panasonic 12-35mm and 35-100mm Lenses
They're only concept prototypes being shown under glass, but that didn't stop our quick Panasonic 12-35mm and 35-100mm lens hands-on from being one of our most popular CES stories. The Lumix 12-35mm (24-70mm equivalent) and 35-100mm (70-200mm equivalent) are both Power O.I.S lenses with maximum apertures of f/2.8, which perhaps explains the high level of interest. We'd hope to see these lenses released sometime during 2012.
Best of the Rest
In other news, Olympus and Fujifilm announced a seemingly endless stream of compacts, Samsung made big noises about connectivity with their wireless compact range, Kodak did the same but just with one camera, the XQD memory card format was born, Lexar fought back with a 1000x compact flash card, Sigma unleashed its first compact system camera lenses, Fujifilm again made the headlines with the limited edition black X100, Nokia debuted the impressive Lumia 900 smartphone, and PMA was much smaller than previous shows.
That concludes our coverage of CES 2012 - we hope you've enjoyed it!
Your Comments