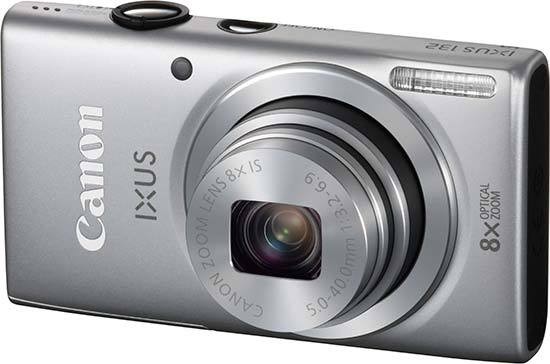 Image Quality
All of the sample images in this review were taken using the 16 megapixel Superfine JPEG setting, which gives an average image size of around 6Mb.
Noise
It's fair to say that when you have a camera that's placed at this price point, you have to take the rough with the smooth, right? Well let's hope so because the sensitivity results from the IXUS 132 aren't great. The camera only has a range from ISO 100 to 1600 and looking at the photographs at full magnification, it's easy to see why. There's slight instances of noise creeping through at ISO 100, which isn't a good start. This is only in the darker areas of the photograph and it's not easily noticeable. If you view the pictures at normal viewing distance, you won't see a thing. Mid-tones are still clear and edge definition is great.
Move on to ISO 200 and you can see that the noise reduction system is trying its best to temper the coloured blobs that are desperately trying to take over the dark areas of the pictures. Detail starts to break down in shadows at ISO 400 but thankfully the mid-tones are still untouched. Because of this, there's still a good amount of colour in the pictures.
While noise is stripping the darker areas of detail, the noise reduction software seems to protect the lighter areas as they're relatively untouched even at ISO 800. That's not to say it's escaping harassment, but it's a lot better than we expected it to be. By the final ISO 1600 setting, colour noise has all but destroyed the darker areas of the picture and lurks at the edges waiting to attack, surrounding lighter areas like a group of ninjas in a 1980's Kung Fu film. We think that if there had been an ISO 3200 setting, it would have been far too bad to be useable, so Canon have done the right thing capping it here. 
| | |
| --- | --- |
| ISO 100 (100% Crop) | ISO 200 (100% Crop) |
| | |
|   |   |
| ISO 400 (100% Crop) | ISO 800 (100% Crop) |
| | |
|   |   |
| ISO 1600 (100% Crop) |   |
| |   |
Focal Range
The Canon IXUS 132 has an 8x optical zoom. In 35mm terms, the focal length can get as wide as 28mm and to 224mm when at full zoom.
| | |
| --- | --- |
| 28mm | 224mm |
| | |
Sharpening
We did notice an increase in image sharpness just by running the pictures through a basic sharpening tool in Adobe Photoshop. However, if you don't want to use one, or don't know how, the Canon IXUS 132 does sharpen them to a satisfactory level in-camera.
| | |
| --- | --- |
| Original (100% Crop) | Sharpened (100% Crop) |
| | |
|   |   |
| | |
File Quality
As well as choosing the resolution of the photographs, you can also choose whether to use a Fine or Superfine compression. Should you choose the latter, image sizes will range from around 5.8Mb to 6.2Mb. Knock it down to Fine and they're around the 3.8Mb. A substantial difference and we didn't notice much loss of detail in our test shot aside from slightly sharper fine strands. It will release a lot of space on your card to take more pictures, though.
| | |
| --- | --- |
| Fine | Normal |
| | |
Chromatic Aberrations
This is one area where the Canon IXUS 132 is let down. Chromatic aberration is terrible on the IXUS 132. It's present on nearly every photograph where there's a contrasting line of dark and light. It doesn't have to be black and white. Worryingly, it happens towards the centre of the frame too. Typically, it's noticeable at the far edges where image sharpness degrades and the lens has more trouble focusing all colours (this is the cause of chroma) but on the IXUS 132, it happens a lot more central to the frame.
| | |
| --- | --- |
| Chromatic Aberrations 1 (100% Crop) | Chromatic Aberrations 2 (100% Crop) |
| | |
Macro
Close focusing on the Canon IXUS 132 is great at 1cm. We had objects practically touching the lens and the Canon still kept giving us the confirmation bleep of focus. There's only a small sweet spot of focus when this close, though.
| | |
| --- | --- |
| Macro | Macro (100% Crop) |
| | |
Flash
At wide-angle there's a slight amount of vignetting when not using the flash. Switch the flash on and the vignette increases ten-fold. Using flash seems to remove it a lot, although not completely.
| | |
| --- | --- |
| Flash Off - Wide Angle (28mm) | Flash On - Wide Angle (28mm) |
| | |
|   |   |
| Flash Off - Telephoto (224mm) | Flash On - Telephoto (224mm) |
| | |
In our test shots, we got a lot of red-eye and it wouldn't go even with the red-eye correction system switched on. It's accessed in the Main menu under Flash settings. Interestingly, whenever we took any further portraits or self portraits, we didn't get red-eye at all.
| | |
| --- | --- |
| Flash On | Flash On (100% Crop) |
| | |
|   |   |
| Red-eye Correction | Red-eye Correction (100% Crop) |
| | |
Night
The Night test was an interesting one. Normally we take a shot using the Night scene which uses a high ISO to react well in low light but produces noisy, broken images that aren't any good. Then we take a shot using controlled ISO in Program mode and they come out lovely and smooth. The Night scene shots are much better than the Program mode pictures. We took one at auto ISO and one at ISO 100 to be certain and it's true. Using Night scene mode is better than using Program mode.
| | |
| --- | --- |
| Night Scene | Night Scene (100% Crop) |
| | |
|   |   |
| Night Auto ISO | Night Auto ISO (100% Crop) |
| | |
|   |   |
| Night ISO 100 | Night ISO 100 (100% Crop) |
| | |