Sony Cyber-shot DSC-WX60 Review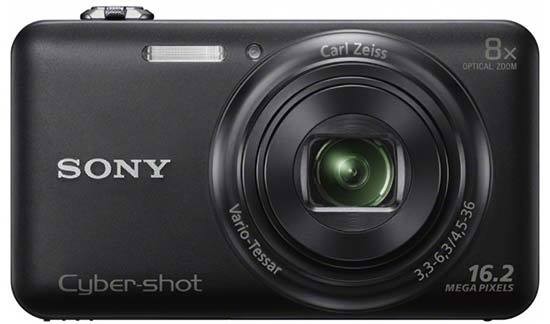 Introduction
The Sony Cyber-shot DSC-WX60 is a stylish, slim digital compact with a 16 megapixel Exmor R CMOS sensor, 8x optical zoom, Full HD video in AVCHD format and a range of fun Picture effects. That's a lot to pack into a diminutive frame. Has Sony managed to pull it off, or will it fall flat on its face? In this review, we find out just what it's capable of. Priced at around £150, the Sony Cyber-shot DSC-WX60 is available in white and black.
Ease of Use
These days, a lot of digital cameras come with an internal memory. Ten years ago, that was a luxury, but now it's actually more unusual for a camera not to have it. The Sony Cyber-shot DSC-WX60 does have an internal memory, but it's only capable of holding eight full sized images and won't even entertain video. So it's no surprise that it doesn't come with a memory card in the box. Cameras rarely do these days. What you do get, though, is an AC adaptor, USB lead (called Multi USB, but most likely because it charges the battery and downloads pictures – not necessarily at the same time), lithium ion battery, manual and wrist strap. The AC adaptor plugs into the mains and then the USB lead plugs into that and into the camera at the other end. That's how you charge the battery. Our test box came with a European two-pin plug for the mains, but it's a regular figure eight plug at the other end, so a stereo lead will work.
The Sony Cyber-shot DSC-WX60 is a sexy little camera. We tested the white version, which has a lovely glossy exterior and silver trim. The lens is a little bit too big for the body, so it juts out around 5mm or so. It's an 8x optical zoom lens that covers a hearty distance of 25-200mm in 35mm terms. The lens is designed by Carl Zeiss and made by Sony under the German manufacturer's guidance. The bezel has a rounded finish to blend the additional size in with the rest of the body. Operation of the zoom is done by rotating the switch that is located wrapped around the shutter release button on the top of the camera.
| | |
| --- | --- |
| | |
| Front | Rear |
It's funny, but little quirks can be detected when looking at a camera to see how much money has been invested into the building of it. For example, on the Sony Cyber-shot DSC-WX60's zoom switch, the front of it is squared off. This is done so that it doesn't overhang the front of the camera and spoil the aesthetic design of it. A camera positioned lower in the market wouldn't have this. It's done to appeal to a certain demographic. A tiny plastic square situated next to the shutter release is the power button. It sits flush with the body to avoid being pressed by accident.
The back of the Sony Cyber-shot DSC-WX60 is 95% screen, which just goes to show how small the camera is because it's only a 2.7 inch type. To save time, Sony have fitted a wheel to the camera instead of buttons. This allows rapid selections of modes and features and while you may get a bit muddled at first, practice makes perfect. In the top right of the screen, there's a small switch to select between still, panoramic or video shooting. The panoramic mode also allows you to choose one of three Picture effects to go with your panoramic picture. The same goes with the video mode. If you try the Picture effects in the shooting mode, there's a lot more. Six more to be precise; totalling nine.
Exmor R is a type of sensor designed by Sony. It's a back-illuminated sensor which means that all the circuitry that normally surrounds each pixel has been placed on the back. It resembles a traditional sensor that's been turned around – which is how it gets it's name. The reason that Sony do this is to allow more light to pass onto each pixel because the circuitry normally obstructs the pixels to a degree. The result is increased performance in low light situations.
| | |
| --- | --- |
| | |
| Front | Top |
Another way of dealing with low light is to increase the ISO. This has it's own pitfalls with increased noise, but the Sony Cyber-shot DSC-WX60 appears to use MFNR (Multi Frame Noise Reduction) technology in a bid to increase the picture quality. It works by taking multiple images and merging them to create one (nearly) noise free image.
For newcomers to the Sony digital compacts, the menu system could be a real let down. It's a veritable minefield with different menus strewn all over the place. Most features are located in the Main menu which is accessed using the appropriately titled Menu button. Here you'll find all your shooting modes such as resolution, ISO, white-balance and exposure compensation.
 The set-up menu, which is reserved for little used features or modes that control the deeper areas of the camera is found within the Main menu and has an icon of a toolbox. There's also an In Camera guide (the question mark) which has it's own separate areas for learning. Turning the wheel will open up a Mode menu to change the shooting style, such as Program, Intelligent auto, Superior auto, Scenes or 3D. If you flick into panorama or video, you can choose whether you want to shoot in the Picture effects or a standard style.
| | |
| --- | --- |
| | |
| Memory Card Slot | Battery Compartment |
It would be great if these could all be in one area or split into two clear menus, but they're a bit higgledy piggledy and it can be problematic remembering where they are. Once in the menu, it's easy to use, clear and concise. Aside from the set-up and camera guide, there doesn't seem to be any menus-in-menus.
The Sony Cyber-shot DSC-WX60 has a fast continuous shooting mode of 10fps (frames per second). The camera will shoot the frames while you hold the button down. It stops at ten, unless you take your finger off the button first. After the full ten frames have been taken, it takes a further nine seconds to record them to the card using a Class 6 memory card. From cold, the camera is pretty slow taking just under three seconds to start up, get itself sorted, focus and take a picture. The average is around 2.5 seconds and while that doesn't sound a massive difference, it could be if it's the kids doing something funny that you want to remember.
Once you've taken the pictures, you'll want to view them on the screen. It's worth bearing in mind that the screen is such a massively different resolution to the monitor at home, that the pictures can – and sometimes do – look different in colour, exposure, level of detail or sharpness. The Sony Cyber-shot DSC-WX60 does a pretty good job of keeping it realistic. Playback mode can be accessed either with the camera on or off. Pressing the display button (DISP), you can choose between no information, lots of information or basic information. If you choose the lots, it adds in all sorts from ISO, white-balance and aperture to exposure compensation setting and even a histogram. Basic info will show you the battery, resolution, file number and position on the card and the time & date.