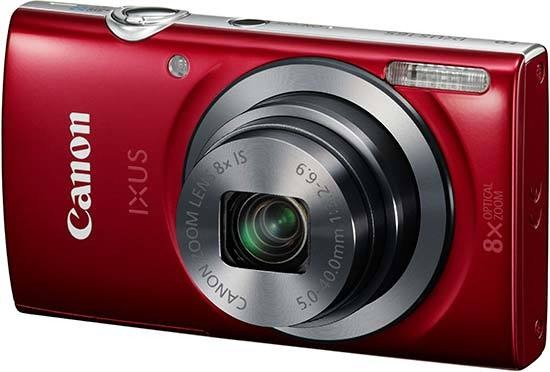 Introduction
The IXUS 165 is a new entry in Canon's sleek and sexy IXUS line-up of compact cameras and will set you back around £130. It boasts a 20-megapixel CCD sensor with a maximum sensitivity of ISO1600, which is paired with Canon's Digic 4+ image processor. You also get an 8x optical zoom lens capable of a 28-224mm focal range (in 35mm camera terms) which is equipped with Canon's lens-shift image stabilisation system to help tame the effects of camera shake. Other extra features include HD 720p video recording, a power-saving eco mode and six effects filters to help spice up your shots. Available in silver or red case colours, the Canon IXUS 165 certainly looks the part, so let's see how it performs.
Ease of Use
This sleek snapper enters in the middle of Canon's style-orientated IXUS range just above the IXUS 160, which is actually an identical camera, except the IXUS 165 adds image stabilisation. Strangely, its 8x zoom lens is beaten by the 10x optic in the cheaper IXUS 155, and the two cameras share very similar specs elsewhere, yet the IXUS 165 costs noticeably more.
If you get the feel you're being short changed, at least it won't be due to the camera's build quality. The only issue we found was the glossy red paint job on our review sample which was more scratch-prone than Edward Scissorhand's CD collection. Otherwise the plastic casing feels well made with no flex and you get a metal tripod mount. At 95.2 x 54.3 x 22.1mm and 128g ready to shoot, the IXUS 165 is also small and light enough to carry in a jeans pocket without a problem.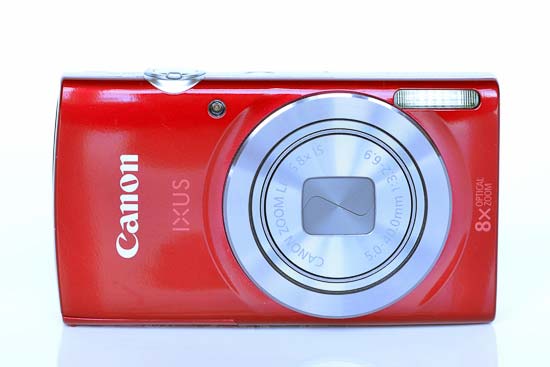 Front of the Canon IXUS 165
The Canon IXUS 165's controls are another strong point, being nice and large and well-spaced across the rear panel. The downside of this is there's no place to rest your thumb, other than the raised edge of the screen surround. This, combined with the glossy finish and lack of any front finger grip makes the IXUS 165 worryingly easy to drop. If you ever wear gloves whilst shooting, it's not a question of if the pavement will add even more scratches to that pretty paint job, but when.
Assuming you can keep hold of it, the IXUS 165 is very easy to use, once you learn where to find key settings. Rather than a have normal mode button, all the camera's scene modes and image effects are accessed via the Func/Set button located in the middle of the 4-way directional buttons. In addition to typical modes like programmable auto, there's settings like Live View Control that lets you alter the tone of images and FaceSelf-Timer which starts the self-timer automatically when a face is detected. Use Low Light mode to limit image capture to 5MP and help minimise image noise in photos taken at high ISO sensitivities. There's also the Long Shutter mode if you'd prefer to take night-time shots at low ISO settings and have a tripod to hand.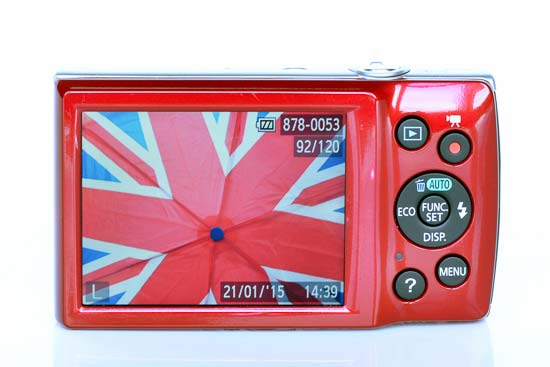 Rear of the Canon IXUS 165
Also contained within the Func/Set menu are options for controlling light metering (evaluative, centre-weighted or spot metering), white balance (including a custom setting), ISO sensitivity, exposure compensation and focus range. These kind of manual shooting settings are often omitted from budget point-and-shoot compacts, so it's good to see that Canon has included them with the IXUS 165 to help you get the most out of the camera and develop your photography.
The Canon IXUS 165's scene-detecting automatic mode is activated by pressing the 4-way directional dial upward. Now the options available on the Func/Set menu are restricted to self-timer (including a custom mode that lets you pre-set your own time delay and also the number of shots to automatically fire), single vs. continuous shooting (at 0.8 frames per second), image size and video resolution (HD 720p or VGA 640x480). Press the directional dial again and you'll return from Auto to your previously used alternative shooting mode.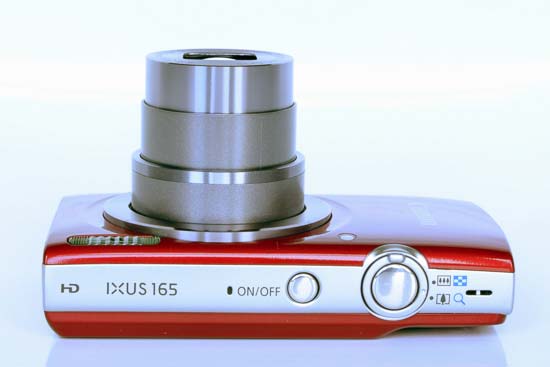 Top of the Canon IXUS 165
Other functions operated using the directional dial are the camera's flash, display overlay content (which includes the option of a histogram), and Eco mode. Activate this and the camera saves energy using tricks like turning the screen off faster, increasing battery life from a very mediocre 200 shots-per-charge to a more respectable 260.
If you need to change other camera settings like enabling or disabling image stabilisation or muting sound effects, they can be found in the main menu, accessed using the Menu button. Next to this an intriguing button labelled with a question mark. This accesses the camera's Help menu, where in shooting mode you'll be given a description of the type of scene that Auto mode has detected you're about to shoot. Chances are you'll probably want to get on and snap the shot, rather than worry about what the camera is doing behind the scenes, but the Help feature is more useful in Playback mode. Here it gives you information like how to navigate, magnify and rotate images, as well as plenty more useful tips that make learning the IXUS 165 a little more intuitive. It's certainly easier than getting bogged down with the traditional manual, especially as the IXUS 165's tried and tested menu design is a doddle to learn.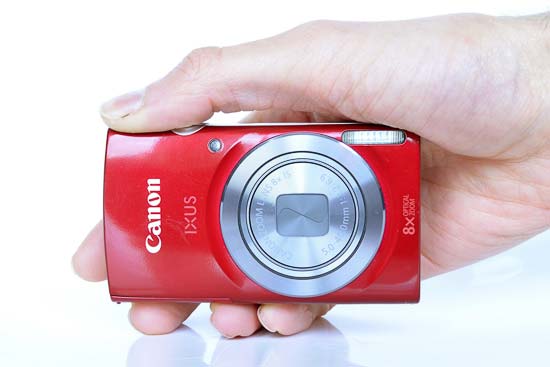 The Canon IXUS 165 In-hand
The only downside of navigating the menu is you'll have to view it on a 2.7" LCD screen that falls well short of the quality of an average smartphone's display. The screen's 230,000-dot resolution is fairly typical for a camera at this price point, but it's the lowest quality you'll find nowadays and both menus and images appear pixelated as a result. The screen's viewing angles also leave a lot to be desired, with average side-to-side clarity but a considerable colour and contrast shift when viewed from above or below. On the plus side, when viewed square-on, colours are fairly accurate and the screen is bright enough to use on a sunny day. It's also only fair to point out that you'll be hard-pressed to find a sub-£150 camera that has better viewing angles.
You won't be wanting for speed though, as the Canon IXUS 165 powers up and fires a shot in 1.7 seconds. Autofocussing is almost instant in good light, and unlike some budget compact cameras, it doesn't slow too much in darker conditions. Only if you zoom in on a very dimly lit subject does the camera struggle to focus and occasionally it fails altogether. However, there are other times when autofocussing can be frustrating. Whilst the IXUS 165 can focus as close as 5cm from a subject, that's only if the lens is at its widest focal length. Zoom in even a fraction and you'll need to back up about a foot before the camera manages to focus, and further still if you zoom in any more. This is by no means an issue unique to the IXUS 165, but it seems more reluctant than many similar cameras to focus on close subjects when zoomed in. It's especially annoying if you want to take a macro shot without having the camera so close as to cast a shadow over your subject, but it's also a pain when trying to blur a background by using a longer focal length to force a shallower depth of field.