Sony Cyber-shot DSC-WX220 Review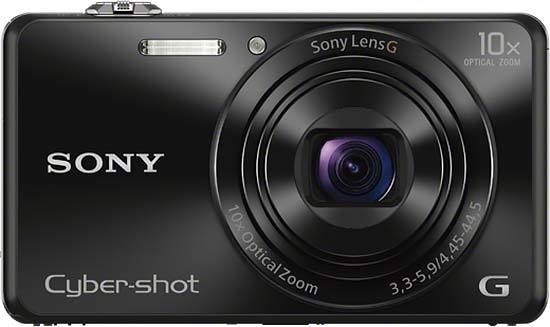 Introduction
The Sony Cyber-shot DSC-WX220 is an ultra-compact camera that doesn't trade performance for style. It'll fit in a tight spot, but still packs Sony's 18.2MP sensor capable of a maximum ISO3200 standard sensitivity, paired with the latest BIONZ X processor. These days optical zoom reach is a key selling point over most smartphone cameras, and the DSC-WX220 manages to pack in a 10x lens with a versatile 25-250mm zoom range (in 35mm camera terms). Sony's Optical SteadyShot image stabilisation system is included too, so you should get sharp shots throughout the zoom range or in low light. The camera isn't short on features either, with thirteen effect filters and Full HD video capture with stereo sound. There's Wi-Fi connectivity thrown in as well, so you can transfer photos or even control the camera remotely, and all for around £179 / €229.
Ease of Use
The first thing that strikes you about the DSC-WX220 is its downright cuteness. Although the raw 92.3 x 52.4 x 21.6 dimensions aren't significantly less than your average compact camera, they do roughly equal the same length and width as a credit card, whilst rounded corners make this sleek Sony even more pocketable. In the quest to keep the DSC-WX220 light as well as compact, the predominantly plastic casing means the camera doesn't feel especially tactile and the door covering the battery and card compartment is rather flimsy. But on the upside a ready-to-shoot weight of 122g makes this camera tip the scales at roughly the same weight as a typical smartphone.
What's particularly remarkable about all this space saving is that Sony has still managed to cram in a 10x optical zoom lens with a 35mm-equivalent focal length range of 25-250mm. It's not the widest lens on a compact camera, but it is wide enough to cover most group shots whilst still giving you enough zoom reach to capture plenty of distant subjects.
Having those sleek lines punctuated by ergonomic finger and thumb ridges really wouldn't do though, so you don't get any. That's great for shaving off every last millimetre and gram, but you'll need Spiderman's grip levels if you want to shoot one-handed without the pavement adding its own styling cues to the camera.
With so little space on offer, buttons are kept to a minimum. Up top are just the essential shutter release and zoom ring alongside the power button. This is slightly recessed and needs a good nail prodding to engage, but you can be sure the camera won't power up unintendedly. The zoom ring is worth a mention too, as it has two speed settings so you can make smaller focal length tweaks or zoom quickly when you need to.
| | |
| --- | --- |
| | |
| Front | Rear |
Move to the back and there's more evidence of space saving. Apart from the bare minimum of buttons, Sony has ditched a typical 3.0" LCD screen as only a 2.7" unit would fit. It lacks touch sensitivity and the 460k-dot resolution is average at best, but any blockiness is less apparent thanks to the reduced screen size. The display is also bright enough for most conditions, but it's let down by restricted viewing angles. Keep the camera on the level and you'll get fairly accurate colour and contrast representation, but tilt up or down and display accuracy goes to pot. Mind you, this is a common screen trait amongst cameras in this sector, and using this display tech does help keep the camera's cost down.
Alongside the monitor is a typical 4-way control dial, though it can also be rotated so you can scroll through the camera's menus faster. Above it sits a dedicated video record button, whilst the playback, menu and delete buttons are located beneath. The latter also doubles as a useful quick-reference guide. Press it in shooting mode and you'll get some handy hints and tips on composition, lighting and advanced effects. It's no surprise that all the buttons reflect the general compactness of the camera though, so that right thumb nail is essential.
Although there's no dedicated mode dial, simply pressing the centre button within the control dial activates the mode menu where you can choose between various shooting options. The standard Intelligent Auto mode will detect scene conditions and apply appropriate shooting settings, or you can break out the big guns and switch to Superior Auto mode, whereby the camera will also capture multi-exposure shots should it detect a high-contrast scene. If you fancy taking control, there's a programmable automatic mode that'll let you tweak things like ISO sensitivity and white balance, though that's as far as the camera's manual control goes.
| | |
| --- | --- |
| | |
| Front | Side |
Three more modes options make an appearance on the DSC-WX220. One gives you access to the camera's fourteen scene modes, plus there's a separate mode that'll activate Sony's iSweep Panorama feature. Just press the shutter and pan the camera right, left, up or down and it'll automatically snap away and stich the images into a seamless panorama. Three pan widths can be pre-selected using the main menu, so you can choose between roughly 120, 180 or 360-degree spans. However, you can't simply stop panning at will to suit the width of your vista.
The last of the six available modes is a dedicated video preset containing its own Intelligent Auto option that'll apply appropriate video capture settings to suit your subject. There's also scope to switch to a Portrait video mode which artificially blurs backgrounds and sharpens your subject. Alternatively, switch to Landscape, Night Scene, Beach, Snow, Fireworks and High Sensitivity settings, with each having its own bias of colour saturation and exposure metering to suit the environment you're recording in.
Sony has clearly packed the DSC-WX220 with plenty of automatic tech, but it's also got its fair share of effects to let you exercise your creative side. Nudge the mode dial down and a colour and effects display pops up to let you tweak the brightness, colour and vividness of your images. Pretty cool, but there's also a fourth option on this display which activates the DSC-WX220's Picture Effects, so you can give your shots a toy camera or retro look, plus a posterized or monochrome vibe. There's several more effects on offer, so check out the Image Quality page of this review for an example of each.
| | |
| --- | --- |
| | |
| Top | Battery Compartment |
Strangely a couple of effects like HDR Painting, Miniaturisation and Watercolour can only be accessed via the main menu in Program auto mode. Annoyingly Sony's menu layout isn't the most coherent in the business and it takes a little while to remember where such settings are stored, though thankfully the clear white on black design with orange highlighting is at least easy on the eye.  Everything's displayed on five tabs with horizontally-arranged subpages, rather than a typical vertical scrolling layout.
The middle tab on the menu controls the camera's Wi-Fi ability that'll let you browse and share images via your smartphone or tablet. You'll need to download Sony's free PlayMemories Mobile app to take advantage of this and it's not the clearest system to setup, but once connected it works well, albeit after a slightly sluggish start-up. The Wi-Fi connectivity also let you shoot remotely, so you could even hide the camera for some stealthy wildlife shots. You'll want to go easy on the Wi-Fi usage though, as it does suck quite a bit of juice and puts the battery's already mediocre 210-shot lifespan under increased pressure.
Power up the DSC-WX220 and it's ready to shoot in a shade over one second. At this point we did find the camera to be somewhat picky about memory cards, often requesting a reformat before it'd accept its recording media. This invariably cures the fussiness though, after which the autofocus system doesn't waste any time finding its mark, locking on to subjects almost instantly in good light. In darker conditions you'll need to wait about a second for accurate focussing, but it's still reasonably quick. There were a couple of occasions where the camera appeared to focus accurately yet the final shot was out of focus, but thankfully these instances were rare.