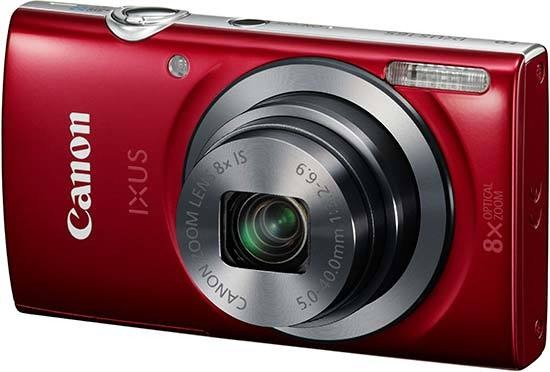 Image Quality
The Canon IXUS 165's headline 20-megapixel specification sounds mighty impressive for such a small, reasonably-priced camera, but don't be fooled. The sensor itself is still the same physical size as you'll find in almost any compact camera at this price, so increasing the megapixel count just means each pixel has to be smaller to fit. That then reduces their light sensitivity, making your images more prone to grain and noise, which in turn cancels out any potential increase in detail from the higher megapixel count.
Only when shooting close subjects in the brightest of environments can the IXUS 165 really exploit all its megapixels. Shoot a more distant scene like a landscape and fine detail is already starting to get obscured by grain, though, unlike many similar cameras, at least the IXUS 165 doesn't attempt to smooth this noise too much and end up with an ugly, painterly effect.
But it's when you come to shoot indoors where image quality really suffers. Even at ISO200, grain and colour speckling can be spotted in areas of dimly-lit neutral tones, and by ISO400 you won't need to scrutinise that closely to spot the noise. The interference is just about acceptable at ISO800, but here the camera's battle with noise takes its toll on detail, with shots appearing much softer. ISO1600 is the highest sensitivity on offer, and it's a good job, as low light images look so soft that they could almost have been captured at 5MP and crudely enlarged to 20MP dimensions.
Fortunately the lens performs better, producing fairly low levels of chromatic aberration (purple fringing) in high contrast areas. Sharpness is also quite consistent, with only a minor drop-off towards the corners of frame, and distortion is minimal too. Image Stabilisation is a must when shooting at maximum zoom or in dim conditions and thankfully the system works well. Not only does it iron out any camera shake, but it also helps the IXUS 165 avoid using higher ISO sensitivities, giving you shots with less image noise.
Noise
The IXUS 165 has a sensitivity range of ISO100 to ISO1600. That's a relatively low maximum sensitivity and some similar cameras will go higher, but often excessive image noise at such settings make them almost unusable.
| | |
| --- | --- |
| ISO 100 (100% Crop) | ISO 200 (100% Crop) |
| | |
|   |   |
| ISO 400 (100% Crop) | ISO 800 (100% Crop) |
| | |
|   |   |
| ISO 1600 (100% Crop) |   |
| |   |
Focal Range
The camera's 8x optical zoom lens gives you a focal range of 28-224mm (in 35mm-camera terms). Canon's ZoomPlus feature can double this to 16x without considerable detail loss, whilst an additional 2x conventional digital zoom will give a combined maximum 32x reach, albeit at the expense of image quality.
| | |
| --- | --- |
| 28mm | 224mm |
| | |
Macro
A 5cm minimum focussing distance means you can capture a decent close-up shot, but this figure only applies when the lens is set to maximum wide angle. Zoom in just a fraction and you'll need to pull back to around 30cm from your subject, and any extra zoom requires you to be at least a metre away.
| | |
| --- | --- |
| Macro | Macro (100% Crop) |
| | |
Flash
The camera's built-in flash includes four modes: Auto, On, Slow Synchro and Off. There's no conventional red-eye reduction where the flash fires multiple times, so instead you get a red-eye correction feature which needs to be activated via the camera's main menu. This digitally removes red pupils, and in our testing it did a fairly good job, though minor amounts of red-eye can go undetected.  Shooting a white surface from a distance of 1.5m revealed that the flash can produce noticeable wide-angle vignetting.
| | |
| --- | --- |
| Flash Off - Wide Angle (28mm) | Flash On - Wide Angle (28mm) |
| | |
|   |   |
| Flash Off - Telephoto (224mm) | Flash On - Telephoto (224mm) |
| | |
We did get some red-eye when taking portraits. Using the red-eye correction function does reduce it, but a correction system suggests it removes it. However, it does this digitally, so will be programmed to look for certain colours and it's quite possible that this was outside of the gamut.
| | |
| --- | --- |
| Flash On | Flash On (100% Crop) |
| | |
|   |   |
| Red-eye Correction | Red-eye Correction (100% Crop) |
| | |
Night
Activate the IXUS 165's Long Shutter mode and the camera will lower the ISO sensitivity and record using a longer shutter speed to minimise image noise.
| | |
| --- | --- |
| Night | Night (100% Crop) |
| | |
Image Stabilisation
Canon's Intelligent IS lens-shift image stabilisation system does a great of compensating for camera shake, allowing a 2.5-stop reduction in shutter speed before blur becomes a problem. This shot was successfully captured handheld at 1/10th second with Intelligent IS activated, but switch the system off and things can get very fuzzy.
| | |
| --- | --- |
| Off (100% Crop) | On (100% Crop) |
| | |
Effects
Six filter effects are hidden away in the IXUS 165's Func/Set menu. These are: Fish-eye, Miniature, Toy Camera, Monochrome, Super Vivid and Poster. All are previewed live and recorded at full resolution.
| | |
| --- | --- |
| Normal | Fish-eye |
| | |
|   |   |
| Miniature | Toy Camera |
| | |
|   |   |
| Monochrome | Super Vivid |
| | |
|   |   |
| Poster |   |
| |   |