Canon PowerShot G16 Review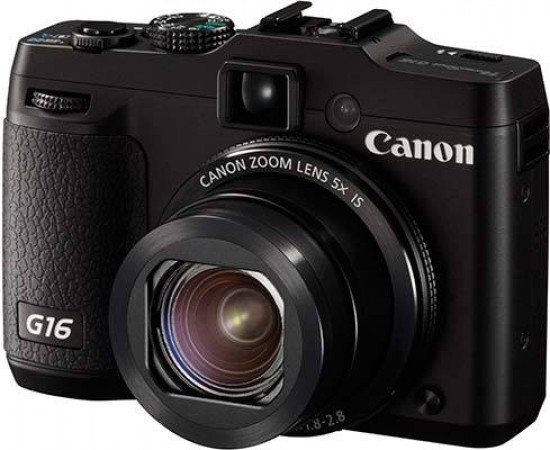 Introduction
The Canon PowerShot G16 is a new premium compact camera. The Canon G16 has a 12.1 megapixel 1/1.7-type CMOS sensor, new DIGIC 6 image processor, 3-inch 922,000-dot LCD screen, 5x 28-140mm equivalent zoom lens with fast maximum apertures of f/1.8 - f/2.8, RAW image capture, optical viewfinder, 12.2fps burst mode, flash hotshoe, 1cm macro mode, ISO 80-12800 and full range of manual shooting modes. Other standout features include 1080p movie recording at 60fps, built-in wi-fi connectivity, GPS functionality via pairing with a smartphone, a front control dial, a 4-stop optical Intelligent Image Stabilizer with five-axis Enhanced Dynamic IS mode during movie recording, multi-aspect shooting, improved HDR mode capabilities, an electronic level, a built-in Neutral Density Filter, SDXC card compatibility and an optional Lens Filter Adapter. The Canon Powershot G16 is available in black priced at £529.99 / €649.99 / $549.99.
Ease of Use
At first glance the Canon PowerShot G16 looks very similar to its year-old predecessor, the G15, with very little changed in terms of shape and form. Canon's developers are confidently suggesting 'if it ain't broke, don't fix it', with only a smattering of new features for 2013. The biggest changes are the addition of wi-fi connectivity, a new Digic 6 processor, focus peaking during manual focusing, and some new shooting modes.
The Canon G16 still has a solid feel, tank-like construction, feeling very well made, with a control layout that while busy avoids looking cluttered, and controls that both offer just the right amount of stiffness and resistance. Unlike some, they're also large enough to be easily and quickly accessed in the heat of the action. With its beefy design, and just like its predecessors, the G16 still won't fit into a trouser or shirt pocket, though if you have a deep-pocketed coat you'll be all right.
The unassuming-looking front plate is dominated by the lens with a filter thread for the attachment of supplementary extras, the optical viewfinder directly above and a bulb for the self-timer/AF assist lamp on the right. An optional lens filter adapter which extends with the lens when using the zoom to offer full coverage throughout the zoom range allows the attachment of 58mm filters. The G16 has a very useful front control dial, as featured on EOS DSLR cameras, which makes changing the aperture and consequently the full Manual shooting mode very easy. There's a gently sloped padded ridge by way of a handgrip to the left hand side of the G16 - if viewed lens on - and a small pad at the back for the thumb to grip.
Those who love getting hands-on will relish as we did being able to turn the G16's top plate rangefinder-like dials to adjust exposure as well as select capture options from a more standard-issue shooting mode dial, although we did miss the older G12's ISO dial which has been moved to a button on the rear to make way for the pop-up flash. If we've a grumble, it's that annoyingly for a creatively rich camera, the full manual is provided on CD only. In what comes across as a cursory gesture, a very slim quick start guide is included.
| | |
| --- | --- |
| | |
| Front | Rear |
Still, given its target audience what's here will be relatively self-evident. The top plate houses a half-penny sized wheel for adjusting the exposure (+/- 3EV), which is overlapped by the smaller shooting mode dial. There's a hotshoe for an accessory flash, plus the built in pop-up unit which is activated by a dedicated switch.
The shooting mode dial features settings for auto capture, program, shutter priority, aperture priority and manual, along with two user customisable settings, a smattering of scene modes, plus movie digest, video and Creative Filter modes. . The Creative Filters shooting mode contains 10 different options, including High Dynamic Range, Miniature and Toy Camera. In the High Dynamic Range mode the G16 combines three separate images to greatly expand the dynamic range and can now be safely used hand-held. The new Star Mode captures starry nightscapes, star trails and creates star time-lapse movies, while the Background Defocus mode achieves DSLR-style background blur.
The Canon PowerShot G16 offers full 1080p HD movies at 1920x1080 pixels resolution available at 60/30fps complete with stereo sound, with full use of the optical zoom and thankfully continuous auto-focusing too, plus super slow-motion options (640x480 pixels at 120fps or 320x 240 pixels at 240fps) and a new Star Time-Lapse Movie mode for recording star trails. The G16 also boasts stereo sound courtesy of microphones positioned either side of the flash hotshoe.
Continuing our hands-on tour of the Canon PowerShot G16's top plate, just to the right of these dials we find a springy raised nipple-style shutter release button surrounded by a rocker switch for operating the optically stabilised 5x zoom (28-140mm equivalent on a 35mm camera), and behind this again the on/off button. The optically stabilized 5x zoom provides a four stop advantage and works for both still images and movies, and there's no less than six different modes of stabilisation that are automatically detected and applied by the camera, including a special five-axis Enhanced Dynamic IS mode for video.
A half press of the shutter button and the Canon PowerShot G16 chooses a point of focus within a quarter of a second, AF point or points flashing in green accompanied by an affirmative 'beep'. Go on to take the shot and there's little if any discernible shutter delay, while full resolution JPEGS are written to inserted (optional) SD or SDHC card (there's no internal memory provided to fall back on) in just over a second, with RAW files - selectable in Program or one of the other four creative shooting modes - taking a mere fraction longer. The beefed-up continuous shooting mode offers a very impressive shooting rate of 12.2fps for the first 5 frames and then 9.3fps for approx. 522 JPEGs. Note that acompatible SDHC/SDXC UHS Speed Class 1 memory card is required to achieve these speeds, and if you choose RAW then the rate is much slower.
| | |
| --- | --- |
| | |
| Front | Top |
The G16 is quick to power up in a second or so, the rear LCD blinking into life with PowerShot visual and audio 'sting' and the 5x optical zoom lens simultaneously extending from storage within the body to maximum wide-angle setting. Here, as with the G15, it's the equivalent of 28mm, making it very useful for those landscapes group portraits or getting the required shot in confined spaces. The G16 has brighter apertures of f/1.8 and f/2.8 at either end of the zoom range, which makes the camera much more versatile in low-light and also able to more easily throw the background creatively out of focus. As a further aid to landscape fans, a neutral density filter option is provided among the function menu options, to be turned on or off as required, and the horizontal Electronic Level and RGB histogram can be enabled to help with composition and exposure.
The slightly larger 3-inch screen takes up the largest part of the back plate's real estate, above which is a porthole for the alternative of an optical viewfinder. Although larger than you'll find on most compacts these days, it's no match at all for that typically found on even an entry level DSLR, which, with a UK asking price of £539 at the time of writing, the G16 is directly competing with. Still, in being targeted at enthusiasts first and foremost, the best way to view this camera is as a more portable back-up to existing DSLR ownership.
The wi-fi logo is located above the LCD screen. The G16's new wi-fi capabilities allow you to share images during playback via the Wireless button on the rear navigation pad. Simply enter a nickname for the camera and five more icons then appear, connecting the G16 to another camera, a smartphone, a computer, a printer and the internet respectively. Setup is relatively straight-forward for each scenario, although you'll need a basic understanding of the protocols involved. Note that you need to install the dedicated and free Canon CameraWindow app to connect the G16 to the world's most popular smartphone, or the Apple iPad, iPad 2 and fourth-generation iPod Touch), or an Android device.
The G16's wi-fi functionality is also employed to tag your images with GPS data recorded by your smartphone ( latitude, longitude, altitude and shooting time) via the Canon CameraWindow app, which effectively replaces a more coventional built-in GPS system. We actually prefer having GPS built-in to the camera rather than having to sync it with an additional device, so in this regard the G16 doesn't compare well with rivals that offer this feature, although it does side-step the issue of negatively affecting battery life.
Top-right of the LCD is a self-explanatory playback button. Falling naturally under the thumb at the Canon PowerShot G16's rear is the handy one-touch movie record button, and directly underneath is a user assignable shortcut key which provides quick access to the likes of red-eye reduction or auto exposure lock.
| | |
| --- | --- |
| | |
| Memory Card Slot | Battery Compartment |
Beneath this again is a pair of dual-purpose buttons. In playback these are the delete button, plus, alongside it, a means of jumping through batches of captured images, variously 10 or 100 at a time. In capture mode the left hand button sets the ISO speed. The Auto ISO feature allows the maximum ISO speed to be set, therefore specifying what ISO range the G16 will use if you leave it up to its own devices. The second button is marked with an asterix. Press this when in program or any of the other creative modes and sliding scale of apertures and corresponding shutter speeds appears along the bottom of the screen, scrolled through with the aid of - aptly enough - the scroll wheel surrounding the familiar four-way control pad to the right of the G16's screen.
Underneath this pair of controls is the four-way selection or control pad, with, at points north, east, south and west a means of turning Manual Focus on, now complete tih focus peaking to aid precise focusing, choosing from the on-board flash settings, selecting display options (while pressing this in shooting mode brings up a nine zone compositional grid on screen, pressing it in program mode adds a live histogram, though as this feature is highlighted in grey rather than white it's slightly hard to read against the background of the shot itself at times) and activating macro or normal focus modes, here down to as close as 1cm from your subject - what we'd expect for the G16's class.
At its centre is the function/set button that is again consistent with this Canon series. Press this button at its centre when in any of the capture modes, and an L-shaped toolbar that will be familiar to Canon users appears on the screen, offering pull out toolbars with further options from the range when you come to rest on a particular setting.
At the bottom right hand corner of the backplate are a further pairing of buttons - focus point and menu. The focus button allows the focus point to be shifted from its default central position to one of the user's choosing. The Tracking AF mode allows you to select objects from the centre of the frame and track them if they move or if the frame is recomposed. A press of the menu button meanwhile brings up a trio of folders on screen, the first the shooting menu where the likes of the AF assist beam and blink detection modes can be turned on or off, the second the set up menu where sound options and LCD brightness can be tweaked, and the third being a 'My Menu' option for commonly used functions.
On the right hand flank of the camera, when viewed from the back, we find covered ports for HDMI out, an optional remote shutter release cable plus combined USB 2.0/AV out connection. On the bottom is a familiar metal screw thread for a tripod, and a sliding cover for the compartment that houses the lithium-ion battery needed for power and the SD, SDHC or SDXC cards needed for image storage. Curiously, battery life is on par with its G15 forebear, at around 360 shots from a full charge.