Canon PowerShot SX610 HS Review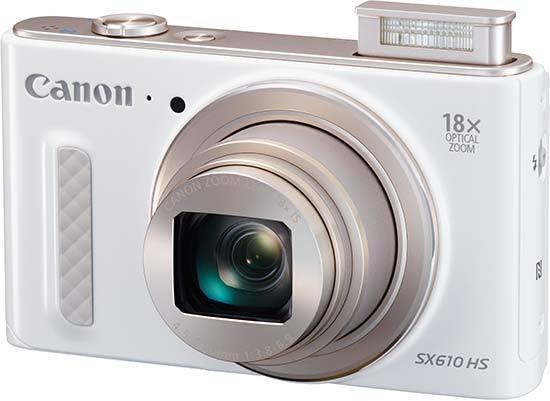 Introduction
Last year's PowerShot SX600 HS offered a good balance of performance and features at a reasonable price, so it's perhaps unsurprising that Canon hasn't altered this recipe much for the new SX610 HS. It features the same 18x optically stabilised lens giving a 35mm-equivalent focal length of 25-450mm.

The Canon PowerShot SX610 HS does boast a new 20.2-megapixel, back-illuminated CMOS sensor, but it's paired with the aging DIGIC 4+ processor. Consequently the extra demand of processing more pixels has caused a drop in continuous shooting speed to just 2.5fps, down from the SX600 HS's 3.9fps. Fortunately there's Full HD video recording for when this isn't fast enough.

Canon has also made some subtle changes to the case design to improve ergonomics, and the new model receives a high-resolution 922,000-dot monitor. You also get Wi-Fi connectivity with NFC pairing for easy image sharing and remote camera control, plus there's some clever creative extras. Hybrid Auto mode records stills together with short accompanying video clips to better document your day, whilst Creative Shot mode will automatically capture several shots and apply a different filter effect to each.

The Canon PowerShot SX610 HS retails for $249.99 / £179.99.
Ease of Use
The outgoing PowerShot SX600 HS certainly wasn't a tricky camera to operate, but Canon has made its replacement even more user-friendly. The case design has been tweaked with a larger front finger ridge and a more generously-sized rear thumb rest. Small touches, but they noticeably improve ergonomics and help make the new model sit more securely in the hand.
This is partly helped by the Canon PowerShot SX610 HS's relatively chunky dimensions. At 105.3 x 61.0 x 26.7 mm and 191g ready-to-shoot, it's almost identical in size and weight to the outgoing SX600 HS. Whilst that makes this comfortably less bulky than Canon's 30x zoom SX710 HS, it's worth remembering that Sony's Cyber-shot DSC-WX350 manages to be noticeably smaller and 15% lighter than the SX610 HS, yet it packs 20x optical zoom.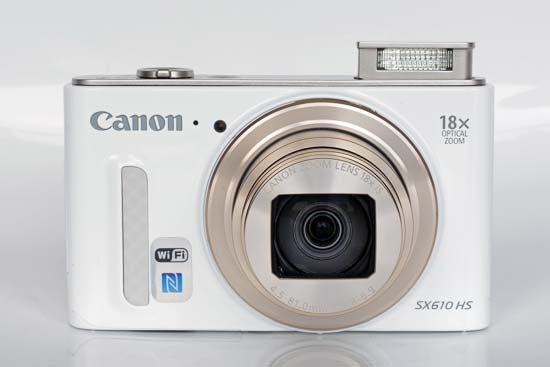 Front of the Canon PowerShot SX610 HS
However, the Canon camera does now boast a better screen than both its predecessor the Sony WX350. Gone is the old 461,000-dot monitor, replaced by a 922,000-dot device. Screen size remains the same at 3.0 inches, whilst viewing angles and colour accuracy are still top notch. There's also enough brightness to cope with most environments, and though you'll struggle when shooting under very bright sunlight, such conditions will overpower most compact camera monitors. Sadly, the screen still isn't touch-sensitive.
Build quality remains high, with premium plastics accented with tactile metal details. There's also a metal tripod mount – a rare luxury at this price point – and you can choose from black, red and white/champagne case colours.
Whilst the Canon PowerShot SX610 HS's design has been tweaked, its control layout remains the same as the old model. If you're unfamiliar with recent Canon PowerShot compacts, the most puzzling control will probably be the switch to the right of the thumb rest. At first glance this appears to toggle between single-frame, burst shooting and video modes, but that's not actually the case. The lower position of the three is where you'll want to start, as this is the camera's default 'Smart Auto' shooting mode. In this setting the SX610 HS automatically detects the scene you're focussing on and adjusts shooting settings accordingly.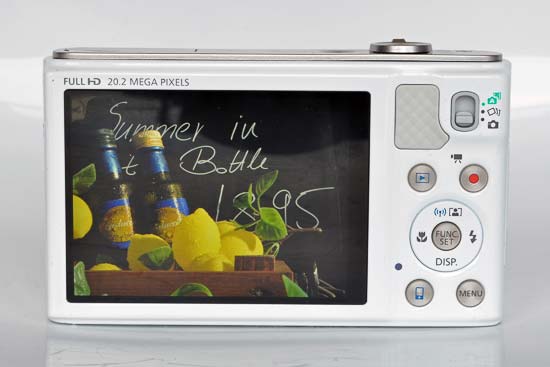 Rear of the Canon PowerShot SX610 HS
If you'd prefer to take control of things like ISO sensitivity and white balance, you can by pressing the 'FUNC. SET' button below and choosing the Program Auto mode from the quick setting menu that pops up. This menu also contains the various scene modes which can be manually selected when photographing tricky subjects like fireworks, night-time or snow scenes. You'll also find the camera's six filter effects here.
This limited filter selection may seem a bit stingy when compared to the 10+ styles that some rival cameras contain, but the Canon PowerShot SX610 HS can spice up your shots in other ways. By flicking the mode selector up to the middle position, you can have some fun with Canon's Creative Shot mode. This feature is included with many Canon compact cameras and instantly captures one standard shot plus an extra five variations of it, each with a different filter effect and crop applied. It's a useful feature when you want to get creative but don't fancy wasting time hunting through menus to manually apply different filters. Check out the image quality section of the review for examples.
The top option on the mode switch selects the camera's Hybrid Auto mode, whereby 2-4 seconds of video is captured before each still image and later combined into a 720p digest movie chronicling your day.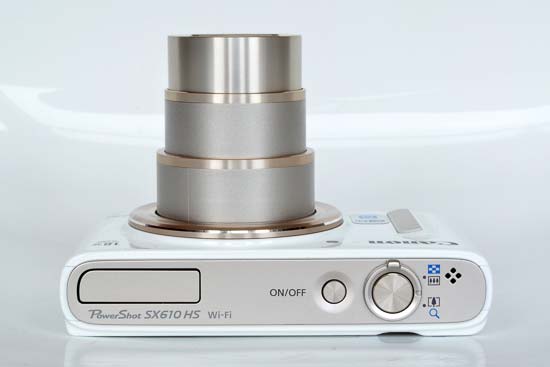 Top of the Canon PowerShot SX610 HS
Another nifty feature with the Canon PowerShot SX610 HS is Auto Zoom, activated by pressing the directional dial on the rear panel upward. Now when the camera detects a face, it'll automatically zoom in and out to keep it frame and at a constant size, whether he or she moves to or from the camera. It's a clever feature that also works when multiple faces are detected, though you'll need your subject to face the camera directly for best results.
The camera's Wi-Fi connectivity remains unchanged from the SX600 HS, although Canon has replaced its Canon CameraWindow companion mobile app with a new version called Canon Camera Connect. By pushing the connection button at the bottom of the rear panel, the SX610 HS starts broadcasting a wireless hotspot that's visible to nearby mobile devices. Simply connect as you would with any other Wi-Fi network, open the Canon app on your smartphone or tablet and you can operate the SX610 HS remotely and download photos from it. If that seems like too much trouble, and you have an NFC-enabled smart device, then you can also tap it against the camera to create a connection. Once connected, a full resolution shot takes around 5 seconds to transfer, and apart from some slight lag when operating the zoom controls, remote shooting is slick and effective.
The Wi-Fi system also enables you to use your smart device to tag the SX610 HS's images with GPS coordinates. This is less convenient than a proper built-in GPS system as you need to sync the camera to your smartphone and rely on the accompanying app, but at least this method doesn't drain the camera's battery like conventional GPS.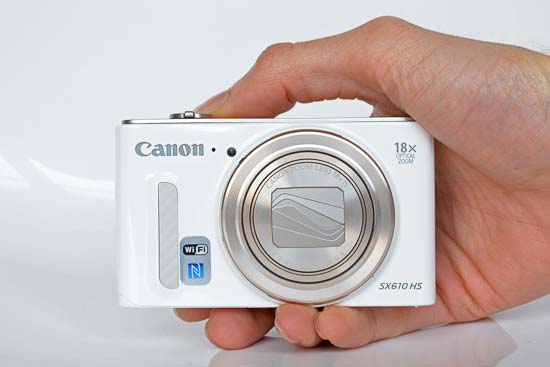 The Canon PowerShot SX610 HS In-hand
That's a good thing, as despite using the same 1060mAh rechargeable Li-ion power pack as its predecessor, the Canon PowerShot SX610 HS's battery life is down from 290 to 270 shots-per-charge. This is almost certainly due to the added power demands of having to process larger image files generated by the new camera's more pixel-packed sensor.
The battery life can be eked out to 400 shots by activating Canon's Eco mode though, which conserves power by dimming the display after just a couple of second's inactivity, and turning it off altogether shortly afterwards. Pressing any button will restore life instantly. The effect is rather like a start/stop system on a modern car and doesn't seem to have any downsides, providing you don't have to wait more than a few seconds between composing and shooting your photo.
When it comes to start snapping, the Canon PowerShot SX610 HS fires up and shoots in 1.8 seconds. That's a tad slower than some cameras, as the lens isn't particularly quick to extend. Fortunately the camera's autofocus system doesn't waste much time as it focusses pretty much instantly in good light and only requires around half a second to find its mark in dimmer conditions.