​Hasselblad X1D II 50C Review

Introduction
Ease of Use

Front of the Hasselblad X1D II 50C
Industrial-quality beauty. Yes, the Hasselblad X1D II 50C would look right at home in a high-end car showroom.
From its sculpted gun-metal grey body and etched Hasselblad 'handmade in Sweden' markings, the X1D II screams quality. You want to run your fingers over its elegant curves. Throw in the huge touchscreen and this is a stunning modern take on a classic format.
Once you've got over gawping at the camera itself, It's about as comfortable to hold as you could hope. A pronounced front handgrip and full-height angled thumb grip, covered entirely by a high-quality grippy faux-leather, pair up to slot perfectly into the hand.
And the X1D II only weighs 766g with battery and SD card installed - that's lighter than pro DSLRs. Of the four lenses we used, the smallest 45mm f/4 P lens is only 320g, meaning that camera and lens combination is only a fraction over 1,000g. Impressive stuff for medium format.
If you're familiar with a DSLR mainstream' mirrorless camera, there will be much to get used to here, from design to handling.
Front and rear dials are at your finger (and thumb) tips, making a quick exposure adjustments a breeze, yet elsewhere things are kept simple.

Rear of the Hasselblad X1D II 50C
There's no control dial on the rear, or customisable function buttons. What you do have are a smattering of dedicated buttons on the top plate and above the LCD screen to make changes to focus mode, automatic exposure lock, ISO/ white balance and an AF button.
A nice touch is the shooting mode dial sits flush in the body but pops up on being pressed down, in order to then shift between your usual PASM modes, plus three custom settings, memory and video recording.
A large, fixed 3.6in touchscreen with 2.36-million-dot resolution dominates the rear. The display is gorgeous; crisp and clear, though it could do with being a fraction brighter in direct sunlight.
That extra screen size gives menus room to breathe and the touch response is lovely, feeling more in line with smartphones than most other camera touchscreens. Also, the functions on offer are comprehensive; focus point selection, menu navigation, playback - it's all there.
We love how easy it is to make precise changes to menu options. For example, the self timer isn't limited to 2, 5 or 10 seconds like most other cameras, but you simply scroll to how long a delay that you would like, down to the nearest second.
There are five buttons to the right of the screen, which aren't so intuitive to begin with, but make more sense the more you use the camera. Many of those buttons feature dual functions and from top to bottom include; playback, display, image rating (and focus magnification), return and menu.

Top of the Hasselblad X1D II 50C
In the display a spirit level and grid can be activated. Focus magnification is available up to 100% which is plenty enough, while image rating is now possible in-camera. The main menu is a simple single page with drop-downs, while the alternative shooting settings display also includes your metering and drive modes. You can truly get right to the point with Hasselblad X1D II 50C.
You've also got a built-in 3.69-million-dot EVF with large 0.87x magnification. The Live View refresh rate has been improved to 60fps which is (the least of what we would hope for and) certainly better than the 37fps refresh rate of the X1D.
Again, the EVF is a clear and large display that we have enjoyed using. However, given how the camera handles we have opted for the touchscreen more often - we'll comment more on this later.
On the left side of the camera are two hinged doors, one for the dual SD cards slots both of which are UHS-II compatible, the other for headphone and mic ports plus a USB-C connection. That USB-C port can now be used for remote charging, via sources like a power bank or computer.
Underneath, there's no battery door. Instead, the camera battery pops out via a catch and is fully released from its secondary lock by pushing it back in a little. That battery unit has a solid 3200mAh capacity.
With our test sample, the dinky 'Battery Charging Hub' was supplied and it can charge two batteries simultaneously, though this is an optional extra. With an RRP surplus of £5,000, that Hub really should be included with the camera.

The Hasselblad X1D II 50C In-hand
Shooting modes wise, there's interval shooting for unlimited sequence lengths, while that recent firmware update introduced focus stacking (though the stacked images need to be processed in software).
Overall, the Hasselblad X1D II 50C is very simple to get around - there's not a lot going on, but the key areas are covered. You won't find a plethora of creative shooting modes or picture styles. This is a skin and bones approach that lets the photographer get on with making images. It's refreshing, actually.
Once you've navigated around the camera, It's time to use it and the handling is where the X1D II is let down the most. From start up time to focusing, this is a ponderous camera.
To its credit, start up time has been halved from the X1D, but the X1D II is still some way slower than your equivalent DSLRs and mainstream mirrorless cameras. From turning the camera on to successfully capturing an image using AF, It's around 7 seconds.
During our time testing the X1D II, we often chose to leave it in its sleep mode rather than turning it off completely - this will reduce your wait time for capture by about 4 seconds.
Again, shutter lag and blackout time has been reduced, but It's still there. Whatever the drive mode; single frame shooting, the improved 2.7FPS continuous shooting - blackout time immediately after image capture is an issue.

The Hasselblad X1D II 50C In-hand
Then there is focusing. We've used the X1D II with four different lenses (XCD 21mm f/4, XCD 45mm f/4 P, XCD 65mm f/2.8 and XCD 80mm f/1.9) and, while autofocus speed does vary a little with each of those lenses, it is slow in all cases.
AF is limited to single point, with the option to change the size of focus point between small, medium or large. With heavier lenses like the XCD 80mm f/1.9 lens - the AF motor seems to struggle under the weight more. You get a loud AF hunt that can range from the minimum focus distance to infinity, with a few wobbles back and forth before the contrast detection AF system acquires focus.
Both 21mm f/4 and 45mm f/4 P lenses provided a faster and quieter AF over the 65mm f/2.8 and 80mm f/1.9 lenses. There is an option to limit the AF scan range (distance), but this option did not appear to be available with the lenses we had.
We've used the X1D II in a variety of scenarios; portraits, landscapes, nighttime, a wedding, general action, and the auto focusing alone pigeonholes the camera to very particular uses. Within the context of a wedding, staged photos like group shots and static portraits were fine, but we gave up trying to capture any action.
Even with static subjects, you'll need close attention to detail to acquire a sharp focus where it matters most. For example, we have mainly stuck with the 'small' AF point size option, but even then the camera might focus on the eyelash in a portrait rather than the iris. We are working with a shallow depth of field after all.
If Hasselblad is to stick with point selection AF, it would be great to see a pinpoint AF option too, in order to gain a more critically accurate focus.

The Battery Compartment
What's handy is that the AF point can be selected by touch whether via the LCD display, or by swipe-to-select while using the EVF. The latter is slightly less responsive, but is still a legitimate option.
We were also disappointed by the handling of manual focus. Controls-wise, XCD lenses are simple things, all you have is the focus ring and it doesn't feel great in the hand. There's no focus clutch with distance markings, nor can you display focus distance on the LCD screen.
No, for manual focus, you're relying on your eye, on focus peaking, or most helpfully by focus magnification up to 100%. A recent X1D II firmware update introduced 2.7K video recording at 30fps, for which only manual focusing is possible.
The camera can be operated remotely through the Phocus Mobile apps, which is available for iOS only, meaning Android users are left out. Phocus Mobile is for iPhone, while Phocus Mobile 2 is for iPad. There is also a desktop app for both Mac and PC, offering tethered shooting and RAW image editing.
All in all, the Hasselblad X1D II 50C is a mixed bag in the hand. It's a better camera to look at and to hold than it is in use.
Image Quality
As a digital medium format camera, the Hasselblad X1D II 50C is able to pack a lot of large pixels; 51.2MP in all (8272x6200), sized at 5.3 x 5.3 µm. The sensor size is 43.8x32.9mm, which equates to a 0.79x focal length multiplier (crop factor compared to full-frame), with an aspect ratio equivalent to 4:3.
It's complemented by some lovely glass. There is a choice of ten native XCD lenses, none of which come cheap. The clarity of detail possible from the four prime lenses we have used (again 21mm, 45mm P, 65mm, 80mm) is incredibly good.
The shutter is built into XCD lenses instead of the camera, meaning audible noise and vibrations during image capture are kept to a minimum. (And flash sync is possible with any shutter speed.) Yes, on the basis of being able to capture the moment and acquire a sharp focus, the Hasselblad X1D II 50C provides stunning image quality.
It's perhaps the colour depth and accuracy that impresses the most. With the correct white balance setting in play, you don't really need to do anything post capture to colour correct the pictures, they simply look as your eyes sees it, packed with depth and tone. Creative styles such as monochrome can be applied post capture.
Evaluative metering options include spot, centre-weighted spot and centre-weighted, but there isn't multi-area evaluative metering. As such, we found ourselves using the Auto Exposure Lock more often than normal, locking an exposure from a desired part of the frame and then recomposing the picture. Depending on the shooting mode, exposure compensation is an easy alternative, adjusted using the rear thumb dial.
Despite being a photo-centric camera, we should briefly touch on the Hasselblad X1D II 50C's video capabilities, which now stand at 2.7K (2720x1530), plus full HD both in 30fps, up to 30 minute clips.
With 4:2:0 8 bit color, video colour depth stands nowhere near photo quality - though you can make the most of the large-scale sensor format and subsequent shallow depth of field. Ultimately, view X1D II video as a back up.
Noise
The nine-stop native sensitivity range for RAW and JPEG images covers ISO 100 to ISO 25,600. Here are some 100% crops that show the levels of noise for each ISO setting.
Magnifying these sample images at all the ISO settings to 100%, bright and high contrast detail looks clean in images up to ISO 6400 and even beyond that up to the maximum ISO setting, detail is perfectly acceptable.
If you are to look in shadow areas, noise can be seen from ISO 800, but the quality is like a fine grain so is still lovely. That 'grain' increases little by little each time the ISO setting is increased.
We wouldn't hesitate to use ISO 6400, especially if images are printed or viewed smaller than the huge 100% size. Beyond the ISO 6400 setting, noise looks more like digital noise rather than grain. Overall, image quality in low light is excellent.
| | |
| --- | --- |
| JPEG | RAW |
| ISO 100 (100% Crop) | ISO 100 (100% Crop) |
| | |
| | |
| ISO 200 (100% Crop) | ISO 200 (100% Crop) |
| | |
| ISO 400 (100% Crop) | ISO 400 (100% Crop) |
| | |
| | |
| ISO 800 (100% Crop) | ISO 800 (100% Crop) |
| | |
| ISO 1600 (100% Crop) | ISO 1600 (100% Crop) |
| | |
| ISO 3200 (100% Crop) | ISO 3200 (100% Crop) |
| | |
| ISO 6400 (100% Crop) | ISO 6400 (100% Crop) |
| | |
| ISO 12800 (100% Crop) | ISO 12800 (100% Crop) |
| | |
| ISO 25600 (100% Crop) | ISO 25600 (100% Crop) |
| | |
File Quality
RAW and JPEG images can be captured independently or simultaneously, with the JPEG images being full resolution only. File sizes are gargantuan; 105MB average for 3FR RAW and 20MB average for JPEG.
At 8272x6200 pixels, images can be printed up to 27.6x20.7in at 300ppi, or 34.5x25.8in at 240ppi without interpolation. That's what we call very large!


Night
The Hasselblad X1D II 50C's quiet lens shutter offers a shutter speed range from 1/2000sec all the way down to 1 hour 8 minutes and any of those shutter speeds can be manually selected without needing to use a bulb mode. Great for low light, not so good for pairing a wide aperture such as f/1.9 with bright light - you'll need an ND filter to reduce light transmission.

Dynamic Range
Hasselblad claims the X1D II 50C offers a dynamic range of 14EV. With such a large sensor, the camera is indeed able to capture a wide dynamic range in a single picture.
That dynamic range cannot be extended by HDR or various optimisers, though there are times when the native wide dynamic range feels like it has been optimised - there is plenty of tonal detail.
The only in-camera option to further widen the dynamic range is by exposure bracketing, with the limit capped at +-3EV over up to nine frames. You'll need to mount the camera to a tripod to ensure those bracketing shots are lined up for blending post capture.
The metering system tends to favour a darker exposure. Given how much detail can be recovered from shadows, this is a good thing. Slight adjustments to brightness tend to be the starting point of RAW image edits.


Photo Styles
Unlike most other cameras reviewed on Photography Blog, the Hasselblad X1D II 50C offers no colour styles or picture effects. White balance can be altered as per norm, plus the recent firmware update added a manual white balance 'picker' option.
Ultimately, the colour rendition is Hasselblad's 'Natural Colour Solution'. This photo style limitation is a good thing, because Hasselblad colours are stunning, true to the eye and plenty of depth. You will not be disappointed.
Sample Images
This is a selection of sample images from the ​Hasselblad X1D II 50C camera, which were all taken using the 51 megapixel JPEG setting. The thumbnails below link to the full-sized versions, which have not been altered in any way.
Sample RAW Images
The ​Hasselblad X1D II 50C enables users to capture RAW and JPEG format files. We've provided some Hasselblad RAW (3fr) samples for you to download (thumbnail images shown below are not 100% representative).
Sample Movies & Video
Product Images


































Conclusion
To look at and to hold, the Hasselblad X1D II 50C is a stunning camera. It's lightweight and compact, especially considering the sensor format. It's exceptionally well made and the hand grip is as comfortable as they come - the form factor is spot on.
Sadly, the experience falters with what is still ponderous handling. Thankfully, start up time and blackout time has been reduced in this second iteration, but don't expect a performance that matches or even comes close to today's equivalent DSLRs and mirrorless cameras in other formats.
Focusing is the single biggest issue. Autofocus is especially slow with heavier lenses (eg. the 80mm f/1.9 is slower than the 45mm f/4 P), plus it is limited to single point selection, with the smallest possible point size still being a tad large for critical focusing. Also, we are not fans of how the camera and XCD lens combination handles for manual focusing.
Ultimately, the X1D II is restricted to very particular purposes; landscape photography, static portraits, studio, architecture, low light - anything where time is on your side. Yet, as with any camera, practice and familiarity does increase your 'success' as you go about making pictures.
Presuming you are able to get detail critically sharp and white balance on point, the X1D II is capable of producing beautiful pictures. We cannot understate how devine pictures look.
Not only does 51.2MP give you plenty of detail to play with, but Hasselblad's 'Natural Colour Solution' is gorgeous; skin tones, landscape palettes faithfully rendered how your eye sees it. Low light IQ is very good too, thanks to the sizeable sensor.
So where do we stand with the Hasselblad X1D II 50C? Well, hot and cold. Its look and feel, plus the look of its pictures = hot! Its performance = cold! At this price point, there are more versatile alternatives. But if you know that your needs are covered, the X1D II will not disappoint.
Ratings (out of 5)
Design
5
Features
3.5
Ease-of-use
3
Image quality
5
Value for money
3.5
Main Rivals
Listed below are some of the rivals of the ​Hasselblad X1D II 50C.
Review Roundup
Reviews of the ​Hasselblad X1D II 50C from around the web.
Specifications
News
The Hasselblad X1D II 50C is a 50 megapixel mirrorless medium format digital camera. New features include a higher resolution 3.6-inch 2.36-million-dot touch display, higher resolution enhanced OLED electronic viewfinder (EVF) with 3.69-million dots and a high magnification of 0.87x. Live view now features a faster refresh rate, reduced shutter lag and black out time between frames, plus there's an improved continuous capture rate and a startup time cut almost in half from the first generation.
The XCD 35-75mm f/3.5-4.5 is the ninth addition to the X System lens range. This extremely high performance, compact mid-range zoom covers moderate wide angle to short telephoto focal lengths.
The X1D II 50C is priced at € 5000 / $ 5750 / £ 4500 excl. VAT. Delivery in July 2019. Available to order immediately.
The XCD 3,5-4,5/35-75 Zoom lens is priced at € 4500 / $ 5175 / £ 4050 excl. VAT. Estimated delivery in October 2019.
Hasselblad Press Release
HASSELBLAD EXPANDS REACH OF MEDIUM FORMAT IMAGING FOR EVEN MORE CREATIVE VERSATILITY
Introducing the X1D II 50C, XCD 35-75 zoom lens, Phocus Mobile 2, and revealing details of the upcoming CFV II 50C digital back and 907X camera body
Following the revolutionary introduction of the world's first mirrorless medium format digital camera, the X1D-50c, Hasselblad introduces new additions to its product portfolio that bring the joy of medium format photography to image makers with the capabilities to support their creative endeavours. This includes the evolved X1D II 50C camera, the eagerly awaited XCD 3,5-4,5/35-75 Zoom Lens and Phocus Mobile 2. In addition, Hasselblad reveals the development details of the upcoming CFV II 50C digital back and 907X camera body. Hasselblad's newest offerings yet again expand the potential of medium format photography with modularity and flexibility, all while offering the brand's renowned, stunning image quality.
X1D II 50C – AN EVOLVED MEDIUM FORMAT PHOTOGRAPHY EXPERIENCE
In the pursuit to continue the journey of taking medium format outside of the studio, Hasselblad is pleased to announce the next installment of the X System – the X1D II 50C Mirrorless Medium Format Digital Camera. Dedicated to optimising the X System for a wider audience of creatives, Hasselblad has listened to user feedback and improved upon the first generation with enhanced electronics for a quicker and more intuitive medium format experience.
Continuing in the legacy of being the most portable and lightweight digital medium format camera, the X1D II 50C lets you take the power of medium format in a footprint smaller than most full frame DSLRs in a beautifully designed, compact package. Its large, high resolution 50-megapixel CMOS sensor (43.8 x 32.9 mm) is 1.7 times larger than 35mm full format sensors, packing in huge pixels (5.3 x 5.3 μm) for capturing images with superb tonality. With outstanding colour depth and an impressive dynamic range of 14 stops, which allows for capturing immense details in both shadows and highlights, the photographer is left with plenty of room for adjustment in post-processing. With Hasselblad Natural Colour Solution (HNCS) technology integrated into the camera's system, exceptional, true-to-life tones are delivered that match what the human eye sees. Building upon the award-winning first generation, the X1D II 50C blends form and function with minimalistic, Scandinavian design aesthetics with a graphite grey exterior and a smooth handling experience with its ergonomic grip. The new X1D II 50C continues to provide creatives with incredible Hasselblad image quality, with 16-bit RAW images and now full resolution JPEGs, in a compact, lightweight design.
Developing upon the first generation of the X System, the X1D II 50C's upgraded electronic platform includes a higher resolution 3.6-inch 2.36-million-dot touch display, which is physically the largest LCD display currently available on a digital medium format camera. Additionally, the X1D II 50C features a higher resolution enhanced OLED electronic viewfinder (EVF) with 3.69-million dots and a high magnification of 0.87x, letting you see the bigger picture. The much higher resolution of the rear display screen (1024x768) gives a more vivid, true to life image viewing experience.
The X1D II 50C's live view features a faster refresh rate, reduced shutter lag and black out time between frames, an improved continuous capture rate, and a startup time cut almost in half from the first generation. Building upon the highly-intuitive Hasselblad User Interface (HUI) of the previous model, further refinements have been made to the X1D II 50C to improve the camera's handling experience, including the ability to access the menu system when looking in the EVF, giving greater usability in the sunniest conditions.
Enabling an even more portable medium format workflow, Hasselblad's post production solutions now include the new Phocus Mobile 2. Connected via USB-C and Wi-Fi, photographers can transfer RAW and full quality JPEG files directly from the X1D II 50C and edit RAW images on their iPad Pro or iPad Air (2019) while out on the field.
THE NEW XCD 3,5-4,5/35-75 – PRIME LENS PERFORMANCE IN A COMPACT ZOOM
The ninth addition to the X System lens range is the eagerly awaited XCD 3,5-4,5/35-75 Zoom Lens. Delivering the same superb image quality from edge-to-edge as the XCD prime lenses, this extremely high performance, compact mid-range zoom covers moderate wide angle to short telephoto focal lengths. Its internal focusing keeps the lens' dimensions constant, delivers quick autofocus and additionally keeps the overall weight down. Ideal for shooting anything from wide angle landscapes to portrait images, this lens is perfect for photographers who are looking to keep the amount of equipment they carry when travelling to a minimum but don't want to compromise on image quality. "This really is the best lens Hasselblad has developed – its performance is extremely high, competing with our prime lenses. I can even go as far to say that it's probably the best zoom lens currently available on the market," says Per Nordlund, Hasselblad Lead Optical Designer. Like the rest of the XCD lens range, the XCD 35-75 features an integral central lens shutter, offering exposure times from 68 minutes to 1/2000s with full flash synchronisation throughout.
PHOCUS MOBILE 2 TAKES IMAGE PROCESSING WORKFLOW TO A NEW PORTABLE LEVEL
Expanding the possibilities of the Hasselblad workflow, Phocus Mobile 2 takes the image editing process to a new, portable level. Compatible with the X1D II 50C via either USB-C or Wi-Fi, this application is currently supported on iPad Pro and iPad Air (2019) models, enabling the traveling photographer to have a quicker, more mobile workflow. With Phocus Mobile 2, users can import, edit and rate RAW images and import and rate full quality JPEG images directly on their portable device. In addition, Phocus Mobile 2 supports full quality image export, tethered shooting and direct camera control.
THE CFV II 50C AND 907X CONNECT HASSELBLAD'S PHOTOGRAPHIC HISTORY INTO ONE SYSTEM
Hasselblad proudly announces the development of the modernised CFV II 50C digital back and the brand new 907X camera body, which together will connect Hasselblad's photographic history into one system.
The CFV II 50C digital back, which will have an outstanding medium format 50-megapixel CMOS sensor (43.8 x 32.9 mm), will enable use with most V System cameras made from 1957 and onwards in addition to third party technical or view cameras. Improving upon the user experience of the previous generations, the CFV II 50C will feature a brilliant tilt screen with full touch support and Hasselblad's renowned user interface for settings, image review, and menu navigation. Users of previous CFV digital backs will appreciate a new fully-integrated battery, the same used on the X System, which will reduce overall size and with the option to recharge in-camera via the USB-C port. Combining its iconic aesthetics with modern technology, the CFV II 50C gives a nod to Hasselblad's history combined with the brand's world-renowned image quality.
Coupling the CFV II 50C with Hasselblad's smallest medium format camera body ever, the 907X, creates a highly compact package. This combination will offer a truly distinct photographic experience, including the classic waist-level shooting style of the V System enabled by the CFV II 50C's tilt screen. With the 907X, the photographer will gain access to all of the high-quality X System Lenses in addition to a vast range of Hasselblad optics via adapters, including the H System, V System, and XPan Lenses. In addition, the 907X will enable compatibility with a wide range of third-party adapters and lenses. Planned accessories to beautifully complement the combination include the 907X Control Grip and 907X External Optical Viewfinder.
HASSELBLAD CONTINUES ITS CELEBRATION OF MEDIUM FORMAT ARTISTRY IN JULY 2019
July 2019 marks the 50th anniversary of the first humans landing on the Moon – not only a historic milestone for NASA, but for Hasselblad and photographic history. As the camera selected and built to document the legendary journey, Hasselblad will celebrate this remarkable moment that helped launch the Swedish photography brand to another level. More information will come soon on this exciting commemoration.
The X1D II 50C has an MSRP of € 5000 / $ 5750 / £ 4500 excl. VAT. Delivery in July 2019. Available to order immediately.
The XCD 3,5-4,5/35-75 Zoom Lens has an MSRP of € 4500 / $ 5175 / £ 4050 excl. VAT. Estimated delivery in October 2019. Ordering information will be released shortly before.
Phocus Mobile 2 can be downloaded free of charge by Hasselblad users starting in July 2019.
The CFV II 50C and 907X product information details, including pricing and availability, will be announced later in the year.
Image Gallery
Click on a thumbnail to see the full version.
First Impressions
Some three years almost exactly since the announcement of its predecessor, a new compact digital medium format camera from Hasselblad has landed in the shape of the X1D II 50C. What has been tweaked this time essentially boils down to speed and performance. As its name suggests, the camera still has a 50 MP sensor at its heart, along with an OLED EVF and 3.6-inch touchscreen. With the Phocus Mobile 2 app unveiled alongside it allowing images to be shared to your iPhone, the idea is that with the Hasselblad X1D II 50C, we'll be able to "take the beauty of medium format anywhere." Compatibility is offered with its maker's state-of-the-art leaf shutter XCD lens family, for which we also have a new addition in the XCD 35-75mm f/3.5-4.5 zoom.
Perhaps even more surprising than both of these has been Hasselblad's in-tandem announcement of a new digital back in the CFV II 50C, which it tells us is due with us in the autumn of 2019. Unsurprisingly, then, we were only able to take photographs of a non-working sample at this stage, though we were able to raise/ tilt the backplate LCD display – a new feature, incidentally – in an indication of how the eventual model will handle. The manufacturer says the screen on the finished version will, as on the new X1D II 50C, offer pinch and expand touchscreen control.
From what we know so far, the rear display places visible controls for the essentials white balance, ISO, image-recording format and image playback at your fingertips. USB-C connectivity is also offered for the swifter downloading of files.
Hasselblad told us that "digital backs are not over" – with its new product cleverly allowing for cameras from the brand released as far back as 1957 to be 'made digital' and updated to the modern era. In effect, it's giving users the best of both worlds: classic Hasselblad models can be transformed into a 'new' medium format camera with a 50-megapixel resolution. The sample back we handled certainly felt well built, if a little plastic-y at this stage. As we've no definite release date save for the back end of this year, we've no confirmed word on pricing as yet, either.
But you don't even need an old Hasselblad to use the new back. The firm is marketing a new combo that pairs it with an ultra slim camera – in fact, its slimmest camera ever made – that sits between the digital back and its new XCD series lenses. This is being marketed as the 907X + CFV 50C II combination, which will make it one of the smallest and most portable medium format camera systems ever, allowing for handheld use. Additional optional accessories will include an optical viewfinder and grip, with Hasselblad saying that this is a 'complete system' with access to nine fantastic lenses. Unfortunately, at this stage it's one we weren't able to get hands on and play with.
What we do know for now is that suggested pricing for the X1D II 50c is £4,500, while the XCD 35-75mm lens is £4050.
After the products had been announced at the London launch, we sat down with Chris Cooze, Hasselblad's Technical Communications and Training Manager to go through them.
Hasselblad X1D 50C II First Impressions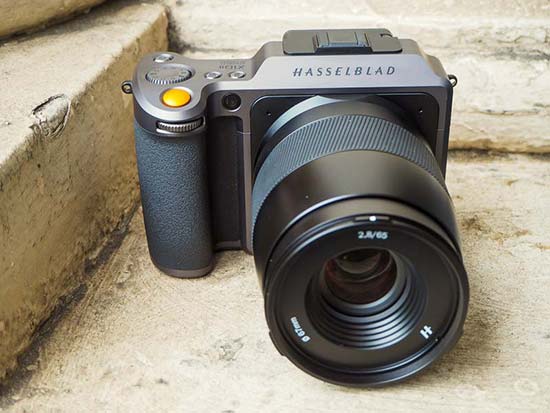 "Everybody was waiting for us to bring out the next generation of the X1D," Chris acknowledges. "Effectively we looked at what people loved about the original. Over the past two or three years the original camera has been out, we've already updated a lot of the features through Firmware, but there comes a point when you need to update the hardware. You'd probably agree that it was a superb camera but there were certain things users wished for – be they either higher resolution or a faster system. There are times when you've got to make that leap – and that's what we've done with the X1D II.
"We've updated the displays and we've updated the viewfinder – the majority of the big updates are in the system. It's a 60fps refresh rate now, so the image that you're looking at is that much sharper and stable. The colour accuracy of what you're seeing has also been improved, as well as things like the start up time, which is 46% faster. Making that improvement was partly based on feedback; users were saying that from off to usable was a little too long, so there needed to be an improvement. The whole point of the 'X' system is that it's a transportable, high quality camera. This would be an outdoor camera as opposed to one stuck on a studio stand. Obviously with the mirrorless design of the original system, what you see is what you get when you look through the viewfinder. That makes shooting with available light so much of a joy and a simple operation.
"By updating the bits and pieces people were asking for – chiefly the system response and our shooting speeds – anyone picking up the new camera should feel that it's more responsive in comparison with the old one; you can now shoot and review the images quicker. The main look and feel is pretty much the same, but we've done things with the high-resolution display like making the text easier to read. Plus, if we go into the drive menu, we've grouped things in here like your self timer and bracketing – everything that makes sense to be in a drive menu, whereas before they were in the standard menu or under 'favourites'. Now you've got space to select other things, while you've still got the pinch-to-zoom, swipe and double tap functionality.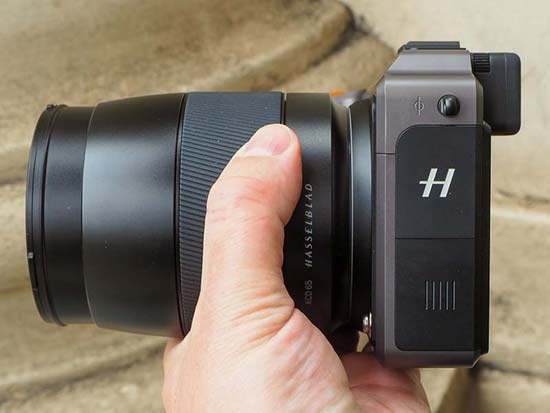 "Although there's a touch interface, you've also still got the wheels and buttons should you choose that style of interface. The fact that you can now touch the screen to select your focus point is another improvement over the older system of bringing up a grid. Plus you can pinch to zoom to physically change the size of the AF point. Before you had to press a button to access that and then select the size. Let's be honest, people these days are more than happy with that sort of touch screen interface. But again, if you wish to use the original system with the buttons and wheels, it's still there and you can still access it.
"I think the camera's intended audience is still the same as that of the original – so they'll be the travel and lifestyle photographers, because the camera's physical size and weight lends itself to being easily transported. With the more responsive system now, you might see it moving more into the portrait, fashion, wedding type use, because it's much quicker. Part of the feedback we received was that it would be very good if we could make the AF system response time quicker and the shutter lag reduced. So we've tweaked the system to deliver those improvements for those individual markets. So hopefully when people try the camera they'll go 'wow, this is much better'.
"There's always been that back up or second camera market for our professional users anyway. Thanks to the various adapters, you can affix the H system lenses, so if you've got a range of glass for that system you can use it on this. It's making use of your initial investment and getting value for money from your new camera."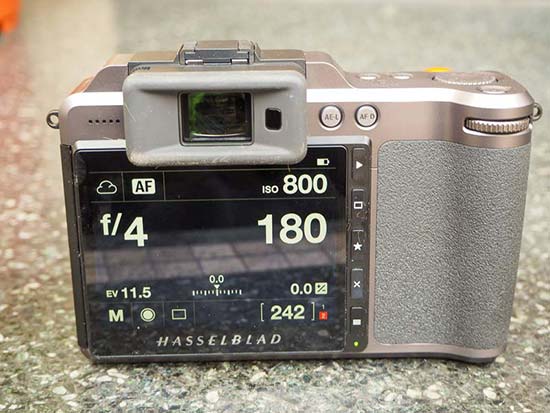 To sum up then, in terms of handling, the main selling points for the X1D II 50C when compared to the existing model include the fact that it's faster and more responsive, while the core design, sensor resolution and image quality has remained the same.
"So we've kept the bits that everybody agreed were good – the sensor, our colour processing algorithms – they'll all the same," Chris confirms. "The processing of the data is slightly faster and the shooting rate has improved – we've gone up from 2fps to 2.7fps and have a larger buffer so you can shoot longer before the buffer's full. We have also improved the card slots – they're now UHS II card slots, so you can use faster cards and larger cards if you can afford it. For example, you can put a 1TB SD card in there. Obviously the speed of the card will dictate how long you're able to shoot at faster speeds.
"All of these little things mean that the camera is incrementally better. Sure, you could say the EVF is better, the rear display is better, but it's that and the refresh rate that mean that it's much more capable of capturing the image you want to achieve. There's USB 3 connection now to an iPad, so you can shoot tethered and run Phocus Mobile 2 on there. You can capture, edit, export and share tethered through USB-C. "
As it sounds, Phocus Mobile 2 is the updated iOS-only app for wirelessly controlling your camera. "The latest iPads have a USB-C connector so we can connect the camera and shoot tethered. You can use your iPad as your storage and make the vast amount of the quick corrections you may want to do on that. You can export your files and have full Raw on there – we're not talking about a low res JPEG that you update later on, this is the actual Raw capture – which you can process and share with whoever you want.
Hasselblad XCD 35-75mm First Impressions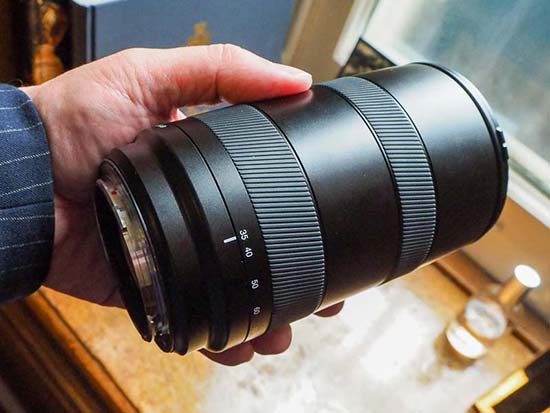 In terms of a hands-on look at Hasselblad's equally new new 35-75mm lens, this follows on from a lens roadmap revealed over a year ago. "We've released the primes, in a 65mm, 80mm and 135mm, but everybody's been asking for the zoom. That's taken a little longer because we wanted to make sure that the quality was spot on. It's now been launched and image quality, corner to corner, is pretty much as good as a prime. You'd have to be quite finickety to say it wasn't.
"Sure it would have been lovely to make it an f/2.8 all the way through but there has to be a decision made about the amount of glass you want to put in it and the price. We've gone for f/3.5-4.5 aperture, which, on a medium format system is still pretty good. We've tried to put this lens out at a price that is competitive for a high quality zoom lens, which replaces, effectively, three fixed focal lengths that you could buy within that range, while giving you a similar performance to those fixed focal lengths. If you want a super shallow depth of field you're going to plump and buy an 80mm, but if you're travelling and want a single lens to cover most of the focal lengths you are likely to use, then this zoom will achieve that."
Hasselblad CFV II 50C and 907X First Impressions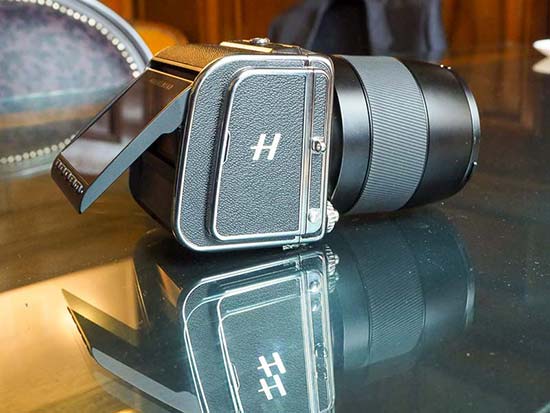 Moving onto the digital back and forthcoming super slim camera combination, Chris Cooze recalls the company has had various incarnations of the CFV over the years – the last being the CFV 50C, which had a 50 megapixel CMOS sensor, but still used Firewire and a CF card.
"We discontinued that model about two years ago, so this particular upgrade was to move all of the latest technology, including touch control, USB-C and SD card, onto that original digital back. Additionally, one of the big issues with the older versions was that the battery was externally mounted onto the back, so depending on which camera you were attaching it to, that could be a problem – as you might need an additional plate to move the battery out of the way. With the new model, the battery's a standard X system internal battery, so there's no issues with that and it will fit onto pretty much every camera from 1957 onwards – without any mucking about with cables. That's great for 'V' system users, but we wanted to develop something that would allow us to create a whole new camera system using the CFV and give purchasers a future route, if you like. So they can have the 907X, which is the super slim body, and then they can have access to XCD lenses. Or if they use our XH adapter, they can also have access to 'H' system lenses."
The market for this new CFV system is both existing Hasselblad owners and new converts to the brand: "We have a huge V system user base and the cameras continue to work year after year. So this gives those users the opportunity to update or go digital for the first time with their existing camera plus the CFV back. Alongside that a whole new group would see this 907X + CFV 50c II combination as a super small camera with a fantastic sensor.
'You've got auto focus, plus almost all of the functionality that you have with an X1D, in this camera. With the grip and the optical viewfinder you've got the option of using it waist level with the tilt screen. Everybody seems to like that Hasselblad waist level shooting style, so this is a way of giving people access to that style of shooting without them having to buy a V system. There's a whole new customer base out there."
Hands On
Want to see exactly what the Hasselblad X1D II 50C medium format compact system camera looks like in the flesh?

Check out our extensive hands-on gallery of photos of the Hasselblad X1D II 50C medium format compact system camera.
A gallery of hands-on photos of the Hasselblad X1D II 50C medium format compact system camera.
Image Gallery
Click on a thumbnail to see the full version.
Preview Images
Ahead of our full review, here are sample JPEG and Raw images taken with the brand new ​Hasselblad X1D II 50C digital camera. The ​Hasselblad X1D II 50C is a new medium format mirrorless camera with a 50-megapixel medium-format sensor.
A gallery of sample images taken with the Hasselblad X1D II 50C mirrorless camera.

Note: These are unofficial sample images taken with a pre-production X1D II 50C unit.
You can also see official sample images at https://www.hasselblad.com/learn/sample-images/

Hasselblad X1D II 50C Sample Images
Sample RAW Images
The Hasselblad X1D II 50C enables users to capture RAW and JPEG format files. We've provided some Hasselblad X1D II 50C RAW (3FR) samples for you to download (thumbnail images shown below are not 100% representative).
Your Comments