​Hasselblad X1D II 50C Review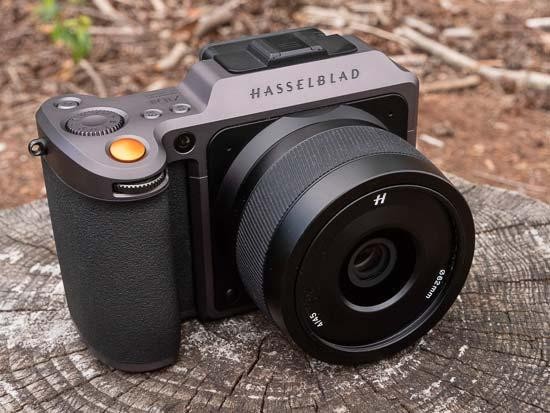 Introduction
Launched in June 2019, the Hasselblad X1D II 50C replaced the then three-year-old X1D. It's a compact 51.2MP medium format digital camera that shoots 16-bit Raw files, with Hasselblad's natural colour and up to 14EV dynamic range.

Changes and improvements in round two appear minor, but the Hasselblad X1D II represents a more rounded experience than its predecessor, crucially boasting quicker handling and improved displays.

You get a larger and higher-resolution rear touchscreen and EVF, plus a quicker start up time and faster shooting rates among other things. The X1D II also comes in at a lower price point. Hasselblad is the Leica of the medium format world so nothing comes cheap, but the current £5,400 street price is more competitive.

More recently, the X1D II benefited from a significant firmware update that unlocked 2.7k video recording. This may not be a video-centric camera, but the addition is very welcome.

Currently, the X-system includes ten (XCD) lenses, covering the focal length range between 21mm and 230mm. We had our hands on four of those lenses for this test. For more information about the camera, please visit www.hasselblad.com.
Ease of Use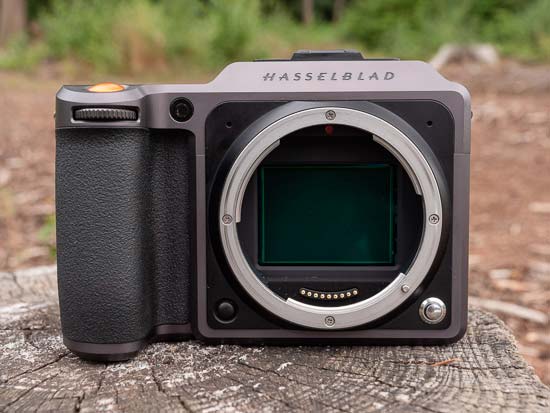 Front of the Hasselblad X1D II 50C
Industrial-quality beauty. Yes, the Hasselblad X1D II 50C would look right at home in a high-end car showroom.
From its sculpted gun-metal grey body and etched Hasselblad 'handmade in Sweden' markings, the X1D II screams quality. You want to run your fingers over its elegant curves. Throw in the huge touchscreen and this is a stunning modern take on a classic format.
Once you've got over gawping at the camera itself, It's about as comfortable to hold as you could hope. A pronounced front handgrip and full-height angled thumb grip, covered entirely by a high-quality grippy faux-leather, pair up to slot perfectly into the hand.
And the X1D II only weighs 766g with battery and SD card installed - that's lighter than pro DSLRs. Of the four lenses we used, the smallest 45mm f/4 P lens is only 320g, meaning that camera and lens combination is only a fraction over 1,000g. Impressive stuff for medium format.
If you're familiar with a DSLR mainstream' mirrorless camera, there will be much to get used to here, from design to handling.
Front and rear dials are at your finger (and thumb) tips, making a quick exposure adjustments a breeze, yet elsewhere things are kept simple.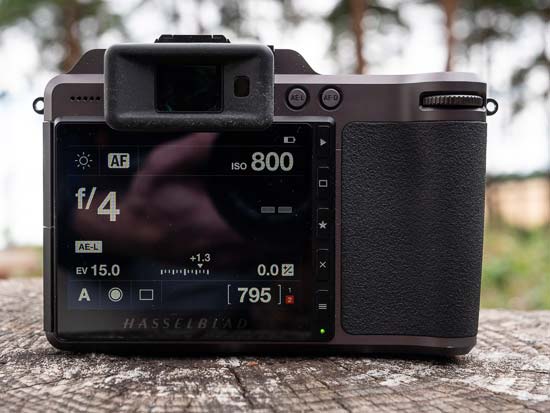 Rear of the Hasselblad X1D II 50C
There's no control dial on the rear, or customisable function buttons. What you do have are a smattering of dedicated buttons on the top plate and above the LCD screen to make changes to focus mode, automatic exposure lock, ISO/ white balance and an AF button.
A nice touch is the shooting mode dial sits flush in the body but pops up on being pressed down, in order to then shift between your usual PASM modes, plus three custom settings, memory and video recording.
A large, fixed 3.6in touchscreen with 2.36-million-dot resolution dominates the rear. The display is gorgeous; crisp and clear, though it could do with being a fraction brighter in direct sunlight.
That extra screen size gives menus room to breathe and the touch response is lovely, feeling more in line with smartphones than most other camera touchscreens. Also, the functions on offer are comprehensive; focus point selection, menu navigation, playback - it's all there.
We love how easy it is to make precise changes to menu options. For example, the self timer isn't limited to 2, 5 or 10 seconds like most other cameras, but you simply scroll to how long a delay that you would like, down to the nearest second.
There are five buttons to the right of the screen, which aren't so intuitive to begin with, but make more sense the more you use the camera. Many of those buttons feature dual functions and from top to bottom include; playback, display, image rating (and focus magnification), return and menu.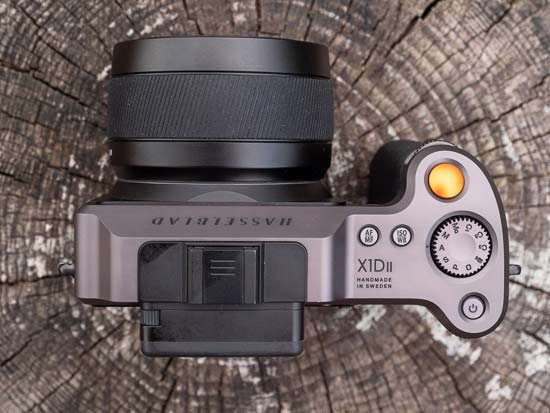 Top of the Hasselblad X1D II 50C
In the display a spirit level and grid can be activated. Focus magnification is available up to 100% which is plenty enough, while image rating is now possible in-camera. The main menu is a simple single page with drop-downs, while the alternative shooting settings display also includes your metering and drive modes. You can truly get right to the point with Hasselblad X1D II 50C.
You've also got a built-in 3.69-million-dot EVF with large 0.87x magnification. The Live View refresh rate has been improved to 60fps which is (the least of what we would hope for and) certainly better than the 37fps refresh rate of the X1D.
Again, the EVF is a clear and large display that we have enjoyed using. However, given how the camera handles we have opted for the touchscreen more often - we'll comment more on this later.
On the left side of the camera are two hinged doors, one for the dual SD cards slots both of which are UHS-II compatible, the other for headphone and mic ports plus a USB-C connection. That USB-C port can now be used for remote charging, via sources like a power bank or computer.
Underneath, there's no battery door. Instead, the camera battery pops out via a catch and is fully released from its secondary lock by pushing it back in a little. That battery unit has a solid 3200mAh capacity.
With our test sample, the dinky 'Battery Charging Hub' was supplied and it can charge two batteries simultaneously, though this is an optional extra. With an RRP surplus of £5,000, that Hub really should be included with the camera.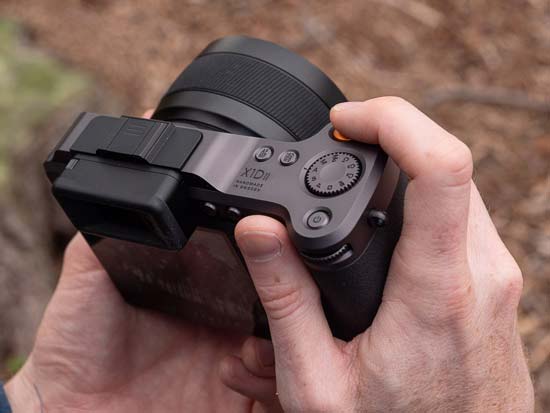 The Hasselblad X1D II 50C In-hand
Shooting modes wise, there's interval shooting for unlimited sequence lengths, while that recent firmware update introduced focus stacking (though the stacked images need to be processed in software).
Overall, the Hasselblad X1D II 50C is very simple to get around - there's not a lot going on, but the key areas are covered. You won't find a plethora of creative shooting modes or picture styles. This is a skin and bones approach that lets the photographer get on with making images. It's refreshing, actually.
Once you've navigated around the camera, It's time to use it and the handling is where the X1D II is let down the most. From start up time to focusing, this is a ponderous camera.
To its credit, start up time has been halved from the X1D, but the X1D II is still some way slower than your equivalent DSLRs and mainstream mirrorless cameras. From turning the camera on to successfully capturing an image using AF, It's around 7 seconds.
During our time testing the X1D II, we often chose to leave it in its sleep mode rather than turning it off completely - this will reduce your wait time for capture by about 4 seconds.
Again, shutter lag and blackout time has been reduced, but It's still there. Whatever the drive mode; single frame shooting, the improved 2.7FPS continuous shooting - blackout time immediately after image capture is an issue.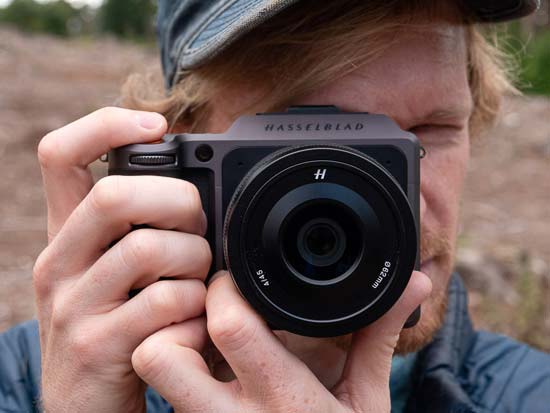 The Hasselblad X1D II 50C In-hand
Then there is focusing. We've used the X1D II with four different lenses (XCD 21mm f/4, XCD 45mm f/4 P, XCD 65mm f/2.8 and XCD 80mm f/1.9) and, while autofocus speed does vary a little with each of those lenses, it is slow in all cases.
AF is limited to single point, with the option to change the size of focus point between small, medium or large. With heavier lenses like the XCD 80mm f/1.9 lens - the AF motor seems to struggle under the weight more. You get a loud AF hunt that can range from the minimum focus distance to infinity, with a few wobbles back and forth before the contrast detection AF system acquires focus.
Both 21mm f/4 and 45mm f/4 P lenses provided a faster and quieter AF over the 65mm f/2.8 and 80mm f/1.9 lenses. There is an option to limit the AF scan range (distance), but this option did not appear to be available with the lenses we had.
We've used the X1D II in a variety of scenarios; portraits, landscapes, nighttime, a wedding, general action, and the auto focusing alone pigeonholes the camera to very particular uses. Within the context of a wedding, staged photos like group shots and static portraits were fine, but we gave up trying to capture any action.
Even with static subjects, you'll need close attention to detail to acquire a sharp focus where it matters most. For example, we have mainly stuck with the 'small' AF point size option, but even then the camera might focus on the eyelash in a portrait rather than the iris. We are working with a shallow depth of field after all.
If Hasselblad is to stick with point selection AF, it would be great to see a pinpoint AF option too, in order to gain a more critically accurate focus.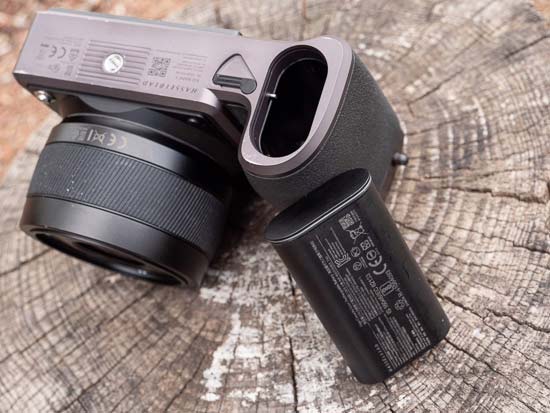 The Battery Compartment
What's handy is that the AF point can be selected by touch whether via the LCD display, or by swipe-to-select while using the EVF. The latter is slightly less responsive, but is still a legitimate option.
We were also disappointed by the handling of manual focus. Controls-wise, XCD lenses are simple things, all you have is the focus ring and it doesn't feel great in the hand. There's no focus clutch with distance markings, nor can you display focus distance on the LCD screen.
No, for manual focus, you're relying on your eye, on focus peaking, or most helpfully by focus magnification up to 100%. A recent X1D II firmware update introduced 2.7K video recording at 30fps, for which only manual focusing is possible.
The camera can be operated remotely through the Phocus Mobile apps, which is available for iOS only, meaning Android users are left out. Phocus Mobile is for iPhone, while Phocus Mobile 2 is for iPad. There is also a desktop app for both Mac and PC, offering tethered shooting and RAW image editing.
All in all, the Hasselblad X1D II 50C is a mixed bag in the hand. It's a better camera to look at and to hold than it is in use.