​Hasselblad X1D II 50C Review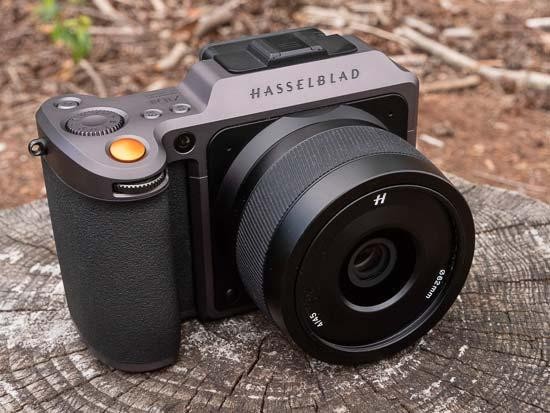 First Impressions
Some three years almost exactly since the announcement of its predecessor, a new compact digital medium format camera from Hasselblad has landed in the shape of the X1D II 50C. What has been tweaked this time essentially boils down to speed and performance. As its name suggests, the camera still has a 50 MP sensor at its heart, along with an OLED EVF and 3.6-inch touchscreen. With the Phocus Mobile 2 app unveiled alongside it allowing images to be shared to your iPhone, the idea is that with the Hasselblad X1D II 50C, we'll be able to "take the beauty of medium format anywhere." Compatibility is offered with its maker's state-of-the-art leaf shutter XCD lens family, for which we also have a new addition in the XCD 35-75mm f/3.5-4.5 zoom.
Perhaps even more surprising than both of these has been Hasselblad's in-tandem announcement of a new digital back in the CFV II 50C, which it tells us is due with us in the autumn of 2019. Unsurprisingly, then, we were only able to take photographs of a non-working sample at this stage, though we were able to raise/ tilt the backplate LCD display – a new feature, incidentally – in an indication of how the eventual model will handle. The manufacturer says the screen on the finished version will, as on the new X1D II 50C, offer pinch and expand touchscreen control.
From what we know so far, the rear display places visible controls for the essentials white balance, ISO, image-recording format and image playback at your fingertips. USB-C connectivity is also offered for the swifter downloading of files.
Hasselblad told us that "digital backs are not over" – with its new product cleverly allowing for cameras from the brand released as far back as 1957 to be 'made digital' and updated to the modern era. In effect, it's giving users the best of both worlds: classic Hasselblad models can be transformed into a 'new' medium format camera with a 50-megapixel resolution. The sample back we handled certainly felt well built, if a little plastic-y at this stage. As we've no definite release date save for the back end of this year, we've no confirmed word on pricing as yet, either.
But you don't even need an old Hasselblad to use the new back. The firm is marketing a new combo that pairs it with an ultra slim camera – in fact, its slimmest camera ever made – that sits between the digital back and its new XCD series lenses. This is being marketed as the 907X + CFV 50C II combination, which will make it one of the smallest and most portable medium format camera systems ever, allowing for handheld use. Additional optional accessories will include an optical viewfinder and grip, with Hasselblad saying that this is a 'complete system' with access to nine fantastic lenses. Unfortunately, at this stage it's one we weren't able to get hands on and play with.
What we do know for now is that suggested pricing for the X1D II 50c is £4,500, while the XCD 35-75mm lens is £4050.
After the products had been announced at the London launch, we sat down with Chris Cooze, Hasselblad's Technical Communications and Training Manager to go through them.
Hasselblad X1D 50C II First Impressions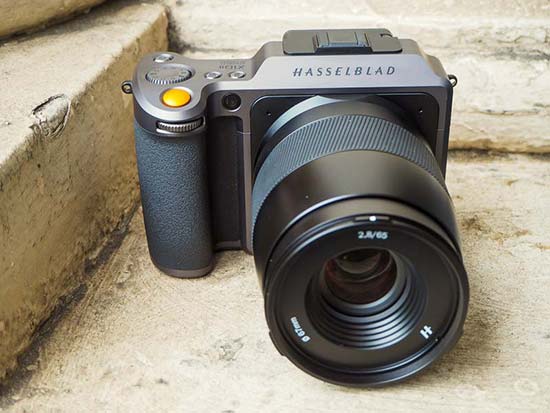 "Everybody was waiting for us to bring out the next generation of the X1D," Chris acknowledges. "Effectively we looked at what people loved about the original. Over the past two or three years the original camera has been out, we've already updated a lot of the features through Firmware, but there comes a point when you need to update the hardware. You'd probably agree that it was a superb camera but there were certain things users wished for – be they either higher resolution or a faster system. There are times when you've got to make that leap – and that's what we've done with the X1D II.
"We've updated the displays and we've updated the viewfinder – the majority of the big updates are in the system. It's a 60fps refresh rate now, so the image that you're looking at is that much sharper and stable. The colour accuracy of what you're seeing has also been improved, as well as things like the start up time, which is 46% faster. Making that improvement was partly based on feedback; users were saying that from off to usable was a little too long, so there needed to be an improvement. The whole point of the 'X' system is that it's a transportable, high quality camera. This would be an outdoor camera as opposed to one stuck on a studio stand. Obviously with the mirrorless design of the original system, what you see is what you get when you look through the viewfinder. That makes shooting with available light so much of a joy and a simple operation.
"By updating the bits and pieces people were asking for – chiefly the system response and our shooting speeds – anyone picking up the new camera should feel that it's more responsive in comparison with the old one; you can now shoot and review the images quicker. The main look and feel is pretty much the same, but we've done things with the high-resolution display like making the text easier to read. Plus, if we go into the drive menu, we've grouped things in here like your self timer and bracketing – everything that makes sense to be in a drive menu, whereas before they were in the standard menu or under 'favourites'. Now you've got space to select other things, while you've still got the pinch-to-zoom, swipe and double tap functionality.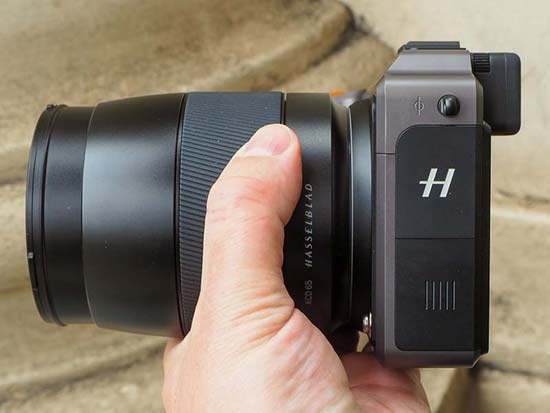 "Although there's a touch interface, you've also still got the wheels and buttons should you choose that style of interface. The fact that you can now touch the screen to select your focus point is another improvement over the older system of bringing up a grid. Plus you can pinch to zoom to physically change the size of the AF point. Before you had to press a button to access that and then select the size. Let's be honest, people these days are more than happy with that sort of touch screen interface. But again, if you wish to use the original system with the buttons and wheels, it's still there and you can still access it.
"I think the camera's intended audience is still the same as that of the original – so they'll be the travel and lifestyle photographers, because the camera's physical size and weight lends itself to being easily transported. With the more responsive system now, you might see it moving more into the portrait, fashion, wedding type use, because it's much quicker. Part of the feedback we received was that it would be very good if we could make the AF system response time quicker and the shutter lag reduced. So we've tweaked the system to deliver those improvements for those individual markets. So hopefully when people try the camera they'll go 'wow, this is much better'.
"There's always been that back up or second camera market for our professional users anyway. Thanks to the various adapters, you can affix the H system lenses, so if you've got a range of glass for that system you can use it on this. It's making use of your initial investment and getting value for money from your new camera."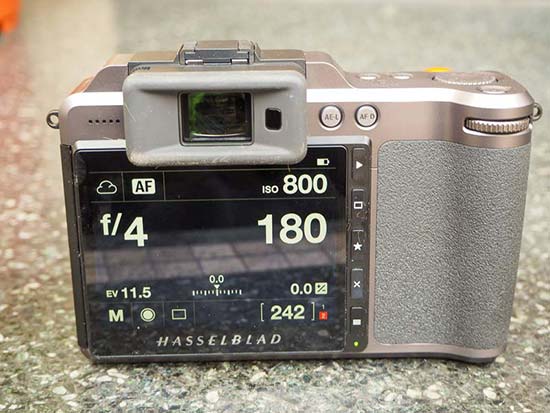 To sum up then, in terms of handling, the main selling points for the X1D II 50C when compared to the existing model include the fact that it's faster and more responsive, while the core design, sensor resolution and image quality has remained the same.
"So we've kept the bits that everybody agreed were good – the sensor, our colour processing algorithms – they'll all the same," Chris confirms. "The processing of the data is slightly faster and the shooting rate has improved – we've gone up from 2fps to 2.7fps and have a larger buffer so you can shoot longer before the buffer's full. We have also improved the card slots – they're now UHS II card slots, so you can use faster cards and larger cards if you can afford it. For example, you can put a 1TB SD card in there. Obviously the speed of the card will dictate how long you're able to shoot at faster speeds.
"All of these little things mean that the camera is incrementally better. Sure, you could say the EVF is better, the rear display is better, but it's that and the refresh rate that mean that it's much more capable of capturing the image you want to achieve. There's USB 3 connection now to an iPad, so you can shoot tethered and run Phocus Mobile 2 on there. You can capture, edit, export and share tethered through USB-C. "
As it sounds, Phocus Mobile 2 is the updated iOS-only app for wirelessly controlling your camera. "The latest iPads have a USB-C connector so we can connect the camera and shoot tethered. You can use your iPad as your storage and make the vast amount of the quick corrections you may want to do on that. You can export your files and have full Raw on there – we're not talking about a low res JPEG that you update later on, this is the actual Raw capture – which you can process and share with whoever you want.
Hasselblad XCD 35-75mm First Impressions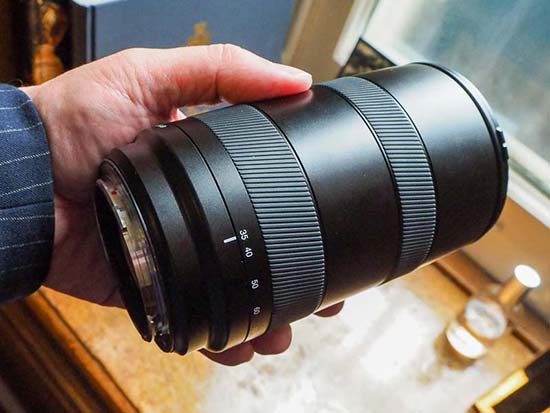 In terms of a hands-on look at Hasselblad's equally new new 35-75mm lens, this follows on from a lens roadmap revealed over a year ago. "We've released the primes, in a 65mm, 80mm and 135mm, but everybody's been asking for the zoom. That's taken a little longer because we wanted to make sure that the quality was spot on. It's now been launched and image quality, corner to corner, is pretty much as good as a prime. You'd have to be quite finickety to say it wasn't.
"Sure it would have been lovely to make it an f/2.8 all the way through but there has to be a decision made about the amount of glass you want to put in it and the price. We've gone for f/3.5-4.5 aperture, which, on a medium format system is still pretty good. We've tried to put this lens out at a price that is competitive for a high quality zoom lens, which replaces, effectively, three fixed focal lengths that you could buy within that range, while giving you a similar performance to those fixed focal lengths. If you want a super shallow depth of field you're going to plump and buy an 80mm, but if you're travelling and want a single lens to cover most of the focal lengths you are likely to use, then this zoom will achieve that."
Hasselblad CFV II 50C and 907X First Impressions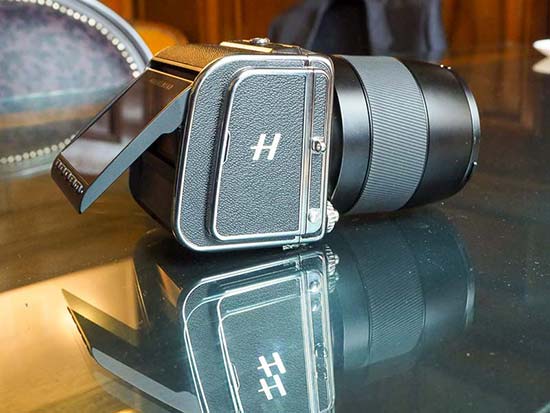 Moving onto the digital back and forthcoming super slim camera combination, Chris Cooze recalls the company has had various incarnations of the CFV over the years – the last being the CFV 50C, which had a 50 megapixel CMOS sensor, but still used Firewire and a CF card.
"We discontinued that model about two years ago, so this particular upgrade was to move all of the latest technology, including touch control, USB-C and SD card, onto that original digital back. Additionally, one of the big issues with the older versions was that the battery was externally mounted onto the back, so depending on which camera you were attaching it to, that could be a problem – as you might need an additional plate to move the battery out of the way. With the new model, the battery's a standard X system internal battery, so there's no issues with that and it will fit onto pretty much every camera from 1957 onwards – without any mucking about with cables. That's great for 'V' system users, but we wanted to develop something that would allow us to create a whole new camera system using the CFV and give purchasers a future route, if you like. So they can have the 907X, which is the super slim body, and then they can have access to XCD lenses. Or if they use our XH adapter, they can also have access to 'H' system lenses."
The market for this new CFV system is both existing Hasselblad owners and new converts to the brand: "We have a huge V system user base and the cameras continue to work year after year. So this gives those users the opportunity to update or go digital for the first time with their existing camera plus the CFV back. Alongside that a whole new group would see this 907X + CFV 50c II combination as a super small camera with a fantastic sensor.
'You've got auto focus, plus almost all of the functionality that you have with an X1D, in this camera. With the grip and the optical viewfinder you've got the option of using it waist level with the tilt screen. Everybody seems to like that Hasselblad waist level shooting style, so this is a way of giving people access to that style of shooting without them having to buy a V system. There's a whole new customer base out there."