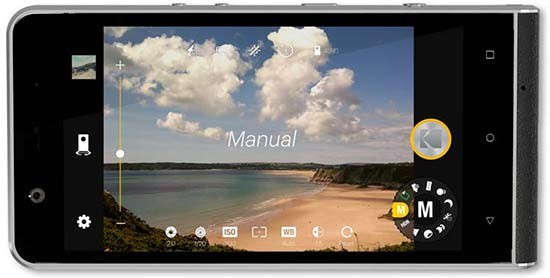 Introduction
The Kodak Ektra is the second ever smartphone from the famous US company. Designed to be a smartphone for keen photographers, the Kodak Ektra has a 21-megapixel 1/2.4in sensor rear-facing camera with an f/2.0 lens, 6-axis optical image stabilisation and Phase Detection Auto Focus (PDAF). There's also a 13-megapixel front-facing camera with an f/2.2 lens, a dedicated dual press shutter button, RAW file support, plus an Advanced Manual Mode that lets you adjust the key camera settings. The Ektra runs the Android 6.0 (Marshmallow) operating system, uses a Helio X20 2.3GHz Decacore processor with 3GB RAM and a 3000mAh battery with USB 3.0 Type C fast charger, and has 32GB memory that's expandable with MicroSD cards and a 5-inch Full HD display. The Kodak Ektra is priced at £369.99 / $399.99 unlocked and sim free.
Ease of Use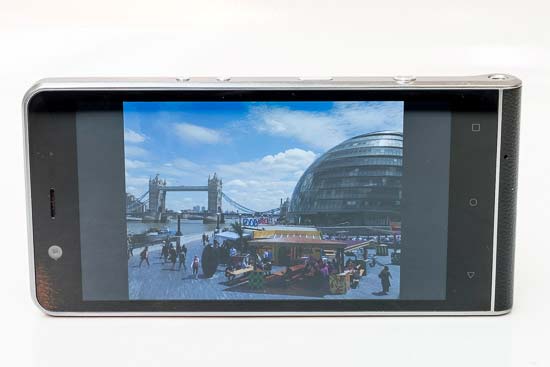 Front of the Kodak Ektra
The Bullitt Group, based in the UK, has licensed the use of the Kodak brand in production of its own smartphone: the Kodak Ektra Smartphone to be precise. This interesting development is said to take its name and inspiration from Eastman Kodak's rich history and its original 1941 issue Kodak Ektra camera – as well as the classic advertising slogan 'you press the button and we do the rest'. The Bullitt Group have worked very closely with Kodak to develop and market the Ektra, which clearly looks like a camera first and a smartphone second.
The Ektra has an appealing leatherette style finish and grip that mimics Kodak's Ektra film camera from the 1940s, and a very prominent glass lens housing that has a Kodak certified lens coating which enables more light to reach the sensor, helping to improve the image quality. The bottom of the chunky Kodak Ektra curves out, acting as a useful hand-grip for easier one-handed operation. We didn't like the all-plastic construction, though, or the poor battery life.
The Kodak Ektra has several key specifications to entice enthusiast photographers, including a 21 megapixel resolution camera with optical image stabilisation built-in, plus a 26.5mm lens with maximum f/2.0 aperture.  The lens also has an anti reflective coating. In addition, we get a 13-megapixel auto focus 'selfie' camera and 32GB of internal memory, expandable via optional MicroSD card, along with a 5-inch Full HD display. Connectivity is via USB 3.0 type C interface, whilst at the core of the camera/phone is a 2.3 GHZ Deca-core processor with 3GB of RAM. The internal rechargeable battery is non removable. The smartphone also has ArcSoft software pre-loaded, which its makers describe as 'intuitive'.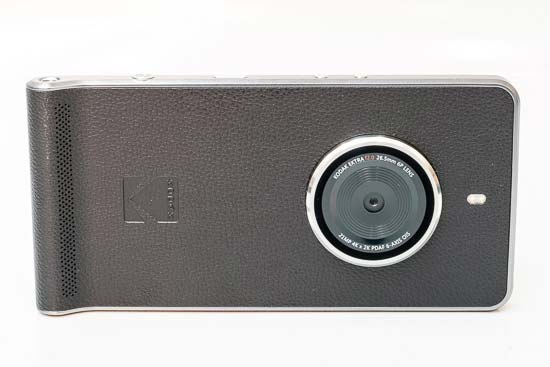 Rear of the Kodak Ektra
Whilst the all black finish denotes a certain seriousness, this intent is carried though to photographic-like features such as a two-stage press of its shutter release button being required to first focus and subsequently take a shot, thereby mirroring the feel of using a dedicated camera. In it's default state, shutter lag is very noticeable, causing lots of missed shots of moving subjects, but thankfully a recent firmware upgrade allows a faster-focusing mode to be toggled on and off.
Likewise familiar to photographers will be its on-screen scene selection dial and settings indicators, in tandem with the physical shutter release button as described above. Also featuring for those who like to get hands-on with their photography – after all, the very market the device is allegedly aimed at – there is a selectable night/low light mode, as well as a 'bokeh' mode to be found on the virtual scene selection dial. This is effectively a simulation of a shallow depth of field and we are told the camera takes two shots and stitches them together. A slider to one side of the screen then allows the user to adjust the level of blur. As well as the above modes, the camera features a sports mode and the ability for focus to automatically track a subject.
There are limited manual controls too in the Advanced Manual Mode. These include the ability to adjust shutter speed, ISO, focus, white balance, plus have some control over exposure. If this all gets too much for newbies and confusion ensues, we can simply reach for the 'reset' control provided, and there are also a number of scene modes too.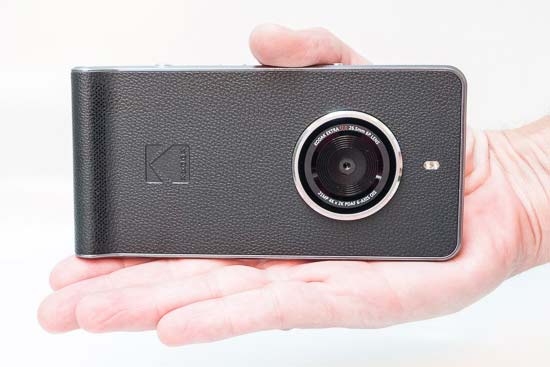 The Kodak Ektra In-hand
Seeking to provide the full photographic package, the Kodak Ektra smartphone features instant on-board image editing via the popular 'Snapseed' app which is integrated directly into the camera app. Also pre-loaded is a print application, enabling users to order prints directly from the device and have the resulting hard copies delivered to their door in a classic Kodak yellow envelope. Naturally said prints are promised to be printed on Kodak paper. There is also the option to order a photobook as well.
Other features naturally include video at 720P, 1080P and also 4K resolution, which is pretty much unheard of at this price point.  There is also a retro 'Super 8' style recording function that adds film-like glitches and muted colours to your moving footage, whilst a bunch of photo apps come pre-loaded with the phone, including 'Gallery Doctor'.
In terms of official accessories, these arrive in the shape of a genuine leather black and brown slipcase for a recommended £29.99 and a more deluxe camera case style pouch for around £65.