Panasonic Lumix DMC-CM1 Review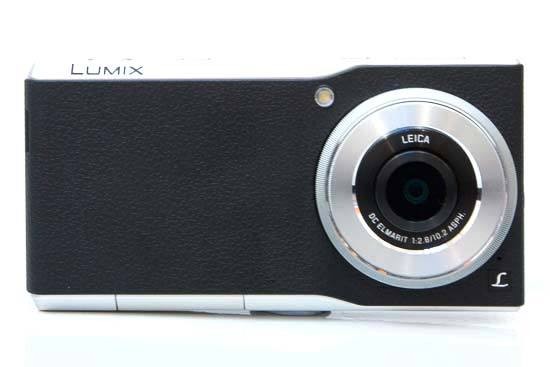 Introduction
The Panasonic Lumix DMC-CM1 is a 20 megapixel smartphone with a fixed 28mm f/2.8 Leica lens. Running Android 4.4.4 with Wi-Fi, NFC and 3G/4G connectivity, the Panasonic CM1 camera/smartphone features a large 1-inch MOS sensor and is capable of 4K video recording at 15fps, as well as Full HD recording at 30fps. The Lumix CM1 features a 4.7-inch Full-HD Touch screen with 6,220k dots, Venus image processing engine, manual lens control ring, full manual control over exposure, manual focus assist and focus peaking, both JPEG and RAW files, 16GB of internal memory and microSD card support. The Panasonic Lumix DMC-CM1 costs around £799 / $999 and is available in silver/black.
Ease of Use
The Panasonic Lumix DMC-CM1 is very much a device of two halves. From the front, it looks like a conventional compact camera, with Panasonic's Lumix camera name, a Leica-branded 28mm lens positioned over to the right, a textured leatherette finish, and a small porthole for the built-in LED flash. From the rear, it looks just like a regular smartphone, with a 4.7-inch screen and the familiar Android OS appearing when you turn it on.
With what feels like a higher proportion of plastic in the build than metal, the CM1's sleek and stylish exterior certainly looks the part, even if it doesn't actually feel quite so premium. There isn't a proper handgrip on its faceplate, just a leather-esque surface texture that helps a little when gripping the camera, which is a shame given the price, while the micro-USB and microSIM/microSD ports have flimsy covers.
The Panasonic CM1 boasts a 28mm fixed lens, which, as with most of the lenses on its extensive range of digital cameras, features the famous Leica name. Unlike some rival products, like the Samsung Galaxy K Zoom, and in order to keep the device relatively slim, the CM1 doesn't have a zoom lens and there's no optical image stabilisation system either. The wide-angle 28mm focal length is good for group shots of your friends and the inevitable selfie, as well as landscapes and cityscapes, and it also helps to keep the image quality high, but we did miss the versatility of a zoom lens. Note that the lens does extend out slightly when using the camera.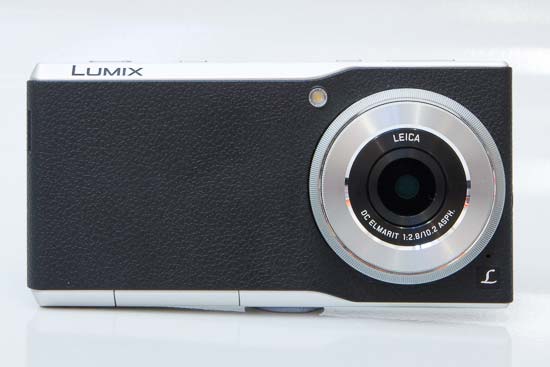 Front of the Panasonic Lumix DMC-CM1
The CM1 delivers a 20.2-megapixel effective resolution from a 1-inch CMOS sensor, which is physically about 7x larger than the sensor that you find in a standard smartphone and therefore promises much better image quality and greater depth of field. It's actually the same sensor that's found inside the FZ1000 super-zoom camera, which is testament to the emphasis that Panasonic are placing on the CM1 as a serious photographic tool.
Interestingly on this camera, the default still image ratio is 3:2, which gives us the full 20.2 effective megapixel image. If you want to opt for the 4:3 ratio usually provided as the standard on a digital camera, this results in a resolution squeeze down to 17.5 megapixels. There's also the very welcome ability to capture Raw files or Raw files and JPEGs in combination. Since the latter option barely affected writing speed in the slightest thanks to the speedy Venus Engine processor, we chose it as our own personal default setting for the Panasonic CM1.
Commendably the CM1 has a full range of shooting modes for both beginners and enthusiasts, from the usual fully automatic modes to the regular creative quartet of manual, shutter priority, aperture priority and program modes. Just like on a regular enthusiast's camera, you can set the aperture and shutter speed either a via horizontal slider that appears along the bottom of the screen, or ore intuitively using the physical control wheel that encircles the lens, plus the exposure compensation, ISO speed (ISO100 to ISO25600) and white balance too. It's a well-thought out system that's much easier to use than comparable devices. There's even two customisable settings for easy access to your favourite setups, and a Panorama mode.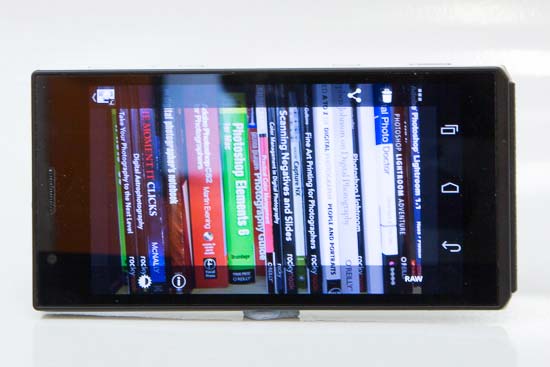 Rear of the Panasonic Lumix DMC-CM1
A palette-like icon indicates the extensive range of creative controls. These include our particular favourite of the saturation boosting 'Expressive' colour through the sepia tinted 'Retro' and the more white-ish if slightly clumsily named 'Old days', and include the more self explanatory High Key, Low Key, a slightly unnecessary 'Sepia' (given the previous Retro and Old Days options), Monochrome, more high contrast Dynamic Monochrome and grainy film-like Rough Monochrome, Silky Monochrome, the high dynamic range ape-ing 'Impressive Art', a separate High Dynamic setting, Cross Process, a vignetting Toy Effect, a more luridly saturated Toy Pop, Bleach Bypass, Miniature Effect, Soft Focus, 'Fantasy' – bathing everything in a light blue-ish wash (a it like we've left the camera on 'daylight' setting) – plus Star Filter, One Point Colour and Sunshine setting – the latter of which mimics a burst of sunshine intruding from the top of your frame, so enlivening rather dull shooting conditions with the haze of a summer's evening.
The final shooting option discovered with a further turn of the virtual mode dial is the scene settings, of which there are 22 here, including the likes of Silky Skin and 'Sweet Child's Face', Vivid Sunset Glow, Glistening Water, 'Cute Dessert' – from which it would appear obvious that this camera has originated in Japan (!) – and finally, a Monochrome option.
Shooting video is started by pressing the red video button, which starts recording according to the five settings that you've chosen in the Video menu. There isn't too much creative control on offer - you can choose a Photo Style, change the metering mode, and set the i.Dynamic and i.Resolution options. In terms of the video modes on offer, the CM1 can shoot 4K footage at 15fps, Full HD at 30fps, 720p at 30fps, VGA at 30fps, and 1:1 at 30fps. While its impressive that the CM1 can even recored 4K video, the 15fps frame rate lens it a rather staccato feel that won't be to everyone's liking, plus the camera takes a while to process the footage after you've finished recording, locking up the device.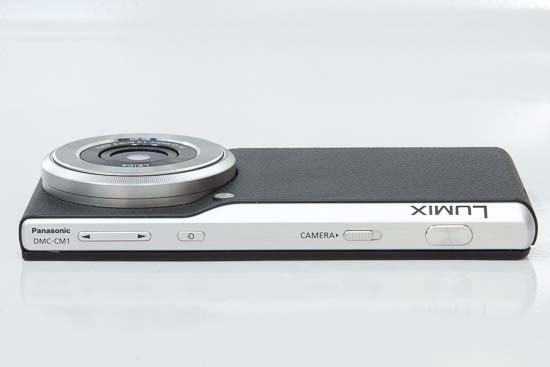 Top of the Panasonic Lumix DMC-CM1
Also in evidence is the usual Panasonic 'Quick Menu' bar. Selectable from this are 12 different settings, including the Photo Style settings, which here range from the default 'Standard' setting to Vivid, Natural, Mono(chrome), Scenery, Portrait, and Custom options, flash modes, which include forced flash, auto, always on and forced off, video record quality, image size and format, drive modes, metering, focus modes, Af modes, GPS, HDR and the various touch settings. All in all, the CM1's range of options is as extensive as you'd find on any comparable Panasonic camera.
On the back is an impressive 4.7-inch Full-HD Touch screen with 6,220k dots, and the CM1 runs the Android 4.4.4 KitKat operating system, rather than the latest Android 5.0 Lollipop variant. The Panasonic Lumix DMC-CM1 measures 135.4 [W] x 68.0 [H] x 21.1 (Body 15.2) [D] mm, which means that it can easily be stored inside a trouser pocket, and weighs a manageable 204g.
Located on the top-plate is a tiny power button. Hold this down for the first time and the Lumic DMC-CM1 springs into life, only taking around 1 second to turn on and display the Lock screen. Even better, there's a dedicated Camera switch which bypasses Android and goes straight to the camera app with even less delay - this is one of the best smartphone that we've tested for jumping in and out of the camera mode. As you'd expect from such a photography-centric device, the CM1 also boasts a dedicated shutter-release button, in addition to being able to take a picture by touching the rear screen.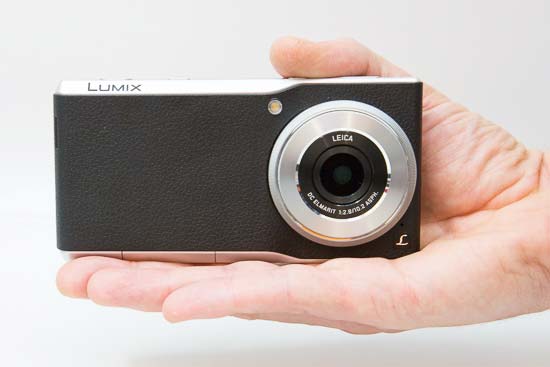 The Panasonic Lumix DMC-CM1 In-hand
A half-squeeze of the tactile shutter release button and a central highlighted AF point appears in green along with the customary confirmation 'bleep' that the user is free to go ahead and take the shot. Do so either by using the shutter release button or with a tap of the screen and in default single shot mode a full resolution, Fine (top) quality image is committed to either the built-in 16GB memory or an optional micro-SD card in one to two seconds, which is impressive.
Pressing the soft Home button fires up the Panasonic Lumix DMC-CM1's default Android screen, which displays the time and date, allows you to perform a Google Search, includes icons for the various Google Apps and Play Store, and two Panasonic icons for the camera and album apps. Having the ability to connect to a wi-fi network or cellular data if using as SIM card, then edit your images and video with Instagram or any one of hundreds of other Android apps, and then upload them to your favourite online network quickly becomes compulsive and makes the traditional process of downloading to a computer seem laborious and old-fashioned.
With the 4.7-inch screen swallowing up the entire backplate of the Panasonic Lumix DMC-CM1, there are very few other physical controls. There's a microSD card slot (up to 128Gb capacity), a recessed hoop for attaching a wriststrap, a headphone port, volume control buttons, and the aforementioned shutter release, camera and power on/off buttons. Note that there's no screw thread for a tripod, which is a shame. Also note that the battery can't be removed, so charging is most definitely done in-camera, although you can eke out a respectable 350 shots when using it as a camera.