Introduction
Ease of Use
Is the Leica Q2 the most over-specified/ over-qualified street, travel, and 'online influencer' targeted photography tool ever? Or, alternatively, is this well-made and well-featured camera the answer to many of our prayers?
Originally announced and reported on by Photography Blog back in March this year, at which point we were only able to provide a quick hands-on, the premium 47.3 megapixel, full frame Leica Q2 has finally landed on the PhotographyBlog test slab for a more detailed look.
Differences when compared to its 2015 predecessor in the plain old 'Q' include the fact that the Q2's magnesium construction body is now water and dust resistant for prolonged outdoor use, while Bluetooth connectivity has also been added to this second generation model.
A further change is the use of an SL series lithium battery in a Q model – the BP-SC14 to be exact – which has helped up the amount of images that can be captured before it gives up the ghost.
This count has risen from the paltry 270 shots of the original 'Q' to a more respectable 350-shot showing for the Q2. OK, so that's still no match for a professional DSLR that could otherwise be bought for a similar price to that asked here – but the audience for the Leica Q2 is going to be either looking for a smaller, back up camera to a DSLR, or a complete alternative to a DSLR anyway.

Rear of the Leica Q2
Hand-crafted in Germany and feeling built like the proverbial tank when held in the palm, without being at all cumbersome to operate or transport, inevitably the price tag reflects such precision engineering – reassuringly so to some, perhaps – at a manufacturer's suggested £4,250.
In fact the camera is portable enough to be able to use it for shoot-from-the-hip photography – its size meaning that it won't be as 'threatening' to passers by and subjects as a full-blown DSLR and lens would be.
That said, thanks to the fact that the optic is fixed here, it's still too big to slot into either a jacket or trouser pocket, so you might want to tape over the bright red Leica badge on the front if you're going for more of a 'stealth' shooting approach.
The look of the Leica Q2 is very much classic Leica, coupled with some modern minimalism. The top plate therefore presents a clean and straightforward layout, with a recessed command dial/thumbwheel, raised shutter speed dial and forward-placed shutter release button, encircled by an on/off power lever.
Flick the latter and the Q2 powers up nigh instantly – so those used to shooting on premium mirrorless models or DSLRs will feel at home immediately in terms of the camera's responsiveness.
As mentioned, at the front of the Leica Q2 we have a fixed, as opposed to removable, lens. The 28mm focal length provided is all encompassing and makes this Leica particularly suitable for landscape and travelogue photography, while a straightforward and clearly marked macro setting on the lens barrel allows subjects as close as 17cm to be captured, while otherwise minimum focusing distance is a regular 30cm.
This is coupled with a bright/fast f/1.7 aperture, to allow for lower light shooting hand held. Because the lens is quite wide the user is naturally prompted to get quite close to their subjects if they want them to fill the frame, or the majority of it, to really make the most of the 'bokeh' opportunities offered by that maximum aperture.
On portraits we do get a slightly barreling effect on facial features therefore, though it's hardly ugly. Incidentally, the manually selectable aperture range extends from f/1.7 up to f/16 with an automatic setting provided too.

Top of the Leica Q2
There is no built-in flash provided with this camera, although there is a provided hotshoe for the addition of flash, should that be required. Leica has additionally provided a screw-on/screw off lens hood, should you wish to use it as an additional aid to preventing lens flare, or avoid unwanted artefacts in brighter conditions.
Incidentally, the lens and aperture provided here is the same as that of the 2015 'Q' – Leica hasn't chosen to throw the baby out of the bathwater and has retained what it says proved popular with regard to the original.
What has been beefed up is the camera's AF response, with a speed of 0.15 seconds being pitched as 'super fast' by the manufacturer. Peace of mind is provided, if you don't quite trust what you are seeing, by a cross hair visible through the camera's eye level electronic viewfinder, or touch screen LCD below. This flashes in green upon auto focus being achieved, though is inevitably harder to see on the back screen in brighter conditions.
Leica may be pitching this as a full frame digital camera that's easy to use. However newcomers will require a period of familiarity, largely because this is a camera that rewards getting hands on, rather than just pointing and shooting. A case in point is the lens rings that control many of the camera's key settings, enabling precise adjustments on the fly.
Unsurprisingly the Leica Q2's focus can be controlled via said rings, though the means of switching between AF and MF is quite subtle and initially well hidden.
In fact switching to manual focus occurs via a fingernail press of the so tiny you'll miss it lever on the lens itself, that in turn allows the lens ring to move (it's 'stuck' in place in auto mode) and manual distance markings on said barrel to be selected – whereby the camera provides the user with an enlarged portion of the subject on-screen, allowing focus to be more critically determined.
Go on and squeeze the shutter release button and you'll be prompted to double check the image has actually been taken, as the shutter release on the Leica Q2 is so quiet you're not alerted to the fact that the picture is taken.

The Leica Q2 In-hand
While there's not much, if anything, by way of a grip provided on this camera, it doesn't feel like it will slip readily from your right hand. That's due both to the solid feeling weight of the unit itself and the fact that there is a smooth indentation on the back plate for your thumb to rest in.
Coupled with this, the slightly roughened front plate design provides a degree of purchase for your forefingers and similarly prevents them from slipping around when you're shooting with the Q2. There was also a shoulder strap and carry case provided with our review sample, though we understand those are optional extras.
As we'd expect, when shooting on the Q2, images can be composed and reviewed via a choice of either the camera's EVF or backplate LCD, the latter of which provides a degree of touch screen control. The EVF has a push in/pop out diopter adjustment wheel for use by those who are perhaps using the camera's EVF when wearing spectacles.
With a supplied resolution of a whopping 3.68 million dots, when using the EVF it's very easy to forget we're not actually using the optical alternative, so realistic is the image presented to our pupil. The alternative of the LCD is a standard 3-inches in size and offers a lower 1.04 million-dot resolution.
On this camera you can shoot in JPEG format or Leica DNG – aka Leica's own Raw files, that usefully can be opened in any regular image editor or image preview program. As one would expect, these can be either captured separately or – as we were shooting in the main – in tandem, with little if any noticeable slowdown.
Aside from stills, video resolution goes all the way up to 4K here, though there is not a dedicated video activation or record button provided on the camera that readily indicates how to access this mode.
After a longer period of feeling our way around than we would have liked, we realised that hitting the unmarked central button in the midst of the four-way control pad on the camera back helpfully allowed us to move between stills and video capture instantly, as well as calling up a live histogram on-screen if so desired.

Front of the Leica Q2
It won't be surprising to learn that the Leica Q2 may not be the most intuitive to camera to use from the off, but you quickly get used to its quirks. For example, a flick of the lever next to the battery compartment on the camera's baseplate and the lithium ion rechargeable battery pops out – but not all the way.
Without a hard copy manual provided with our review sample, we first tried pinching this between forefinger and thumb to extract it fully, before realising that a fairly subtle additional press with the thumb, or finger, will release it fully. We say a 'subtle' press is required, because alternatively a slightly harder press will simply push the battery fully back into place, and then we're back to square one again.
Thankfully Leica has provided a standalone mains charger out of the box. That's just as well, as the Q2's sleekly minimalist design has extended to the fact that there are no ports for USB or HDMI connectivity provided on the camera's flanks, as we'd normally expect on any other digital camera. Back at the base of the unit, there is however a slide-open cover protecting a single SD card slot.
So that's how this solid feel camera handles – what about the images it delivers? Are they the gold standard for digital cameras, thereby making the Leica Q2 worth its premium price tag? Read on to find out...
Image Quality
All of the sample images in this review were taken using the 47 megapixel JPEG setting, which gives an average image size of around 17Mb.
You can shoot with the Leica Q2 in full auto until you feel more confident about starting to experiment with manual and user settings yourself. We enjoyed the ability to be able to switch to macro mode with a brief twist of the lens barrel should the subject and opportunity present itself – though it should be noted that if you choose the maximum f/1.7 aperture in conjunction with macro you get a really – and we mean really – narrow depth of field, with only a teeny portion of the image sharply in focus, with the result that some care is needed to ensure that the small portion of the image you actually want in focus is the correct portion.
The resolution on the Leica Q2 is so high, and the lens quality seemingly so good and sharp, that if you are to take portraits with the Q2 they can be fairly unforgiving, picking up every stray hair and facial blemish you'd care to imagine. Of course if it's literally 'warts and all' reportage is what you're after then that's fine. We enjoyed trying out the Film Style options provided in the menus here – Standard (our default fall back), Vivide, Natural, Monochrome and Monochrome HC (High Contrast). The latter gives an attractive bit of visual 'bite' to black and white images.
People often talk about Leica images having their own look and feel, and between the creamy-ness of the 'bokeh' and the high resolution this combination of lens and sensor delivers, they certainly stand out. At the London launch of this camera back in the spring, its manufacturer mentioned that the Q2 might be an option for influencers wanting their Instagram shots to stand out from the crowd. That's perhaps true – although how many influencers would spend the price of a decent second hand car on a camera to achieve that is open to question, certainly.
In terms of low light photography the Leica Q2 is pretty good. With Auto ISO an option (choosing from ISO200 to ISO50000), the manually selectable light sensitivity range extends from ISO50 to ISO50000, which, given that we have a maximum f/1.7 aperture to also play with, is very pleasing indeed. It was only really at the top ISO25000 and ISO50000 settings the images were starting to fall apart for us.
Noise
There are 10 ISO settings available on the Leica Q2. Here are some 100% crops which show the noise levels for each ISO setting:
| | |
| --- | --- |
| JPEG | RAW |
| ISO 50 (100% Crop) | ISO 50 (100% Crop) |
| | |
| | |
| ISO 100 (100% Crop) | ISO 100 (100% Crop) |
| | |
| | |
| ISO 200 (100% Crop) | ISO 200 (100% Crop) |
| | |
| ISO 400 (100% Crop) | ISO 400 (100% Crop) |
| | |
| ISO 800 (100% Crop) | ISO 800 (100% Crop) |
| | |
| ISO 1600 (100% Crop) | ISO 1600 (100% Crop) |
| | |
| ISO 3200 (100% Crop) | ISO 3200 (100% Crop) |
| | |
| | |
| ISO 6400 (100% Crop) | ISO 6400 (100% Crop) |
| | |
| | |
| ISO 12500 (100% Crop) | ISO 12500 (100% Crop) |
| | |
| | |
| ISO 25000 (100% Crop) | ISO 25000 (100% Crop) |
| | |
| | |
| ISO 50000 (100% Crop) | ISO 50000 (100% Crop) |
| | |
Focal Range
The Leica Q2's lens provides a focal length of 28mm in 35mm terms, as demonstrated below.
28mm

Macro
The Leica Q2 offers a Macro setting that allows you to focus on a subject that is 17cms away from the camera.
Macro

Night
The Leica Q2's maximum shutter speed is 60 seconds in the Manual mode, which is great news if you're seriously interested in night photography.
Night

Sample Images
This is a selection of sample images from the Leica Q2 camera, which were all taken using the 47 megapixel Superfine JPEG setting. The thumbnails below link to the full-sized versions, which have not been altered in any way.
Sample RAW Images
The Leica Q2 enables users to capture RAW and JPEG format files. We've provided some Leica RAW (DNG) samples for you to download (thumbnail images shown below are not 100% representative).
Sample Movies & Video
Product Images

















Conclusion
As you'd expect for the outlay and the fact that this is a luxury item for many photographers, partly through virtue of being put together by hand in Germany, the build quality of the Leica Q2 is excellent. It feels very solid and definitely 'premium' when gripped in the palm, so there's that added peace of mind for your £4,250 spend.
With a fixed 28mm lens and maximum f/1.7 aperture, this is a camera for anyone and everyone. Add in the ability to shoot up to Cinema 4K video at 24fps, or regular 4K at up to 30fps and you have a versatile jack of all trades – we'd go so far as saying this is possibly the only digital camera you might need to own, unless you feel a zoom would come in handy, occasionally, that is.
The quality achievable by the lens and resolution on offer is occasionally eye popping – you can zoom right into images and bags of detail continuously jump out at you. Yes, not everyone will need the Leica Q2's degree of pin-sharp resolution, or will want to cough up the asking price, but there are enough evangelists for the brand around for that not to be an issue or concern for its manufacturer.
If you're considering buying a Leica, you're probably already 80% of the way there towards making a purchase and the Q2 is still probably one of the most accessible options out there if you're wedded to the brand.
Ratings (out of 5)
Design
4
Features
4
Ease-of-use
4
Image quality
4
Value for money
3.5
Main Rivals
Listed below are some of the rivals of the Leica Q2.
Review Roundup
Reviews of the Leica Q2 from around the web.
Specifications
News
The Leica Q2 is a new 47 megapixel full-frame mirrorless compact camera with a 28mm f/1.7 fixed lens, 4K vieo recording, improved battery life, weatherproofing, 20fps burst shooting, Bluetooth connectivity and OLED viewfinder.
The Leica Q2 is on sale from today priced at £4250 / $4,995.

Leica UK Press Release
Meet the Leica Q2: The new generation of the fixed-lens favourite
Wetzlar, 7th March 2019. The cult-favourite Leica Q from Leica Camera has a new addition: the highly anticipated Leica Q2. The new model brings its predecessor into the next generation of compact cameras, setting the benchmark in its field with a 47.3 MP full-frame sensor that delivers 95% more resolution than the previous model, the fastest lens in its class, and a precise and rapid autofocus. The classic, timeless design of the Leica Q, however, remains unadulterated for fans of its iconic look. Retaining its authenticity as the perfect travel companion, the camera is now defended from any weather condition with a dust and water seal. The Leica Q2 is bound to exceed expectations.
The Leica Q2 sets the benchmark for all other full frame compact mirrorless cameras on the market. The new and improved camera is not only perfect for travel photography but in all areas of street, architectural, landscape, and portrait photography too. Its impressive, newly developed 47.3 megapixel full-frame sensor captures both exceptionally detailed photographs and newly added 4K video. Together with its improved battery life and fixed Leica Summilux 28 mm f/1.7 ASPH. lens, the Leica Q2 delivers exceptional images even in difficult lighting situations.
Both the Leica FOTOS App and the camera's integrated Wi-Fi mean that sharing your pictures and video to social media is quick and easy. The app can also be used to change the camera's settings from your smartphone, or even to take a picture remotely. And thanks to Bluetooth LE (Low Energy), the camera and paired smartphone stay permanently connected.
The design of the Leica Q embodies the Leica ethos of 'reduction to the essentials' and the 'Made in Germany' seal of quality guarantees that only the finest and most resilient materials are used in its construction. The distinctive thumb rest of the new Leica Q2 and the sophisticated diamond pattern of its leather trim offers optimum grip and aesthetic design; form and function. In contrast to the Leica Q, and following the design language established by the Leica M10, the new shutter release button of the Q2 solely controls the camera's On/Off setting, giving users a confident feel and satisfying haptic feedback.
A comprehensive range of optional accessories are available for the Leica Q2 including beautifully crafted, black or brown leather protectors and carrying straps (also available in red and pink for those wanting to add a pop of colour to their Leica). Also launching today, the new and elegant 'Ettas' line of soft-coated canvas pouches are available in midnight blue, stone grey and red, with other colour variations to follow. All accessories are functionally designed for easy handling and are manufactured from only the finest materials to ensure reliability and a lifetime of use.
The Leica Q2 is on sale from today at the Leica Store Mayfair, Leica Store City and at authorised Leica dealers. RRP of £4,250 including V.A.T.
Further technical notes:
The Leica Q2's integrated digital zoom function has been extended to 75 mm, giving users even more flexibility in their image composition. And in addition to the uncropped 28 mm focal length of the fixed camera lens, a crop factor can be selected to simulate images created with 35, 50 or 75 mm lenses (the selected crop is displayed as a bright-line frame in the viewfinder and on the rear display panel so it can easily be identified by the user). The Leica Q2 also features a newly developed, high-resolution OLED viewfinder to greatly improve image depth and contrast, which is activated as soon as the camera is brought up to the eye and shows the subject reliably and without any delay.
The autofocus of the Leica Q2 focuses rapidly on the subject in less than 0.15 seconds, making it one of the fastest cameras in its field. Ongoing improvements to the processor from the Maestro II family have enabled a higher sequential shooting rate; with an impressive 10 frames per second at the full resolution of 47.3 MP, you'll never miss that crucial moment. Brilliant, true-to-life video recordings can be made with 3840 x 2160 pixels and frame rates of 30 or 24 fps or, alternatively, in the familiar full HD format with 120, 60, 30 or 24 frames per second.
Additional features to the camera include a practical locking element to select either manual or automatic focusing. The photographer can also simply switch into macro mode, with a close focus distance of 17 cm, via the lens, giving the user quick and reliable solutions to aid creativity and functionality. A redesigned push-button dioptre setting dial on the back of the camera prevents inadvertent shifting of the compensation value.
Leica USA Press Release
Leica Q2: The Highly Anticipated Sequel to a Modern Milestone from Leica Camera
Achieve unparalleled photographic results in the most accessible way with Leica's latest innovation
March 7, 2019 – Leica Camera raises the bar with the introduction of the Leica Q2 camera. Keeping consumer feedback top of mind following the immensely successful Leica Q, the Leica Q2 offers photographers expanded creative freedom via unprecedented imaging quality, added weather protection, an upgraded viewfinder, supremely precise autofocus and more. The Leica Q2 is the quintessential tool for available light photography, rain or shine, that promises to carry the torch of its predecessor forward to new heights and possibilities without making sacrifices.
Superior Imaging Quality Meets Unmatched Versatility
As with any Leica Camera, exceptional image quality reigns supreme, allowing photographers to consistently capture show-stopping imagery. The new Leica Q2's full frame sensor is the highest resolution sensor in its class at 47.3 megapixels, offering users more resolution than the original Leica Q, and captures both impeccably detailed still pictures and 4K video. Together with its Leica Summilux 28 mm f/1.7 ASPH. lens, the Q2 ensures all-around exceptional imaging performance. This top-tier Leica optic guarantees optimum picture quality with exquisite bokeh characteristics in even the most difficult lighting scenarios.
With its high resolving power matched to its high-resolution sensor, the Leica Q2 goes beyond the conventional use cases of a 28 mm focal length via its built-in crop functions for equivalent focal lengths of 35 mm, 50 mm, and the newly available 75 mm – bringing with it more possibilities in the world of portraiture and close-up work. Thanks to the software design ingenuity of Leica engineers, when shooting cropped DNG files the full sensor image is still recorded, allowing photographers to undo or change the crop after the fact.
The Leica Q2 also adds 4K UHD and Cine4K video recording to its arsenal of features, with myriad frame rate options across 4K and 1080p, giving users impressive video recording from such a large sensor on the go to document memories or record short films.
Exceptional Quality and User Handling
The design of the Leica Q2 carries forward the Leica tradition of reduction to the essentials. The 'Made in Germany' seal of quality guarantees that only the finest and most resilient materials are employed in its construction. The distinctive thumb rest of the new Leica Q2 and the sophisticated diamond pattern of its leather trim ensure optimum grip and highlight the symbiosis of function and form.
Also new is the camera's uniquely intuitive handling concept, following refined design language cues established from its brethren in the Leica M10 and Leica CL families – such as the single-stage On/Off switch, simplified three-button interface on the rear of the camera and programmable button within the thumb wheel dial. A new highlight of the Leica Q2 layout is the push-button diopter compensation dial on the back of the camera that locks and prevents accidental changes to the user's desired setting. Every refinement, both large and small, pushes Leica's design forward without losing sight of the core philosophy of the camera.
Following in-tune with impeccably intuitive user handling, in combination with the Leica FOTOS App, the camera's integrated Wi-Fi module makes it possible to quickly and easily share pictures and video via social media. Bluetooth LE (Low Energy) enables a permanent connection to be established between camera and smartphone, making it possible for user to remotely wake the camera and connect any time when in range.
Make It Your Own With Accessories
A comprehensive and stylish range of optional accessories is also available for the Leica Q2. These include matching camera protector cases and carrying straps in premium-quality classic black and brown leather, and more vibrant versions in red and pink. The elegant new 'Ettas' line of soft, coated canvas pouches for various Leica camera models will also be launched at the same time as the Leica Q2. The pouches will initially be available in midnight blue, stone gray and red colorways, with more still to come. The accessory selection also includes technical equipment for the Leica Q2 such as the Leica SF 40, SF 60 flash units, the SF C1 remote flash control unit and an additional add-on thumb rest and handgrip. All accessories are functionally designed for easy handling, perfectly matching the quality and design of the camera and are manufactured from only the finest materials to ensure reliability for a lifetime of use.
An exhibition of Leica Q2 photography is on view at the Elga Wimmer Gallery in New York City for a limited engagement of 24-hours on March 7th featuring the works of Hiram Garcia, President of Production of Seven Bucks Production and film/television producer. The series, titled 'Behind the Seen', is a diverse collection of images that strive to highlight the beauty and intrigue of the movie industry and marks Garcia's debut photographic gallery exhibition. Garcia's 'Behind the Seen' is the first and only exhibition worldwide shot exclusively on the new Leica Q2 camera.
"'Behind the Seen' is a diverse collection of images that showcase a slice of my production life through a short period of time. I curated imagery from the work on-set of my current project as well as included glimpses into the other aspects of where my career spills over. Whether it be promotional stunts for projects currently in theaters or something as simple as rehearsing for upcoming scenes, I wanted to showcase the beauty and intrigue I see within the industry I work in. This is a brief snapshot of what I SEE on a daily basis," said Garcia.
The Leica Q2 is on sale beginning today at Leica Stores, Boutiques and Dealers. The camera will be sold in black paint finish for $4,995.
Technical Data Leica Q2
Camera type: 35 mm digital compact camera, fixed prime lens
Format / aspect ratio: 24 x 36 mm / 3:2
Lens: Leica Summilux 28 mm f/1.7 ASPH., 11 elements in 9 groups, 3 aspherical elements
Digital zoom: 28 mm, 35 mm, 50 mm, 75 mm
Image stabilization: Optical shake compensation system for still picture and video exposures
Aperture range: 1.7 to 16 in 1⁄3 EV increments
Image sensor/resolution: Full frame CMOS sensor, 50.4/47.3 million pixels (total/effective)
Dynamic range: 13 stops
Color depth: 14-bit
Photo file formats: Selectable: DNG, DNG + JPEG, JPEG.
DNG/JPEG resolution:
Video recording formats: MP4 (C4K/4K/Full HD)
Video resolution/frame rate:4K: 30 or 24 fps. C4K: 24 fps. Full HD 24, 30, 60 or 120 fps
Audio recording format: AAC
Microphone: Stereo
Speaker: Mono
Storage media: SD/SDHC/SDXC memory cards Recommended: UHS II memory cards
ISO settings: Automatic, ISO 50, ISO 100, ISO 200, ISO 400, ISO 800, ISO 1600, ISO 3200, ISO 6400, ISO 12500, ISO 25000, ISO 50000
White balance: Automatic, presets for: daylight, cloudy, shade, incandescent, electronic flash, grey card, manual colour temperature selection
Color spaces: sRGB / Adobe RGB / ECI RGB V.2.0
JPG settings: Standard, vivid, natural, monochrome, high-contrast monochrome, all with further settings for contrast, saturation and sharpness in 5 steps
Focusing
Working range: 30 cm to ∞, close focus distance 17 cm in macro mode
Settings: Automatic (autofocus) or manual focusing. Loupe function and edge highlighting (focus peaking) in four colors available as focusing aids in manual focusing mode.
Autofocus modes: AFS (shutter release only after successful focusing), AFC (shutter release possible at any time), AF setting can be saved.
Autofocus metering modes: Single field (moveable metering point), multi-field (49 fields), face recognition, subject tracking, optional setting/shutter release by touching the monitor screen.
Exposure modes: Program AE, aperture priority, shutter speed priority and manual setting
Scene modes: Automatic, sport, portrait, landscape, night portrait, snow/beach, fireworks, candlelight, sunset, digiscoping, miniature effect, panorama and HDR
Exposure metering modes: Multi-segment, center-weighted, spot
Exposure compensation: ± 3 EV in 1/3-EV increments
Automatic exposure bracketing: 3 or 5 exposures in steps of up to 3 EV, can be set in 1⁄3 EV increments
Shutter type: Choice of mechanical, electronic or hybrid
Shutter speeds: 60 s to 1⁄2000 s with mechanical shutter, 1 s to 1⁄40000 s with electronic shutter, in 1/3 increments,
Flash synchronization up to 1⁄500 s, linear flash with all shutter speeds faster than 1⁄500 s
(with HSS-capable SCA 3002 flash units).
Continuous shooting: Choice of 10/5/3 fps (H/M/L)
Self-timer delay: 2 or 12 seconds
OLED viewfinder: Resolution: 1280 x 960 pixels x 3 colors (= 3.68 megapixels). Viewfinder image: approx. 100%, aspect ratio: 4:3, eye-relief: 21 mm. Adjustable between -4 and +3 dioptres, with eye-sensor for switching between viewfinder and monitor screen
Monitor screen: 3" TFT LCD monitor screen with approx. 1,040,000 image dots, touch control capability
WLAN: IEEE 802.11b/g/n compliant (standard WLAN protocol), channels 1-11, encryption method: WLAN-compatible WPA™/WPA2™ encryption; access mode: infrastructure mode
Bluetooth: Bluetooth LE
Power supply: Leica BP-SCL4 lithium-ion battery, rated voltage: 7.2V, capacity: 1860 mAh
Charger: Rated voltage 8.4 V; capacity at least 1860 mAh (according to CIPA standard): ca. 400 exposures; charging time: approx. 180 min.; battery charger: 100–240 V, 50/60 Hz, 0.25 A, with adapters
Exposures per battery charge: Approx. 370
Body: Robust, lightweight magnesium alloy construction
Lens filter thread: E49
Tripod bush: A 1/4 DIN 4503 (1/4" thread).
Dimensions (W x H x D): 130 mm x 80 mm x 91.9 mm
Weight: 718 g / 637 g (with / without battery)
Package includes: Camera, carrying strap, lens hood, lens cap, accessory shoe cover, battery charger, mains power cable (EU, US, local power cable), USB cable.
Software: Leica FOTOS App
Image Gallery
Click on a thumbnail to see the full version.
First Impressions
The Leica Q2 is a new full-frame compact camera with a fixed 28mm F1.7 lens.
We were shown a full production version of the Q2 by Leica ahead of yesterday's launch. We've shot sample JPEG and RAW images with the camera and got some hands-on time with the Leica Q2.
So read on for our first impressions of the new Leica Q2, which is being billed as the ultimate compact camera...
Apart from appealing to those able to justify parting with the £4,250 currently asked on launch, its manufacturer sees the audience for the Leica Q2 being composed of those wanting a great travel camera option, professional photographers looking for a second camera or back up, plus online 'influencers' looking to create imagery that looks a little different to that otherwise achievable via their smartphones.
We got to take the camera on a quick pre-embargo tour of the street outside Leica's newest Duke Street store in London and quickly realised that it makes for an excellent street photography camera too; not big enough to be threatening to passers by, and small enough to be able snap said passers by unawares.
As with the original Q, Leica's focus this time around has, it says, been on the essentials of simplicity of design combined with knock out image quality. It will be hoping it has got the Q2 right, as Leica told us at its London unveiling that the original 'Q' has been one of its most successful cameras ever. As usual with Leica, it's been hand crafted in Germany and the pitch this time is that with the Q2 its maker has got that little bit closer to perfection.
28mm F1.7 Lens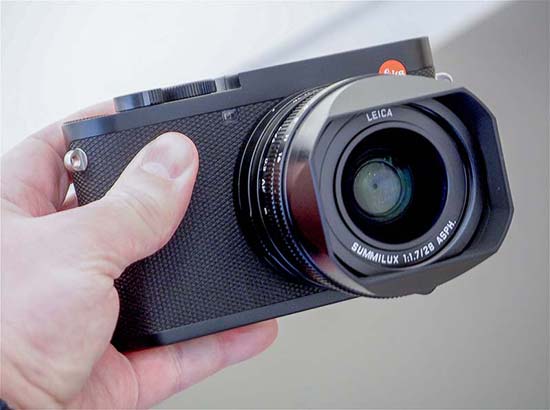 The Leica Q2 camera is nigh instantly powered up by flicking the lever that encircles the raised shutter release button on the camera's top plate. Exactly like the earlier Q, the Q2 'sequel' offers its users a fixed 28mm focal length and a bright/fast f/1.7 maximum aperture for delivering those subtly defocused background effects. Said fixed focal length is designed to make the camera easy to use – as well as, obviously, providing users with a wide enough angle for them to be able to squeeze most subjects into their frame without having to physically take a step back.
Fast Auto-focusing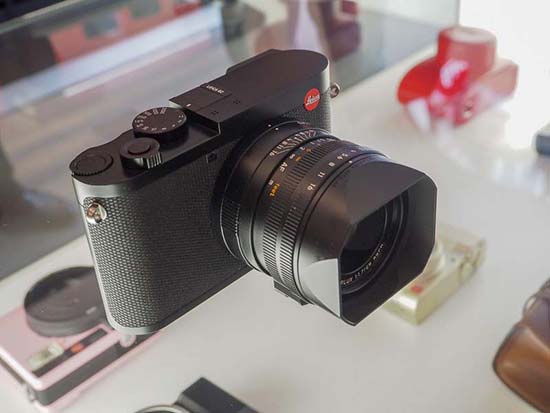 Should you want to step forward to take a close up, however, a macro setting is provided on the lens barrel (it's clearly marked 'Macro') which provides focusing up to 17cm from your subject (otherwise minimum focusing distance is a standard 30cm). Providing peace of mind if you don't quite trust your own eyes is a cross hair visible through the camera's electronic viewfinder – or larger touch screen monitor below – which is illuminated in green when focus has been achieved, if in AF mode. Leica has described its Q2's auto focus response as 'super fast' – and quotes a speed of 0.15 seconds.
The fact that many of its key settings of the Leica Q2 are controlled by a twist of one of several lens rings makes you feel like you are truly getting hands on with this camera – even when you're just shooting on auto. Leica may pitch this camera as an easy to use full frame option, but, partly because of the above, complete newcomers will still need a period of familiarity before its use becomes second nature.
If switching to manual focus with a twist of the lens ring, the camera automatically provides an enlarged portion of the image on-screen, so you can adjust focus accurately in real time and achieve that pin-sharp sweet spot just where you want it. Exposure compensation settings are shown at the bottom of the LCD screen, whereupon we get the standard +/- 3EV in 1/3 EV increments.
Improved Ergonomics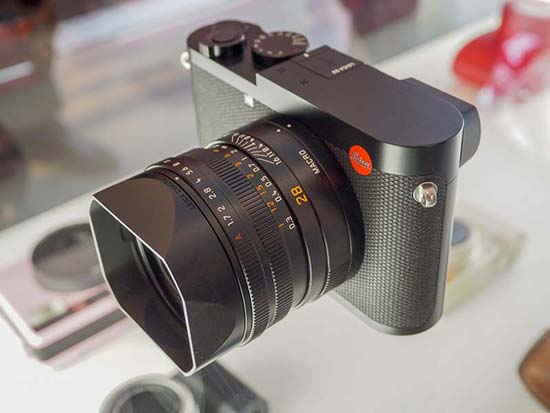 Although outwardly the full frame Leica Q2 certainly looks very similar to the earlier Q, there are subtle differences as regards the newer iteration when it comes to ergonomics; for example there is a subtle indentation for the thumb on the backplate to make for a more comfortable hold. There's also a roughened diamond-patterned surface to the front of the camera to make for a firmer grip. The camera certainly possesses the 'heft' in the hand we'd expect of a Leica, with a reassuringly robust and solid feel… yet being prohibitively weighty that is. Official specification suggests it weighs 718g with battery loaded, which is certainly manageable for most.
Sleek Design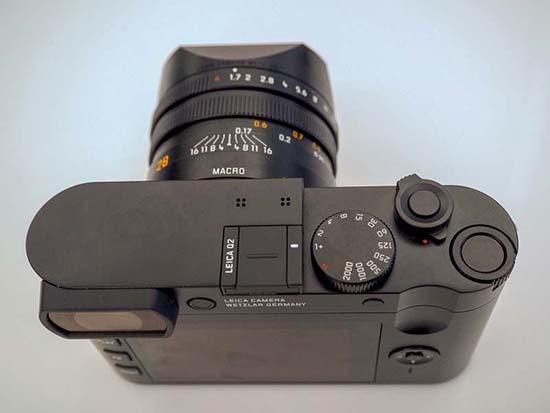 The Leica Q2's overall minimalist sleekness is also maintained by the fact that the dioptric adjustment control located near the eye level viewfinder is of the pop-out, push-in variety. It's the same as regards the battery compartment at the camera's base; you flick a lever to loosen the battery from the camera's shell and then push it in to enable it to pop out far enough for it to be retrieved, if so desired. The latch covering the SD card slot at the camera base is of the slide and flip-up variety, which cleverly allows fingertips to get closer to the card edge and pop it out. Leica recommends using UHS II standard SD cards with the camera, partly due to the large files sizes that full frame sensor inevitably delivers.
Electronic Viewfinder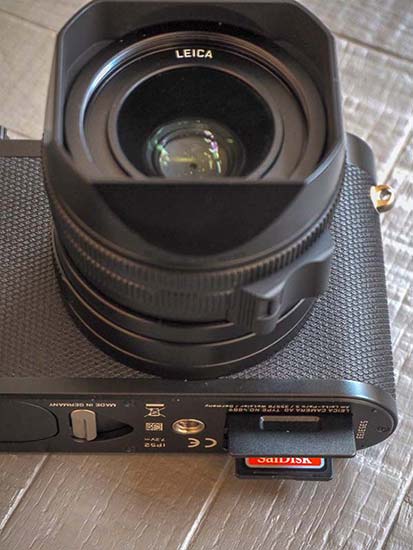 The Leica Q2's 4:3 image ratio electronic viewfinder, which provides a helpful 100% frame coverage, is also equipped with an eye sensor, so you can switch between using the larger monitor and the eye-level screen for your composition without needing to give it a second thought, or taking your attention away from your subject. Leica says the EVF on the Q2 is a new one – an OLED screen rather than LCD – with a slightly different design to its forebear, though we'd need to test the two cameras alongside each other to pinpoint exactly what other differences there are. Unsurprisingly, Leica being something of a traditionalist, the camera's 3-inch LCD screen is resolutely fixed, rather than offering the more flexible compositional ability to be tilted and swiveled as necessary.
28mm Lens and Crop Modes
The manufacturer has also made a point of suggesting that the fixed 28mm lens of the Leica Q2 somehow adds to its simplicity, with a 75mm equivalent digital crop function deployable if you do need to get closer to your subject. A rectangle appears on the camera's screen to denote you're in this mode and shows you the crop you'll be getting. Alternative incremental crop settings simulate the equivalent effects of using either a 35mm or 50mm lens. If there's no rectangle on screen then obviously the camera is in standard full frame mode. It wasn't obvious to us at the time, but it appears the non-cropped image is also automatically saved as a Leica DNG (Raw) file. Naturally, in regular drive modes, we can choose to shoot either DNG or JPEG files, or both in combination without noticeable slow down.
20fps Burst Shooting
In terms of continuous shooting on the Leica Q2, there is the choice of capturing a respectable 10fps, whereby the camera's mechanical shutter is deployed, or cranking things up to 20fps via electronic shutter. Leica says the camera's high resolution touch screen is another improvement over the plain old Q, as is the fact that the camera's light sensitivity range is newly expanded from ISO50 up to ISO50,000. Previously the camera started out at ISO100. Image stabilisation here is of the optical variety.
Weather Resistant
Leica will be hoping its new 47.3 megapixel full-frame Q2 camera makes a splash with well-heeled photographers – seeing as its magnesium-constructed body is now water and dust resistant, whereas the previous 24 megapixel 'Q' iteration, from back in 2015, wasn't.
Battery Life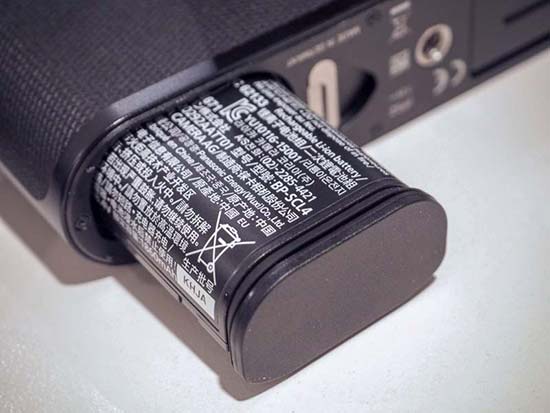 The prior model wasn't Bluetooth enabled either, while the latest Leica Q2 is. There's also been an 'SL' series lithium ion battery (a BP-SC14 to be precise) deployed this time around too, the physically larger battery being partly responsible for the Q2 being able to deliver a more respectable 350 images from a full charge, as opposed to its predecessor's so-so 270 shots.

4K Video
We also get Bluetooth connectivity on this model and 4K-video (3840x2160 pixels) capture at either 24fps or 30fps, with the option of Cinematic 4K, which Leica refers to as 'C4K', at 24fps. Various film styles selectable by videographers include a monochrome mode, and while a stereo microphone is provided for audio capture, the built-in speaker plays back in mono. Other colour settings, monochrome aside, are standard (utilised for our test images), vivid, natural and high contrast monochrome. Contrast, saturation and sharpness can be adjusted for each.
Leica Q2 Vs Leica Q - Key Differences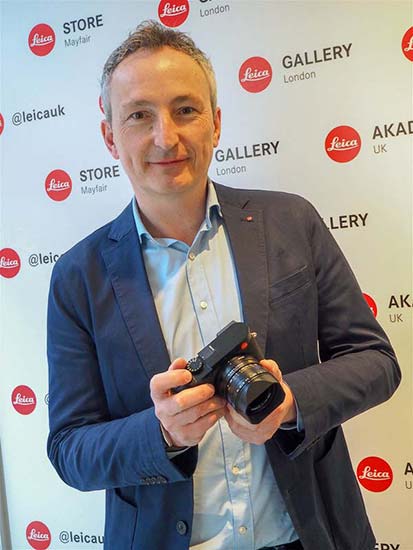 So, to sum up, the chief differences between the new Leica Q2 and the previous Q are a higher resolution CMOS sensor (47.3MP as opposed to 24MP), an improved battery life (now 350 shots), the implementation of an ISO50 setting, an OLED EVF rather than LCD (both have the same life-like 3.68 million dot resolution however), the addition of 4K video and Bluetooth connectivity (it's got Wi-Fi on board too)... all wrapped in a newly water and dust proofed magnesium camera body. Oh, and compatibility with Leica's recently launched Fotos app, which has been pitched as providing a 'gallery in your pocket'.
Accessories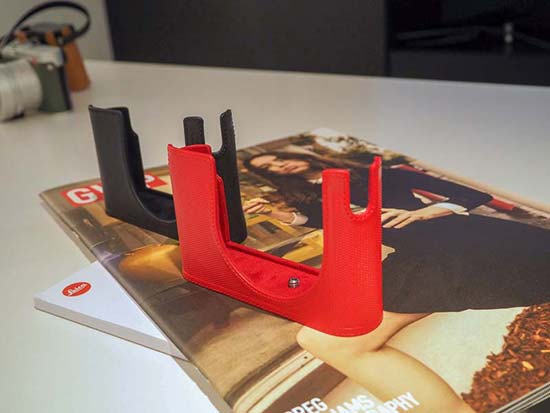 For those who like to coordinate their camera with their outfits, Leica has announced a trio of coloured camera grips/leather cases/soft pouches alongside the Q2, in red, brown and black.
Based on the popularity of its Q predecessor, Leica is expecting a "very long waiting list" for the available units of the Q2. Best get your order in sharpish – and worry about how you're going to pay for it later...
Hands On
Want to see exactly what the new Leica Q2 camera looks like in the flesh?

Check out our hands-on gallery of photos of the Leica Q2 camera.
A gallery of hands-on photos of the new Leica Q2 camera.
Image Gallery
Click on a thumbnail to see the full version.
Preview Images
​Ahead of our full review, here are some sample JPEG and RAW images taken with a final production version of the brand new Leica Q2 compact camera.
A gallery of sample images taken with the Leica Q2 camera.

Leica Q2 Sample Images
Sample RAW Images
The Leica Q2 enables users to capture RAW and JPEG format files. We've provided some Leica RAW (DNG) samples for you to download (thumbnail images shown below are not 100% representative).
Your Comments