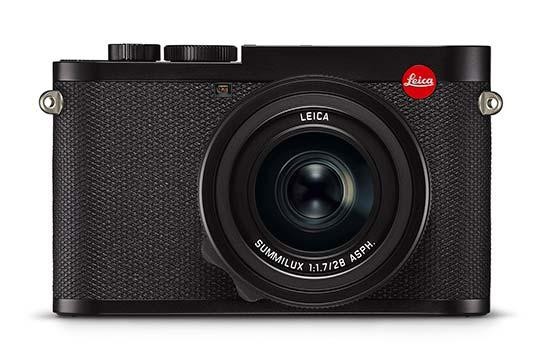 First Impressions
The Leica Q2 is a new full-frame compact camera with a fixed 28mm F1.7 lens.
We were shown a full production version of the Q2 by Leica ahead of yesterday's launch. We've shot sample JPEG and RAW images with the camera and got some hands-on time with the Leica Q2.
So read on for our first impressions of the new Leica Q2, which is being billed as the ultimate compact camera...
Apart from appealing to those able to justify parting with the £4,250 currently asked on launch, its manufacturer sees the audience for the Leica Q2 being composed of those wanting a great travel camera option, professional photographers looking for a second camera or back up, plus online 'influencers' looking to create imagery that looks a little different to that otherwise achievable via their smartphones.
We got to take the camera on a quick pre-embargo tour of the street outside Leica's newest Duke Street store in London and quickly realised that it makes for an excellent street photography camera too; not big enough to be threatening to passers by, and small enough to be able snap said passers by unawares.
As with the original Q, Leica's focus this time around has, it says, been on the essentials of simplicity of design combined with knock out image quality. It will be hoping it has got the Q2 right, as Leica told us at its London unveiling that the original 'Q' has been one of its most successful cameras ever. As usual with Leica, it's been hand crafted in Germany and the pitch this time is that with the Q2 its maker has got that little bit closer to perfection.
28mm F1.7 Lens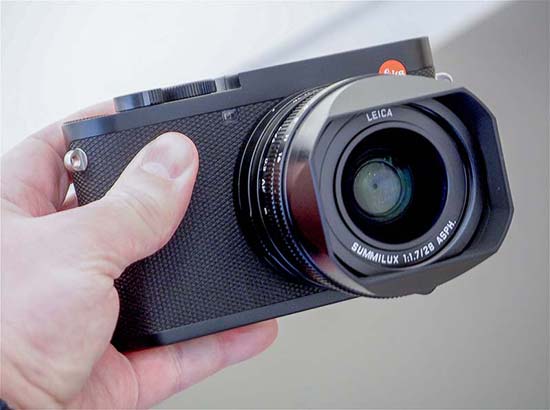 The Leica Q2 camera is nigh instantly powered up by flicking the lever that encircles the raised shutter release button on the camera's top plate. Exactly like the earlier Q, the Q2 'sequel' offers its users a fixed 28mm focal length and a bright/fast f/1.7 maximum aperture for delivering those subtly defocused background effects. Said fixed focal length is designed to make the camera easy to use – as well as, obviously, providing users with a wide enough angle for them to be able to squeeze most subjects into their frame without having to physically take a step back.
Fast Auto-focusing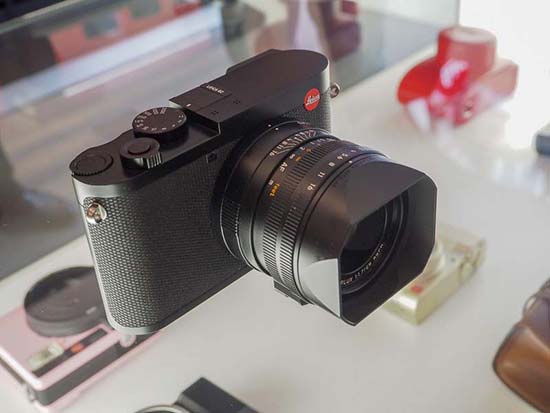 Should you want to step forward to take a close up, however, a macro setting is provided on the lens barrel (it's clearly marked 'Macro') which provides focusing up to 17cm from your subject (otherwise minimum focusing distance is a standard 30cm). Providing peace of mind if you don't quite trust your own eyes is a cross hair visible through the camera's electronic viewfinder – or larger touch screen monitor below – which is illuminated in green when focus has been achieved, if in AF mode. Leica has described its Q2's auto focus response as 'super fast' – and quotes a speed of 0.15 seconds.
The fact that many of its key settings of the Leica Q2 are controlled by a twist of one of several lens rings makes you feel like you are truly getting hands on with this camera – even when you're just shooting on auto. Leica may pitch this camera as an easy to use full frame option, but, partly because of the above, complete newcomers will still need a period of familiarity before its use becomes second nature.
If switching to manual focus with a twist of the lens ring, the camera automatically provides an enlarged portion of the image on-screen, so you can adjust focus accurately in real time and achieve that pin-sharp sweet spot just where you want it. Exposure compensation settings are shown at the bottom of the LCD screen, whereupon we get the standard +/- 3EV in 1/3 EV increments.
Improved Ergonomics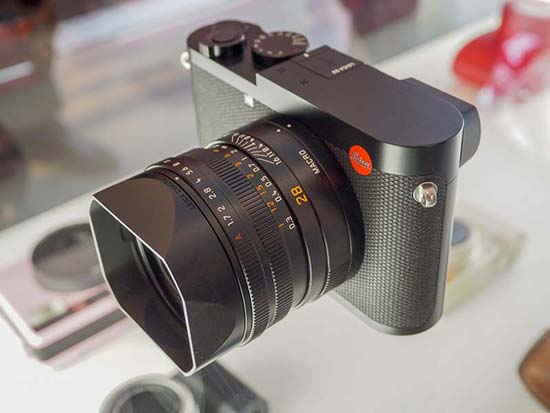 Although outwardly the full frame Leica Q2 certainly looks very similar to the earlier Q, there are subtle differences as regards the newer iteration when it comes to ergonomics; for example there is a subtle indentation for the thumb on the backplate to make for a more comfortable hold. There's also a roughened diamond-patterned surface to the front of the camera to make for a firmer grip. The camera certainly possesses the 'heft' in the hand we'd expect of a Leica, with a reassuringly robust and solid feel… yet being prohibitively weighty that is. Official specification suggests it weighs 718g with battery loaded, which is certainly manageable for most.
Sleek Design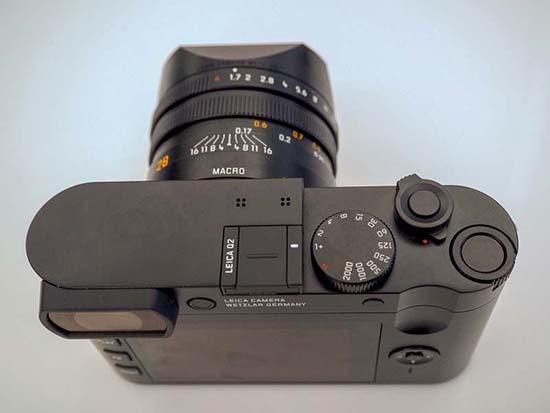 The Leica Q2's overall minimalist sleekness is also maintained by the fact that the dioptric adjustment control located near the eye level viewfinder is of the pop-out, push-in variety. It's the same as regards the battery compartment at the camera's base; you flick a lever to loosen the battery from the camera's shell and then push it in to enable it to pop out far enough for it to be retrieved, if so desired. The latch covering the SD card slot at the camera base is of the slide and flip-up variety, which cleverly allows fingertips to get closer to the card edge and pop it out. Leica recommends using UHS II standard SD cards with the camera, partly due to the large files sizes that full frame sensor inevitably delivers.
Electronic Viewfinder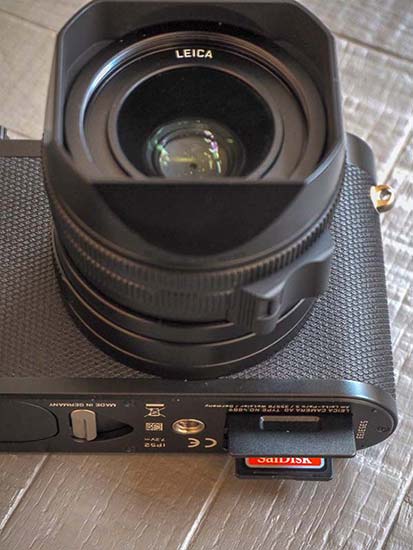 The Leica Q2's 4:3 image ratio electronic viewfinder, which provides a helpful 100% frame coverage, is also equipped with an eye sensor, so you can switch between using the larger monitor and the eye-level screen for your composition without needing to give it a second thought, or taking your attention away from your subject. Leica says the EVF on the Q2 is a new one – an OLED screen rather than LCD – with a slightly different design to its forebear, though we'd need to test the two cameras alongside each other to pinpoint exactly what other differences there are. Unsurprisingly, Leica being something of a traditionalist, the camera's 3-inch LCD screen is resolutely fixed, rather than offering the more flexible compositional ability to be tilted and swiveled as necessary.
28mm Lens and Crop Modes
The manufacturer has also made a point of suggesting that the fixed 28mm lens of the Leica Q2 somehow adds to its simplicity, with a 75mm equivalent digital crop function deployable if you do need to get closer to your subject. A rectangle appears on the camera's screen to denote you're in this mode and shows you the crop you'll be getting. Alternative incremental crop settings simulate the equivalent effects of using either a 35mm or 50mm lens. If there's no rectangle on screen then obviously the camera is in standard full frame mode. It wasn't obvious to us at the time, but it appears the non-cropped image is also automatically saved as a Leica DNG (Raw) file. Naturally, in regular drive modes, we can choose to shoot either DNG or JPEG files, or both in combination without noticeable slow down.
20fps Burst Shooting
In terms of continuous shooting on the Leica Q2, there is the choice of capturing a respectable 10fps, whereby the camera's mechanical shutter is deployed, or cranking things up to 20fps via electronic shutter. Leica says the camera's high resolution touch screen is another improvement over the plain old Q, as is the fact that the camera's light sensitivity range is newly expanded from ISO50 up to ISO50,000. Previously the camera started out at ISO100. Image stabilisation here is of the optical variety.
Weather Resistant
Leica will be hoping its new 47.3 megapixel full-frame Q2 camera makes a splash with well-heeled photographers – seeing as its magnesium-constructed body is now water and dust resistant, whereas the previous 24 megapixel 'Q' iteration, from back in 2015, wasn't.
Battery Life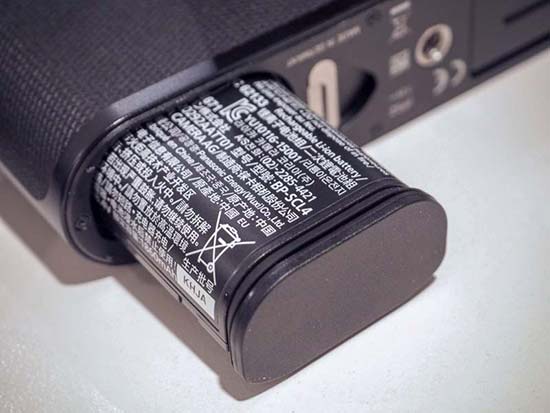 The prior model wasn't Bluetooth enabled either, while the latest Leica Q2 is. There's also been an 'SL' series lithium ion battery (a BP-SC14 to be precise) deployed this time around too, the physically larger battery being partly responsible for the Q2 being able to deliver a more respectable 350 images from a full charge, as opposed to its predecessor's so-so 270 shots.

4K Video
We also get Bluetooth connectivity on this model and 4K-video (3840x2160 pixels) capture at either 24fps or 30fps, with the option of Cinematic 4K, which Leica refers to as 'C4K', at 24fps. Various film styles selectable by videographers include a monochrome mode, and while a stereo microphone is provided for audio capture, the built-in speaker plays back in mono. Other colour settings, monochrome aside, are standard (utilised for our test images), vivid, natural and high contrast monochrome. Contrast, saturation and sharpness can be adjusted for each.
Leica Q2 Vs Leica Q - Key Differences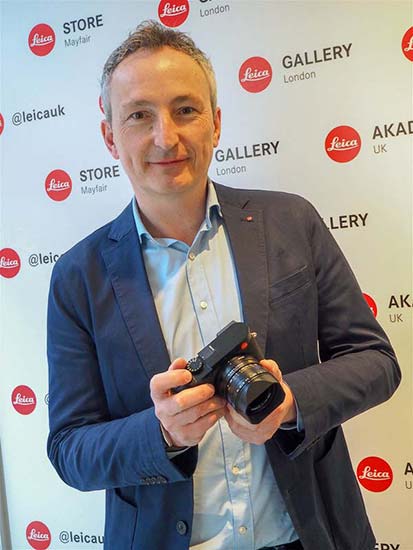 So, to sum up, the chief differences between the new Leica Q2 and the previous Q are a higher resolution CMOS sensor (47.3MP as opposed to 24MP), an improved battery life (now 350 shots), the implementation of an ISO50 setting, an OLED EVF rather than LCD (both have the same life-like 3.68 million dot resolution however), the addition of 4K video and Bluetooth connectivity (it's got Wi-Fi on board too)... all wrapped in a newly water and dust proofed magnesium camera body. Oh, and compatibility with Leica's recently launched Fotos app, which has been pitched as providing a 'gallery in your pocket'.
Accessories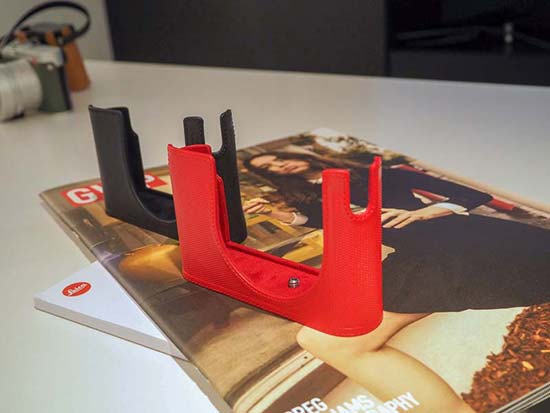 For those who like to coordinate their camera with their outfits, Leica has announced a trio of coloured camera grips/leather cases/soft pouches alongside the Q2, in red, brown and black.
Based on the popularity of its Q predecessor, Leica is expecting a "very long waiting list" for the available units of the Q2. Best get your order in sharpish – and worry about how you're going to pay for it later...