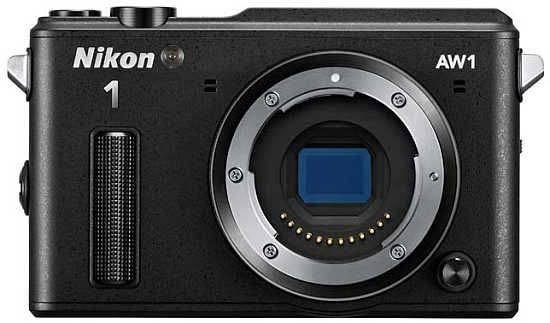 Introduction
The Nikon 1 AW1 is a water-, freeze-, dust- and shockproof compact system camera featuring a 14.2-megapixel "CX" format sensor and the Nikon 1 lens mount. Boasting continuous shooting speeds of 15fps with continuous autofocus and 60fps with fixed-point autofocus, Full 1080p HD video capture, an ultra-fast hybrid auto-focus system, Best Moment Capture and the unique Motion Snapshot Mode, the Nikon AW1 also offers more conventional shooting modes like Programmed Auto, Aperture and Shutter Priority, as well as Metered Manual. Also on-board is a high resolution 3-inch LCD display with 921k dots, both an electronic and a mechanical shutter, and a built-in pop-up flash. The Nikon 1 AW1 is available in a single-lens kit with the new all-weather 1 Nikkor AW 11-27.5mm f/3.5–5.6 lens for £749.99 / €899.00 / $799.95 and a double-lens kit that includes the camera body plus new 1 Nikkor AW 10mm f/2.8 and 11-27.5mm f/3.5–5.6 lenses for £949.99 / €1149.00 / $999.95.
Ease of Use
With latest industry sales figures suggesting that the market for compact stills cameras, including those with interchangeable lenses, has already reached full maturity and is presently contracting, manufacturers are looking to innovate to stem any slide. We've had Sony's cameras-in-a-lens QX range for smartphones, and now comes a further surprise in the first ever fully waterproof compact system camera: the Nikon 1 AW1, which is also reportedly dust proof, freezeproof, and can survive drops from a height of two metres (Nikon's own tests involve dropping onto a plywood surface 2-inches thick).
Yes, we've seen cameras with these features before and Olympus' higher-end OM-D E-M1 announced around the same time as the new Nikon is splashproof, dust proof and likewise freeze proof to minus 10 degrees, but the AW1 goes the extra mile in allowing photographers to go about their business at depths of 15 metres for up to a hour without the usual requirement for additional, waterproof housing.
That's unprecedented for a CSC. Obviously this feat requires similarly 'proofed' lenses along with an O-ring seal for the lens mount (with additional rubber seals elsewhere), and the AW1 is offered as a kit that comes with a brand new waterproof and shockproof 11-27.5mm f/3.5-5.6 zoom (roughly 30mm to 74mm in 35mm terms) for a combined manufacturer's suggested asking price of £749.99. Seems high on first impression, but remember that buying a regular CSC and investing in additional housing will also push the price up, whilst the user will even then end up with a less elegant, less streamlined solution than the one proposed by the AW1. The body here measures an official 113.3x71.5x37.5mm excluding projections and weighs 356g with battery and optional yet essential SD/SDHC/SDXC card but not counting the provided body cap or O-ring protector.
Announced alongside the Nikon 1 AW1 body was a compatible 10mm wideangle lens with faster f/2.8 aperture and the same near indestructible properties for £299.99. Further compatible accessories are inevitably on the way and Nikon has already confirmed a durable SB-N10 flashgun for the AW1 will be with us spring 2014. It's worth mentioning that the kit lens features an internal zoom mechanism as a protective measure, so as you twist the barrel it doesn't physically extend outwards but rather stays within its protective housing. We did notice on one occasion, upon taking the camera from a centrally heated interior to the river front and experiencing a sudden temperature change, the protective glass at the very front misted up on the inside, which was frustrating, as obviously we couldn't wipe it clean.
More positively, not only does the specification indicate it might be the case, but, for a diminutive CSC, the Nikon 1 AW1 actually feels unusually weighty and robust in the palm. Its premium build quality almost puts the entry-level J series – also from Nikon – to shame in that respect. The AW1's Toughness aside, the other headline features of the latest '1' system camera include a 14.2 megapixel sensor (a 13.2x8.8mm CMOS chip), the ability to shoot at 15fps using continuous auto focus, plus the inclusion of a Expeed 3A processor, not to mention a hybrid AF system that mixes both phase and contrast detection.
It's also worth noting that the AW1 has a spring-loaded pop-up flash, which has to be lifted manually via the press of a back plate button, and this too can be operated underwater to illuminate those critters hiding in small crevices. Unsurprisingly then there is an underwater shooting mode included on the camera, plus what Nikon claims as another world first for its class: an electronic compass. We further get a virtual horizon level indicator plus a height/depth indicator that works down to 20 metres (recording such information as part of the image's EXIF date in 1m increments), as well as an Action Control mode, which has been implemented to provide for good results when shooting with the camera in one hand, when wearing gloves or otherwise shooting in trickier conditions, claims Nikon. Naturally we also get the opportunity to shoot video, whether beneath the waves, in the local pond, or on dry land, with Full HD clips with the expected stereo sound offered and a prominently featured record button sitting alongside the main shutter release on the top plate. For low light work at stygian depths, up to ISO6400 is provided.
| | |
| --- | --- |
| | |
| Front | Rear |
To appeal to both the fashion conscious photographer who will be buying based on looks as well as the adventure sports enthusiast purchasing for practicality, the Nikon 1 AW1 is available in a choice of minimalist silver, black or white bodies. In our opinion the white looks the least expensive, but is still very cool, the silver looks like it should be the most expensive with an almost art deco quality, whilst the regulation issue matt black version we were sent falls in between. All feature a stainless steel front panel. Incidentally the equally new 10mm wideangle lens is only being made available in black, at least initially. You can buy it with both body and kit lens, therefore getting a double lens bundle, for £949.99 all-in.
Rough and tumble qualities aside, there is much here for the straight photo enthusiast to enjoy. Naturally at this the price here is a camera that can shoot Raw or JPEG files, plus both in combination. Raw + JPEG shooting is not available all the time however; for example if you've selected a mode that the camera deems requires automatic processing, such as night landscape shooting mode for example, the choice here is JPEG only. Also, whilst up to 60fps capture speed (for up to 20 shots) features amidst the specification, if you want auto focus to work then limit yourself to 15fps (for up to 22 images), which in truth is plenty. Top resolution is 14.2 megapixels from a CX format CMOS sensor, so Nikon still isn't up there with the 20+ megapixel APC-C sized sensor models from Samsung, Sony et al, but in many respects early examination of the AW1 sees it suggesting itself as Nikon's best CSC yet, and that's even without the eye-level viewfinder of the range topping V2. Further regular Nikon features include the 'living image' style Motion Snapshot option that has been a constant in the range since the original J1 and V1 cameras, whereby a short video burst is recorded alongside and combined with a digital still, plus Smart Photo Selector which takes a rapid fire burst of 20 consecutive shots and recommends up to five of what the camera computes are the best. Here we also get a 'slow view' option, again capturing 20 shots but allowing the user to select the exact instant they want to preserve.
From the very get go in terms of handling, what the Nikon 1 AW1 most obviously misses out on is a physical shooting mode dial, and, without it, we found the process of both finding and selecting a desired shooting mode with precision more awkward than we'd hoped. Yes we still do get the P/A/S/M options plus a Creative Mode, which is more fun still, but they're buried away with the menus – so you'll want to have everything sorted out before you head to the slopes or out for a dip. We also wrestled to remove the O-ring protector and body cap to attach the provided lens in the first place – which at least gives the impression that Nikon takes its protective measures seriously. The lens is attached not by the usual slotting into place on the mount and twisting until a click is heard, but rather slipping on/pushing into place and then twisting. The initial couple of attempts we found ourselves twisting the lens barrel and having it come off in our hand because we hadn't fully connected it with the camera body. In short using the AW1 initially takes a little familiarization. It doesn't help either in terms of convenience that the manual is provided on CD only.
The black iteration of the AW1 hides the fact that this is a boxy looking camera less successfully than the silver or white versions, but at least, as we've noted, this is a reassuringly solid feeling beast of a compact system camera. The relatively flat front means that it lacks much in the way of a handgrip, and unless you're holding it in both hands it does feel as though it could slip through your fingers – particularly if you're taking a dip and those fingers are wet. This is where the roughed surface of the supplied 11-27.5mm kit lens comes in handy, in providing a firmer two handed hold, whilst the equally rough-feel small, raised albeit thin sliver of a grip at the front at least provides something for a couple of fingers to dig in against. We also get two industrial looking lugs – one either side of the faceplate – to which a strap can be attached.
The most immediately obvious thing here as regards the handling of this Nikon is that there is no eye-level viewfinder on the AW1, nor is there any vacant hotshoe atop the camera; an antenna for the built-in GPS feature rests in its place instead. We're totally reliant then on the rear plate 3-inch LCD screen for composing and reviewing photos and videos; unsurprisingly given the unit's waterproof nature, the screen is resolutely fixed, without the ability to tilt it or flip it at all for either low or high angle shots or 'selfies'. Luckily then said screen is both bright and pixel packed: 921k dots with brightness adjustment control thrown in.
| | |
| --- | --- |
| | |
| Pop-up Flash | Top |
Though the Nikon 1 AW1's top plate is fairly clean in appearance due to featuring a pop up flash that is sunk into it, so wholly hidden until manually activated, the main shutter release button is comparatively huge and slightly raised for easier purchase. To the left of this, if viewing the camera from the back, is a smaller on/off button set completely level with the top plate to avoid accidental activation, whilst to the right of the shutter release is a larger again slightly raised video record button. We found that the fact that the video control is both raised, and near to the right hand edge of the top plate, meant that on occasion our forefinger found its way to it when we meant to reach for the shutter release button instead. The result, frustratingly, was a few seconds of video rather than the still that we wanted. Perhaps Nikon could have included this control where it might instead have fallen under the thumb to provide a point of differentiation for those of us caught up in the heat of the action rather than button watching – as extreme sports fans (as opposed to armchair watchers like ourselves) will undoubtedly be.
Press down on the on/off button and the Nikon 1 AW1 powers up for action in just over a second, the 3-inch backplate LCD blinking almost immediately into life. Squeeze down on the shutter release button halfway and a fraction of a second later AF point/s illuminate in green on screen, accompanied by a familiar bleep of affirmation that focus and exposure has been achieved. Press down fully and a combination of RAW + JPEG files is committed to memory in 3-4 seconds, the screen freezing momentarily to display the captured image in all its glory.
The built-in flash on the AW1 is manually activated by a button located just behind it, located atop the backplate; press this and the flash springs to attention with a solid-sounding judder. Despite this you obviously wouldn't feel confident of the result of dropping the camera whilst the flash was raised however. The strength of the flash feels about right; sensitively and sympathetically illuminating your subject without artificially flooding it with light.
Though operating the Nikon 1 AW1 can feel a little slippery if you've wet hands from the pool, gripping it in the right hand whilst your left encircles the roughened surface of the lens barrel, combined with the solid feeling weight of the camera helped ensure that we largely avoided the blurring effect resulting from hand wobble and camera shake over a two week testing period. There is a small rubber thumb pad provided top right of the backplate. Place your thumb here and as well as noticing a pair of adjacent buttons for either calling up a series of thumbnails or enlarging a portion of a captured image, we're given what Nikon terms an Action Mode button immediate right of the thumb pad and slightly raised.
A press of this intriguing looking button and we're provided with a virtual mode dial on screen. Then it's a matter of simply tilting the camera to turn this dial left or right and thereby alight on the shooting mode required. This feature in theory allows the camera to be operated whilst wearing gloves, as in truth the backplate buttons aren't any larger than you'll find on most compact cameras. The alternative and less 'sexy' means of accessing the shooting modes is otherwise pressing the menu button located below and tabbing through the on-screen icons utilising a familiar four-way control pad until you find the one required. Nowhere else does Nikon provide a button that actually says 'shooting modes'. Otherwise what's here includes a familiar playback button, with a multi-directional control pad just below, as mentioned, and a standard 'OK' button at its centre for effecting any changes.
| | |
| --- | --- |
| | |
| Memory Card Slot | Battery Compartment |
Ranged around the control pad are a means of adjusting exposure compensation (+/- 3 EV, via a slider at the right of the screen) altering the flash settings (just forced flash, forced flash with red eye reduction or flash off if in auto mode, with slow and slow and rear curtain sync options added in program or one of the creative modes), or selecting the self timer or drive modes. At 12 o'clock on the same dial we get a 'Function' setting providing, as a default, quick access to the camera's creative modes. Here we obviously get program, shutter priority, aperture priority and manual modes. But added to this are means of selecting a dedicated underwater shooting setting. This mode offers up three settings; 'standard', 'scuba' and the self explanatory 'close up'. Joining it on the same scrollable menu are a dedicated night scene and night portrait mode, plus a means of adjusting for back lighting and creating an easy panorama, with the camera self stitching this together for you as you pan with the AW1 through your scene; very effective it is too. Next up we are presented with a soft filter effect, the 'strength' of which can be manually controlled if wished. Next comes the popular tilt and shift lens apeing miniature mode, plus, finally, a selective colour option. Point the camera at the scene and select the colour you wish to highlight via a toolbar style 'chart' on the right hand side of the LCD screen.
Back to the menu button for a moment and a press of this offers the user a choice of six icons for selectable folders. These are the shooting modes, as covered, playback menu, image capture menu (where image size and quality are determined), a dedicated movie menu, an image processing menu – which is where the likes of white balance and ISO adjustment plus the ability to turn on built-in image noise reduction are 'hidden' – plus the familiar set up menu. As well as the usual features of this mode the AW1 provides its altitude/depth settings options here as well as the ability to reset the built-in compass. All these menus are reassuringly straightforward and faff-free in terms of both access and navigation. OK, so we don't get the added convenience of touch screen control, but it doesn't feel like we're unduly missing it.
Whilst on the right hand flank of the Nikon 1 AW1 we get an industrial looking bolt and a lug for attaching the strap provided in the box, at the opposite end of the camera we find a double lock door protecting the AW1's output ports. These are both an HDMI output port plus a standard issue USB port – along with the combined battery and memory card compartment at the base – plus the lens mount itself – arguably the most potentially sensitive parts of the camera to the intrusion of dust and moisture. As it was, we did find that after dunking the AW1 in our local pond small droplets had managed to penetrate just under the flaps protecting both compartments, but had thankfully been retained on the inner sill above both card and battery and avoided direct contact. Unfortunately we're unable to vouch for how effective the water proofing would be if the camera was used for up to an hour at maximum 15 metre depth – which Nikon itself claims as the camera's maximum amount of endurance.
But in short the Nikon 1 system AW1 is a mostly pleasure to use, whether as an everyday workhorse for general-purpose photography or a destruction defying tool; for most of us the latter being, while useful, more occasional. In terms of battery life we were able to loose off around 200 shots before the camera started showing two thirds battery life remaining, although the official measurement seems a slightly conservative 220 images, which falls rather below the likes of Sony NEX models managing around 330 images. But then again rivals don't provide the opportunity to keeping photographing and shooting video in such a wide range of conditions and temperatures, nor provide such peace of mind for the naturally clumsy and butter fingered. But, proofing aside, how does the AW1 shape up as a regular camera for regular photography? Keep reading to find out...