Nikon Coolpix L830 Review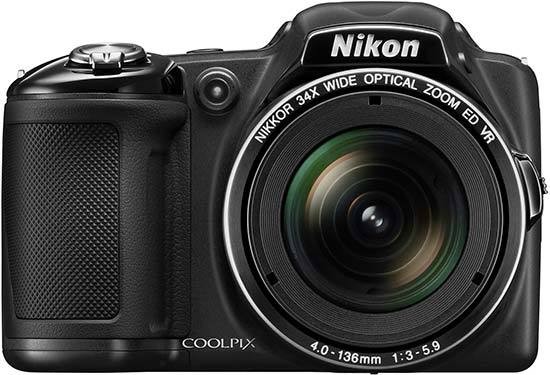 Introduction
The Nikon Coolpix L830 represents the new pinnacle of Nikon's budget-conscious, easy to use Coolpix L-series. Considering its relatively attractive price of £229.99 / $299.95 / €279, you get a lot of bang for your buck. Headline specs are its 34x zoom lens, giving a very useful focal length range of 22.5-765mm (in 35mm camera terms). To ensure sharp shots at such long focal lengths, the L830 also utilises Nikon's Hybrid Vibration Reduction system. At the heart of the camera is a 16.0-megapixel CMOS sensor capable of a maximum ISO3200 sensitivity and Full HD video capture. Externally the most notable new feature is a high-resolution, 921k-dot monitor which can be tilted up and down. The Nikon Coolpix L830 also follows the L-series trend of being powered by AA batteries.
Ease of Use
The first thing that strikes you about the Nikon Coolpix L830 – apart from the questionable colour of our test example – is its bulk. At 510g ready-to-shoot and 111 x 75.8 x 91.2mm, it's only marginally smaller than Nikon's entry-level D3300 DSLR. That does give the L830 excellent ergonomics though, with a chunky finger grip and sizable rubberised thumb panel that make the camera feel particularly secure in the hand.
However, where a DSLR would give you plenty of creative control and a conventional viewfinder, the Nikon Coolpix L830 has neither. Control-wise you have to rely on one of two automatic modes. Smart Auto will intelligently select one of 18 different scene presets according to your subject and apply optimal shooting settings, or you can switch to the standard Auto mode to control ISO sensitivity and white balance. Alternatively each of the 18 scene presents can be manually selected, and here's also where you can choose the Easy Panorama feature. This extra is a welcome addition given the L830's cheaper stable mate, the L330, lacks an automatic panorama mode. Unfortunately the final result is resized to just 920 vertical pixels and you're restricted to either a 180 or 360-degree pan. Nikon does also include a further 11 fun effects such as selective colour, toy camera and sepia, or you can opt for Smart Portrait mode which detects both smiling and blinking, automatically removes any red-eye and smooth's skin complexion.
Very nice, but apart from a few extra special colour effects, both the L330 and the outgoing L820 share the same shooting features. In fact there's not a lot to differentiate the L830 from its predecessor. Sensor specification remains unchanged, with both cameras packing a 1/2.3" 16.0-million pixel CMOS sensor with a sensitivity range of ISO125-3200. The two cameras also share Full HD video recording with stereo sound and a wind noise reduction feature, but strangely the newer model has to make do with a slower continuous shooting rate. 8 frames per second at full resolution for a 6-shot burst has now been reduced to 6.8fps for 5 consecutive shots.
| | |
| --- | --- |
| | |
| Front | Rear |
Optically the two cameras are also very similar. The Nikon Coolpix L830 does up the total zoom range from 30x to 34x, however the maximum 22.5mm-equivalent wide angle setting remains unchanged, and its f/3-5.8 aperture is almost identical to the older model as well. The L830 also employs the same Hybrid VR system to help counteract camera shake. This works by moving the lens to compensate for any unwanted motion, but if extra correction is needed the camera can automatically take two shots at varying shutter speeds and combine the best bits of each.
Likewise the Nikon Coolpix L830 also inherits the same rocker switch on the left of the lens barrel to control zooming. This is in addition to the conventional zooming ring around the shutter release button and means you can zoom with your left hand and leave your right hand free to snap the shot. However whichever control you use, the L830 only has a single zoom speed which is reasonably fast but makes precise focal length adjustment quite hit or miss.
| | |
| --- | --- |
| | |
| Front | Tilting LCD Screen |
Also mounted on the left of the Nikon Coolpix L830 is the pop-up flash release button, as well as a simple connectivity line-up of a USB port and an HDMI output. Up top is the shutter release, primary zoom control and power button, along with twin microphones. The rear of the L830 is similarly spartan, with a well-cited dedicated video record button, plus the usual buttons for scene selection, playback, delete and the main menu. The circular directional pad also controls exposure compensation and the self-timer, along with flash and macro settings.
But the main point of interest on the L830's rear panel is that new tiltable monitor. Resolution remains unchanged from the L820 at a generous 921,000 dots, but now you can extend the screen outward and tilt it approximately 90 degrees up or down. That is the limit of its movement though, so you won't be able to flip the screen around to protect it during transportation, or view yourself whilst snapping a selfie. It's not the sleekest piece of kit either, adding a considerable bulge to the back of the camera. The display panel itself is worth a mention though, as unlike the cheaper L330, this monitor not only adds plenty more pixels, it also boasts much-improved viewing angles and slightly enhanced colour accuracy.
| | |
| --- | --- |
| | |
| Top | Battery Compartment |
Under the Nikon Coolpix L830 lurks a plastic tripod mount and a single flap covering the memory card and battery compartment. This design can be problematic when you want to remove the SD card and instead end up with four AA batteries at your feet. Then there's the issue of the power source itself. Granted, AA batteries are readily available and mean you don't have to hunt down a charging point to regenerate a typical Li-ion battery, but the relatively low price tag of the L830 is slightly less appealing once you factor the extra £20/€25/$30 you'll need to part with to get some cost-effective NiMH rechargables. At least with a pack of these fuelling the camera they'll power up to 680 shots per charge, with even regular alkaline cells capable of a very healthy 390-shot lifespan.
Whatever the power, the Nikon Coolpix L830 is ready for action in around one second, and in good light its autofocus system locks on to a subject almost instantaneously. In less optimal conditions the camera takes a fraction longer to finds its mark, but is still more than adequate and an improvement over the autofocus performance of its L330 sibling. The only focussing niggle is one which seems to plague Coolpix compacts, and that's a resistance for the camera to macro focus when in Smart Auto mode. To reliably exploit the L830's 1cm minimum focussing distance, you'll need to engage standard Auto mode, then enable macro focussing using the macro mode button. It's not the slickest process.
Fortunately Nikon's tried and tested menu system makes it a breeze to switch shooting modes and alter other settings. It's far from the most visually impressive interface, but it's fast to navigate and easy to read under bright sunlight. Good job too, as with so few manual controls you'll need to scroll through the menu system to change modes or manually adjust ISO sensitivity.