Fujifilm FinePix S4800 Review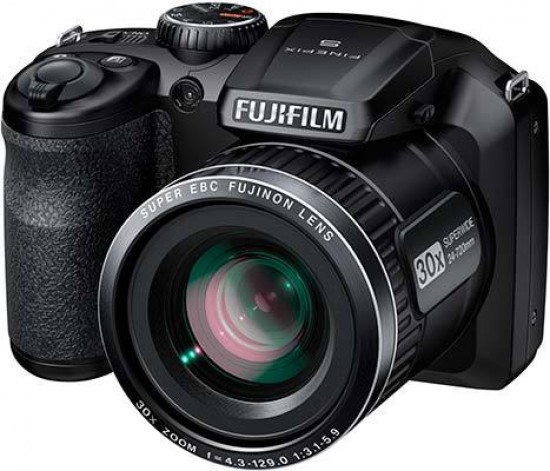 Introduction
The Fujifilm FinePix S4800 is an ultra-zoom digital compact camera sporting a 30x Super EBC Fujinon optical zoom lens, full manual controls, a 16 megapixel sensor and sensor shift stabilisation. In this review, we'll find out if the stabiliser is powerful enough for the long zoom to keep pictures sharp. Priced at around £135, the Fujifilm FinePix S4800 is available in black, red and white.
Ease of Use
When you're in the market for buying a new digital camera it's worth taking a few factors into consideration. For example, is it a camera for the family to use, does anyone want to further their photographic knowledge, how big a zoom do you want? These questions are the ones you should be asking when looking around.
The Fujifilm FinePix S4800 seems to fit those three questions at least. You see, the S4800 isn't a high spec camera. It's a mid-range model which offers two fully automated modes in the shape of Auto and SR (Scene Recognition) Auto. The latter mode is far more intelligent and will analyse the frame as you start to compose the photograph. Once the camera has worked out the type of photograph you're taking (landscape, portrait, close-up, etc) it will switch into the appropriate mode for the best possible quality. It's a great option for the beginners in the family or for those who simply don't care about how to operate a camera and just want to point and shoot. For the keen photographers in the family the S4800 provides manual control over the shutter speed and aperture. While the range is limited, it means that you can start to experiment with light and begin to understand how it works.
| | |
| --- | --- |
| | |
| Front | Rear |
That's pretty much where the manual interaction ends, though. The Fujifilm FinePix S4800 is not a bridge camera and not intended to replace a DSLR, but can certainly give you a taster of photography. Should you decide, though, the S4800 will do everything for you.
The Fujifilm FinePix S4800 comes with an Individual Shutter 3D feature that takes two shots from the same viewpoint. It records in MPO (Multi-Picture Format) and when used in combination with a Fujifilm 3D printer, is supposed to create high resolution 3D images. Another cool feature is the Motion Panorama. Unfortunately, it's not what it sounds like. It employs an easy-to-use guide to framing the panoramic shots. All you have to do is align the symbol and the camera will automatically take a picture for you. Once you have three images, the camera will also stitch them into a panorama. Unfortunately, it doesn't make a panoramic picture that moves.
| | |
| --- | --- |
| | |
| Top | Pop-up Flash |
For those of you that enjoy taking pictures of your kids while they play, the Fujifilm FinePix S4800 is capable of combining face detection with Tracking AF to create a system that will track faces through a frame as they move about. Face detection works by recognising the triangular shape of two eyes and a mouth. It then locks onto that shape and optimises the photograph so that the face is sharp and exposed properly. It's a program that Fujifilm pioneered for use in their photo processing and printing machines of all things.
There are a number of burst and continuous modes that you can choose from on the Fujifilm FinePix S4800. There's Top5 and Final5. They will take five pictures in around three seconds. Two are within the first second and then it slows down a bit. When the camera takes the photographs depends on the mode you select, so if you want the burst to start immediately, say at a track day, then use the Top5. If you want to track something and you're not sure when you'll want to shoot like at a snowboarding event, then choosing Final5 will allow you to hold the button down and it will only save the five photographs prior to you taking your finger off the button. It records these at full resolution. For slower, but longer bursts, you can use the Long Period (continuous) mode. Top20 and Top40 emulate the Top5 option but unlike Top5 and Final5, it doesn't record at full resolution. However, you can get 20 and 40fps (frames per second) from these modes. Downloading a short burst at full resolution takes it's toll on the processor. It took us 27 additional seconds to download the five pictures we shot in Top5 mode. That was using a Class 10 SDHC card.
| | |
| --- | --- |
| | |
| Front | Side |
Start up time from cold is a respectable 2.1sec. That's slightly slower than other cameras, but we have to take reflexes into consideration. There's also the issue that when the Fujifilm FinePix S4800 is switched on, it takes a moment to get itself in order. It won't focus in that time and if it would, it would knock the start up speed under 2sec.
There's only one menu on the Fujifilm FinePix S4800 which is accessed via the Menu button. It's superimposed over the view from the lens and is a light/mid grey with blue highlighter. Lettering is contrasting black which turns white when highlighted. The Main menu is split into two factions for Shooting and Set-up. The latter accesses the main features that you'll use sporadically such as date & time functions, format the card, AF illuminator (the little light before you take a picture) or volume options. The Shooting menu will be used the most as it provides access to ISO, white-balance, resolution, face detection and video options.
| | |
| --- | --- |
| | |
| Memory Card Slot | Battery Compartment |
Press the Playback button at the bottom of the Fujifilm FinePix S4800 and the last picture you took will be displayed on the screen. You can choose to have basic information such as the time & date it was taken, the file number, resolution, ISO setting and aperture/shutter speed. Pressing the Disp button will scroll through the display options available to you. The Playback menu replaces the Shooting menu when in Playback. There's notable features such as image search, slide-show creator, red-eye removal and some other basic editing features such as crop, rotate, protect and resize. Interestingly, you can also mark images for upload to Facebook , YouTube or MyFinePix.com and use the Photobook Assistant.
In the box there's a small separating shelf that holds the Basic Manual and warranty information. There's also a CD which has the full manual on it and MyFinePix Studio Ver 4.2 editing and tagging suite. It's a way to look at, edit and file your pictures if you're currently without an editing suite. Beneath the shelf, you'll discover the camera, a set of AA batteries, a neck strap, lens cap and USB cable to transfer pictures to the computer if you don't have a card reader.