Nikon Coolpix L840 Review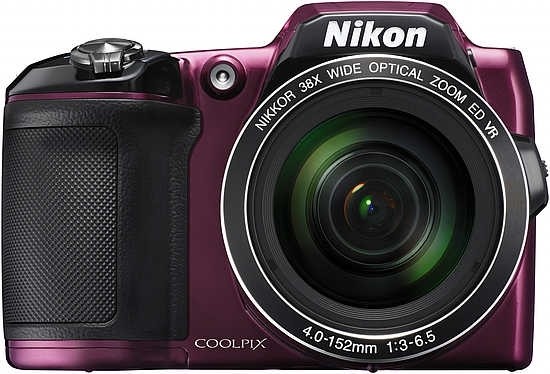 Introduction
The Nikon Coolpix L840 replaces last year's Coolpix L830, but sticks to the same recipe of offering a chunky bridge camera design with a relatively large optical zoom range for modest money.

The L840 has been treated to a couple of updates over its predecessor. Optical zoom is boosted to 38x (up from 34x in the L830) and though there's same 22.5mm-equivalent wide angle focal length, telephoto reach is now a 35mm-equivalent 855mm. The lens also features lens-shift Vibration Reduction that's essential for giving you a fighting chance at capturing sharp shots when zoomed in.

Image capture is still taken care of by a 16.0-megapixel CMOS sensor, but Nikon has made some processing improvements. The sensitivity range is now up one stop to ISO6400 and the L840 will continuously shoot seven shots at 7.4 frames per second where the L830 could only capture five images at 6.7fps.

But the most notable new addition to the L840 is its Wi-Fi connectivity for remote camera control and wireless image sharing with a smartphone or tablet. NFC pairing is also present, making it a doddle to set up a wireless connection with an NFC-enabled smart device.

Other features include a tiltable high-resolution 3.0" monitor and nine filter effects, plus an advanced Smart Portrait mode and Glamour Retouch post processing effects to flatter shots of friends and family.

The Nikon Coolpix L840 retails for £169.99 / $249.95.
Ease of Use
Although Nikon markets the L840 as a bridge camera that's designed to be a middle ground in performance and control between a compact camera and a DSLR, that's somewhat stretching the genre. The L840 may bear a passing visual resemblance to a DSLR, but that's where the similarities end. In terms of creative and manual control, the L840 is much the same as Nikon's shirt pocket-sized Coolpix S3700. However, this does make it far easier to use than you might expect.
Not only is the control layout almost identical to a typical point and shoot compact camera; the Nikon Coolpix L840's chunky form also adds to its ease of use. Although the gap between the hand grip and lens barrel may be slightly narrow for some, the grippy rubber coating makes the camera feel secure in the hand and there's a decent-sized rear thumb rest, too.
You'll have no trouble composing high or low angle shots either, as the 3.0" screen will tilt 90 degrees up or down. It can't flip 180 degrees to face forward though, so you'll still have to guess the perfect selfie angle. The screen itself boasts the same specs as the outgoing L830's monitor, with a high 921,000-dot resolution and very good viewing angles that make it easy to judge exposure and colour accuracy. However the screen still isn't touch sensitive, and to cut costs, there's no electronic viewfinder either.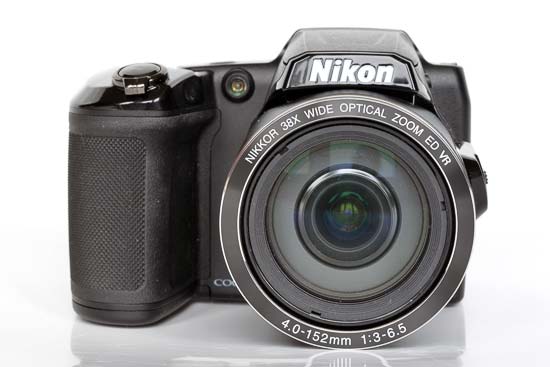 Front of the Nikon Coolpix L840
A conventional mode dial is also omitted from the Nikon Coolpix L840 so you'll need to press the Scene button on the rear panel to change shooting modes. You can choose between the default, scene-detecting Scene Auto Selector mode, as well as eighteen individually-selectable scene modes, including a sweep panorama function. The Scene button also accesses the L840's nine filter effects (see examples in the Image Quality section of the review), plus a Short Movie Show function that'll automatically compile brief video clips into a thirty-second movie with customisable backing music and special effects.
You can also select Nikon's Smart Portrait system via the Scene button when shooting a portrait. The camera will automatically smooth skin, apply virtual foundation make-up, soften the entire image and adjust colour saturation and brightness. You choose the intensity for each setting beforehand by pressing the arrow buttons on the rear directional dial. The system works surprisingly accurately, although it's best to steer clear of some of the more extreme settings if you want flattering shots rather than cartoons.
Alternatively, if you'd prefer to apply these effects to a saved image, find the shot in playback mode and press the Menu button on the rear panel. Scroll down to Glamour Retouch and even more touch-up options are available, including chin size adjustment, skin glare reduction, adjustment of eye size, colour, whiteness and under-eye bags, plus options to redden cheeks, add mascara and apply lipstick. Providing your subject is directly facing the camera and fills most of the frame, these effects are targeted accurately at their relevant facial features and can be quite useful, but are great for a laugh as well.
Rear of the Nikon Coolpix L840
The final option available via the Scene button is the Auto mode. This is equivalent to the programmable auto setting on most cameras, and allows you to adjust options like white balance, ISO sensitivity and autofocus area using the Menu button. The camera's continuous shooting mode is also found here, as are image size and quality options. Switch back the default Scene Auto Selector mode and only the latter can be adjusted when pressing the Menu button.
The only common shooting variable not operated via the Menu button is exposure compensation. This is altered by pressing the right side of the circular directional ring on the rear panel and provides up to +/- 2.0EV of exposure compensation, which is reset to normal when you turn the camera off. Pressing this control ring down will select macro focussing when the L840 is in standard Auto mode, and the remaining control ring functions adjust the self-timer and flash options.
The flash itself is a pop-up design as you'd find on a typical DSLR and needs to be manually ejected using a release button next to your left hand. This is quite useful as when the flash is down there's no chance it'll fire when you're not expecting it.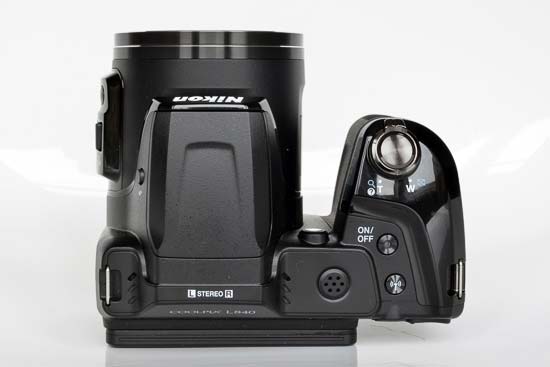 Top of the Nikon Coolpix L840
Also sited near your left hand on the lens barrel is rocker switch that acts as a secondary zoom control. Where the main zoom ring encircling the shutter release button can make the lens zoom at two speeds, the rocker switch only zooms slowly, making it useful for fine compositional adjustments. In front of this is the Snap-back button. If you've ever used a camera with a lens as long as the L840's 38x optic, you'll know how easy it is to lose track of a subject when zoomed in to the max. By pressing and holding the Snap-back button, the camera zooms out slightly, allowing you to see a larger field of view to help find your subject again. Release the button and the lens automatically zooms back in to its previous focal length.
Move to the top of the Nikon Coolpix L840 and you'll find a control behind the power button which wasn't present on the L830. This enables the camera's new Wi-Fi feature and instantly activates a wireless hotspot for your smartphone or tablet to connect to. You'll need to download the Nikon Wireless Mobile Utility app (available for Android and Apple) for your mobile device to make the system work. If your smartphone or tablet is NFC-enabled, you can complete the connection by simply tapping it against the L840, or otherwise you'll need to connect manually be selecting the camera's wireless hotspot in your device's Wi-Fi settings. Now you'll be able to remotely control the L840, use its optical zoom and snap images. There's only a small time lag for controls to take effect, and the wireless range is long enough for most practical scenarios. You can also download images from the L840 to your mobile device for viewing or sharing, with a full-resolution photo taking around eight seconds to transfer.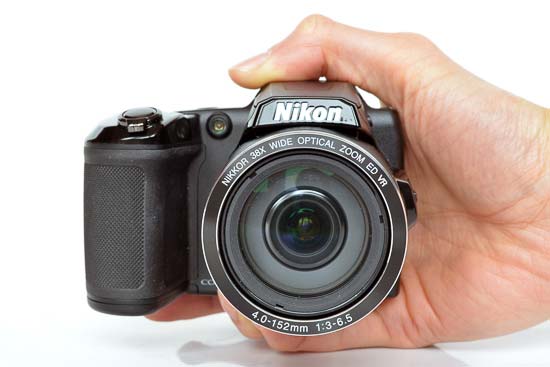 The Nikon Coolpix L840 In-hand
That's pretty rapid, and the Nikon Coolpix L840 is also no slouch when shooting. It'll turn on and snap a shot in 1.4 seconds and is fast to focus in good light. The camera can hesitate a little when zoomed in, and low light focussing also takes a small speed hit, but generally the L840's autofocus system performs well.
Under the camera lurks a plastic tripod mount and a single flap covering the memory card and battery compartment. This design can be problematic when you want to remove the SD card and instead end up with four AA batteries at your feet. Then there's the issue of the power source itself. Granted, AA batteries are readily available and mean you don't have to hunt down a charging point to power up a typical Li-ion battery, but the relatively low price tag of the L840 is slightly less appealing once you factor the extra £20/€25/$30 you'll need to part with to get some cost-effective NiMH rechargeable cells. At least with a pack of these fuelling the camera they'll power up to 740 shots per charge, which is a considerably better performance than most rival cameras, whilst regular alkaline cells are capable of a very healthy 590-shot lifespan.