Nikon Coolpix P950 Review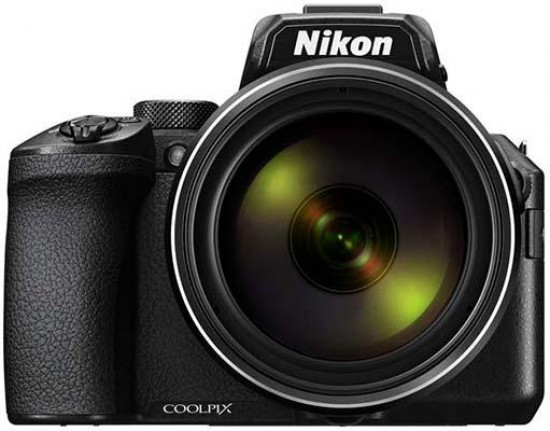 Introduction
Announced at the very beginning of 2020, the Nikon Coolpix P950 is a new bridge camera. It features an 83x optical zoom, giving you a whopping 24-2000mm (equivalent) focal length - which is the same length as its predecessor, the P900.

This focal length puts it below the even longer Nikon P1000 camera, which offers 3000mm (equivalent), but still makes it one of the longest zoom lenses in the bridge camera market.

Also staying the same as its predecessor is the 16 megapixel 1/2.3-inch sensor, but there are other improvements to be enjoyed, including a better 2.4-million-dot electronic viewfinder and 4K video recording. Up to 7fps shooting, raw format support and a native ISO range topping out at ISO 6400 also remain from the previous iteration of the camera.

Aimed pretty squarely at nature photographers, the Nikon P950's price is (at the time of writing) £799 / $799. You can still find the older P900 model in some retailers for £449, while the P1000 will set you back £899.
Ease of Use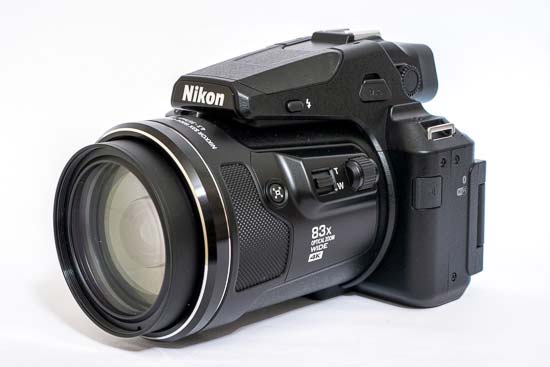 Front of the Nikon Coolpix P950
By standard bridge camera sizes, the Nikon P950 is a very large offering. In fact, you'd be forgiven for mistaking it for a DSLR from first glance. Of course, what it offers is the equivalent of a DSLR and a bag full of lenses, so it still makes sense as a travel type of camera for those who want to travel reasonably light.
For those who already owned a P900 camera, very little has changed on the outside of the camera. There's a chunky grip at the front of the camera, while much of the camera has a textured coating which helps to give a feeling of high quality.
If you think that the Nikon Coolpix P950 looks big, wait until you extend the zoom lens - the chances of remaining discreet while wielding this are pretty slim. However, if zoom is particularly important to you - such as for nature photographers - then you'll likely be happy to consider the unbalanced nature of the camera a worthy sacrifice.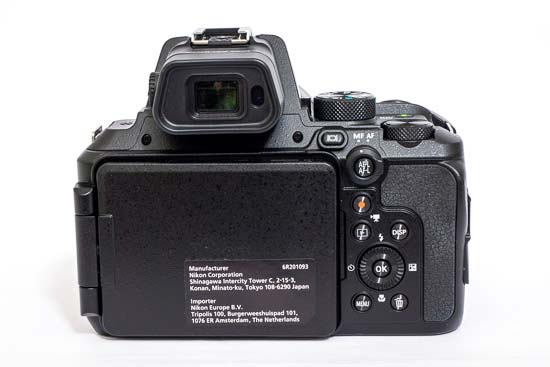 Rear of the Nikon Coolpix P950
At the top of the camera's grip you'll find the shutter release button, as well as one of two ways to zoom the lens in and out. If you prefer, you can also use a switch on the left hand side of the lens to extend it from the wide-angle to the telephoto end of the lens.
Attempting to track a subject when the lens is extended to its full length can be tricky, particularly if the subject is non-static. To that end, a button on the side of the lens comes in very handy. You can hold it down to zoom the lens out to help you relocate your subject. On releasing the button, the lens will zoom back to the extended position you had it in.
You can adjust this setting to zoom out just a little, a medium amount and the full way, which can be helpful depending on the subject you're shooting. For example, if you're shooting a distant, but reasonably static animal, having it zoom out just a little is probably quicker than having it zoom all the way out. However if the subject is much faster - such as a bird - you may be better off with the full zoom out setting enabled.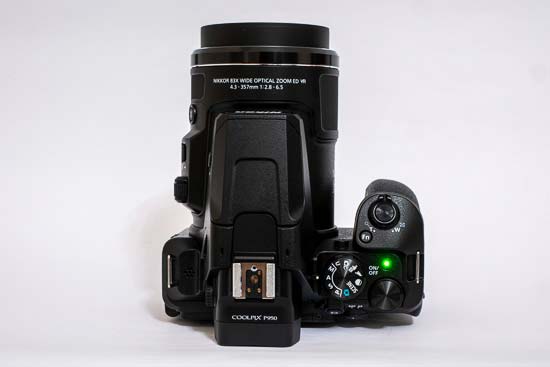 Top of the Nikon Coolpix P950
Also found on the side of the lens is a small dial which can be assigned to various controls depending on what you'd prefer to have quick access to. By default, it will control exposure compensation but you could change it to ISO, white balance, shutter speed or aperture if you prefer. Or you could choose to disable the dial altogether, perhaps if you find yourself prone to knocking it.
On the top panel of the Nikon P950 you'll find a mode dial which allows you to choose the exposure mode you want to work in. There's the standard P/A/S/M options, as well as fully automatic, scene, creative control, birdwatching mode, night mode and a slot which allows users to save a custom group of settings - helpful if you often find yourself shooting a particular type of scene. Also on the top panel is a secondary dial which controls shutter speed if you're shooting in manual mode or shutter priority.
Flipping to the back of the Nikon Coolpix P950, and there's a pretty familiar set of controls here - particularly if you've used one of Nikon's bridge cameras in the past. All of the buttons are grouped on the right hand side of the camera, so you can make adjustments with just your thumb. It's not exactly a camera that you'll want to use one-handed, but it's good to be able to keep your second hand free for steadying the camera considering how large it is.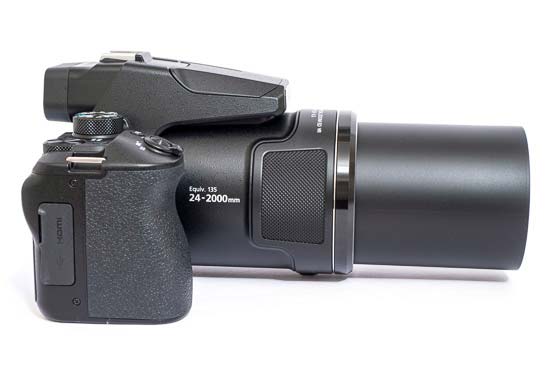 Side of the Nikon Coolpix P950
Buttons on the back include a playback button, video record button, exposure compensation button and a delete button. There's also a menu button for accessing a reasonably extensive main menu. There's not as many options here as you'd find on one of Nikon's DSLRs, so it's perhaps for this reason that there isn't a quick menu available for favourite settings. There's an OK button which comes in useful when you want to adjust the focus point, which can be moved around the screen to meet your subject.
There are also buttons for activating exposure and AF lock, as well as a button for switching on and off the electronic viewfinder. There's also a sensor on the viewfinder which will see it automatically activate once you lift the camera to your eye.
The viewfinder is one of a small number of improvements which have been made to the Nikon P950 compared with the P900. At 2359k-dots, it has more than twice the resolution of its 921k-dot predecessor. In use, it's much more pleasant to use the newer viewfinder, giving you a bright and clear view of the scene. If you're somebody that very often uses a viewfinder, and you're struggling to decide between the P900 and the more expensive P950, this is something which may just sway you.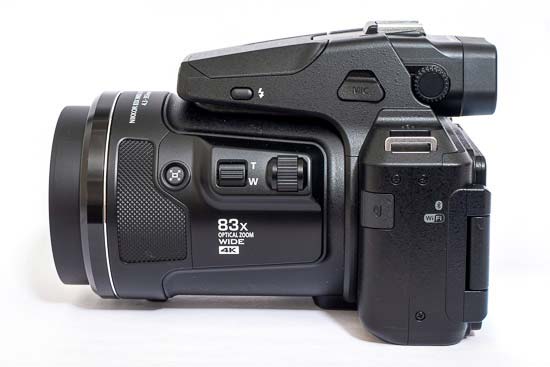 Side of the Nikon Coolpix P950
Joining the viewfinder is a 921k-dot, 3.2-inch articulating screen, which has the same resolution as its predecessor, but is a little larger (3.2-inches, compared to 3.0). It seems odd that in 2020, a screen without touch-sensitivity has entered the market, and it's a shame not to see this improvement compared with the older model. Still it's useful that you can position the screen any which way you like, and is particularly handy for video recording and taking selfies. It's also good to be able to turn the screen to face inwards to protect it when on the move.
Battery life has reduced a little when compared to the previous model, now offering 290 shots per charge, as opposed to 360. This could be a result of the new higher resolution viewfinder, but it's also worth remembering that this is the official rating - in real world use, you're likely to get much more out of it. We found in day to day use it would easily last a whole day of reasonable use. USB charging is available, which is good news for quick power bursts on the go, and means you don't need to remember to pack a separate external battery charger.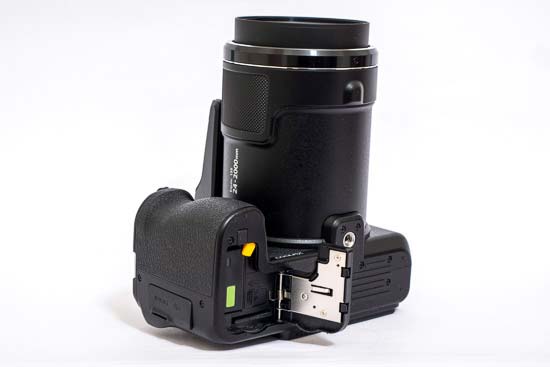 Memory Card Slot / Battery Compartment
The Nikon Coolpix P950 has a single SD UHS-I memory card slot. It would have been nice to perhaps see some UHS-II compatibility here to boost the frame rate beyond the 7fps offered.
In good light, focusing speeds are quick and, on the whole, accurate. In lower light conditions, there can sometimes be a little back and forth before the lens locks onto target. Occasionally, in such conditions the lens fails to get there at all, but it's rare for a false confirmation of focus to be displayed.