Sony Cyber-shot DSC-HX350 Review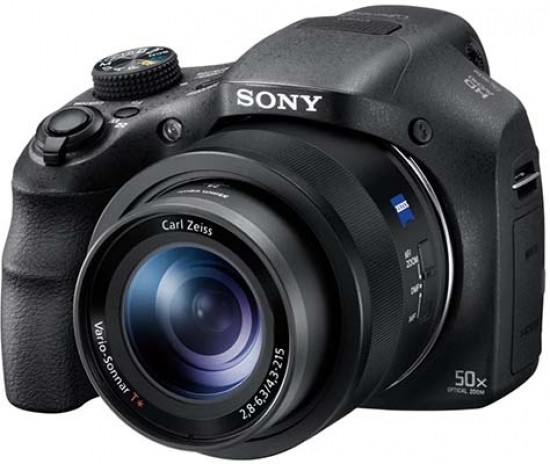 Introduction
The Sony Cyber-shot DSC-HX350 is a new bridge camera which features a Zeiss 50x optical zoom lens, and a 20.4 megapixel, 1/2.3-inch sensor. It follows on from the HX300, with only minor upgrades compared to the older version which was released back in 2013. There is a tilting rear screen, which is joined by an electronic viewfinder. There's a range of shooting modes, which includes manual. The Sony Cyber-shot DSC-HX350 is exclusive to Jessops in the UK, who have loaned us our sample to test. The Sony Cyber-shot DSC-HX350 is available in black for £319.00.
Ease of Use
The large size of the Sony Cyber-shot DSC-HX350 means at first glance you might assume it was an entry level DSLR. Indeed, it's fair to say that the design cues have been taken very strongly from interchangeable lens cameras.
A large grip is moulded to fit your middle finger, while your index finger rests on top of the shutter release. The grip has a rubberised coating which gives it a feel of high quality, as well as helping it to sit firmly in your hand.
On the top of the Sony Cyber-shot DSC-HX350 is large mode dial, which is ridged, helping to get a decent grip on it. On here you'll find a range of shooting options, including Superior Auto, Intelligent Auto, Scene, Panoramic, and Program. There's also semi-automatic and manual modes (PASM) to choose from for more advanced users. Those who are a little more advanced may be disappointed to note that raw format shooting isn't available for this camera.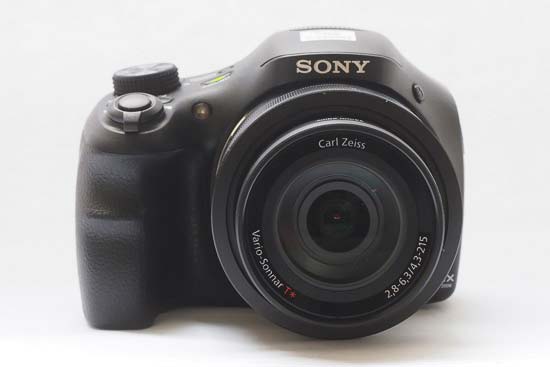 Front of the Sony Cyber-shot DSC-HX350
Also on top of the camera is a button for accessing the function, or quick, menu. On this menu, you'll find a range of useful options, including white balance, ISO, Picture Effect and so on. You can add and remove settings from the function menu, depending on which you use most and least often. A button just next to this can be customised to control whichever function you find most useful - for example ISO, metering, and so on, a range of different options can be found in the main menu.
Around the shutter release button is a zoom switch which allows you to zoom the extensive lens in and out. It's also possible to use a ring around the lens to zoom in and out, which is a nice touch for a camera like this, making it feel more akin to using a more advanced camera, or a DSLR. You'll see that when you zoom out, the lens barrel has markings on it so you can see the equivalent focal length you're shooting at, for example 24mm, 135mm, all the way up to the maximum focal length of 600mm.
There's a switch on the side of the lens which allows you to switch to Manual focusing. If you do that, then the ring around the zoom will control focusing, rather than zoom left - hence you will need to use the switch around the shutter release to use both these functions together.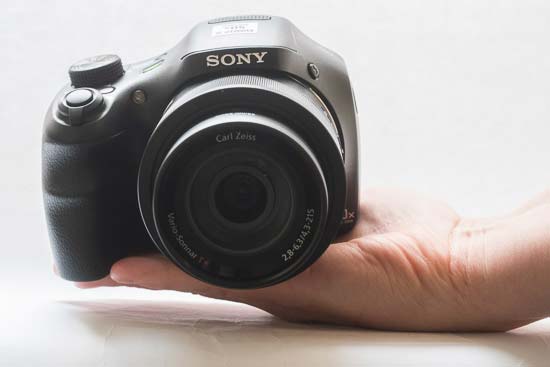 Front of the Sony Cyber-shot DSC-HX350
The last button on the top of the Sony Cyber-shot DSC-HX350 is a "finder/monitor" button. This allows you to use the viewfinder instead of the rear monitor, and switch it back again. It's a shame there isn't a sensor for automatically detecting when you've lifted the camera to your eye, as it's less of a natural way of working. You may find you only switch the viewfinder on when bright conditions prevent you from using the screen.
All of the buttons and dials, both on the top of the camera, and on the rear, are all grouped on the right-hand side. This is useful as your other hand is likely to be in use holding the lens to steady the camera as it's quite a large overall body and lens combination.
A video record button is tucked away near the viewfinder, a place which makes it unlikely that you'll accidentally hit it and record unwanted videos. There's been a bump in resolution from the HX300, with it now able to offer Full HD video (up from 720p). 4K video is fast becoming the norm now, so perhaps Full HD is a little disappointing - still it's useful enough for the odd video.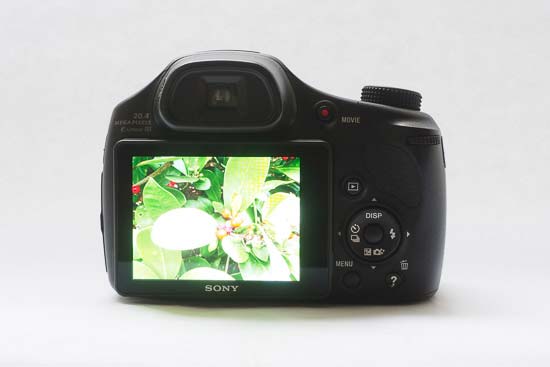 Rear of the Sony Cyber-shot DSC-HX350
Where your thumb is likely to naturally rest is a scrolling dial. You can use this adjust different parameters depending on the shooting mode you're in. If you're in aperture priority, you can control aperture with it, or shutter speed in shutter priority. If you're in manual mode, you'll need to hit the down directional key to switch between the two parameters.
Each of the buttons on the four-way navigational pad has an assigned function to it, including the up button controlling the display, and the left button controlling the timer. The right button controls the flash mode, but you'll need to manually push the flash button to lift it up from the camera.
You can use the central button in the four-way navigational pad to set the autofocus point - but first you need to have changed the Focus Area from Wide or Centre to Flexible Spot. Once you've done this, simply press the central button and then use the directional keys to move the point to where you need it to be.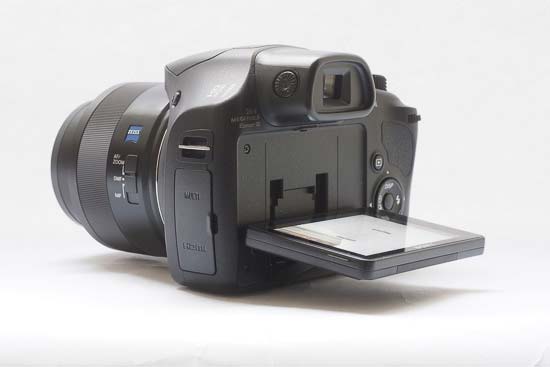 Tilting LCD Screen
The final three buttons on the back of the Sony Cyber-shot DSC-HX350 are a playback button, a menu button and a button which has a couple of different uses, including being the delete button when viewing images in playback.
On the side of the camera are a couple of ports which are covered by a fairly sturdy door. There's a Micro USB port, which you can use to charge the camera, and there's also an HDMI port.
The Sony Cyber-shot DSC-HX350's screen tilts upwards and downwards. That makes it useful for shooting from high or low angles, but doesn't help with self-portraits, or portrait-format images. As already mentioned, you need to press a button to switch on the viewfinder. It's a small finder, but the image inside it is reasonably bright and clear. Due to its small size, it seems unlikely you'd want to use it for every shot, but if you prefer to compose that way you may find it useful.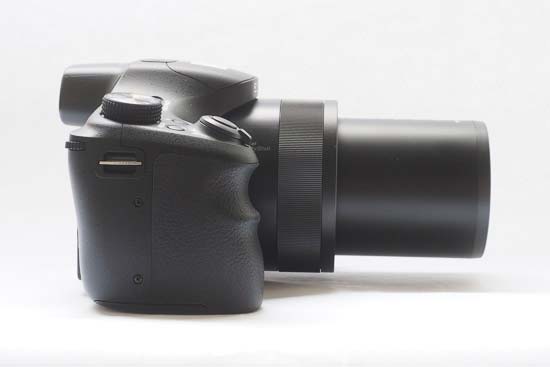 Side of the Sony Cyber-shot DSC-HX350
The main menu, accessed by its own dedicated button, is relatively well organised, with most settings where you'd expect them to be. It is quite an extensive menu however, so you might feel more comfortable if you spend some time getting to know it when you first get the camera out of the box.
In bright light the Sony Cyber-shot DSC-HX350 is quick to lock onto a subject in most cases, and it can also focus very closely to a subject - making it useful for macro subjects. If you're attempting to focus in low light, a focusing assist lamp helps to make sure the camera acquires focus. It can take a couple of back and forth movements to get there in low light, but it's not too bad unless the light is extremely low. It's also very rare for a false confirmation of focus to be displayed. There are no tracking or continuous autofocus options, making it less than ideal for shooting moving subjects.
Shot-to-shot times are reasonably good, but it is possible to accidentally zoom into the preview of your image if you're trying to zoom in quick succession after a previous shot - make sure to wait until the screen has cleared before attempting to take your next image and you shouldn't have this problem. Flicking through images in playback is very responsive.