Nikon Coolpix S7000 Review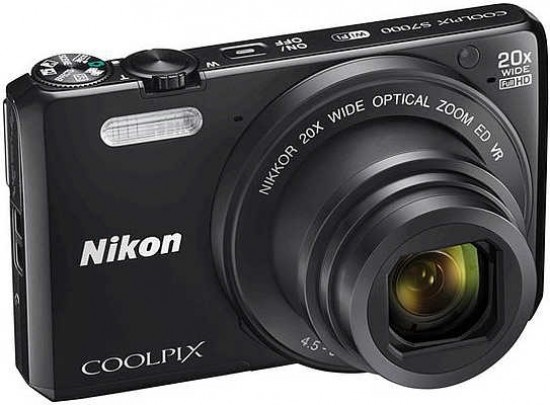 Introduction
The Nikon S7000 was introduced at the same time as a range of other new Nikon cameras in early February 2015. It features a back-illuminated 20 million pixel CMOS sensor and a 20x optical zoom which gives you an equivalent angle of view of 25-500mm in 35mm terms. There's also full HD video recording, as well as inbuilt Wi-Fi and NFC support for connecting the camera to your smartphone or tablet. Other specifications include an EXPEED C2 processor, the ability to create panoramas, a range of scene modes, a three-inch 460k dot screen and the ability to charge the battery via a USB port. The Nikon Coolpix S7000 costs £199.99 / $279.99 and is available in black, white, pink or gold.
Ease of Use
The Nikon Coolpix S7000 is impressively slim for a camera which features a 20x optical zoom and you should find it slips into your pocket very easily. There's nothing hugely revolutionary about the design of the camera, with Nikon going pretty much for a tried and tested button layout and construction.
There's no finger grip on the front of the camera, but where your thumb sits at the back, it is slightly indented so the camera still feels pretty secure in your hand.
On top of the Nikon Coolpix S7000, you'll find a on/off button, the shutter release and a mode dial. This dial allows you to switch between the various exposure modes the camera offers and saves you from having to delve into menu system. Here you'll find automatic mode, scene modes, effects mode, a video clips mode and a couple of other specific modes, such as Smart Portrait and Backlighting.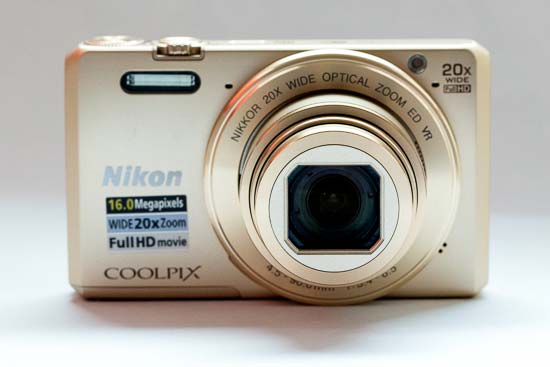 Front of the Nikon Coolpix S7000
Around the shutter release, you'll find the zoom switch. This allows you to move the lens in and out, and feels pretty well constructed. You can reach the furthest reach of the telephoto optic pretty quickly. If you've got digital zoom switched on, the lens will pause ever so slightly before entering into the digital area. You can also use the zoom lever when you're in playback to zoom into an image, or zoom out so you can quickly see all the photos on your memory card.
Flip to the back of the Nikon Coolpix S7000, and again here is a pretty standard layout. Just next to the thumb rest area is a dedicated video record button. It's slightly indented into the body of the camera, making it difficult to accidentally press.
Just underneath this button you'll find a playback button and a dedicated Wi-Fi button. Moving down further and you'll find a four way navigational pad, with each of the keys dedicated to a specific function. Left controls timer mode, while up accesses flash options, down allows you to switch on or off macro focusing, while right allows you to adjust exposure compensation.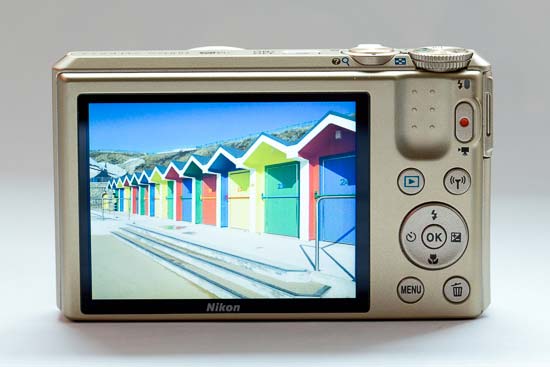 Rear of the Nikon Coolpix S7000
The final two buttons are a Menu button for accessing the main menu and a button with a trash icon, which is used to delete photos when viewing them in playback.
Unusually for a compact camera like this, you can set the autofocus point manually. When you're shooting in Auto mode, head to the Main Menu and under AF area mode choose "Manual". After this has been selected, pressing the OK button in the centre of the four way navigational pad shows you the currently selected AF point - simply move to the point you want to use with the directional keys. Other AF area modes include Face Priority, Center, Subject Tracking and Target Finding AF.
There's also a couple of other useful options which you can alter when using Auto mode from within the Menu, including White Balance, ISO sensitivity and Image Mode (which changes the resolution of the captured image).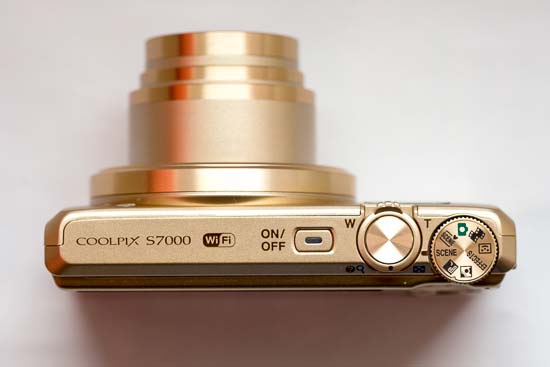 Top of the Nikon Coolpix S7000
It would be nice if there was a quick menu available to allow you to quickly change those settings, or other settings that are presented while using different shooting modes such as Effects mode, but sadly Nikon has decided not to include such a button.
When you're in Effects mode, in order to choose between the different effects, you'll need to enter the main Menu, which is a bit of a faff. It's worth remembering also that as the camera doesn't shoot in raw format, if you shoot with an Effect enabled, you'll be stuck with that. If you like Effects, an alternative is to apply them after the image has been taken in playback. After hitting the Playback button, press the OK button and a number of different options for adding filter effects to your image. If you do this, both the original and the new, edited, photo will be saved.
On the side of the camera, underneath a small flap, you'll find two ports - one for inserting an HDMI cable if you want to connect it to your TV to watch full HD movies, and another for the USB cable. There's a supplied power supply unit which you can use to charge up the camera, or alternatively you can plug into a laptop or computer with a USB port - handy if you're travelling and don't always have access to a three pin plug socket.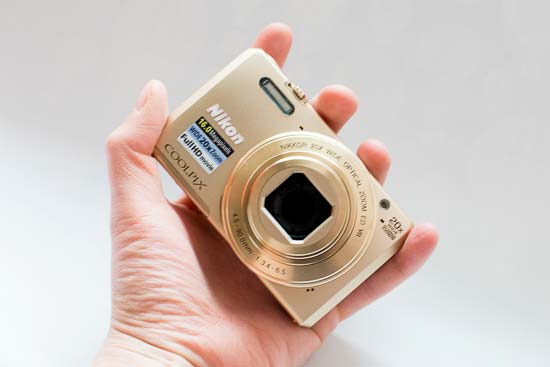 The Nikon Coolpix S7000 In-hand
Connecting the Nikon Coolpix S7000 to your phone or smart device is very easy. If you have a Wi-Fi only enabled device, you can press the dedicated button on the back of the camera, where it will display the name of the network you need to connect to from your phone or tablet. Once you have connected, simply launch the Nikon Mobile Utility App and you can control the camera from the app, or view the pictures you have already taken and download them for quick sharing on social networks, or via email. If the battery is low on your smart device, the app won't allow you to remotely control the camera. Sadly you can't change many settings when you're remote shooting, but you can zoom the lens in and out. The NFC chip is found on the left hand side of the camera - if you have an NFC enabled device just touch it to this point on the camera to form a connection.
Focusing speeds in good light are pretty swift, and it's also impressive how closely you can get to the subject by switching macro focusing on. As the light drops, focusing is a little slower, and very occasionally the camera will struggle to focus at all, but generally only if the light is very poor. Otherwise, general operation speeds of the camera are reasonable, but shot to shot time is a little slow, so if you're taking lots of shots in succession you may find it a little frustrating to use.
The LCD screen is a fairly low resolution when compared with some of the other cameras currently on the market, and it's also not touch sensitive - which is a shame. But on the plus side, it displays a a decent view and it doesn't suffer too badly from glare or reflections, even if you're using it in reasonably bright conditions - good news for those who want to take the camera on holiday.