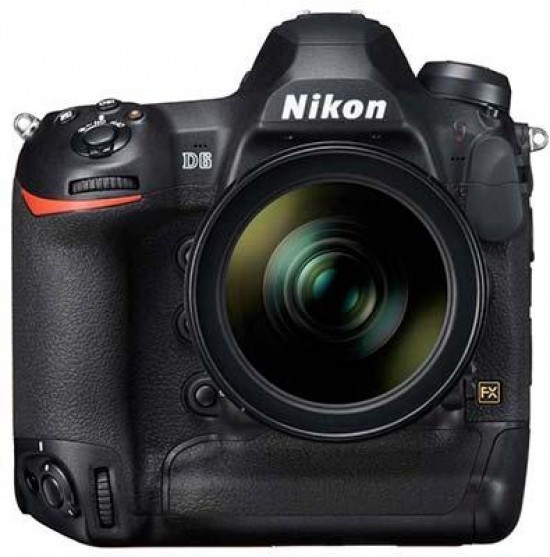 Introduction
The Nikon D6 is a flagship professional DSLR designed for professional sports and news photographers. Launched just in time for the now delayed 2020 Tokyo Olympics, the D6 represents the pinnacle of Nikon's DSLR technologies.

These include Nikon's most powerful AF system ever, with 105 all-selectable cross-type sensors and 1.6x higher density coverage than the previous D5, plus an increased range of selectable Group-Area AF patterns, an improved scene recognition system, and superior low-light AF performance down to -4.5EV.

In-camera connections have also been improved, with Wi-Fi, Bluetooth and GPS all built-in, while the wired LAN supports 1000BASE-T standard that's 15% faster than the Nikon D5. The camera's high-resolution displays now offer improved visibility and readability.

The Nikon D6 ups the ante in terms of burst shooting, delivering burst rates up to 14fps with full AF/AE, or up to 10.5 fps with AE tracking in Silent Photography mode. Dual card slots accept both XQD and CFexpress cards, the fastest cards available today.

The Nikon D6 DSLR is available now priced at £5,199.99 / €6,989.00 / $6,499.95.
Ease of Use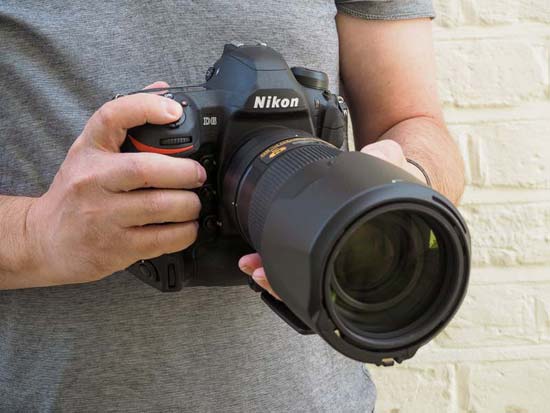 Front of the Nikon D6
Designed for a wide variety of photographic pursuits - yet more specifically, says its manufacturer, 'hard news and international sports' - in normal circumstances, Nikon's new top-end, full-frame D6 flagship DSLR would have been out in time for use by the world's press and sports photographers at the 2020 Tokyo Olympics.
With that major event and most others worldwide postponed or simply cancelled outright because of the continuing Covid-19 crisis, the action-ready camera has arrived to a very different world and circumstances than any of us anticipated when Nikon first teased this DSLR way back in October 2019.
At the time of writing, due to social distancing measures, no professional or amateur sport is taking place anywhere in the UK. Though personal exercise such as jogging or cycling is allowed, thankfully, it does means subject matter for testing the Nikon D6 out on is somewhat restricted. That said, we are fortunate enough to live near to green spaces for our daily exercise - and headed out there with the camera.
So, how does the Nikon D6 stack up? With direct competition in its class most obviously coming from Canon's own swift-shooting EOS-1DX Mark III, the buzz around the 20.8 effective megapixel D6 initially was its overhauled AF system; that, and the fact that it costs a sizeable £6,299 body only in the UK (£200 less than Canon's contender). Here we're using it in conjunction with Nikon's F mount compatible AF-S 70-200mm f/2.8 E FL ED VR zoom, itself priced at a hefty £2,209.
The core pitch for the action-ready D6 is that its 105 all-selectable cross type sensors boast a 1.6x higher density coverage than the outwardly very similar D5 predecessor (which instead boasted 153 AF points), while burst rates of up to 14fps are attainable in Continuous High (CH) mode with a squeeze of the shutter release button in full AF/AE mode (for up to 2000 Fine quality JPEGs), or a still respectable 10fps in Continuous Low (CL) mode. This extra 2fps in CH mode over the previous Nikon D5 will please its intended audience.
Rear of the Nikon D6
Naturally, with a latest generation Expeed 6 processor on board, the Nikon D6 also boasts the ability to shoot 4K video - here to a maximum but not quite class leading 30fps - once the camera has been placed into Live View mode via rear switch flick, followed by a press of the pin-head sized record button at the top of the handgrip. The video button is tiny, presumably to avoid being mistaken for the larger main shutter release button adjacent to it, which here is ergonomically encircled by the on/off button. This proximity and combination enables its user to get nigh instantly up-and-running (and shooting) with this camera; in practice we're able to loose off a shot soon as the switch is flicked.
With the ability to shoot JPEG and Raw files, both separately and in combination, but not TIFFs, the magnesium alloy bodied Nikon D6 feels reassuringly robust in the hand when gripped - just as it should at this price point. It's fair to say that, with telephoto lens attached, it is also both a bulky (at 160x163x92mm) and weighty proposition - a few grams heavier than the four-year-old D5 at 1450g total - but nevertheless one that in combination will squeeze practically into a backpack.
A broad shoulder strap is also provided out of the box, along with a chunky mains charger that has space to recharge two batteries simultaneously - though unsurprisingly just the one is provided with purchase of the body itself.
Though we were blessed with bright spring sunshine for our test period - seemingly ideal conditions - the camera's specification indicates both on paper and as it turns out in practice that it is potentially just as useful a tool in lower light. We get AF sensitivity down to -4.5 EV at its central focus point and -4 EV at other points.
In terms of light sensitivity settings, these are similarly comprehensive, in ranging from a core ISO100 to ISO102400, in a choice of 1/3, 1/2 and 1EV steps. This can be extended down to the equivalent of ISO50 or up to 3280000, if needed, though to be fair results from the top five highest sensitivity settings are virtually unusable. The resulting lack of detail means that photos resemble faded cave paintings, rather than realistic portraits of contemporary life. There's no built-in image stabilisation here either - as is traditional for a Nikon DSLR, that's provided via the Vibration Reduction ('VR') activation setting on the lens in use.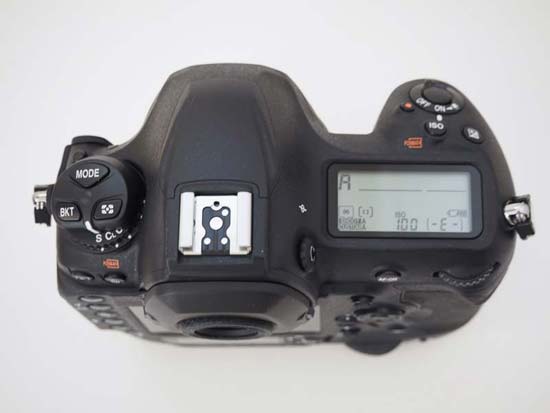 Top of the Nikon D6
This being a professional newsgathering tool, Nikon lays the connectivity options on thick to help pros ensure a faster workflow, while familiar buttons and dials from the D5 likewise on the new D6 fall readily under fingertips and thumbs (yes, thumbs plural as you'll want to use both hands to hold and operate this camera).
As a real boon for photographers in the field, and those who value convenience generally, the D6 now boasts Wi-Fi and Bluetooth connectivity options as well as on-board GPS; there's also wired LAN support, with the port hidden beneath a rubber flap on the camera's flank, that is claimed to be 15% faster than its D5 predecessor.
Undoubtedly existing owners of earlier flagship 'D' series models are going to be the largest possible audience for the D6, while there is so much that is carried over from the D5 in terms of layout that we're not going to zero in on every function button and feature.
Those with drawers full of CF and SD cards of varying descriptions may lament that this latest DSLR goes the way of Nikon's 'Z' series mirrorless and offers support for super quick XQD cards along with CFExpress - so factor in that a high capacity XQD card and reader will cost you around £200 on average.
The camera usefully provides two card slots - again that is as expected at this level. These are hidden under a protective flap that forms part of the rear right hand side of the camera when viewed from the back. As with the previous D5 model, this springs open with a button press; said button also hidden beneath a flap so as to prevent accidental activation when gripping the camera in the right hand. We were using the D6 with a 64GB Sony XQD series card boasting read and write speeds of 440 MB/S and 400 MB/S respectively, providing a fluid and seamless response without the camera being rendered inactive while a sequence of shots or video finishes writing to card. Nikon suggests the shutter unit has been tested up to 400,000 cycles, so inside and out this DSLR is built to last.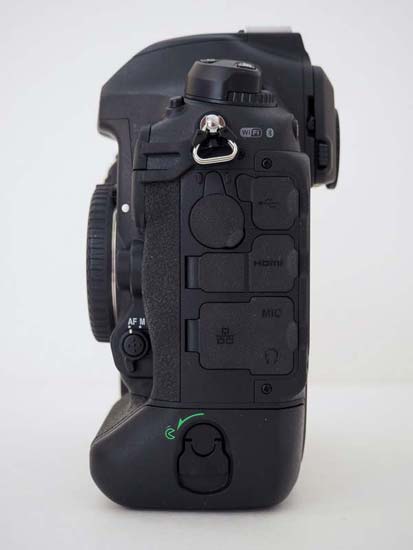 Side of the Nikon D6
Investigating the front of the camera, the Nikon D6 here also appears identical to the D5, with the familiar pentaprism SLR shape and solid construction that indicates this is a workhorse of a DSLR able to take a fair bit of a hammering in the line of duty.
Unsurprisingly given its identical nature to its forebear and Nikon taking its common 'if it ain't broke don't fix it approach', the camera's fascia features dual stereo microphones placed either side of the lens mount, large and stiff lens release button nestled nearby, just below which is a switch for alternating between auto and manual focus.
Over on the other side of the lens mount is a row of three function buttons, the positioning of which means that they fall beneath the fingers of the right hand when gripping the camera - though these may benefit those with larger hands as we found them a bit of an uncomfortable stretch to reach, meaning they were simply ignored. There are, however, no fewer than 14 customisable buttons on this camera, so you can pretty much configure it to have your favoured settings literally at your fingertips if you put the time in.
The 0.72x optical viewfinder here is, as we'd expect, large and bright in operation while retaining OLED elements, including roll and pitch indicators displaying in the viewfinder. It's very much a camera built for shooting with your eye placed against the viewfinder, rather than using Live View. You want any camera to feel like an extension of your arm - and/or eye - when shooting, and the Nikon D6 achieves that, by and large, letting you focus on the subject and ensure that they're sharp rather than being distracted by what the camera is doing.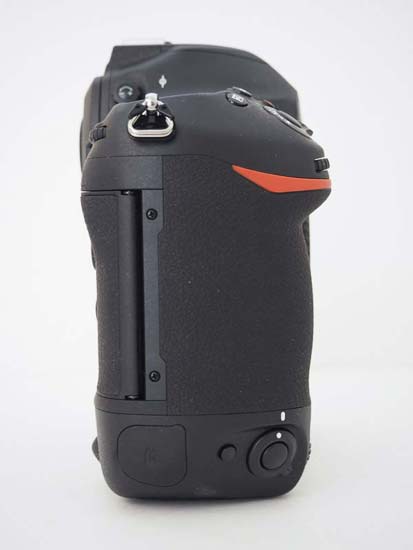 Side of the Nikon D6
Also large-ish, at a regulation 3.2-inches, 2.3 million dot resolution, and of the distinctly fixed (non angle adjustable) variety, is the Nikon D6's rear plate LCD screen. It's also a touch sensitive monitor this time around for increased intuitiveness when it comes to handling, with a virtual playback button appearing centre screen when you're reviewing video clips, for example.
As well as using it for the regular selection and implementation of settings and features in conjunction with the large multi controller to its right, in playback mode key shots can also be sent to the front of the queue when deciding which ones to transfer first, either wirelessly or via LAN cable to your computer. It's all about speeding up the workflow from initial capture to review and, presumably, publication.
As mentioned earlier, though a single rechargeable EN-EL18c lithium ion battery is supplied with the camera, a dual battery charger in the MH-26a is generously provided out of the box - well, as generous as you can be with a package already costing upwards of £6K. Also generous is the amount of shots delivered by the brick-like battery: a whopping 3,580 shots per charge, or up to 105 minutes of video.
We say by and large because over time you're probably going to want to attach this one to a tripod rather than shooting handheld. With the zoom lens we had in for testing attached, the combination is inevitably both a bulky and a weighty one, that is also far from inconspicuous, marking you out very much as a pro rather than an amateur. Inevitably if you are using the camera's burst mode options, then the inevitable machine gun like rat-a-tat is going to turn heads of those nearby. Essentially this DSLR looks, handles and feels every inch the professional tool it is. This isn't one to stash in the glove box or hand bag; it's very much the chunky Land Rover of digital cameras.
A Pro Photographer's Perspective on the Nikon D6
We asked professional photographer Matthew Horwood to share his thoughts on using the Nikon D6 and compare it to the Nikon D5 that he already uses.
Focusing
The focus speed and accuracy on the D5 was already excellent and the Nikon D6 improves on this with the all cross-type focus system. I found focus acquisition and subject tracking improved - particularly in group mode where customisation is extensive. Any improvement on the already excellent D5 is impressive.
The eye/face focus in auto area AF and 3D tracking is very good too. Better than I had expected - like a much more snappy version of the Z7 face/eye detection. I admit that I thought this was a bit of a novelty but I can see it as something I'd use fairly often in day to day work.
I use eye-detection frequently on the Z7 for poorly-lit conferences so having this ability on the D6 which is far better in low light conditions will be a big plus. I've read that that the centre AF point works down to LV -4.5 however which will also help, a small improvement on the D5's LV -4.
Live View Focusing
Just like the D5 and the D4s before the Nikon D6 relies on contrast AF and it's nothing short of painful for focusing in live view. There are improvements in terms of silent shooting (10.5fps at full resolution) however the lack of phase detect AF makes these improvements feel a little redundant. Granted, this is a camera intended for viewfinder shooting - but I'm very jealous of the Dual Pixel CMOS AF on the new Canon EOS-1D X Mark III.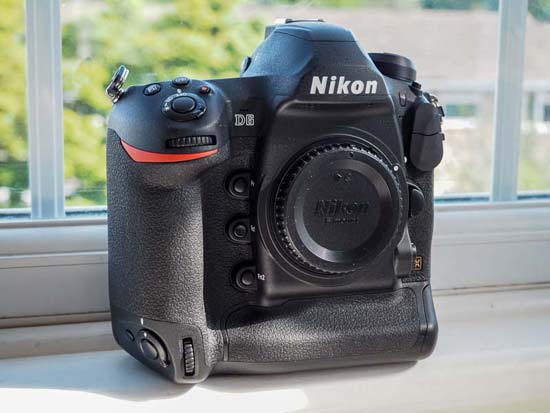 Front of the Nikon D6
Sensor
Same resolution as the D5. I didn't notice any improvements in noise at higher ISO levels. The files are very similar to the D5. I find 20mp to be the sweet spot for news. Good balance between file size, resolution and sensor noise. I'm glad Nikon has matched the D5 here.
Handling
The Nikon D6 feels and looks like a D5 which is great. If you used a D5 and D6 blindfolded you'd have a hard job telling the difference. It's big, tough and heavy. Slightly heavier than the D5 apparently but not noticeably so. The top of the camera, under the flash socket is a little larger - presumably this is where the GPS and wifi chip is located but otherwise it's hard to tell the difference.
Another small change I noticed was the info LED at the top and on the bottom of the camera is now a more natural white LED rather than the turquoise/blue of the D5. Small change but at least you can tell the D5 and D6 apart when using them in the dark! And the white is easier on the eyes.
I've never been one to rush out and buy two D models and prefer to upgrade the older of the two models I own every iteration. The controls are laid out almost identically to the D5 and and so, for me at least, this is a huge advantage. I'm currently using a D4s and a D5 and although both of these cameras are similar in layout there are some irritating differences when using both together.
Burst Shooting
14fps on the D6 vs 12fps on the D5. Not a huge deal for me for most of what I shoot but useful to have when it's needed.
Playback
You can now directly view the image shooting data for a particular picture on the display screen without cycling through an info menu on the image. I have to press up/down on the D-pad of the D5 to see this info but the Nikon D6 just displays it under the image. It's a small feature that may be of no interest to many but something I found very useful.
Connectivity
Built in wifi/bluetooth and GPS. At last! I've always thought it odd that these features were not included on the professional range of Nikon cameras and yet were commonplace on consumer cameras. Although Bluetooth is limited to transferring low resolution images via Snapbridge, you can get full size RAW files off the camera via a direct wifi connection to a device - it seems to take around 30 seconds per RAW file and about 10-15 seconds for a JPG. It's good enough for a quick picture for social media etc.
Fortunately the Nikon D6 is compatible with the WT-6 transmitter which allows transferring of images to FTP servers. There are also some useful new features which allow for prioritising certain images when sending via the WT-6 which you can't do on the D5 and allocating small/medium JPGS to the secondary card slot for transferring quickly. As well as being able to filter images by transfer status in playback mode which is small but useful feature.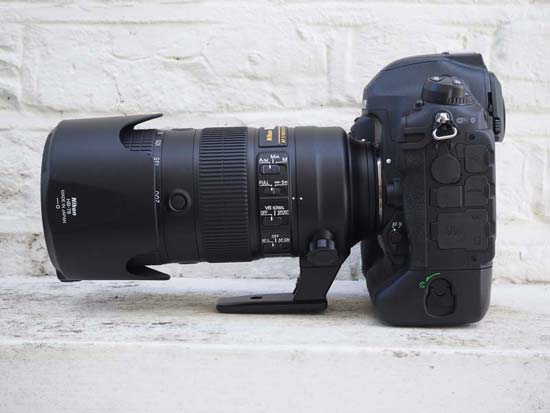 Side of the Nikon D6
Speed
The Nikon D5 was always quick but moving through images is very fast on the D6 with the Expeed 6 processor. As is applying in camera edits to RAW images. There's a big jump from the D4s and a slight jump from the D5.
Quiet Mode
No noticeable difference, sadly.
Storage
XQD and CFexpress. I wasn't able to try the CFexpress cards but it is something I'd invest in - if only for the read speed when browsing images images on a computer. Nikon have said CFexpress support will come for the D5 but no sign of it yet.
USB Type C 3.1
Nice to see. I use the USB C port fairly often on the Nikon Z7 for importing pictures when I don't have a card reader nearby, it's particularly useful when importing images onto the iPad Pro. Transfer speeds were as fast as with my card reader. It didn't seem to be possible to charge the battery over USB-C as you can do on the Z7 with the new batteries. This would have been a nice feature.
Overall Thoughts
The D5 is an excellent camera. The Nikon D6 is just that little bit more again but it's not revolutionary. If I was using two D5s I'm not sure I'd be rushing to upgrade but anyone coming from a D4s or below are going to see a big jump in focus and low light performance and connectivity. For me there's not one particular feature that blows me away but instead lots of little improvements and refinements on an already excellent platform which, when put together, may persuade me to swap the D4s for the D6 at some point this year.