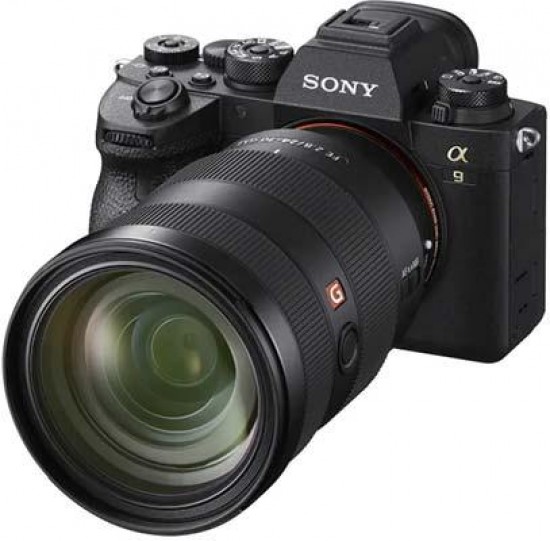 Introduction
The Sony A9 II full-frame mirrorless camera is a brand new version of Sony's flagship model for sports photography and photojournalism.

The Alpha A9 II offers a number of evolutionary upgrades to the original A9 camera that was released back in 2017 - Sony say there are 43 improvements over the original model in total.

These include a redesigned body, improved weather-sealing, a low vibration shutter design that offers 500,000 shutter cycles, improved in-body stabilization (up to 5.5 stops), and enhanced connectivity including a 1000BASE-T Ethernet terminal and 3.2 Gen 1 USB port.

In addition the mechanical shutter is now capable of shooting at 10fps, twice as fast as the 5fps of the original Alpha A9, the auto-focus system gains Sony's Real-time AF tracking and newly optimised AF algorithms, there's a new anti-flicker shooting mode, and slightly longer battery life.

Otherwise the A9 Mark II retains the original model's key features. It can shoot continuously at 20fps for up to 241 RAW / 362 JPEG images with no blackout between frames, and has 693 focal plane phase detection AF points that cover approximately 93% of the frame.

It also features the same CMOS sensor offering a resolution of 24.2 megapixels, an ISO range of 100-1200 that is expandable to 50-204800, 4K video recording which uses full pixel readout without pixel binning to collect 6K of information, a top shutter speed of 1/32,000 sec, and records uncompressed 14-bit RAW files.

It has a Quad-VGA OLED Tru-Finder electronic viewfinder with approximately 3,686k dots and a magnification of 0.78x, dual SD card slots (now more logically ordered), and built-in Wi-Fi, Bluetooth and NFC connectivity.

The Sony Alpha A9 II is available now priced at £4800 / $4500 / €5400 body-only in the UK, US and Europe respectively.
Ease of Use
The Sony Alpha A9 II offers 43 improvements to the original A9 model, with most of them being pretty minor changes that are predominantly aimed at professional sports photographers and photojournalists.
At first glance the external control layout looks much the same as before, but take a much closer look and you'll notice some subtle differences.
These include a slightly larger, deeper handgrip that accomodates more fingers and offers greater security, a larger, more prominent AF-ON button, a more refined, a more tactile multi-selector joystick, the welcome addition of an exposure compensation dial lock button, and a new position for the rear control dial.
They may sound like relatively small changes, but collectively they add up to make the Sony A9 II a slightly more refined, slightly more enjoyable camera to use than than the original A9.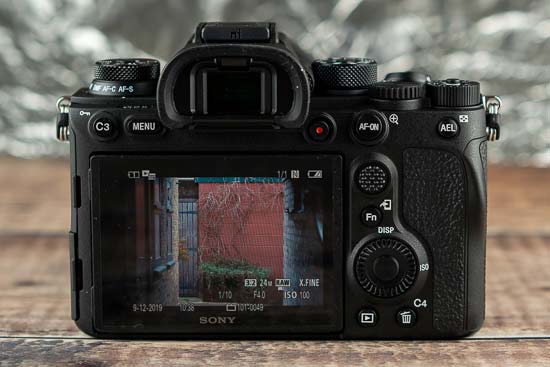 Rear of the Sony A9 II
Sony have also listened closely to their existing base of pro photographers and beefed up the weather-sealing of the Alpha A9 II. The doors for the battery compartment and memory card slots now use a double-sealed sliding mechanism, rather than being hinged, which should help to beef up the camera's dust and water durability.
Interestingly, Sony have also finally reversed the orientation of the dual card slots (both supporting UHS-II), with Slot 1 now more logically at the top, and Slot 2 more logically at the bottom, a small but very welcome change that makes a lot more sense.
One of the biggest improvements to the new A9 Mark II is the ability to shoot continuously at up to 10fps when using the mechanical shutter, which is about 2x the speed of the original A9, making it more adaptable in certain artificial lighting conditions that can negatively affect the electronic shutter.
Talking of artificial light, there's also a brand new anti-flicker mode that automatically detects and adjusts for the presence of fluorescent or other artificial lights to prevent exposure and colour anomalies from appearing in the final image, as well as exposure and colour inconsistency between continuous shots.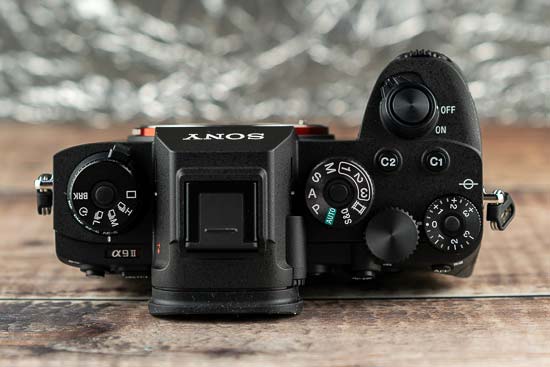 Top of the Sony A9 II
Note that flicker-free shooting is not available during electronic shutter, BULB exposure, or movie recording, and only 100 Hz and 120 Hz flicker is detected.
Both of these changes make the Sony A9 II better-suited to shooting indoors, which should please the sports photographers at next year's Olympic Games in Tokyo.
As should the raft of improvements that Sony have made to this camera's connectivity options. The original Alpha A9 was already a well-connected camera, but Sony have listened carefully and really beefed-up this aspect of the new version.
Chief amongst the changes is an upgraded built-in 1000BASE-T Ethernet terminal, 10x faster than the 100MB/s one on the A9. Similarly, the USB Type-C port has been upgraded to the latest, fastest 3.2 Gen 1 standard and the wi-fi connection now supports dual 2.4/5GHz.
Tilting LCD Screen
Up to 10 sets of camera settings can be stored in a memory card, with saved settings able to be read by other cameras of the same model.
Other new features that will please pro photographers include the ability to attach a 60 second long Voice Memo to an image with automatic transcription into text, enhanced remote shooting via the Remote Camera Tool 2.1 software, and you can save up to nine different FTP settings.
The Sony A9 was already a fantastic camera at auto-focusing, but Sony have managed to improve things here too. Real-time AF tracking has been added, and newly optimised AF algorithms provide even greater AF precision and performance than before.
For videographers, real-time Eye AF for humans and animals is now available when shooting both 4K video and stills.
It's also now possible to choose the colour of the focus frame to suit your needs, move the focus frame even when the shutter release or the AF-ON button are half-pressed, and use the LCD touchscreen for touch-tracking whilst looking through the viewfinder.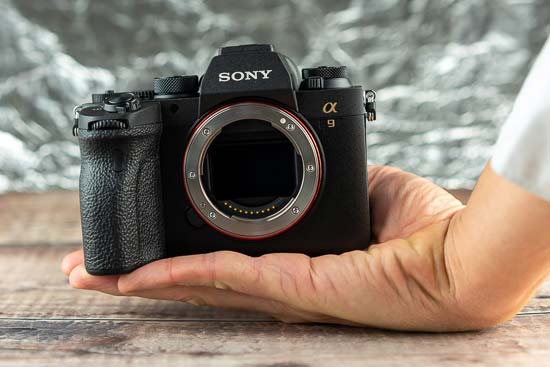 The Sony A9 II In-hand
A new low vibration shutter design and improvements to the in-body stabilization means that the A9 II offers improved image stabilization of 5.5 stops, up from 5 stops on the A9. The new shutter also boasts an impressive life-span of at least 500,000 shutter cycles.
The digital audio interface has been added to the camera's Multi Interface Shoe, enabling the new ECM-B1M Shotgun Microphone or XLR-K3M XLR Adaptor Kit to be connected directly to the Sony A9 II for better audio recordings.
Finally, Sony have even been able to improve the battery life, albeit only slightly, with the A9 II now capable of recording 690 shots using the LCD screen and 500 when using the EVF (up from 650 and 480 on the previous model).
We're now going to direct your attention to our detailed Sony A9 review if you want to learn everything else there is to know about the new A9 II.
Once you've read that, come back here to see sample images and videos from the Sony A9 II, plus our final verdict.