Canon EOS-1D X Mark III Review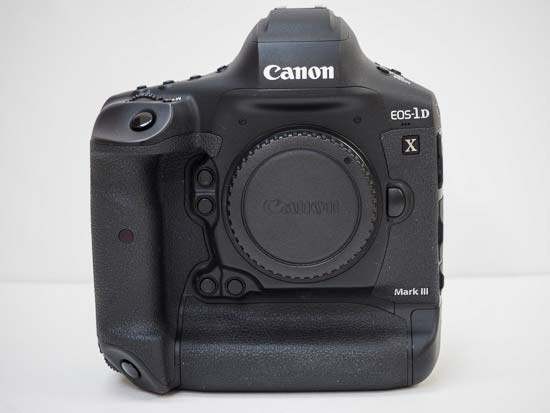 Introduction
The EOS-1DX Mark III is Canon's latest top-of-the-range full-frame professional-level DSLR, designed to be the ultimate sports and wildlife camera.

It features a redesigned 20.1 megapixel full-frame CMOS sensor and the very latest DIGIC X image processor.

Burst shooting speeds have been increased to 20fps continuous shooting in live view or 16fps with the viewfinder and the buffer has been improved to allow Raw and JPEG bursts of up to 1000 frames.

The native ISO range runs from 100-102400, which can be expanded to ISO 50-819200.

The EOS iTR AF X auto-focusing system that works when using the optical pentaprism viewfinder has 191 points 155 of which are cross-type points.

The Dual Pixel CMOS AF system that's used when shooting video or in Live View features 3869 autofocus points with 525 automatic positions.

The 1DX Mark III is capable of internally recording DCI 4K video at 60 fps with 10-bit 4:2:2 color and Raw 5.5K video, plus there's also Full HD recording up to 120fps.

There's a 3.2-inch 2.1m-dot LCD touchscreen on the rear, dual CFexpress memory card slots, built-in Wi-Fi, Bluetooth and GPS, and integrated USB Type-C, mini HDMI, headphone, microphone, N3 remote, and Ethernet ports.

The magnesium alloy body is both dust- and weather-resistant.

The Canon EOS-1D X Mark III is priced at £6499 / $6499 body only.
Ease of Use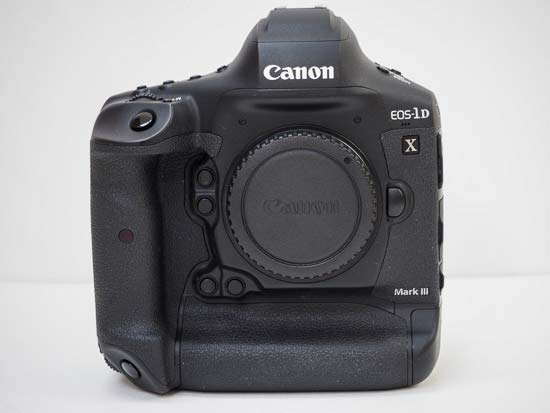 Front of the Canon EOS-1D X Mark III
With many pro photographers at the time of writing finding jobs cancelled during the pandemic and sporting fixtures much curtailed, is now the right time to be promoting an expensive - at a manufacturer's suggested £6,499.99 - high-end traditional DSLR?
Perhaps not, yet like most of us, Canon is ploughing on regardless. And so the much-anticipated full frame EOS-1D X Mark III full frame sensor incorporating flagship lands on the Photography Blog test slab.
So what's changed compared to the previous generation/s of this digital behemoth, which is most closely contested, in terms of features, price and status, by Nikon's likewise comparably new D6?
Well, the magnesium alloy bodied 20.1MP Canon EOS-1D X Mark III, undoubtedly, like its rival, originally intended to arrive in time for the postponed Tokyo 2020 Olympics back in the summer, features what's claimed to be an overhauled AF system and sensor - tweaks to auto focus response being chiefly where most of the industry's innovations and advances have come from lately.
Canon is suggesting here we're getting a 'dramatically improved' AF tracking performance, image quality and communication capabilities; exactly what we're expecting for the outlay.
On top of this, its maker lays claim to delivering 'industry leading' shooting speeds at 20fps with AF tracking in Live View mode, and that's with mechanical or electronic shutter.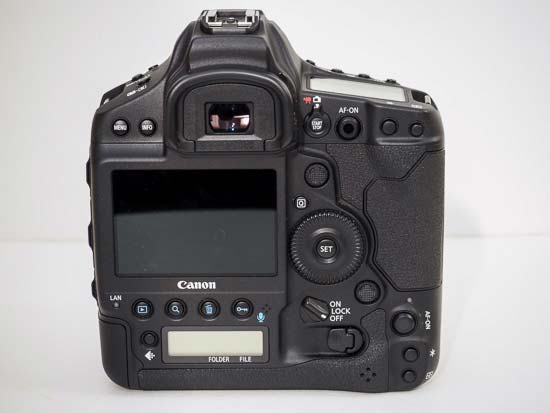 Rear of the Canon EOS-1D X Mark III
Otherwise it's a still very impressive 16fps if utilising the optical viewfinder. The manufacturer also suggests that the DSLR's AF sensor offers 28x the centre resolution of its predecessor to address pro photographers' need for greater accuracy, when focusing on subjects in a wider range of scenarios. Which sounds good to us, making this DSLR as useful for wildlife as it will be for sports photographers.
We headed to a local park to attempt to photograph some deer - and the camera ably picked out our subjects from the grassy surrounds they were hiding in. Fittingly, given its model name, this third generation EOS-1D X features its manufacturer's current generation Digic X processor to keep everything chugging along.
So the Mark III is quick, it's robustly manufactured - but what about video? That particular box is ticked via the offering of up to 4K-resolution clips, even if, when choosing to couple this with a maximum 50fps frame rate, videographers need to focus manually rather than relying on AF, which with a moving subject takes some practice.
For shooting at night or in low light, users get incrementally selectable sensitivity settings running from an expanded ISO 50 to ISO 819,200, selected by holding down the dedicated ISO button on the top plate and spinning the command dial located in front of it, with a familiar rectangular LCD window on the top plate detailing the selection made.
That's an impressively broad selection, even if at top images at the boosted settings are pretty much unusable, unless you're happy with something that more closely resembles a brass rubbing than a photo as such.
File format wise, the Mark III is also Canon's first EOS to support the 'next generation' HEIF (High Efficiency Image File) file format, enabling images with 10-bits of data to be saved in a file the equivalent size of a JPEG, while suffering less compression.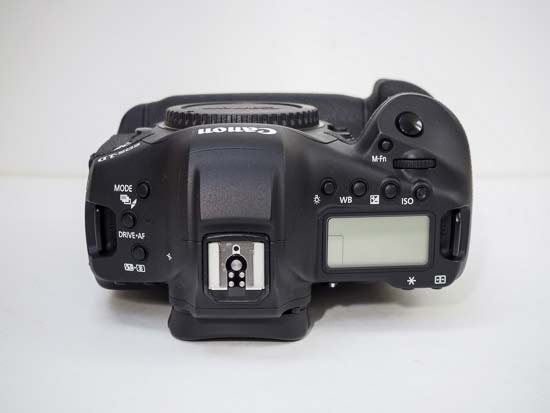 Top of the Canon EOS-1D X Mark III
Of course Raw files can be shot in tandem with JPEGS (or indeed HEIF files) as per usual - here with Canon's own .CR3 (Canon Raw) file extension, which requires the likes of Photoshop or Lightroom to access and open.
To cope with modern data hungry demands, the camera uses latest generation CFexpress memory cards - and that media alone, sadly, for anyone wondering if they can still use their drawer full of regular CF and SD cards - which boast a write speed over 3x that of the previous swiftest CFast cards.
There are, however, dual card slots provided here for power users, as one would expect given its pro-level status. Canon reckons this makes bursts of over 1000 Raw images possible, which is crazy.
It's also the first EOS-1 model to feature built-in Wi-Fi and Bluetooth, while for video specialists it boasts 5.5K 12-bit Raw video internal recording; the first non cinema Canon EOS camera to have that feature.
Furthermore there's Movie Digital IS, which provides five-axis image stabilization - useful if shooting video handheld with longer lenses, as we were when using a supplied 200mm, allowing us to achieve commendably smooth looking results.
As well as the expected sturdy brick outhouse-like build, the EOS-1D X Mark III features several buttons which can be illuminated if its display light button is pressed, allowing for users to better identify functions if working in near dark conditions.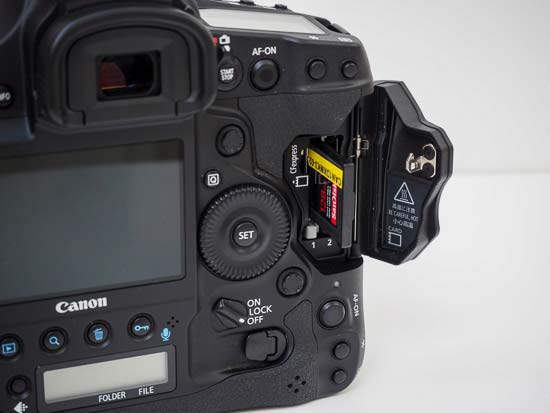 Memory Card Slots
It's no use having all these features at our fingertips however if the DSLR falls down in other respects. Battery life is, however, fortunately as robust as the camera's outer shell.
With a rechargeable LP-E19 cell inserted, it's claimed a whopping 2850 shots maximum are achievable from a full charge, if utilising the optical viewfinder, naturally.
Even if users are shooting mainly in the Mark III's machine gun-clatter like burst mode, it will still take some time rattle through that, and further underlines its professional mettle. Plus you can always pack a spare if heading out for the day or as back up when covering a major event.
Hefting the camera out of its box and affixing one of the two lenses that came with our review sample - an 24-70mm f/2.8L II USM and 70-200mm f/2.8L IS II USM - we were immediately met with a cloudy view via the optical viewfinder.
Whereas on most cameras the diopter adjustment knob to the left of the optical viewfinder sticks out sufficiently to enable the user to get the edge of a fingernail against it and make an adjustment, here it's almost completely covered by the rubber surround of the eyecup.
So much so, that you have to physically remove the eyecup by pinching its sides and sliding it upwards to make any manual adjustment, before subsequently sliding and clipping it back into place. But once done, it's done.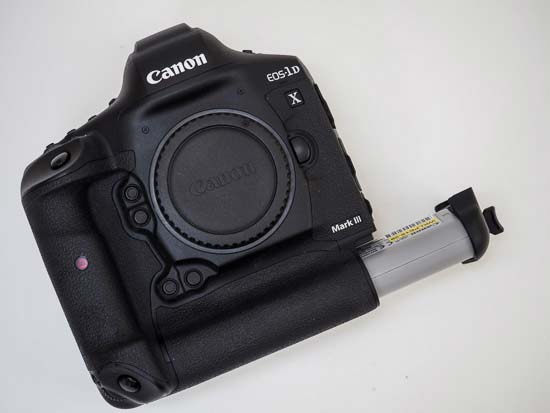 Battery Compartment
What we personally immediately missed here, compared to most pro and semi pro DSLRs, was a large, chunky tactile shooting mode wheel or dial to the left of the viewfinder, even if these features can be rapidly - and as it turns out, conveniently - accessed via a thumb press of the small 'Q' (Quick Menu) button on the camera back, then a subsequent tap of the mode you wish to select via the camera's touch screen LCD.
The lack of a familiar shooting mode dial was of course equally true of the previous generations of course of the EOS-1D X, but to somebody used to handling a wide variety of DSLRs, its omission initially feels a little odd until you get used to the camera's operability.
As, like those self same forebears, this is supposed to be - and from initial impression actually is - a robust workhorse of a camera, the LCD screen is of the fixed, non-tilting variety.
Some will of course bemoan that fact; an angle adjustable LCD is useful if you're going to be shooting video in the main, as it's tricky to be 100% certain you've got focus spot on when using the existing screen outdoors; inevitably glare and natural reflections sometimes get in the way.
Yet, given that this is the sort of professional tool that will be used in spaces where it could get knocked and elbowed by competing photographers, a fixed screen is undoubtedly a wise decision and a necessary practicality - even if it makes video shooting without some sort of external monitor trickier than could be.
We did however appreciate the fact that key shooting settings can be implemented and accessed with a finger tap on-the-fly. As we found when attempting to photograph wildlife, you don't want to drop your guard and be hunched, head down over a menu screen scrolling through endless options to find what you want if you're being stared down by a stag with huge antlers.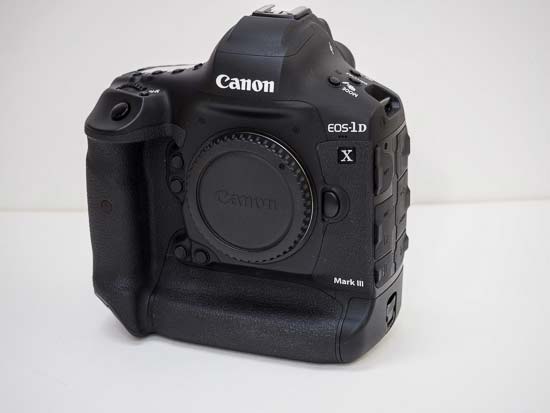 Front of the Canon EOS-1D X Mark III
Though like any pro DSLR there are plentiful buttons and controls, ultimately the Mark III is only as 'complicated' as you yourself want to make it.
Once you've set the basics of image quality, file format/s and whether you want to shoot in single shot or continuous mode - away you go - though the positioning of the power lever bottom right of the camera back, where it falls under thumb rather than encircling the shutter release button - of which there are two, dependent on whether you want to shoot in landscape or portrait fashion - initially throws something of a curveball.
Given the overall bulk of the camera we did appreciate the fact that the main LCD screen at the back has a second smaller and narrower window immediately beneath it, on which the file format/s you're shooting in are displayed. It acts as a double check when working fast, rather than having to delve into menu screens proper. Simply put, there is a lot of information placed at our fingertips here.
Conveniently placed above this narrow window, for example, are a further row of four buttons, clearly marked for accessing layback, enlarging an image so focus can be checked, deleting images or locking them.
Menu and info buttons meanwhile are placed immediately left of the optical viewfinder window where they can be accessed via the thumb of the left hand when gripping the camera - so the user doesn't have to take their away from the viewfinder for long, and possibly miss the subject matter.
Operationally we flitted between using the joystick-like multi controllers and main and quick control dials for either tabbing gingerly or racing through prospective settings, respectively. If turning the camera on its side to shoot portrait fashion, we also handily get a third dial on the vertical grip.
We're practically falling over buttons and dials on this camera - but with the convenience of alternatively tapping the LCD for key settings when it makes sense to do so. The overall effect is that operation is sped up, which is exactly what we'd want from a DSLR of this ilk.
So what about image quality? Do pictures like up to what we'd hope an expect from a near £7K camera body, before we've even considered what glass we're putting on the front of it?