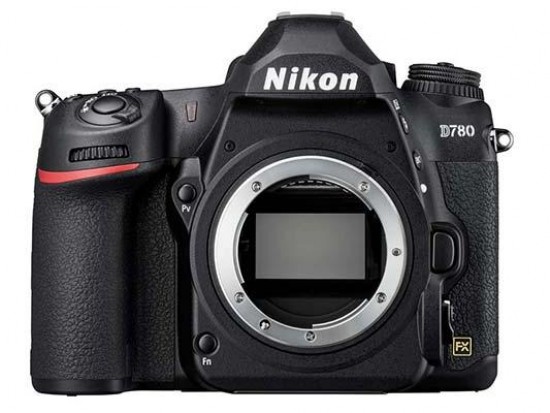 Introduction
Nikon's newest DSLR, the D780, can easily be classed as an "entry-level" full-frame model, replacing the five-year-old Nikon D750.

A new DSLR announcement in 2020 might come as a surprise to those who are expecting mirrorless options to quickly take over. Nikon however says that it understands the importance of keeping its existing customer base happy - a huge percentage of which will be loyal DSLR owners.

As such, if you're a DSLR owner with a stack of Nikon F mount lenses, you'll probably be pleased to learn that you can use them with the new Nikon D780 model.

It seems that Nikon is running its DSLR line-up very closely along side its mirrorless Z cameras, with technology swapping between them. In this respect, the D780 can be quite closely compared to the Z6, which was announced in 2018 alongside the Z7.

The D780 features a 24.5 megapixel full-frame sensor, along with an EXPEED 6 processor. The same combination is found inside the Z6. Other shared specifications include up to 12fps shooting, and the same autofocusing module (when shooting Live View anyway, more on that later).

Other interesting specifications include 4K video recording, in-camera USB charging, dual SD card memory slots and ISO speeds expandable up to 204,800.

At the time of writing, the Nikon D780 retail price is £2,199 / $2,299 (body only). It's also commonly available as a "kit" package, with a 24-120mm f/4 lens, for £2,619 / $2,799. This makes it more expensive than the mirrorless Z6 camera, which you can buy for under £1,600 (body only), or for just over £2000 with a 24-70mm f/4 kit lens.
Ease of Use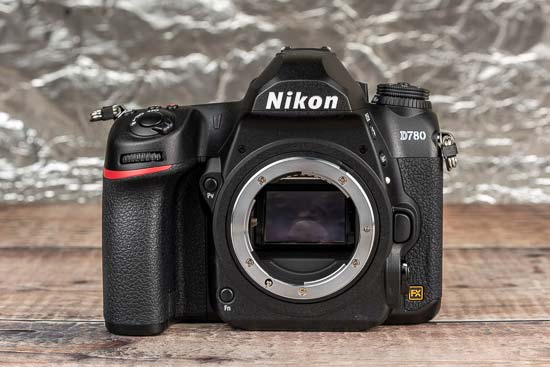 Front of the Nikon D780
If you're the kind of photographer that prefers the chunky feel and handling of a DSLR and perhaps has been put off switching to this mirrorless, then you'll likely love a camera like the Nikon D780.
There's not a whole lot of difference when compared to the camera's predecessor, the D750, which will be great news for those who liked the handling of that camera. What it means is that you get a satisfyingly chunky grip and a good spread of dials and buttons across the body.
Many of the shooting controls are found on the right hand side of the D780's body. That includes the on/off switch and the shutter release, but also the video record button, the ISO button and the exposure compensation button.
There's also a dual dial control set up, one which sits under your forefinger, which can be used in conjunction with a dial under your thumb to control settings such as aperture and shutter speed (depending on the shooting mode you're working in).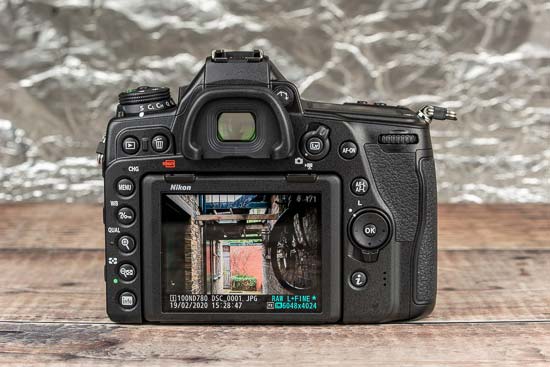 Rear of the Nikon D780
On the top of the Nikon D780 is a secondary LCD which displays a number of key settings, such as aperture, space remaining on your card, battery level, ISO and so on. This is very handy for quickly glancing how you have set up your camera, and it can also be illuminated by moving the on/off switch one further notch to the right.
Flipping to the back of the camera, and the button layout will be familiar to you if you've ever used a Nikon DSLR before. There's a multi-directional navigational pad which you can use to select an autofocus point (when shooting through the viewfinder), as well as an "i" button which acts like a shortcut to a quick menu for oft-used settings.
An important button to discuss is the "Lv" button, which you can press to switch to Live View shooting. This is a notable difference from previous Nikon DSLRs, including the Nikon D750 as by activating Live View you get a different way of working which matches up to how the Nikon Z6 works.
You get the option to shoot at up to 12fps when activating the screen, while the same autofocusing system from the Z6 will also come into play. This is a 273-point system which covers a much wider spread of the scene in front of you - compared to the 51-points which are clustered at the centre of the frame when you shoot through the viewfinder.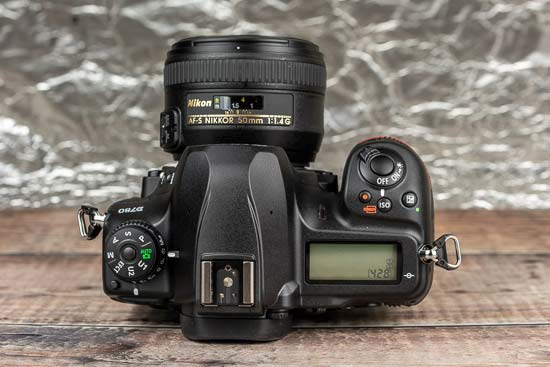 Top of the Nikon D780
The Nikon D780's screen itself tilts up and down, making it handy for a number of different shooting angles, particularly from overhead or from very low down. As it's not fully articulating, it's less useful for video, self-portraits and portrait-format images, but it's still fairly versatile when you need it. For those that prefer to shoot through the viewfinder, here we have an optical device which offers a 100% view of the scene.
There are still plenty of consumers who prefer the look and feel of an optical viewfinder. There are plenty of arguments to be made for the benefits of their electronic counterparts, but if you are very much firmly in the optical camp, you should be pleased with the device on offer here. It offers a bright and clear view of the scene, with some useful information displayed underneath the view.
On the left hand side of the camera is where you'll find the rest of the Nikon D780's dials and buttons. On the top left is a mode dial where you can select the appropriate shooting mode. Here you'll find a fully automatic mode, as well as the standard PASM (Program, Aperture Priority, Shutter Priority and Manual) options for more advanced photographers.
There's also space for two groups of custom settings, which is helpful if you're the type of photographer who frequently shoots in certain conditions - such as low light.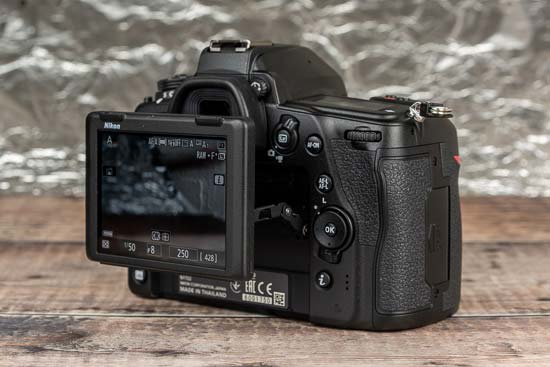 Tilting LCD Screen
Lastly there is also an "Effects" mode, which you can use to add digital filter effects to your shot, if that kind of thing appeals. In the middle of the mode dial is a button which you must hold down to move between the different modes, which is great for preventing accidental changes while carrying the camera in a bag.
Just underneath the mode dial is a second dial, for changing the drive mode. Again, there's a small button which you need to hold down in order to rotate the dial and prevent any changes you didn't intend to make. There's a number of different options here, including single, continuous low, continuous high, quiet, quiet continuous, timer and mirror up.
Down the left hand side of the Nikon D780's screen, there's a set of extra buttons, including the playback and delete the buttons, the main menu button, and an info button which you can use to adjust the shooting display.
There's also a few buttons which have more than one purpose - for example one can be used to directly access the white balance setting, but can also be used to lock an image to prevent it being deleted, while another button can be used to access metering mode, but also can be used to zoom out of an image in playback.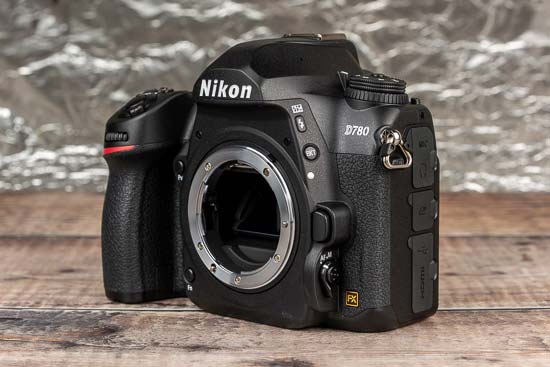 Front of the Nikon D780
All of the buttons on this side of the Nikon D780 are unlikely to be buttons you'll need to use quickly, and as such, it makes sense that they've been placed on this side, rather than on the right.
A small LED light sits next to the letters "CHG". You can charge the D780 via the USB-C port on the side of the camera - when you plug it in, this light will be illuminated to let you know it's charging.
You can also charge the camera's battery via an external charger, but it's useful for travelling photographers and those who want to pack light to not necessarily have to carry that additional accessory with them. On the left hand side of the camera, you'll also find ports for a microphone, headphones, a remote release and an HDMI cable.
On the other side of the Nikon D780 you'll see a door which covers the two memory card slots. Here - in another big difference from the Z6 - we have dual SD card slots, rather than a single XQD card slot. This will likely be good news to anybody who has a stash of SD cards ready to go, especially as the format is currently much cheaper than XQD. Having double slots will also be good news to those intending to use the D780 as a professional camera and who might crave the reassurance of on-the-go backups.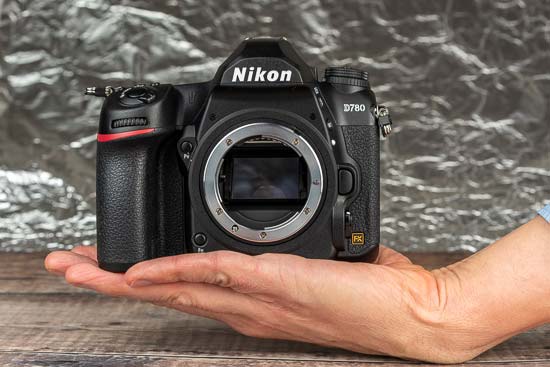 The Nikon D780 In-hand
As already mentioned, when it comes to autofocusing, you've got the choice of two different AF systems. This depends on whether you choose to shoot through the viewfinder, or via the screen. The latter is recommended if you like to shoot moving subjects, as you'll get the more advanced Z6 AF system, as well as the ability to shoot at 12fps, compared to just 7fps through the viewfinder.
In testing, both AF systems cope fairly well when the subject is moving in a relatively predictable pattern, so while it's not a camera we'd recommend if you do a lot of action shooting, it's a good option for those who want an all-rounder. Otherwise, focusing is swift and accurate in the majority of cases, with very little hunting in most situations.
Battery life is also worth mentioning here too - it remains one area where DSLRs reign supreme over their mirrorless rivals. The Nikon D780 has a quoted battery life figure of 2,260 - in real-world usage, we'd expect that number to be higher if you're consistently using the viewfinder, but perhaps lower if you're often using the screen to shoot. This far exceeds the battery life capabilities of the Z6/Z7 and may make it more appealing pros looking for a second body for that reason.