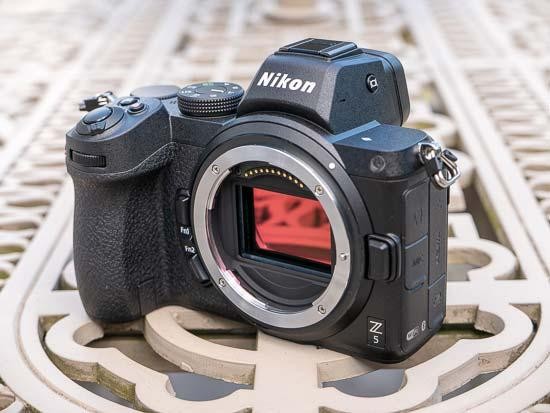 Introduction
The Nikon Z5 is an entry-level 35mm full-frame mirrorless camera with 4K Video and IBIS. It sits below the better-specced and higher-priced Z6 and Z7 models in the Nikon Z-series range.

Key features of the Z5 include a 24.3 megapixel CMOS sensor, ISO range of 100-51200 , 273-point Hybrid AF system with eye and animal detection, 3690k-dot electronic viewfinder, tilting touchscreen, weatherproof magnesium alloy body, dual UHS-II SD card slots, and built-in Wi-Fi and Bluetooth.

The Nikon Z5 is available now priced at £1719 / $1699 with the equally new Nikon Z 24-50mm f/4-6.3 retractable zoom kit lens.
Ease of Use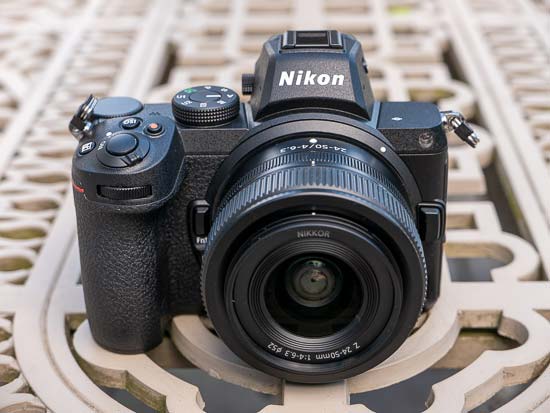 Front of the Nikon Z5
Nikon Z 5 without a space or 'Z5' with one, as its manufacturer is suggesting? Perhaps it doesn't matter at all. Like those who insist on their latest innovation being written ALL IN CAPS, it seems a mere affectation which distracts from the fact that this is a solidly built, fairly conventional offering in Nikon's fledgling full frame compact interchangeable lens camera series. Offering 24.3 megapixels of resolution and 4K video, it would seem to tick the boxes for what we're expecting in terms of key specification these days too.
As the model name suggests, this unit sits below the existing '6' and '7' semi pro models in its maker's line up, the premise here being that this is a more accessible entry point into the 'Z' series for those who don't want the steep learning curve they may perceive the higher priced alternatives present. That said, while comparable with other mirrorless camera options out there, the £1,719 being asked for the camera and lens bundle we were sent isn't cheap for a 'beginner' or smartphone upgrader by any means.
More positively, if you've used an entry-level DSLR or bridge camera before – and which this resemble a slightly shrunken version of – there is much that is immediately familiar in terms of looks, build, handling and operation with the Nikon Z5.
Those making the leap up from a smartphone will take advantage of the Nikon's Live View and touch screen facility, which handily also includes touch AF and touch shutter operation by default – a finger tap on screen directing the camera to zero in on a particular point in your frame and capture an image that has wherever you tapped as its main point of focus. From the get go, despite a fairly busy control layout, that much is user friendly and is also useful for subjects that are darting around your frame – wild fowl to take one instance among our selection of test shots.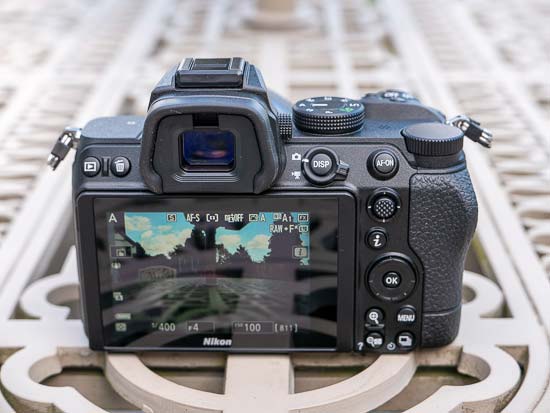 Rear of the Nikon Z5
On the Z5 Nikon has deployed a comprehensive 273-point Hybrid AF system, while a central AF point illuminated in green can further be dragged around the LCD either by finger or via rear plate joystick as desired.
Edge of frame markers in a subtle dark red colour which appear either in the viewfinder or on the LCD illustrate how much of the scene is actually in frame – as aspect ratios can be manually swapped, from the default of full frame – which Nikon calls 'FX format' – to DX format (size of an APS-C sensor), or alternatively 1:1 medium format or 16:9 widescreen ratios.
Of course when selecting these last three options there is an incremental decrease in overall image resolution, as, effectively, the camera is performing a crop. So if you want maximum pixels for your bucks, stick with full frame ratio.
While a bigger lens mount allows for physically larger lenses and more light to reach the sensor, the Nikon Z5 doesn't shirk when it comes to light sensitivity options either, with a core range of ISO100-51200 incrementally extendable either side to the equivalent of ISO50 or ISO102400, depending on requirements, though photos towards the uppermost settings do display a fair bit of image smoothing to limit the appearance of grain/image noise.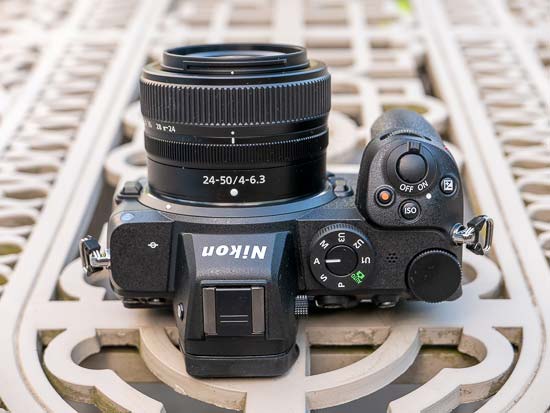 Top of the Nikon Z5
We were sent the kit version of the Z5 that usefully comes with a Nikkor Z 24-50mm f/4-6.3 lens out of the box. We say 'useful' because obviously with a full frame camera the 24mm setting is a 'true' 24mm, making it ideal for landscape shots, while at the telephoto end of the zoom the 50mm setting is great for portraits – the two most commonly shot photographic subjects, in other words.
The supplied lens is a compact zoom – in fact it's claimed to be the shortest and lightest lens for full frame mirrorless cameras currently in existence – which means that it needs to be manually unfurled/extended before you can loose off the first shot, so slightly slows down the process of grabbing that initial image from cold.
Once the lens has been extended, then, it seemed most sensible to us to walk around with the camera and lens left in its 'proud' state while we were looking for subjects to capture, which is about an inch and a half longer than the lens otherwise appears when 'dormant'.
It's worth pointing out that while the lens is 'compact' compared to alternatives, you'll still need a rucksack or camera bag to transport the Nikon Z5; it's too bulky to fit into a jacket pocket and camera and lens combined would be a squeeze even for the average glove compartment.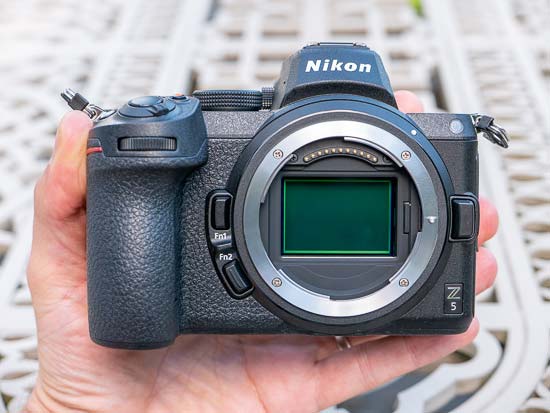 The Nikon Z5 In-hand
While we're talking optics it's worth pointing out that regular Nikkor F-mount lenses can be used on the Nikon Z5 too, albeit via the FTZ mount adapter, so there is a broad range of alternatives to explore if you're prepared to buy this optional extra gizmo.
The alternative to using this camera's large and bright back plate screen, which also can be pulled outwards from the body and tilted up so you're looking down on it – but not, unfortunately, swung to one side like those of a camcorder - is of course to utilise the eye level viewfinder instead, which is electronic, as opposed to optical, and self activates in user-friendly fashion when it detects your eyeball up against it. Likewise it neatly deactivates if you remove your eye from it. Nikon tells us that this is the same EVF as used in the pre-existing 'big brother' Z6 and Z7 models.
On the Nikon Z5, we also get dual card slots hidden beneath the spring-loaded, push and flip-open padded thumb rest at the rear, but, thankfully for the newbies this one is aimed at, these are a pair of SD card slots for which many of us have a drawer-full of compatible media lying around, rather than the more expensive (albeit more big data friendly) XQD media or CFExpress cards controversially favoured by the Z6 and Z7.
Incidentally, despite the Nikon Z5's relatively compact dimensions when compared with a full frame DSLR, the handgrip here commendably provides space for three fingers at the front, while your forefinger hovers above the shutter release button, itself ergonomically encircled via the on/off switch. Though it is still weighty and chunky with lens attached, the camera never feels unmanageably so. It's solid, in a reassuring fashion, which is exactly what you want given the outlay being asked here.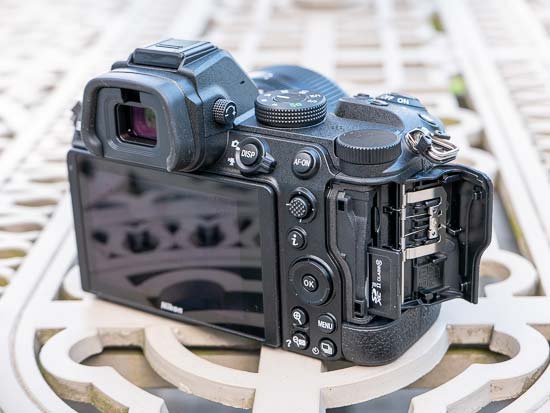 Memory Card Slots
As one would also anticipate and expect at this price and in this class of camera, the Nikon Z5 never feels sluggish in operation – quite the opposite in fact. It quickly becomes an extension of your own arm and eye, allowing you to concentrate on the subject rather than what the camera is doing; once you've familiarised yourself with its basic features that is, and which button needs to be pressed in order to call up the settings required.
With lens mount front and centre on this model, the faceplate is a relatively minimalist affair, with a lens release button on one side of the mount flanked on the other by two slightly smaller function buttons.
Of course we also get the familiar screw head sized porthole housing a self time/AF assist lamp top right of the lens mount, and a nicely rounded DSLR-like handgrip over on the left, which has the familiar edge of a ridged control wheel poking out near the top where it falls under the forefinger, though we more often found ourselves using the more prominent 'main' command dial that is alternatively set into the top plate just above the thumb pad at the rear. It just feels more natural to us to give this one a thumb spin, while your forefinger is free to hover over the shutter release button, and that button alone.
One thing this camera is missing however – though of course beginners won't sweat over its omission – is a top plate LCD window. Perhaps this would have been something of a luxury, given that its maker was aiming for compactness here.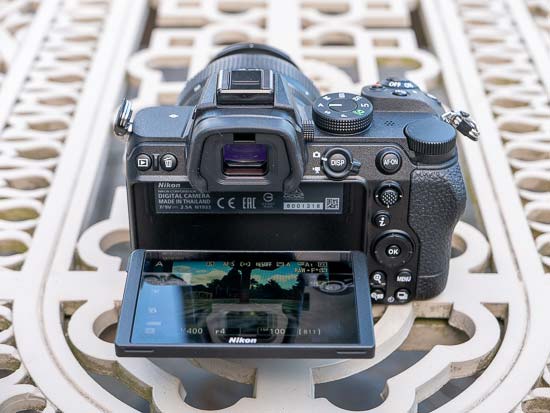 Tilting LCD Screen
Despite that, top plate controls including the aforementioned main command dial and familiar shooting mode wheel – featuring the usual P,A,S,M and auto settings, plus three user-customisable ones – are reassuringly large and chunky, making for fluid, as opposed to fiddly, operation. These have just the right amount of give and are not overly stiff, the user hearing an audible 'click' when a particular shooting mode is selected, or a reassuring series of clicks when the main command wheel is spun.
The top plate is also where you'll find the Nikon Z5's unobtrusive speaker, while stereo microphones sit either side of the familiar pentaprism shape, which houses the camera's electronic viewfinder and built-in stereo microphones. It has to be said, the degree of visibility you get from the 3690K-dot resolution EVF here is sufficiently impressive that we forgot we weren't looking through an actually optical viewfinder. Said EVF also helpfully provides 100% frame coverage, so what you're seeing is what you're shooting.
Another thing that is missing here, however, that you wonder if Nikon could have included, is a pop-up flash – as it is, there's a vacant hotshoe for attaching an accessory flashgun if and when required, though obviously this is at additional cost.
Falling under the forefinger as it dances around the shutter release button meanwhile are an ergonomically arranged top plate trio of buttons – one for controlling exposure compensation (an incrementally broad +/- 5EV), another for accessing ISO settings in conjunction with a twirl of the command wheel as you hold this button down, plus a familiar record button for the commencing and canceling video capture; so far, so reassuringly straightforward.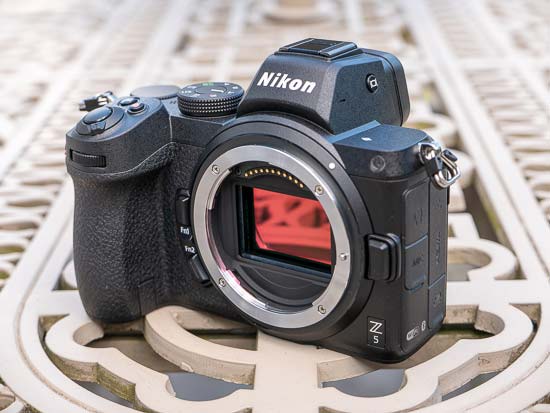 Front of the Nikon Z5
The back plate of the Nikon Z5 meanwhile finds the camera at its busiest looking and possibly initially daunting, with a DSLR-like array of buttons arranged in a L-shape along the top, plus down the right hand side of the articulated LCD screen. Top left where they conveniently fall under the thumb of the left hand, we get immediately recognizable buttons for playback and file deletion, while, over at the other side of the viewfinder window, we find a display button encircled by a rocker switch for self explanatorily switching between stills and video capture.
To the right of these we get an AF-on and joystick with roughened surface so you literally get a 'feel' for its operation and directing of your AF point – activated via a press of the 'OK' button below – without having to take your eye away from the viewfinder. Between the joystick and the OK button, set into a multi directional control pad, is an 'i' button, which by default provides a short cut to an on-screen toolbar of key shooting settings. Each setting has its own lozenge shaped virtual button, which are just of sufficient size to be able to nudge lightly with a thumb and avoid miss-selection. This also saves deep diving into the menu screens proper on most occasions.
Beneath the multi directional control are a further quartet of buttons – being the self explanatory 'menu', a drive mode selection button (accessing single shot, burst shooting of up to 4.5fps and standard self timer options), plus two magnifying glass illustrated enlarge and minimise buttons, which obviously come into their own when checking critical focus with the camera placed in playback mode.
Front of the Nikon Z5
With all the above seeming pretty straightforward and logical, the right hand flank of the camera – as viewed from the back – features the slide-and-open flap housing the dual memory card slots as discussed earlier, while the opposite flank features the camera's connectivity options. Here you get more than we might expect on a 'beginner' model, including the ability to plug in an external microphone and a pair of headphones for monitoring, while full size HDMI and USB ports are also provided, along with an accessory terminal option for plugging in a remote shutter release; so, these are commendably comprehensive options for a camera in this class (if not in this price bracket).
With Wi-Fi and Bluetooth on board as standard, the base of the Nikon Z5 features a screw thread for a tripod dead centre of its lens mount, while the base of the handgrip inevitably houses its rechargeable EN-EL15C lithium ion battery, for which a separate mains charger comes bundled in the box. It can also alternatively be powered up via USB. This newer class of battery can furnish its users with up to 470 shots from a full charge or 120 minutes of video if using only its LCD. Not so great compared to a DSLR, but just fine compared to most mirrorless cameras.
While this well made and well featured entry point into full frame mirrorless photography is impressive in many respects, then, the proof of any pudding is in the eating. So, while the Nikon Z5 handles well, how do its images measure up? Read on to find out...