Olympus OM-D E-M5 Mark III Review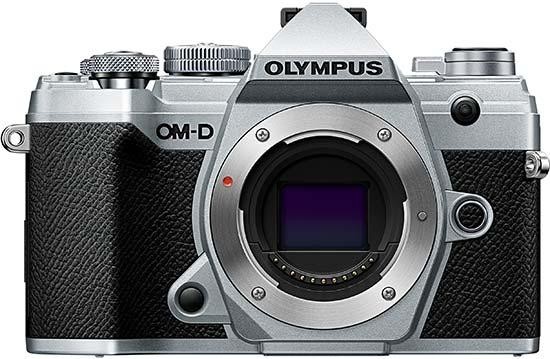 First Impressions
Photography Blog attended the UK launch of the new Olympus OM-D E-M5 Mark III mirrorless camera at The Magic Circle headquarters in central London, UK.
Find out what we thought of Olympus's brand new camera by reading our detailed first impressions...
Pricing
The Olympus OM-D E-M5 Mark III will go on sale in mid-late November 2019 priced at £1099 / $1199 body only. Various lens kits will also be available at launch, depending on your geographical location.
Key Specifications
20 megapixel Micro Four Thirds Live MOS sensor
Latest TruePic VIII processor
Weather-sealed to official standards
5-axis in-body image stabilisation, up to 6.5 EV compensation with 12-100mm lens
121-point all-cross-type Dual Phase and Contrast Detection AF system
10fps burst shooting with continuous AF/AE
Cinema 4K video recording at 30p, 1080p at 120fps
Live Composite mode
50MP Tripod HR Shot mode
Pro Capture mode
Focus Stacking mode
Target Audience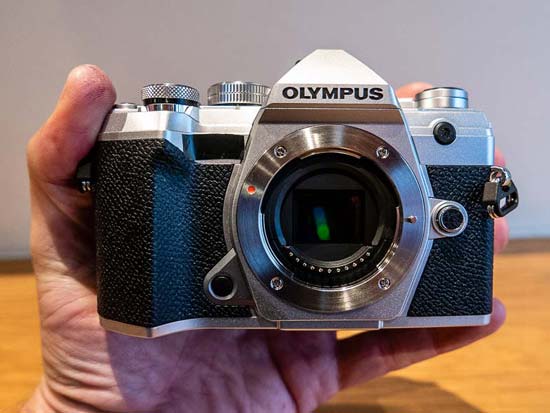 With the marketing strapline "Break free from heavy gear", Olympus are continuing to target advanced amateurs and photographer enthusiasts looking for a discrete, compact camera kit that doesn't break the back or the bank.
The OM-D E-M5 Mark III is a smaller, cheaper alternative to the flagship E-M1 Mark II / E-M1X models, offering many of the same features at a more palatable price-point in a smaller, lighter body.
Size and Weight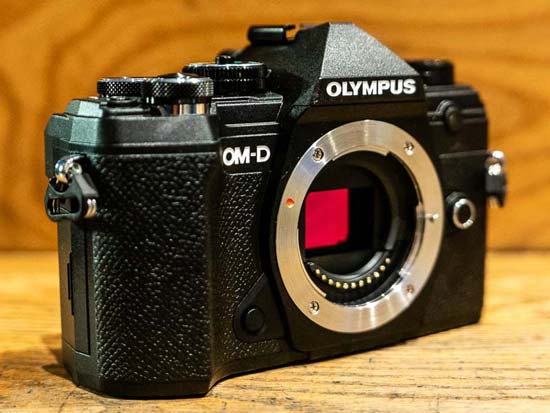 Weighing just 366g and measuring 125.3mm x 85.2mm x 49.7mm, the Olympus OM-D E-M5 Mark III is constructed of polycarbonate to help keep both the weight and price down.
Controls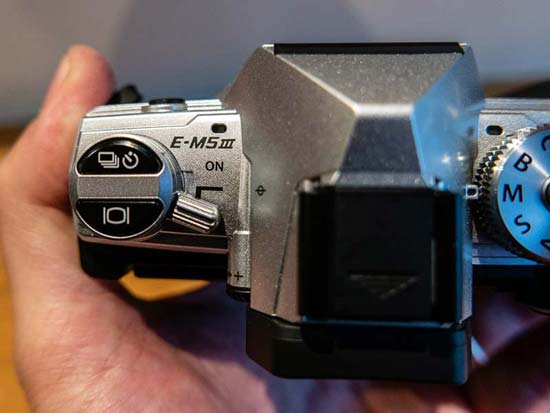 As with many aspects, the control layout of the new E-M5 Mark III more closely resembles the E-M1 Mark II, rather than its predecessor.
On top, only the power switch is in the same place, with the shooting mode dial now on the right and customizable drive and display buttons on the left.
There are fewer changes to the rear, with the principal one being the addition of a dedicated ISO button just above the rear thumb-rest.
Sensor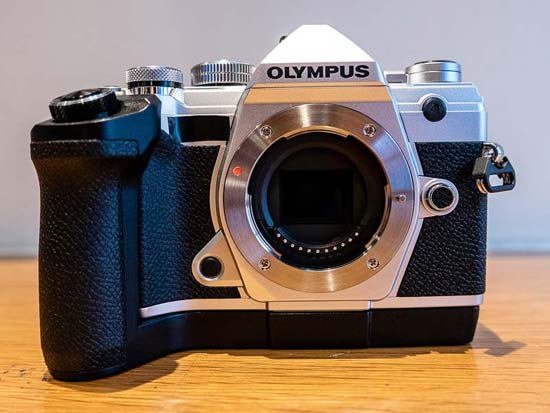 The Olympus OM-D E-M5 Mark III has the same 20.4 megapixel Live MOS sensor and Truepix VIII processor found in the E-M1 Mark II/E-M1X cameras. Consequently the still image quality should be be very similar, if not nigh on identical, to Olympus' flagship cameras.
Video Recording
In addition to stills, the Olympus OM-D E-M5 Mark III is a capable video camera too, offering Cine 4K recording at 24p and 4K 30p recording, plus Full HD 120p slow-motion. It even has a dedicated 3.5mm Mic jack on the body for better sound recording for vlogging.
Stabilisation
The Olympus OM-D E-M5 Mark III has a brand new in-body stabilisation system that now offers an improved 5.5EV steps of compensation, increasing to an even more impressive 6.5EV step when using the stabilized 12-100mm lens.
LCD Screen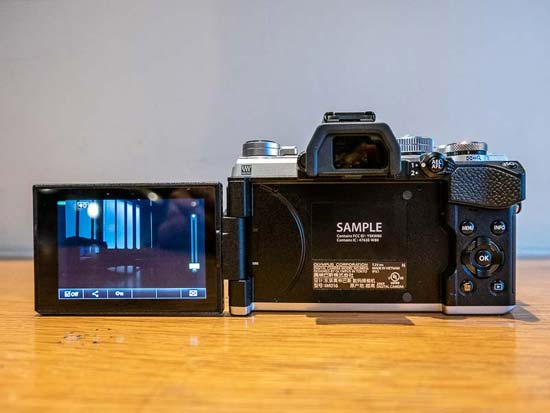 The Olympus OM-D E-M5 Mark III has a versatile vari-angle LCD screen that can be tilted out to the side and swivelled to the front for easier selfies or vlogging. If only every camera had one...
Auto-focusing
The Olympus OM-D E-M5 Mark III has a dual phase- and contrast-based auto-focus system with 121 points for both - in fact, it's exactly the same system as used on the flagship E-M1 Mark II and E-M1X cameras.
Burst Shooting
10fps high-speed sequential shooting with full time AF/AE tracking is offered by the E-M5 Mark III, which is slower than the E-M1 Mark II / E-M1 X's 18fps rate but still more than respectable for this class of camera.
This new model also gains the Pro Capture mode from further up the range, which takes 30fps bursts but with 15 of those frames saved before you actually pressed the shutter,helping to ensure that you don't miss that vital moment.
Viewfinder
The Olympus OM-D E-M5 Mark III has a bright and colourful OLED viewfinder, sacrificing out-and-out accuracy for a more pleasing display.
There's also an eyepoint of 27mm that should please glasses wearers - the industry standard is 23mm.
Unfortunately the move to an OLED panel has seen the magnification fall from 0.7x to 0.68x.
Battery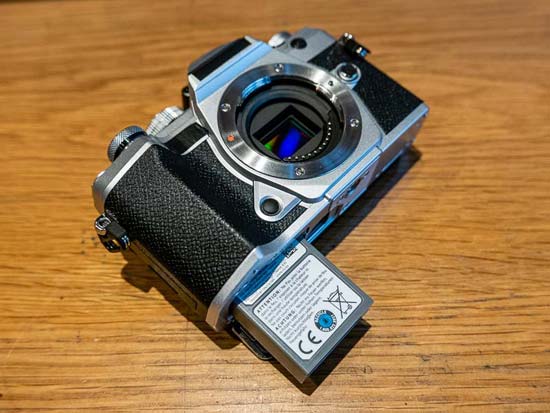 Battery life is OK on the Olympus OM-D E-M5 Mark III. It's officially rated at 310 still images or 60mins of video recording, via a new BLS‑50 Lithium‑Ion battery that's physically smaller than the one used on the Mark II.
You can also charge the camera on the go via the USB port, a great new feature that is appearing in more and more cameras (and rightly so).
Memory Cards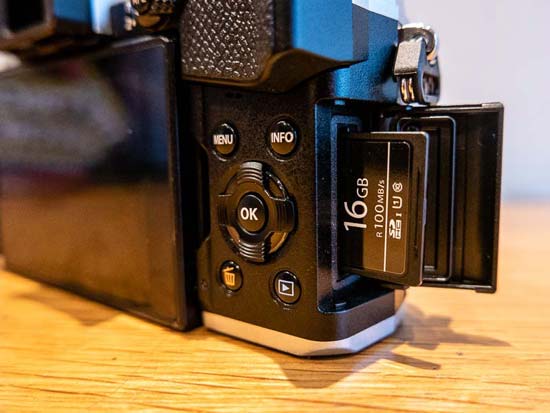 An unfortunate consequence of the Olympus OM-D E-M5 Mark III's compact size is the single memory card slot, rather than a dual-slot system.
Thankfully, it is at least housed in dedicated compartment on the side of the camera, rather than in the same one as the battery on the bottom, which is better news for tripod users.
And even better, Olympus have upgraded the slot's spec to UHS-II, which should help the camera keep up with all those high-speed bursts. It's also not that common in this class of camera, where the slower UHS-I standard is the norm.
Weather Proofing
The Olympus OM-D E-M5 Mark III is fully weatherproof to the official IPX1 rating thanks to some clever dust-, splash- and freeze-proof sealing.
Image Quality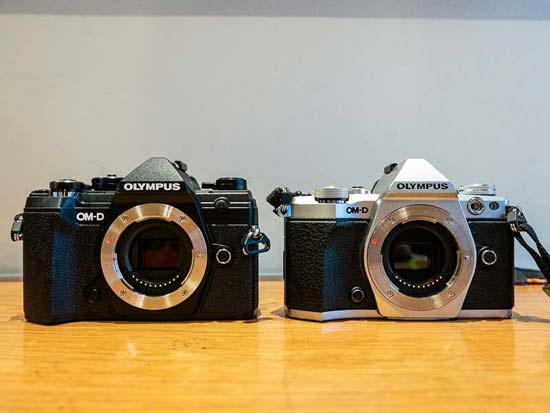 You can see an extensive gallery of Olympus OM-D E-M5 Mark III sample images and videos here.
Early Verdict
The Olympus OM-D E-M5 Mark III is a well-thought out update of the rather long-in-the-tooth Mark II version, inheriting a lot of features and performance from the more expensive E-M1 II and E-M1 X models whilst improving the user interface of its predecessor. On paper at least it probably offers the best balance of price, size and performance in the Olympus range.
Until we get one in for a full review, why don't you share your thoughts on the new Olympus OM-D E-M5 Mark III by leaving a comment below?
Would you buy one? What do you like and dislike? Does Micro Four Thirds still have a future? Share your opinion now!