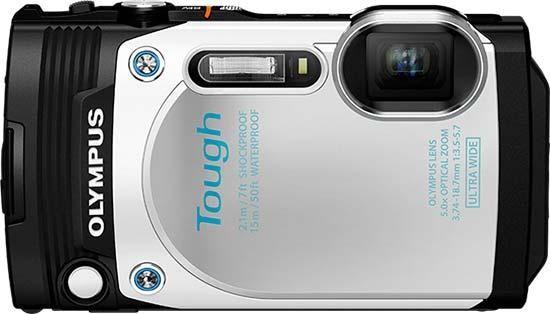 Introduction
The 16-megapixel Olympus Stylus Tough TG-870 is a premium rugged camera with a 21-105mm (eq.) f/3.5-5.7 lens 180-degree tilting 920,000-dot LCD screen, customisable front button, built-in Wi-Fi, next-generation GPS, and 13 Art Filters. The camera is waterproof to depths of 50 feet (15 m), freezeproof to 14℉ (-10℃), shockproof from 7 feet (2.1 m), crushproof to 220 pounds of force (100 kgf) and dustproof. The customisable button on the front of the camera can be programmed for several functions, including shutter release, video recording, monitor boost, LED assist and Super Macro Mode. The Olympus Stylus Tough TG-870 also boasts a new-generation GPS module. The camera is available in three colourways, Gunmetal Metallic, Metallic Green, and Pure White. The Olympus TG-870 retails for £249.99 / €299.00 / $279.99.
Ease of Use
Like its predecessor, the Olympus Stylus TG-870 is a tough all-weather camera that's dustproof, waterproof to 15 metres, freezeproof to -10℃, shockproof against drops from 2.1 metres in height, and crushproof to 100 kilograms of force. The camera houses a 1/2.3"-type CMOS sensor with a resolution of 16 megapixels, and an internally stacked 5x optical zoom lens with a 35mm equivalent focal range of 21-105mm, which allows you to capture everything from wide vistas to head-and-shoulders portraits. It also boasts some serious close-up capabilities, as it has a super macro mode with a minimum focus distance of 1cm. As you may imagine, properly illuminating your macro subjects can be a challenge, which is why Olympus has added an LED light to the camera.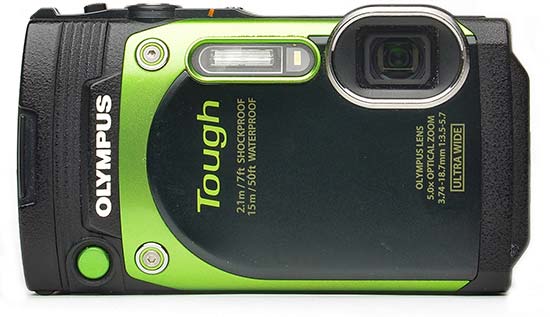 Front of the Olympus TG-870
From the front, the Olympus TG-860 doesn't resemble much of a departure from the Olympus Tough series compacts of old, or indeed its TG-860 forebear. While the TG-870 lacks a "proper" hand-grip, the camera feels reassuringly solid when gripped in the palm. In fact, the entire camera feels a lot more robust in the hand than you'd think based on a cursory look at the product shots. Having said that, the Olympus TG-870 still handles much like a "traditional" digital compact. It even has a mode dial for quick access to the main shooting modes. These include Programmed Auto (P), intelligent Auto (iAuto), Super Macro, Scene, Art, Sportcam, Panorama and Self Portrait. Notable by their absence are any semi-automatic shooting modes, such as Aperture or Shutter Priority, or indeed a full manual mode. One of the reasons for this is that the lens lacks an iris diaphragm, so you cannot actually change the aperture. It would still be nice to set the shutter speed manually, as the "third exposure variable" – to wit, ISO sensitivity – is, of course, controllable.
Apart from the mode dial, there's only a handful of physical controls on the Olympus TG-870. These include the on/off button and shutter release, a zoom lever, a dedicated video record button, a traditional four-way pad with centred OK button, plus playback and menu/Wi-Fi buttons. A few functions – including the self-timer, drive modes, flash modes and information overlay options – are mapped unto the four-way controller but there is no direct-button access to exposure compensation, ISO speeds or white balance. Unfortunately, you need to delve into the Function Menu to adjust these parameters. This is all the more surprising given that the Olympus TG-870 has inherited the Stylus TG-860's customisable "face button," which acts as a secondary shutter release by default – useful when facing the camera to take a selfie – but can be reprogrammed to perform a variety of tasks including one-touch video recording, boosting the monitor's brightness, flashing the LED illuminator, or switching the Super Macro function on and off. The movie record button can also be assigned to perform any of these functions but, as noted above, neither of these controls can act as an ISO or white balance button.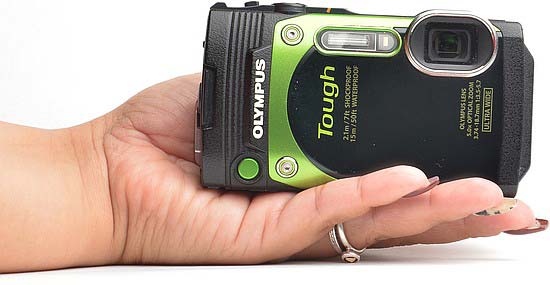 The Olympus TG-870 In-hand
The camera's rear screen offers a resolution of 920,000 dots, up from 460,000 in the TG-860. In this respect, the TG-870 is actually ahead of the (otherwise) range-topping Olympus TG-5 too, as the TG-5 is also stuck with a 460K-dot panel. The screen can be flipped up by 180° to face whatever is in front of the camera, but doesn't tilt downwards or flip outwards to allow for further creative framing. On the plus side, this minimises the potential for possible damage to hinges, should the camera be dropped or take a knock – and there is potentially more creativity to be had than from a standard fixed screen. The monitor has decent viewing angles and a good sharpness to images and text alike, but its colours are not always representative of what you'll see after downloading your photos to a computer and viewing them on a calibrated screen
The Olympus TG-870 has a number of menus, including a Function menu – accessible via the OK button – plus Shooting, Movie, Playback and Setup menus. In Programmed Auto, the Function menu gives you access to the camera's Picture Modes, flash settings, exposure compensation, white balance, ISO sensitivity, self-timer, drive mode, resolution and aspect ratios. In the other shooting modes, you typically get a narrower range of options to choose from. The Shooting menu is reserved for less often used (or modified) settings such as compression, image stabilisation, digital zoom, shadow adjustment, AF illumination, date stamp etc. Somewhat surprisingly, you also need to delve into this menu to set your desired focusing and metering modes.

Top of the Olympus TG-870
The available scene modes include Portrait, e-Portrait, Landscape, Interval Shooting, Live Composite, Hand-Held Starlight, Night Scene, Night+Portrait, Sport, Indoor, Sunset, Beach & Snow, Fireworks, Cuisine, Documents, Snapshot, Underwater Macro, Underwater Wide 1, Underwater Wide 2 and Backlit HDR, which is actually a regular HDR mode that can be used in a variety of situations – definitely not just backlit scenes.
In terms of continuous shooting, the TG-870 does a very decent 7fps in 16-megapixel mode – for up to 7 frames –, with up to 60fps available at a reduced resolution. As you'd expect from an "outdoor" camera, the Olympus TG-870 features an integrated GPS unit for automatic geotagging – a new-generation GPS module at that, which in our experience was often able to establish a satellite connection within a few seconds of switching on the camera (then again, in other situations it took up to half a minute to find a suitable satellite).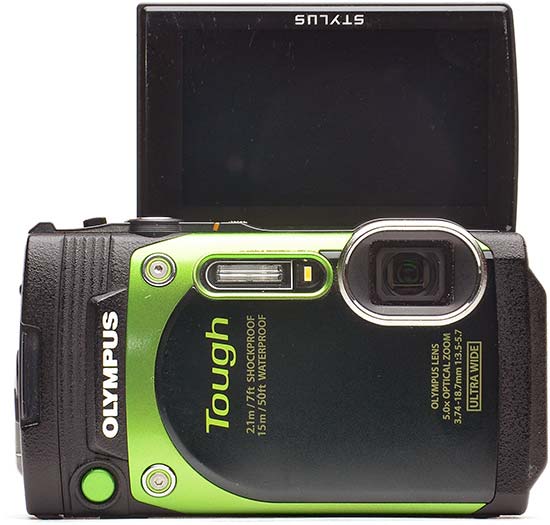 Selfie Mode
The Olympus Tough TG-870 has a very decent movie mode. The available video resolutions range from VGA to 720p to 1080/60p Full HD, and you can use the optical zoom while filming. What's more, the camera has a pair of stereo microphones on its top plate, which are capable of recording above-average quality audio. Importantly, you can also shoot movies in Super Macro mode, enabling you to capture tiny beings in their natural habitats – an important consideration for an "adventure" camera. The Olympus TG-870 has an HDMI out port allowing users to play back their videos on a TV set.
The camera's Sportcam mode gives you a number of additional movie shooting options, including a 120fps mode at 854x480, and a 240fps mode at 640x360 pixels, plus a time-lapse movie mode. Additionally, the Sportcam mode also offers an interval shooting option dubbed a 'Sportburst.'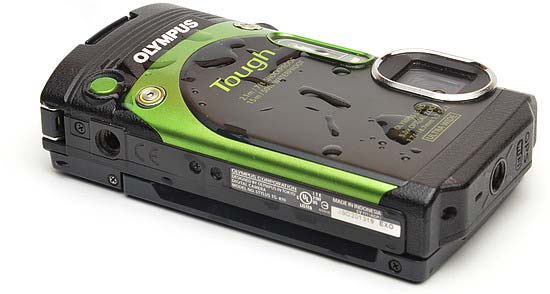 Front of the Olympus TG-870
As befits a "Tough" camera, the Olympus Stylus TG-870's memory card/battery compartment and connection ports (a multi-terminal and an HDMI connector) are protected by a sturdy cover with double locks. The camera has two tripod sockets, although neither is aligned with the lens' optical axis. Commendably, neither socket is positioned in such a way as to prevent you from changing batteries or memory cards while the camera is mounted on a tripod. The battery is normally charged in-camera, with a mains adapter, plug and USB lead provided for the purpose. The port for the USB lead – and mini HDMI cable – is within the compartment that also houses the rechargeable battery, so the battery door must remain open for its power cell to be charged. Fortunately, a separately sold external charger (Olympus UC-50) is also available to purchase.
The Olympus TG-870 offers on-board Wi-Fi connectivity. This means that the camera can create its own wireless network and be controlled remotely via your smartphone or tablet. To take advantage of this, you need to have an Android or iOS device and download the free Olympus Image Share app from GooglePlay/iTunes. After that, everything is pretty straightforward. You simply press the Menu/Wi-Fi button, and select Wi-Fi Start from the menu to set up a connection. The Olympus Stylus TG-870 will provide you with an SSID and password, but you do not need to type in either of them – just launch the app on your phone and scan the QR code displayed by your camera with your phone. This is nearly as fast as using NFC (Near-Field Communication), a feature that the TG-870 doesn't offer. Once the connection is established, you can download images from the camera to your smartphone, or use the latter to remotely control the TG-870.
This rounds off our evaluation of the camera's handling and feature set. Let us now move on to the image quality assessment!