Olympus PEN E-PL10 Review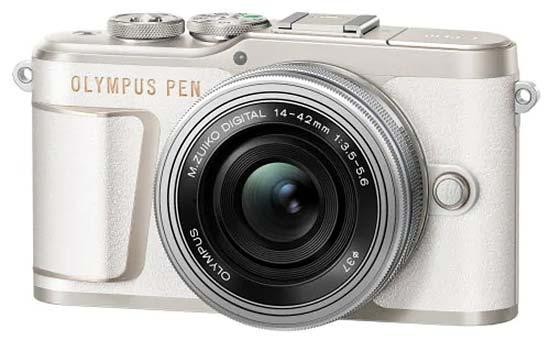 Introduction
The Olympus PEN E-PL10 is a new entry-level mirrorless camera that replaces the 2-year-old E-PL9 model.

The Olympus EPL10 has exactly the same 16.1 megapixel Live MOS sensor found in its predecessor, but the image processor has been upgraded to the faster TruePic VIII model found in Olympus' professional models.

It features in-body image stabilization, rated for up to 3.5-stops of compensation with the M.Zuiko Digital ED 14-42mm F3.5-5.6 EZ lens kit lens.

On the video side, the E-PL10 offers 4K 30p recording, plus 1080p, with the ability to extract still images from videos.

Other key features of the Olympus EPL10 include a 3-inch flip-down LCD touchscreen, Wi-Fi and Bluetooth connectivity, 16 Art Filter options, a sensitivity range of ISO 100-25600, 8.6 fps frames per second burst shooting with AF/AE tracking, 121 contrast-detection AF points, and Live Composite, Multi Exposure and Silent shooting modes.

The E-PL10 is available is available in white, black, and brown, priced at £549.99 and in a kit with the M.Zuiko Digital ED 14-42mm F3.5-5.6 EZ zoom lens at £649.99.
Ease of Use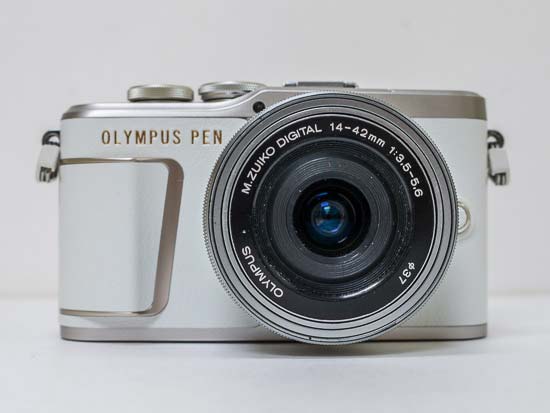 Front of the Olympus PEN E-PL10
Olympus' EPL10 is the latest in a long line of PEN 'Lite' cameras, with this particular iteration updating the E-PL9 of 2018. Being the 'Lite' version, not only is this inevitably the entry level model in its maker's current range, which also includes the PEN F and OM-D E-M5, E-M1 and E-M1X models, but its feature set has been once again engineered to appeal to bloggers, 'vloggers' and those perhaps trading up from a smartphone for the first time.
The white and silver model with gold detailing we had in for review certainly looks like it has been styled with the Instagram generation in mind. It's something you'll want to show off. Alternative body colour options include regular non-nonsense black, plus a milky coffee-hued brown.
It has to be said that the build and the control layout of the E-PL10 is nevertheless more thought out, sophisticated and solid than one might expect, given the above. Its robustness and lack of telltale plastic-y feel should reassure potential enthusiasts who may be looking to swap DSLR for mirrorless and try it out without spending a small fortune.
Its manufacturer is describing the camera as lighter than a bottle of water – in other words something which most people will carry around with them daily – albeit without specifying said bottle size. Finding the camera may prove harder, however. Initially at least, in the UK this model was only being sold direct via Olympus' online shop, at £549.99, or in a bundle with a 14-42mm f/3.5-5.6 EZ lens at £649.99.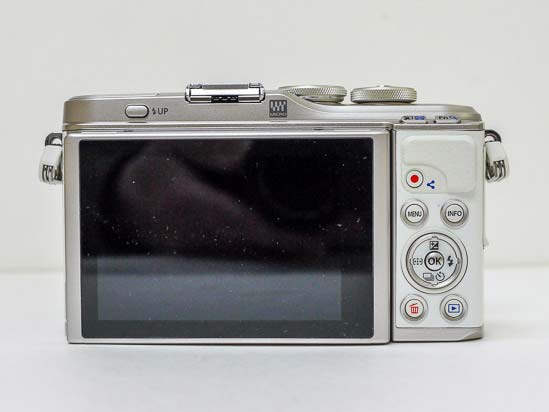 Rear of the Olympus PEN E-PL10
At first glance the Olympus PEN E-PL10 looks very similar to its E-Pl9 predecessor, save for the new model name etched into the slim pop-up flash on its top plate. Headline features see Olympus once again sticking with a resolution of 16 megapixels from a Four Thirds CMOS sensor, when most competitors have stuck around the 20MP mark. We do get the expected 4K video option here though, a latest generation TruePic VIII processor to handle all the resulting data crunching, plus in-body image stabilization the equivalent of an extra 3.5 stops of exposure.
The 3-inch LCD screen should appeal to nostalgia lovers with Meccano sets in the loft as, on industrial looking armatures, it can be pivoted outwards, then up, out, around and down to face the subject for those inevitable selfies. Touch AF and touch shutter operation feature as standard, while Wi-Fi and Bluetooth connectivity are also on board for pairing the camera with the user's 'smart' device.
One of Olympus' creative features which has long set it apart from many others is the list of Art Filters on board – here there are 16, including the ever popular pin hole camera and pop art style effects. These have been given a new Fine Tune function too; as it sounds letting the user adjust the intensity of the effect while checking the result on screen. More interestingly still for newbies and enthusiasts alike we get an 'AP' or Advanced Photo mode, featuring pre-sets for multiple exposure and HDR images, as well as auto exposure and focus bracketing settings.
Otherwise the E-PL10's design and layout is classically familiar, with operation divided between dials on the top plate and smaller buttons on the backplate, located to the right of the LCD monitor, as viewed from the back. Though Olympus may be pitching this as an entry-level camera for the formerly smartphone savvy, it offers slightly more than an 'auto everything' approach, however, to maintain the user's interest as their skillset grows, with familiar Program, Aperture Priority, Shutter Priority and Manual options found via said top plate dial. There's also the welcome ability to rapidly access key operational settings on the fly with a press of the OK button at the centre of its four-way backplate control pad.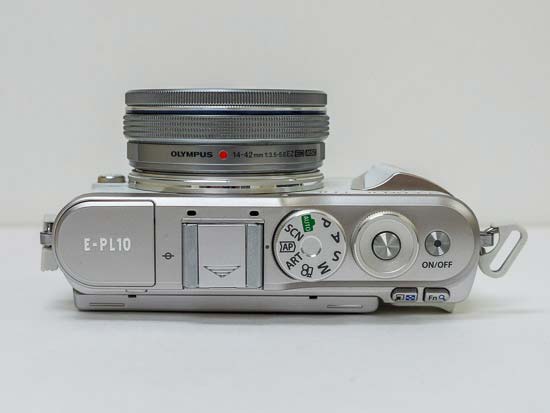 Top of the Olympus PEN E-PL10
From the front, it has to be said the EPL10 looks convincingly stylish, with its faux leatherette finish and gold detailing proudly on show on the white version we had in for review. Showing attention to detail, the small lens release button also has its own bit of faux leather padding, and, although we'd always prefer the grip here to be a little larger, it's sufficient for a camera of its size, particularly with a standard kit 14-42mm zoom affixed, providing the useful equivalent of 24-84mm in 35mm terms to make it as suited to shooting landscapes as it is portraits.
Incidentally, we were sent a premium metal construction 12mm f/2 prime lens by Olympus with our review sample, the weight of which makes the camera just a tad front heavy. As a result we augmented this with a more obviously plastic 14-42mm zoom we already had in hand, to provide more of a flavour of the shots you'll actually get with the kit.
With a tiny porthole window above lens providing an AF assist/self timer lamp, that's it for the front of the E-PL10, which is all about the continued use of the Micro Four Thirds lens mount. No chance of Olympus going full frame any time soon it seems.
The top plate of the camera is very well engineered too, with a clean looking if busy control layout that should appeal to those who want to get hands on, while not being off-putting to absolute newcomers.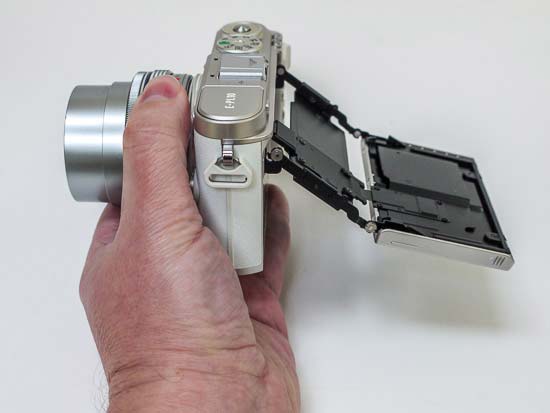 Tilting LCD Screen
At one end of the top plate we get a recessed flash that springs up and into action with a thumb press of the self-explanatory 'up' button located just behind it. Between the flash and the familiar shooting mode dial there's a vacant hotshoe for the option of attaching an accessory flash, with a stereo microphone located just in front.
The shooting mode dial is conveniently raised too and has a roughened edge for easier purchase between forefinger and thumb, though it is squeezed very close to the similarly rough-edged control wheel that encircles the shutter release button. Sitting out of harm's way at the far edge of the top plate is the on/off button, recessed so it sits level with the top plate and avoids accidental activation.
Indeed, we have to press down with a fingernail to power up the camera – a process taking slightly under two seconds with the 14-42mm lens attached. Unlike the 12mm, this lens needs to extend from its compact and dormant state to maximum wide angle setting before the user can fire off a shot.
The shooting mode dial features no fewer than nine settings, although none of them is a custom option. Indeed the ethos of this camera is to make it as easy as possible for someone (in Olympus' eyes, an online 'influencer') upgrading from a smartphone to start shooting with.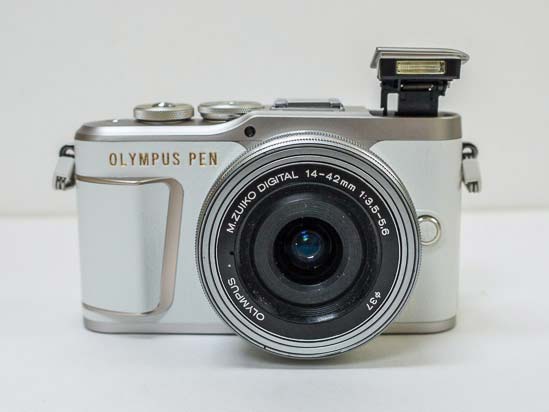 Pop-up Flash
So while we do get the aforementioned P,A,S,M settings, along with the regulars of video, pre-optimised scene modes and Olympus' ever present Art Filters, we also get both an 'auto everything' option and, by contrast, the previously mentioned Advanced Photo mode, for those who perhaps want to experiment a bit more, or want something a bit more unusual looking to stand out from the crowd on Instagram.
Moving to the back of the Olympus EPL10, much of the real estate is taken up by the 3-inch angle adjustable LCD screen, as expected, which here is a touch screen. As usual though, because Olympus has also supplied the usual complement of physical buttons alongside it, you can get away with only using the screen when it feels intuitive to do so.
Ideally, we would have liked to be able to use a finger and thumb flick to enlarge sections of an image to check focus – as you'd instinctively do with a mobile phone screen – rather than having to drag an on-screen slider to do similar. To us that felt slightly cumbersome. We can however scroll through images with a finger swipe, so that much is intuitive at least.
While a press of the self explanatory 'menu' button at the camera's rear brings up familiar screens packed with options for stills, video, playback and settings, we more often took a shortcut to commonly utilised settings via a press of the 'OK' button found at the centre of the four way control pad.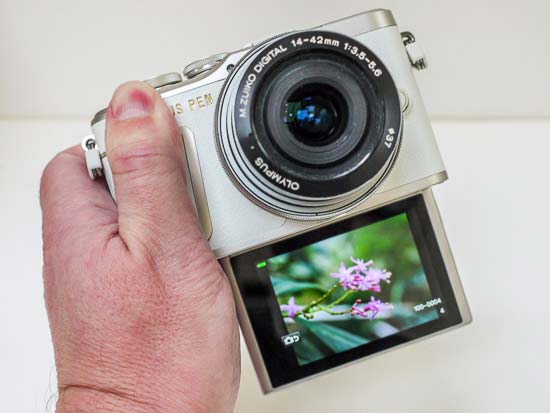 Selfie LCD Screen
This button brings an L-shaped menu up on the right hand side of the screen that will be immediately familiar to any Olympus camera user. While the options are too small to be tapped with a finger to implement, a thumb nudge of the four-way controller followed by a selection of a setting via the central OK button, once again, does the job adequately. Here we get access to the E-Pl10's colour modes, with the default being 'natural' but our preferred option being 'vivid'.
Interestingly, we can also access the Art Filters here as part of the same menu, without having to otherwise turn the top plate mode dial to the Art setting. ISO light sensitivity settings are also to be found here: from the default auto setting to ISO200, and then all the way up to an extended ISO25600. Focus settings are also fund via the same on-screen menu, which include single and continuous auto focus options alongside manual focus, continuous auto focus tracking and a combination of single auto focus and manual auto focus for the photo enthusiasts who prefer to get more hands on.
The same very useful quick menu also lets us access stills format settings – with us choosing the 'all bases covered' option of JPEG + Raw for the duration of the test period, and with no noticeable slowdown in terms of camera and inserted SD card, compared with just shooting JPEG on its own. Finally image aspect ratio and video capture rate can also be altered via the same intuitive LCD menu.
The touch screen does come in useful, however, when seeking to direct focus to one particular aspect of the frame, simply by dragging the illuminated green focus point around the screen. Again, this feature responds well enough in real time to make it a viable alternative to simply holding the shutter release button down halfway and recomposing the frame.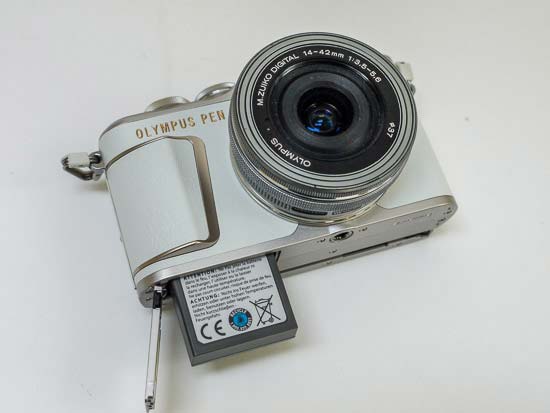 Battery Compartment
If you do prefer physical controls and buttons however, this Olympus also has us well served, as noted. The rest of the settings accessed via the ones to be found on the camera back include dedicated playback and delete buttons, along with the usual suspects surrounding the central control pad governing the flash (only active when it has actually been physically activated and raised, obviously) self timer and continuous shooting options, as well as providing a grid overlay for photographer who want to practice the rule of thirds.
With a built-in speaker to be found on one flank of the camera and mini HDMI and USB ports to be found on the other, the base of the camera features a screw thread for mounting on a tripod, although doing so would be to restrict access to the shared battery and single SD memory card compartment, also to be found at the base of the E-PL10.
Commendably, Olympus supplied the camera with a dedicated mains charger and plug, rather than leaving us to re-charge the battery in situ via USB lead. Battery life is claimed to be good for a respectable 350 images – no great shakes compared with a DSLR admittedly, although mirrorless has typically lagged behind, because of the inherently smaller form factor.
So what of the real litmus test: the images that the E-PL10 is capable of producing. Are these shots to be proud of that would grace the family album, or results to be banished to the shoebox in the back of the wardrobe? Read on to find out...