Sony Cyber-shot DSC-QX30 Review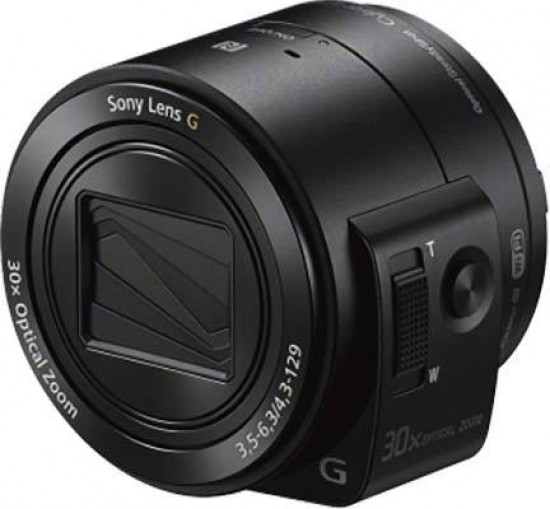 Introduction
The Cyber-shot DSC-QX30 is another camera from Sony which fits into the "lens camera" category of the company's compact camera line-up. It doesn't include a screen, or a standard grip as you might find on an ordinary camera, looking more like a camera lens. However, it does have a dedicated imaging sensor, in this case a 20.4 million pixel, 1/2.3 inch CMOS device - the same physical size as you would find in other "ordinary" compact cameras. The biggest selling point of the camera is its 30x optical zoom lens though, which gives it an equivalent 35mm focal length of 24-720mm - in short, much more flexible than your average mobile phone. Other features include a Bionz X image processor and full HD video recording. Unlike the QX1, the Cyber-shot DSC-QX30 doesn't feature an inbuilt flash, and it can't shoot in raw format. The Sony Cyber-shot DSC-QX30 retails for around £250 / $350 and is available in black.
Ease of Use
As it has a 30x optical zoom, the Cyber-shot DSC-QX30 is quite a bit larger than the QX10 which was launched last year. It measures roughly the same size as an average lens for the Sony E-mount system, and you would of course be forgiven for thinking that's what it is when you first see it.
Because of its shape, it's definitely not something you'll be able to fit in a jeans or trouser pocket, but if your coat pocket is quite large, it should fit inside there. This is something to consider when choosing between it and something like the Sony HX60, a compact camera which also offers a 30x optical zoom but features a much flatter design.
You've got two choices when it comes to using the Cyber-shotDSC-QX30. For a more conventional picture taking approach, you can attach it to your smartphone via the clip on the back of the camera. This means you hold up the phone (which acts as a screen) and the camera all in one go to take a picture.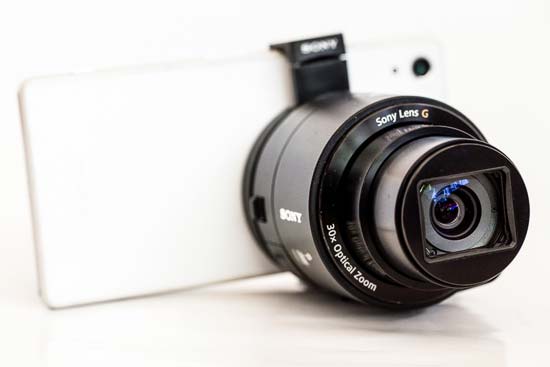 Front of the Sony Cyber-shot DSC-QX30
Alternatively, you can control the camera remotely from a different location - such as if you have the camera mounted on a tripod (via the built-in tripod thread), desk/table or just holding it in your hand for a selfie.
You can also use the camera without first hooking it up to your phone or tablet, but that means you'll be shooting blindly and won't  be able to compose as there's no screen.
The only screen you'll find on the camera is a small panel which displays battery life and whether or not you have a memory card inserted into the camera. You can insert a Micro SD card just next to the battery. You don't need to include a memory card if the camera is synced with your phone as you can set it so that images transfer directly to your phone. Alternatively, you can set it so that small images are transferred to the phone for quick use on social networking sites and the like, whiles larger photos are stored to the memory card for use later.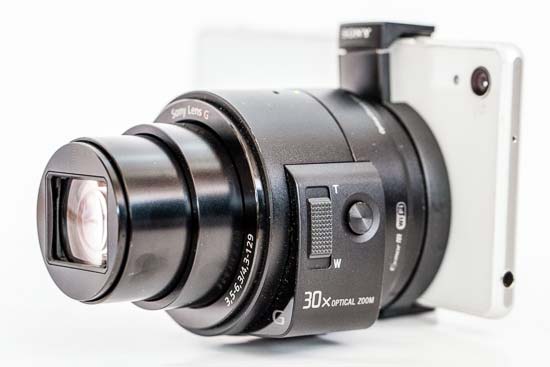 Side of the Sony Cyber-shot DSC-QX30
The majority of camera control is achieved via the PlayMemories app (available to download freely for Android and iOS), and as such, there are very few physical buttons on the Cyber-shot DSC-QX30 itself. You'll find an on/off button, a shutter button, and a zoom switch. The latter two can also be controlled via the app if you prefer (or if you're remotely controlling the camera).
By far the easiest way to connect the camera to your phone is via NFC, which is bad luck for iPhone and iPad users. If you have an NFC enabled device, all you need to do is tap the two together at the appropriate place to form a connection. If you don't already have the PlayMemories app installed, you'll be prompted to download it and install it the first time you tap the two devices together. After that, every time you attempt to connect it should automatically load the app.
If you don't have an NFC device, you need to connect via Wi-Fi. You'll find the password to connect underneath the battery flap, but once you've input the password once, your device should remember it.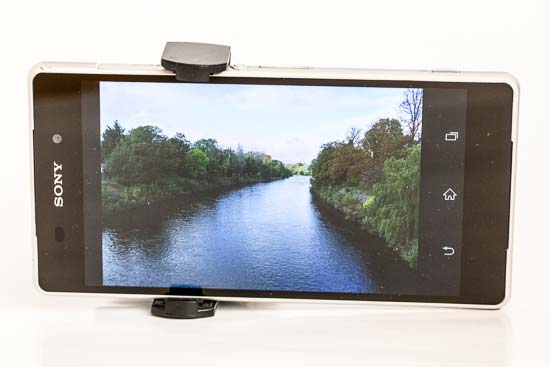 The Sony Cyber-shot DSC-QX30 Attached to a Sony Xperia Z2
In theory both of these options are pretty simple, but in practice that's unfortunately not always the case. On more than one occasion, I would be left waiting while the camera and phone attempted to sync up - making quick shots impossible at times, and quickly becoming frustrating. Wi-Fi seems a little more reliable, if a little more tedious to set up each time.
Another disappointing problem is shot-to-shot time. Although the display doesn't display too much lag, you can be waiting several seconds between pressing the shutter release button and an image being taken, and it being ready to shoot again. Sometimes the wait is as much as 5-10 seconds which is much, much slower than the average compact camera.
On the plus side, zooming in and out is a pretty fluid movement, and also doesn't present too much of a lag on the screen.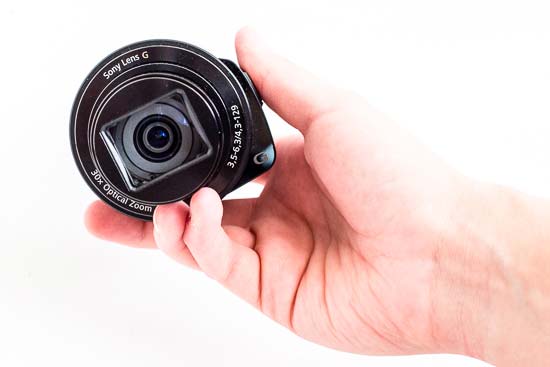 The Sony Cyber-shot DSC-QX30 In-hand
The app interface itself is thankfully a much more pleasant experience. You have the option to shoot in a variety of different exposure modes, accessed from the top left of the screen. Here you'll find aperture priority, shutter priority, and a couple of automatic modes. There's no manual mode.
Along the bottom of the screen various shooting parameters will be displayed (depending on the exposure mode you're working in). If using aperture priority, for instance, you'll be able to see aperture, which if you tap, you'll be able to alter by dragging a sliding bar across the screen. The same is true of other settings, such as ISO (Sensitivity). To set the autofocus point, simply tap the point on the screen you wish to focus on.
Some of the other settings are accessed via a menu which is navigated to by pressing a tools icon in the corner of the screen, for instance white balance. You can't change the metering mode though.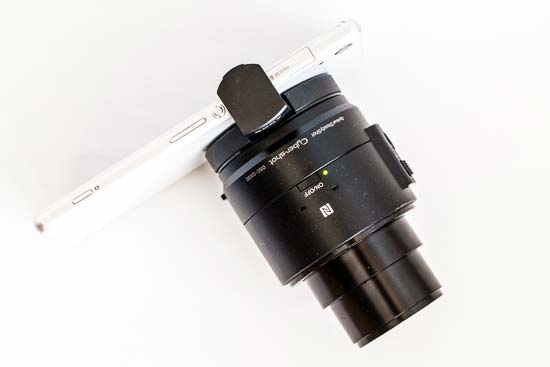 Top of the Sony Cyber-shot DSC-QX30
At present, you can't use the camera with other apps, such as Instagram, meaning you'll need to take a photo with the PlayMemories app before editing it in something like Instagram.
When you want to view the images that you have taken, tap a square image displayed in the corner of the screen. From here you can scroll through your most recent images, or you can tap an icon which will bring up all of the photos taken on the camera, sorted by date, on one screen.
Although you can of course use the camera without a smartphone or tablet, it's worth remembering that you're essentially tied to the life of your smartphone or tablet, if you want to be able to compose properly, which is definitely something to consider when looking at the Cyber-shotDSC-QX30.