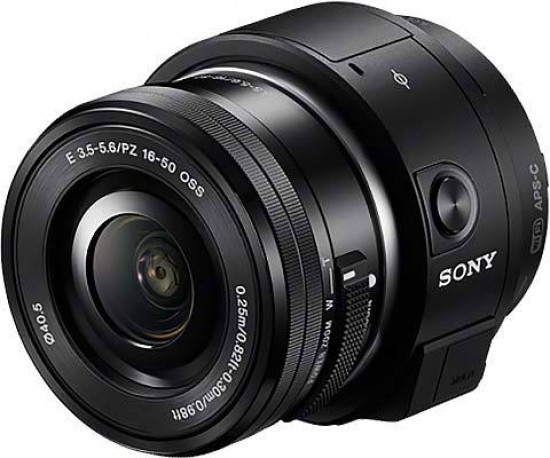 Introduction
Sony's QX range of cameras offers something pretty distinct in the marketplace at the moment. While we've been able to use cameras with smartphones and tablets for some time, it's not often that you find a camera that relies entirely on another device for operation.

Although the ICLE-QX1 looks a lot like a standard lens, it is in fact something rather extraordinary. Inside it is housed a 20.1 million pixel APS-C sized sensor - the same size as found on many DSLRs - and it also features an E mount, meaning it can accept interchangeable lenses from Sony's range - it will also accept A mount lenses via an adaptor.

Other specifications include a Bionz X processor, a battery life of 440 shots, full HD video recording and a built-in flash. There's no LCD screen though, instead it is controlled via the PlayMemories app installed on your smartphone or tablet - from which you can control a number of different settings and fire off the shutter release. To facilitate this, the Sony ICLE-QX1 is equipped with Wi-Fi and NFC.

The Sony ICLE-QX1 is available in black for £249 / $398 body-only.
Ease of Use
With a spherical body, it would be easy to assume that the Sony ICLE-QX1 isn't even a camera. The camera unit itself is barely smaller than the supplied 16-50mm f/3.5-5.6 kit lens (you can also buy it body only if you already have some E mount lenses you wish to use with the unit).
Buttons on the body of the camera are sparse. You'll only find shutter release button, a zoom switch and a button to activate the pop-up flash. The operation of the first two of these buttons can be achieved via the PlayMemories app, but you must use the physical button for the flash, and for the on/off button.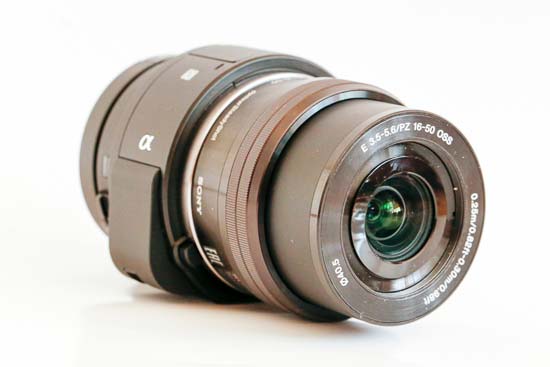 Front of the Sony ICLE-QX1
A very small panel on the side of the Sony ICLE-QX1 indicates how much battery is remaining, while an icon depicting a memory card with a line through it will let you know if you've not got a memory card in the camera. You don't need to use a memory card as images can transfer straight across to the phone - but you will need one if you wish you to save in raw format.
There are a few different ways you could hold the Sony ICLE-QX1 to compose your images. It comes supplied with a bayonet mount with two rubber coated plastic arms (to prevent scuffs to your device) which stretch to allow it to fit a variety of different smartphones - it's not big enough to fit onto a tablet though. It comfortably fit both an iPhone and a Sony Xperia Z2. during this test. Alternatively, you can hold it with one hand, controlling it via your device with the other. Finally, thanks to a tripod thread, you can mount the camera to a tripod and control it via your device from another area.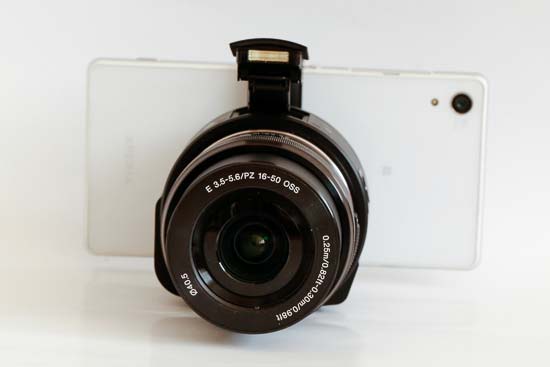 The Sony ICLE-QX1 attached to a smartphone
Using the Sony ICLE-QX1 while it is attached to your smartphone can be a little bit uncomfortable - it's quite a large unit with any kind of lens attached, and without the standard grip of a normal camera, a flat smartphone makes it a little fiddly to use.
 As you don't have an LCD screen to use on board the camera, you'll first need to hook it up to your smartphone or tablet before you use it. In fact, you can autofocus and release the shutter independently, but of course you won't be able to see what you're photographing.
The Sony ICLE-QX1 previewed through a smartphone
If you have an NFC enabled device, pairing the two is very simple. All you need to do is tap the two together at the relevant points on each device and a connection will automatically begin without the need to enter a password. If you have Sony's Playmemories app already installed on your phone, it will load  straightaway, but if you don't, you'll be prompted to download it from the Google Play store. If you have an iPhone or other Wi-Fi only device, you'll need to enter the password which is found under the battery slot flap. Although a little more fiddly, once you've done it once it becomes easier.
Whichever method you use to connect, there will always be a delay of at least a couple of seconds, making this a slower option than a standalone camera if you're trying to photograph something quick.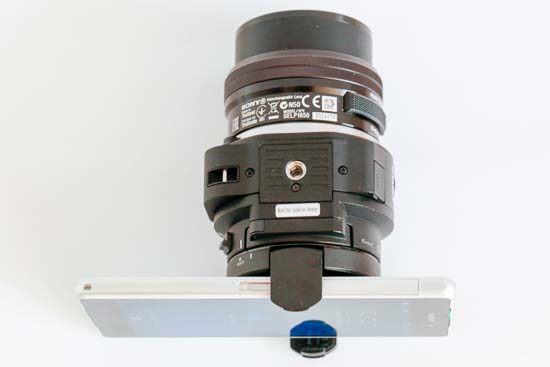 Top of the Sony ICLE-QX1
Once you're into the app, you'll find a number of options presented to you. In the top left hand corner of the screen you can tap to choose between the different exposure modes available. There a couple of automatic options, along with program, aperture priority and shutter priority modes. There's no completely manual mode.
At the bottom of the screen you'll see a tools icon which allows you to make changes to other important settings, such as white balance or focus mode. One glaring omission from this selection is the ability to set the metering mode.
Using the Sony ICLE-QX1 with the app loaded is a little bit like using either a phone camera, or a camera whereby every aspect of operation is carried out via the screen. For instance, if you want to set the autofocus point, simply tap the relevant point on the screen you wish to focus on.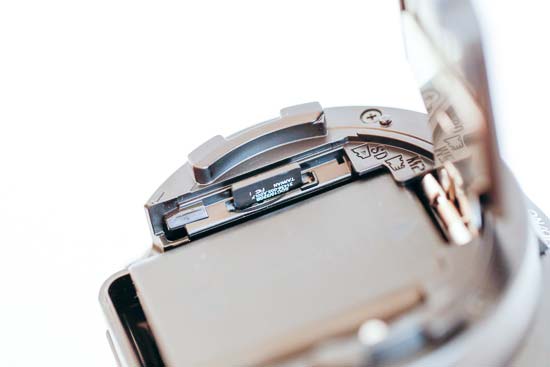 Memory Card Slot
When you want to change aperture, tap on the aperture value displayed on the bottom of the screen (if you are shooting in aperture priority) and then using the sliding display, drag your finger across the screen to make an alteration. Changing ISO (sensitivity) and exposure compensation requires you to follow the same process. It can be a little fiddly changing these, but you do get used to it with practice.
Sony claims that the battery life of the QX1 is good for around 440 shots. While that seems to be about right, it's also worth remembering that you're essentially tied to the battery life of whichever device is controlling it, too.
It's not recommended that you use a camera like this if you're concerned with speed. Aside from the reasonably slow start-up time already mentioned, shot-to-shot time is very slow. Although the camera has a Bionz X processor, you are limited to whichever device the camera is hooked up to. During this review, I attached the camera to both an iPhone 5S and a Sony Xperia Z2, and while the Z2 fared a little better (connected via NFC), you will find yourself waiting a few seconds in between each shot. When shooting a long exposure, such as 30 seconds, you can expect to wait well over a minute before pressing the shot and the final image being ready to view on your phone.
Battery Compartment
When you want to view the images taken on the Sony ICLE-QX1, you can either tap the display in the corner of the screen (much like you would when using a smartphone's camera) and scroll through the most recent pictures, or you can tap an icon which will bring up all of the photos taken on the camera, sorted by date, on one screen. What's useful here is that even if you swap the camera between devices, if you're using a memory card, you'll be able to view the images taken on the camera. Similarly, swapping the camera between devices retains the settings you last used on the camera, not the settings last used on the app.
You can't use the Sony ICLE-QX1 through other apps, such as Instagram, but as each image will be saved to your smartphone (unless you set it otherwise), shots will be ready to edit immediately without having to send them over first such as you might with other wi-fi enabled cameras.