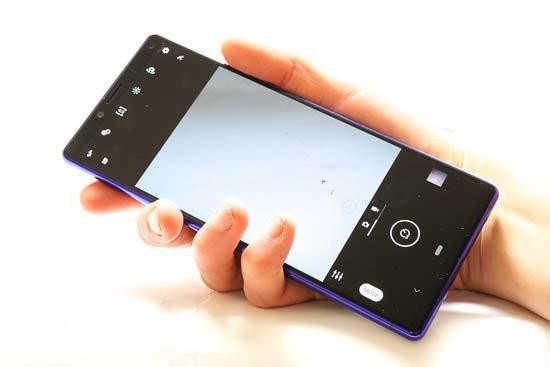 Introduction
Sony has been lagging behind other big-name brands in the smartphone market, such as Huawei, Samsung and Apple. Despite having a very successful camera brand in the shape of its Alpha models, technology has not been shared between the two brands. All that looks set to change with the introduction of the Xperia 1, which utilises some of Sony's key Alpha technology.

In terms of the on board camera, key specifications include a triple lens setup, the first Xperia phone to feature three lenses. There's a wide-angle lens (26mm f/1.6), a telephoto lens (52mm f/2.4) and a super wide angle lens (16mm f/2.4). Each of the cameras features a 12 megapixel sensor, but each are different sizes - the "main" camera is a 1/2.6" sensor, and both the super wide angle camera and the telephoto camera have 1/3.4-inch sensors.

Other interesting specifications include a Bionz X processor and Eye AF, which are directly inherited from Alpha. 4K HDR video recording is available, as well as hybrid autofocusing, a "bokeh effect", and up to 10fps shooting with full AF/AE.

At the time of writing, the Sony Xperia 1 retails for around £849 to buy outright, or you can buy it as part of a contract deal with various mobile networks.
Ease of Use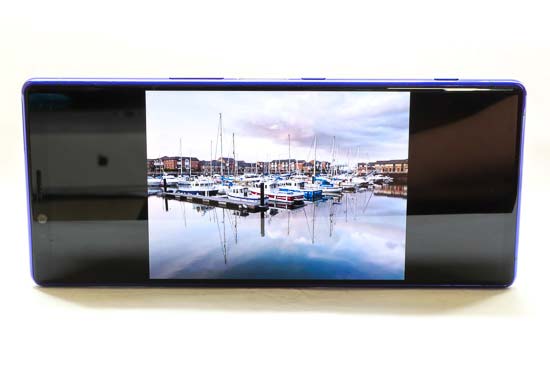 Front of the Sony Xperia 1
One of the first things you're likely to notice about the Xperia 1 is its long and thin shape. Indeed, the screen uses a 21:9 ratio, while most smartphones stick with a more traditional 16:9 ratio. Sony says the reason for this is because movies are designed to be seen in 21:9, as well as giving you more space on the screen for your apps. The result is something which feels awkwardly long, and will more than likely have trouble staying neatly in your pocket - still being narrow means you can use it with just one hand fairly easily, and it does feel fairly balanced.
From the locked screen, you can swipe up from the bottom right hand corner to access the Xperia 1's native camera app. The native camera app is not the most comprehensive on the market, but it does offer a few different shooting modes and options to change for those that require it.
By default, the app will open in the standard photo mode, which works much in the same way as a point and shoot camera. You'll see at the bottom of the screen (or to the right if holding it in landscape orientation), a "x1" in a circle - tap this and you'll be able to move between the different lenses offered by the phone - first "x2" and then "W" for the ultra wide angle lens.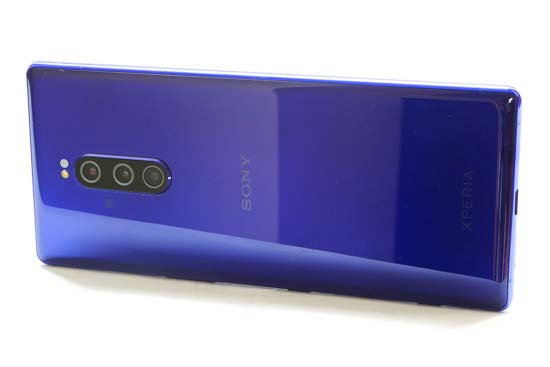 Rear of the Sony Xperia 1
Alternatively, if you pinch on the screen you'll be able to zoom in and out (and in between) the different focal lengths. If you use something between 1x and 2x, or anything greater than 2x, you'll be working with a digital zoom.
Both the standard lens and the telephoto lens allow you to work in the same way - you can tap around the screen to change focus point and adjust exposure by sliding up and down the screen. For some reason, the wide angle lens removes these options, leaving everything up to the camera. Perhaps this is something that will be altered or fixed in an upcoming update.
Along the top of the Sony Xperia 1's screen there's a set of different icons which allow you to make other changes. You can switch a flash on or off (or enable red-eye reduction), switch on the "bokeh" mode (you can also control the intensity of the blur), change aspect ratio (your choices are 4:3, 16:9 and 1:1), a sun icon which allows you to change colour temperature and brightness, an icon for switching to the selfie camera, and a cog icon which gives you the opportunity to adjust more in-depth settings.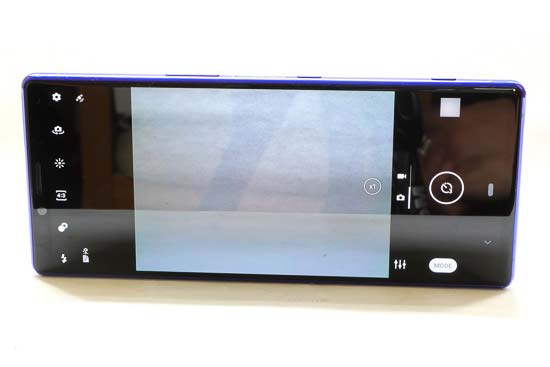 The Sony Xperia 1's Camera Mode
In this further menu, you'll find options such as the self-timer, still image size, soft skin effect, save location and so on. Some interesting settings here include Predictive Capture, which can be set to automatically turn on when capturing subjects that are moving, to help you get the perfect moment, Lens Correction (photo), which helps to correct distortion issues when using the super wide-angle lens, and the opportunity to control how the camera buttons work - such as using the volume key to take a shot, and the dedicated camera button to record a burst.
At the very bottom left, you can tap to change into a different shooting mode. You'll see Portrait Selfie, Google Lens, Slow Motion, Manual, Creative Effect and Panorama. The Creative Effect option gives you different digital filters to choose from - mostly they are strange and a bit old fashioned (in a 1990s way), but it's here that you'll find the black and white offering. Slow Motion is for video, while Panorama is pretty self-explanatory. In the bottom left hand corner of the screen, you'll see an icon reflecting the mode you've used most recently so you can quickly jump back to using it.
With manual mode, you can change several parameters. You'll be able to change AF point, shutter speed, ISO, exposure compensation and white balance. Aperture is fixed to wither f/1.6 or f/2.4 depending on the lens you're using. Again, for some reason, it's not possible to access these parameters when shooting with the ultra wide-angle camera. Although compatible with raw-format shooting, it's not possible to shoot it directly in the native app - you can use something like Lightroom for mobile if you need it, though.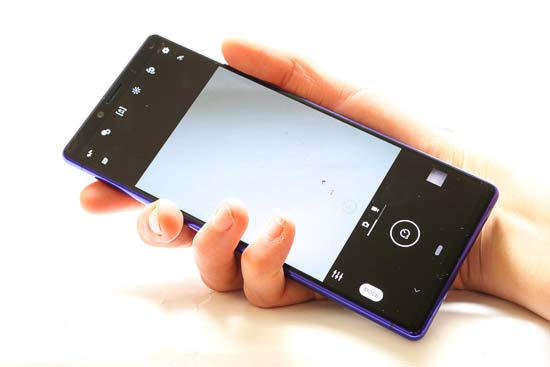 The Sony Xperia 1 In-hand
Portrait Selfie gives you the opportunity to add bokeh and "beauty effects", such as enlarging your eyes and slimming your face. Finally Google Lens is something which you can use for a variety of functions, including copying text, searching for products to buy, identifying plants and so on.
Back to the Sony Xperia 1's main shooting screen, a couple more things to note include Eye AF, which is included in a smartphone for the first time. You'll know when it appears as a small green box will appear around the subject's eye. Although you can't change which eye you have a preference for, it works very well in locking on to the subject and proves useful when photographing other people. It's a shame not to see Eye AF in the selfie camera as that would have made a lot of sense for capturing self-portraits. If you want to switch Eye AF off for some reason, you can do that.
Another useful function is burst shooting, which you can access by either holding down the virtual shutter button or programming the dedicated camera button. With 10fps available with full AF and AE tracking, it is quite useful for moving subjects. It fares best when the subject is moving in a reasonably predictable pattern, but it's pretty good at keeping up.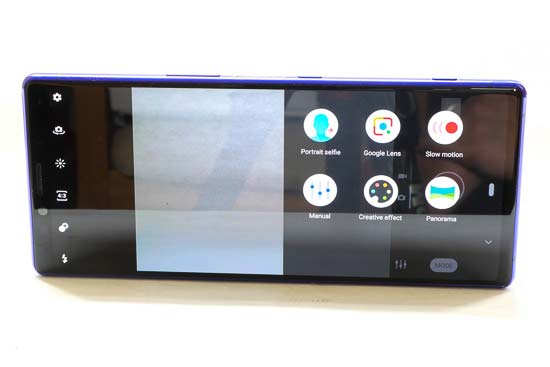 The Sony Xperia 1's Shooting Modes
To record video in this app, you tap the video icon next to the camera icon. You can switch on HDR video recording if shooting in 4K or Full HD at 30fps, it's not available when shooting Full HD at 60fps. Those who are bit more enthusiastic about video recording may be interested in the CinemaPro app which comes with the phone. With this, you'll get full control over several different parameters and is ideal for budding videographers. You can't edit the clips you create with it in this app, though, which is a shame.
Despite the large body size of the Sony Xperia 1, the battery rating is on the low side at 3300 mAh. While you may find it lasts a full day if you're a relatively light user, it's worth packing a portable power charger, particularly if you want to shoot a lot of video.